Find out if teriyaki sauce is safe for a gluten-free diet, what it's made of, and specific brands to shop for next time you're making a teriyaki stir-fry at home.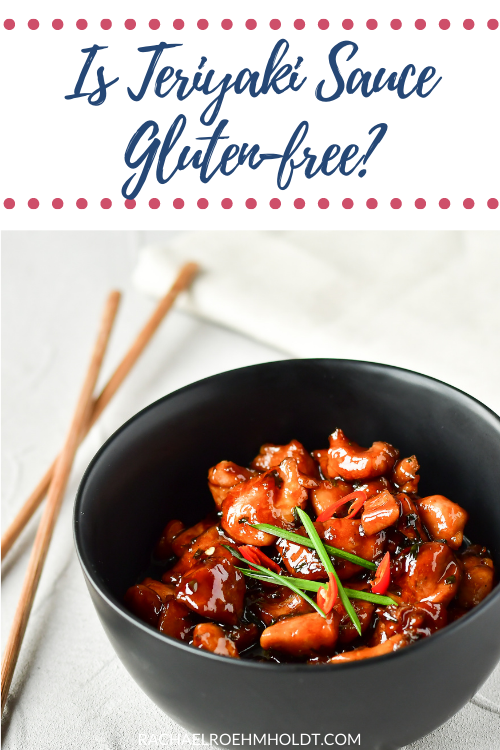 Note: I am a proud Amazon, Chomps, MunkPack, and Thrive Market affiliate and am happy to recommend their service and products to you. Please know that as an affiliate, I may receive a small commission on the products you purchase after clicking through my links. For more info, please see my disclosure policy here.
If you love teriyaki chicken or vegetables, you may have wondered if this sweet and savory sauce has gluten. After all, so many sauces and bottled dressings contain hidden gluten.
We're going to talk all about this sauce and answer some of the most pressing questions about teriyaki sauce as it relates to a gluten-free diet. We'll talk about what teriyaki sauce is, what the main ingredients are, and find out if it is gluten-free.
Finally, we'll wrap the post up with a list of some gluten-free teriyaki sauce brands to try next time you're at the store shopping for a quick addition to your favorite stir-fry or chicken wings.
What is teriyaki sauce?
Teriyaki sauce is a sweet and savory sauce that's used in Japanese cuisine. This sauce can be used as a marinade for chicken, beef, shrimp, or pork. It's also commonly used on chicken wings, noodles, and of course as a stir-fry sauce for meat and vegetables.
Teriyaki sauce is a great way to add a lot of flavor to a dish with just one simple ingredient. If you can find a brand of teriyaki sauce you love, you can easily elevate many of your favorite dishes at home.
Read on: Gluten-free Chinese Food
Read on: Is sushi gluten-free?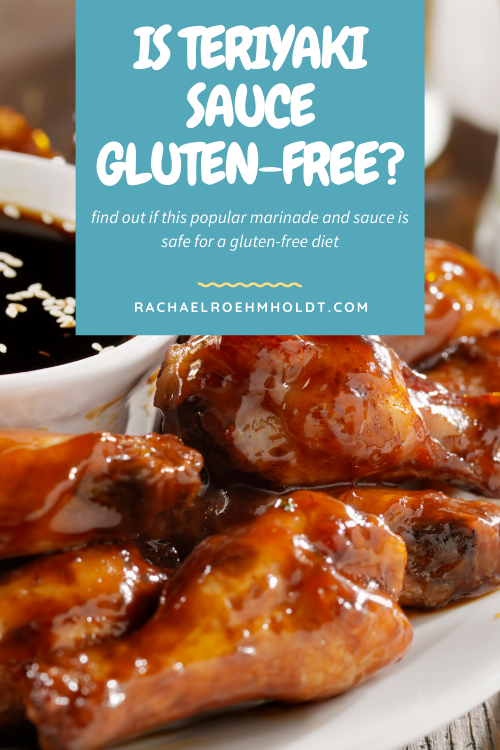 What are the main ingredients in teriyaki sauce?
Though the ingredients of teriyaki sauce may vary from one recipe to another and one brand to another, the main ingredients are pretty similar.
Most teriyaki sauces usually have soy sauce, sake, mirin, sugar, and ginger. Some store-bought brands will have other ingredients for preservatives, flavoring, and for texture.
Read on: Is mirin gluten-free?
What is gluten?
Gluten is a protein found in most wheat products, and acts as the "glue" that helps to hold wheat, barley, kamut, spelt, farro, durum, bulgur, rye, and semolina together to maintain their shape.
You can find gluten in whole grains, but also in many processed foods as well. If you purchase wheat bread, there will be gluten in it, because wheat by nature has gluten.
Many processed foods have hidden gluten in them in the form of gluten or wheat derivatives. These are also in the form of flavorings, binders to keep ingredients together, or other additives.
Is teriyaki sauce gluten-free?
Most teriyaki sauce that you'll find at many grocery stores is made with traditional Chinese soy sauce, which is made with wheat, making it not safe for a gluten-free diet. Despite teriyaki sauce being of Japanese origin, it's still often made using Chinese soy sauce in the US.
You can certainly find a few gluten-free options of teriyaki sauce available at grocery stores and online, but be sure to look at ingredients lists as well as look for the gluten-free label before buying.
You can also find coconut aminos teriyaki sauce at some stores and online. Coconut aminos have a similar taste to soy sauce, but are made from coconut instead of soy.
Read on: Gluten-free teriyaki sauce
Read on: Gluten-free BBQ sauce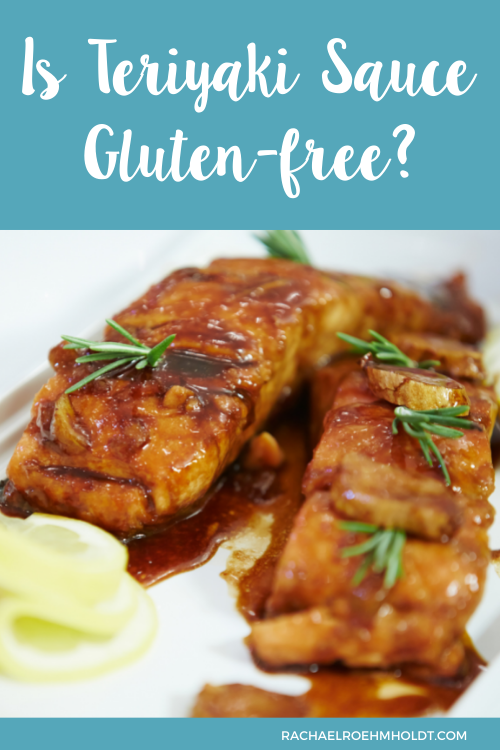 What brands of teriyaki sauce are gluten-free?
While there aren't too many brands of gluten-free teriyaki sauce brands on the market, there are enough to give you a few options.
If you like the convenience of buying teriyaki sauce over making it, look for one of these brands next time you're shopping. If you can't find it in person, try looking online using the links below.
This all purpose sauce is gluten-free and perfect for stir-frying and marinating meat, chicken and fish.
This coconut aminos teriyaki sauce uses coconut in place of soy sauce to give this sauce it's umami and savory flavor.
Kikkoman offers both their Gluten-free Teriyaki Sauce and Less Sodium Gluten-free Teriyaki Sauce options for a gluten-free diet. Choose one of these for all your favorite stir-fries and teriyaki recipes.
This teriyaki sauce is organic and made with tamari soy sauce, which is a soy sauce that doesn't use any wheat or gluten. This great sauce works perfectly for all your favorite teriyaki dishes.
Read on: Is tamari gluten-free?
This teriyaki sauce is a simmer sauce that's great for adding to your stir-fries at the end of cooking. This is a nice shortcut for getting a quick dinner on the table.
Primal Kitchen has two gluten-free teriyaki sauce options: No Soy Teriyaki Sauce & Marinade and their No Soy Island Teriyaki Sauce. Both of these are great as a marinade, stir-fry sauce, or to give your veggies a delicious boost of flavor.
San-J is a company that also produces tamari soy sauce, a type of soy sauce that doesn't contain any gluten. With a few extra ingredients, this delicious teriyaki sauce is made and perfect for all your favorite dinner recipes.
This teriyaki sauce is perfect for marinades, stir-fries, and to use as a dipping sauce. Enjoy this organic and gluten-free option from Sky Valley.
If you like ginger in your teriyaki sauce, you'll love this option from The Ginger People. Ginger is added to a classic teriyaki sauce to give your stir-fries, grilled meats, and other dishes loads of flavor.
If you're interested in some other common Japanese ingredients and how they fit into a gluten-free diet, you might want to check out some of these posts.
If you've been wondering how teriyaki sauce fits into a gluten-free diet, I hope this post has helped you make a decision that works well for you. Though most teriyaki sauce contains gluten, there are a few brands that are worth looking into to help you make a delicious dinner in a flash.
If you loved this post, I hope that you'll share it with your friends on Facebook and pin it for future reference on Pinterest.
Love this post? You might also want to check out these!
Find out if your favorite foods and ingredients contain gluten with these posts!