Find out what Chex mix is made of, what ingredients are gluten-free, and if you can enjoy this snack on a gluten-free diet.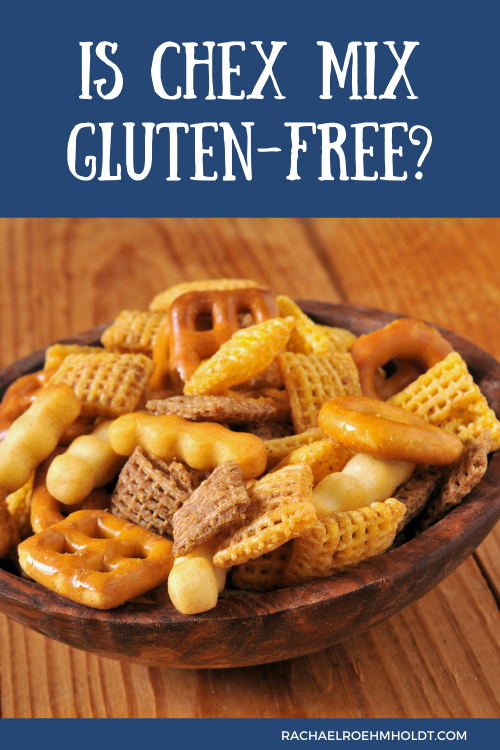 Note: I am a proud Amazon, Chomps, and Thrive Market affiliate and am happy to recommend their service and products to you. Please know that as an affiliate, I may receive a small commission on the products you purchase after clicking through my links. For more info, please see my disclosure policy here.
Do you enjoy Chex mix around the holidays or family get-togethers? My family adores Chex mix and even though we all like the different parts a little more than others, we can all agree that it wouldn't be the holidays without it.
My grandma calls it Nuts and Bolts and makes a huge batch to bring over for Christmas every year. My sister likes hers without the nuts. My son loves the pretzels and rice Chex the most. My husband and stepdad love it all equally.
I personally like mine without gluten, and that means learning a little more about what goes into this party mix or snack mix so that I can still enjoy it alongside my family.
If you also follow a gluten-free diet, you're probably wondering how you can keep enjoying this tasty snack throughout the holiday season too.
In this post, we'll get all your questions answered. Find out what Chex mix is, what the main ingredients are and which of those are gluten-free.
Plus learn how to make your own gluten-free Chex mix using some clever swaps and adjustments. Last but not least, we'll talk about if you can eat store-bought Chex mix on a gluten-free diet.
Find out everything you wanted to know about Chex mix and gluten here in this post!
What is Chex mix?
Chex mix, Chex Party Mix, or Nuts and Bolts are all names for a snack food mix that's a combination of a few different snacks and cereals covered in a savory and salty butter mixture. It's often served at parties, around the holiday season, and can be taken on road trips and camping trips. 
Chex mix usually uses three different types of Chex brand cereal, plus pretzels, nuts, and a few other ingredients to season and flavor the snack.
This mix traditionally was made in the oven on a big sheet pan, but the recipe has been adapted for the microwave and folks who want a quicker and easier method for making their favorite snack.
Chex mix can vary in the ingredients and flavorings, but the most popular and common one that most folks in the U.S. know of is one that has a mixture of garlic and onion powders, Worcestershire sauce, paprika, and salt. Some recipes call for a seasoned salt as well.
Read on: Gluten-free cereal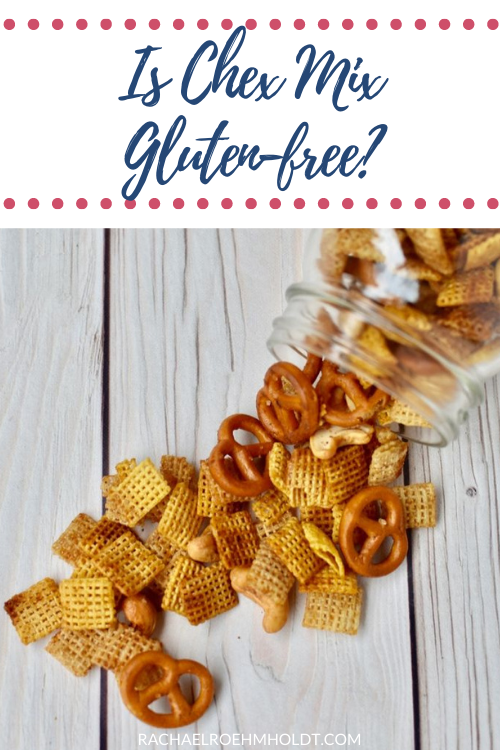 What are the ingredients in Chex mix?
The main ingredients in Chex mix are as follows according to the original recipe from the Chex website:
Corn Chex
Rice Chex
Wheat Chex
Mixed nuts
Bite-sized pretzels
Garlic-flavor bite-size bagel chips or regular-size bagel chips
Butter or margarine
Worcestershire sauce
Seasoned salt
Garlic powder
Onion powder
If you're buying the store-bought version of Chex mix, here is the ingredient list you'll find on the back of their traditional flavor packaging:
"Whole Wheat, Degermed Yellow Corn Meal, Enriched Flour (wheat flour, niacin, iron, thiamin mononitrate, riboflavin, folic acid), Vegetable Oil (soybean, rice bran and/or canola), Sugar, Rye Flour. Contains 2% or less of: Salt, Maltodextrin, Yeast, Spices, Color Added, Dextrose, Distilled Monoglycerides, Baking Soda, Yellow Corn Flour, Trisodium Phosphate, Calcium Carbonate, Autolyzed Yeast, Dried Onion, Dried Garlic, Hydrolyzed Soy Protein, Barley Malt Syrup, Fumaric Acid, Citric Acid, Caraway, Disodium Inosinate, Disodium Guanylate, Natural Flavor, Sodium Diacetate. Freshness Preserved by BHT."
What is gluten?
Gluten is a protein found in most wheat products, and acts as the "glue" that helps to hold wheat, barley, kamut, spelt, farro, durum, bulgur, rye, and semolina together to maintain their shape.
Gluten is naturally occurring, and therefore is impossible to strip away from the grain. If a grain naturally has gluten in it, there's no way to make that food gluten-free.
Gluten can be found in some cereal products in the form of wheat, wheat flour, malt flavor, or malt barley. You can also find gluten hidden in flavorings in some cereal.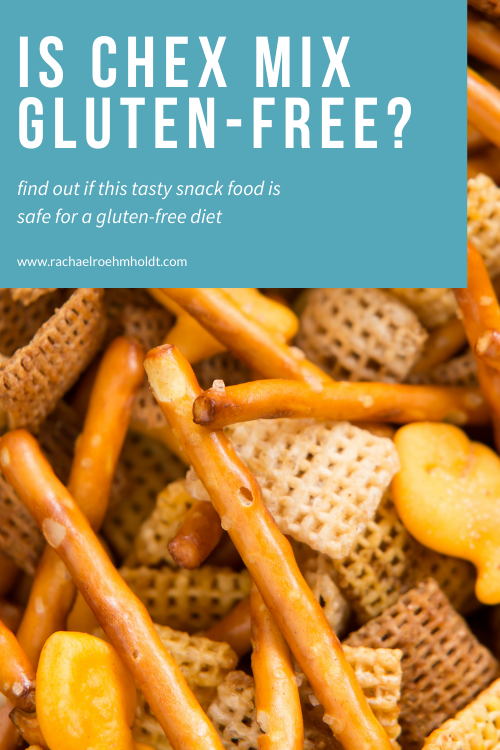 What ingredients in Chex mix are gluten-free?
If you are to make your own Chex mix at home, making it gluten-free isn't so hard. Omit the ingredients that contain gluten or swap them out for gluten-free substitutions.
These are the ingredients that are safe to keep using in your homemade gluten-free Chex mix, because they contain no gluten:
Corn Chex
Rice Chex
Mixed nuts
Butter or margarine
Worcestershire sauce*
Seasoned salt*
Garlic powder
Onion powder
The asterisks (*) above note that this will depend on the brand of each of these ingredients that you buy. They can be gluten-free but sometimes are not, so it's important to check ingredients lists and look for gluten-free labels of these products.
Read on: Is Worcestershire sauce gluten-free?
Read on: Are nuts gluten-free?
Read on: Is butter gluten-free?
What ingredients in Chex mix are not gluten-free?
Not all ingredients in Chex mix are safe for a gluten-free diet, so if you are trying to steer clear of gluten and want to make your own version of this snack at home, omit or replace these ingredients:
Wheat Chex
Mixed nuts
Bite-sized pretzels
Garlic-flavor bite-size bagel chips or regular-size bagel chips
If you are to make your own Chex mix at home without any gluten ingredients, you might opt to make these changes like I do in my own version of this recipe:
Use only the gluten-free Chex cereals – that means omitting the wheat variety
Swapping the regular pretzels for gluten-free pretzels
Omitting the bagel chips
Some people make their Chex mix with cheese crackers or other snack foods to make them their own. If this is you, be sure that every ingredient you add to your Chex mix is gluten-free before adding it into the larger mixture.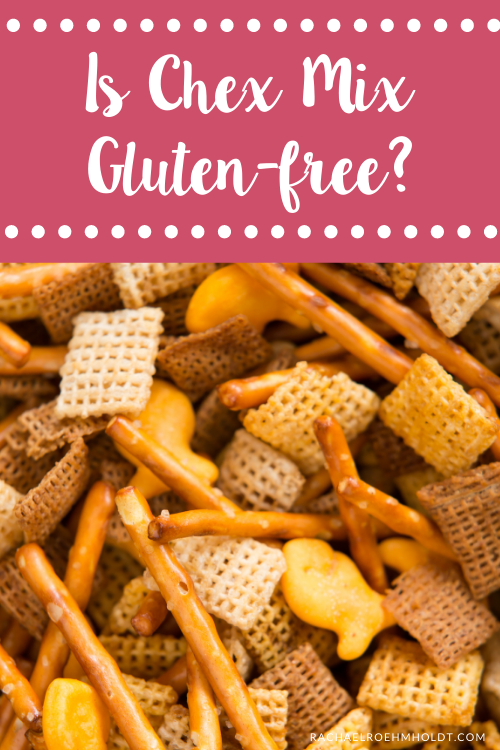 Is store-bought Chex mix gluten-free?
Looking at the ingredients list that we reviewed earlier on in this post, we can see that store-bought Chex mix is not gluten-free. This product contains a number of gluten sources making it not a good option for anyone who is trying to steer clear of gluten for their health.
The traditional flavor alone has whole wheat, enriched flour, rye flour, autolyzed yeast, and barley malt syrup indicating a whole lot of gluten in just one little package.
Can I buy gluten-free Chex mix?
There is not currently a gluten-free Chex mix available through the Chex Mix brand. Your best bet to satisfy these cravings is to make your own Chex mix at home using gluten-free ingredients.
Can I make my own gluten-free Chex mix at home?
You absolutely can! Making your own gluten-free Chex mix is about as easy as making traditional Chex mix at home. The main things you'll want to do is omit the gluten ingredients and make relevant swaps where you can.
I like to omit the wheat Chex and bagel chips and swap out the pretzels for a gluten-free pretzel option instead.
I outline my whole gluten-free Chex mix recipe in this blog post – it's also dairy-free!
Is Chex mix dairy-free?
Chex mix is not traditionally dairy-free. When made at home, it calls for butter or margarine. Butter definitely contains dairy and some margarine does as well.
All other ingredients in Chex mix are dairy-free – or if you aren't sure, be sure to review the ingredients of each of the components you add to your Chex mix at home.
Store bought Chex mix does not contain any obvious dairy ingredients.
If you love Chex mix and have been wondering if you can enjoy it on a gluten-free diet, I hope this post has been helpful information for you.
Be sure to you alter the recipe you're using at home and you can definitely keep on enjoying this at family gatherings and holidays for years to come.
If you loved this post, I hope that you'll share it with your friends on Facebook and pin it for future reference on Pinterest.
Love this post? You might also want to check out these!
Find out if your favorite foods and ingredients contain gluten with these posts!