If you follow a dairy-free diet, you may be wondering if sorbet contains any dairy. Find the answer in this post.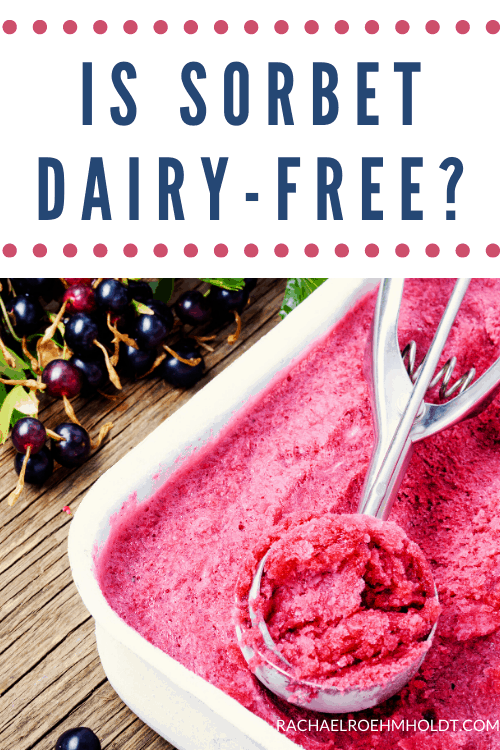 When the weather heats up, you're likely to reach for a cool treat. If you follow a dairy-free diet, you might be wondering what frozen treats are safe to eat and stay on track.
Sorbet is a great option for a dairy-free diet and you can confidently choose this treat whenever you're at a local ice cream shop or pick some up at the grocery store. Let's get into the details of sorbet below.
What is sorbet?
Sorbet is a frozen dessert that's made from fruit, sugar, and water generally. Sorbet is sold by many major manufacturers and can be made at home too with the use of an ice cream machine or attachment.
Sorbet is sometimes sold under the name "sorbetto," which is an Italian name for sorbet. These are the same foods despite the naming difference.
What are the ingredients in sorbet?
Sorbet is made from fruit juice or puree, water, and sugar. Unlike ice cream, sherbet, or gelato, sorbet doesn't have any milk, cream, or eggs in it.
Sorbet is usually flavored with sweetened fruit juice or other flavorings, but it most commonly comes in fruit flavors.
You can find sorbet in just about any fruit flavor you can think of. Strawberry, mango, raspberry, and lemon are the ones I see most frequently. However, you can find sorbets in flavors that don't seem fruity – like chocolate, coffee, or vanilla.
Sometimes these are vegan and other times, they include no dairy ingredients but do contain eggs. This is the case for two of Talenti's sorbettos: dark chocolate and cold brew coffee.
What is dairy?
Dairy is a general name for ANY food that is made from milk. Technically, this is any food made from cow's milk or goat's milk or sheep's milk. Any animal milk is dairy.
However, mostly when we're talking about dairy, we're talking about drinking cow's milk, because that's what is most popular here in the United States.
Is sorbet dairy-free? Does sorbet have dairy?
Sorbet is naturally dairy-free, because it doesn't have any milk or cream. With the lack of any animal products, you can be sure that it's safe for your dairy-free diet with only fruit juice or puree, water, and sugar.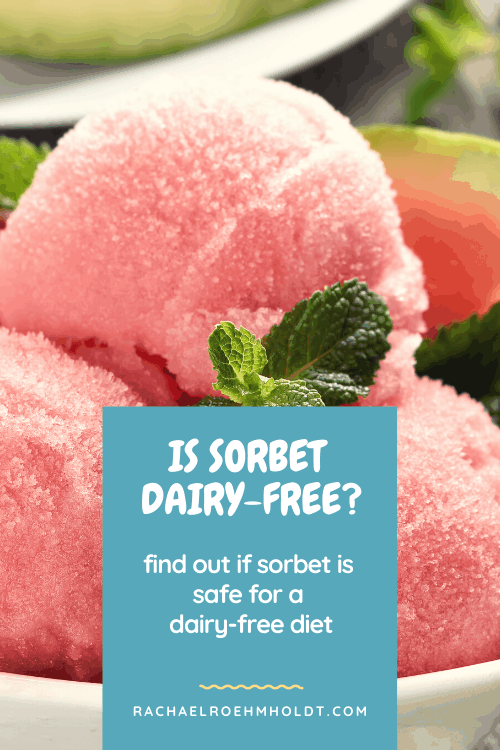 Dairy-free sorbet brands
If you're looking for a dairy-free sorbet brand to try next time you're at the store, look for one of these options and flavors. There are so many brands available so this list isn't exhaustive, but it will give you a jumping off point for some brands to keep your eyes peeled for.
Blue Moon
Blackberry Lime
Pear Ginger
Raspberry Cassis
Lemon Zest
Mango Passion
Red Raspberry
Peach Melba
Wild Blueberry
Grapefruit Campari
Strawberry Daiquiri
Ciao Bella
Blood Orange Sorbetto
Blueberry Passion Fruit Sorbetto
Chocolate Coconut Sorbetto
Coconut Sorbetto
Lemon Sorbetto
Mango Sorbetto
Pear and Peppercorn Sorbetto
Raspberry Sorbetto
Red Berries and Prosecco Sorbetto
Tangerine Sorbetto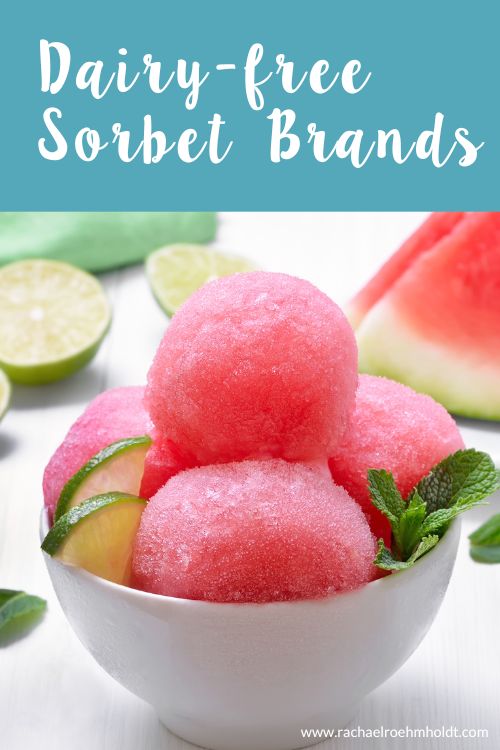 Double Rainbow
Lively Lemon Sorbet
Mango Tangerine
Haagen-Dazs
Lemon Sorbet
Mango Sorbet
Raspberry Sorbet
Jeni's Sorbet
Blackcurrant Lambic Sorbet
Hot Toddy Sorbet
Riesling Poached Pear Sorbet
Sambazon Sorbet
Original Acai Berry Frozen Sorbet
Sorbabes Sorbet
Vanilla Caramel Crunch
Mango Coconut Crunch
Strawberry Crisp
Lemon Strawberry Crisp
Wild Berry Crisp
Sotto Zero
Dark Chocolate Orange
Dark Chocolate
Lemon
Banana
Strawberry
Melon
Mango
Pineapple
Talenti Dairy-free Sorbetto
Cold Brew Coffee Sorbetto
Dark Chocolate Sorbetto
Alphonso Mango Sorbetto
Roman Raspberry Sorbetto
What's the difference between sorbet and ice cream?
Sorbet and ice cream differ mainly in their ingredients. Sorbet is made using fruit juice or puree, water and sugar, while ice cream is made using milk, cream, sugar, and sometimes eggs. Sorbet is also naturally free of fat and contains less calories than ice cream.
Read on: Is ice cream gluten-free?
What is the difference between sherbet and sorbet?
Though the names are similar, these two frozen treats are different. Sorbet is made with fruit juice, sugar, and water. Whereas sherbet is also made with fruit juice and sugar, but it uses cream instead of water.
Sorbet is dairy-free, sherbet is not.
Read on: Is sherbet dairy-free?
Is sorbet lactose-free?
Sorbet is lactose-free, because it contains no dairy products or dairy derivatives. Lactose comes from the dairy ingredients, like milk or cream in frozen treats, and since sorbet doesn't have these, you can enjoy this treat on a lactose-free diet.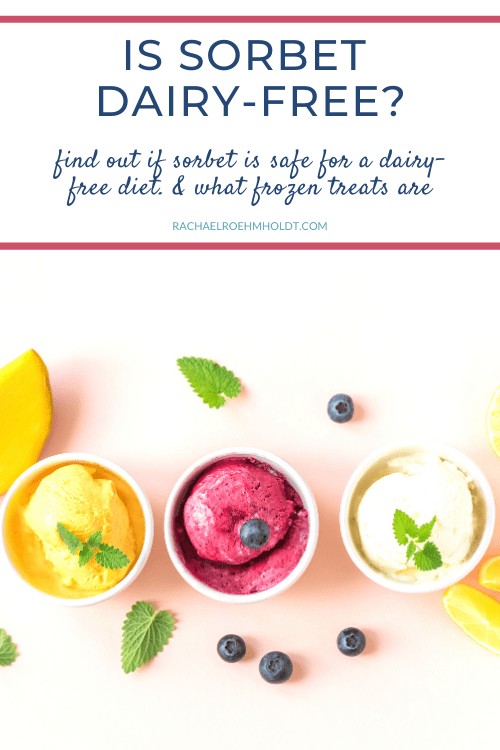 Is sorbet vegan?
Sorbet is generally considered safe for a vegan diet, because it contains no animal products. If your sorbet is made with honey, then you will want to be careful about that ingredient.
Otherwise, since most sorbets are made with fruit juice, sugar, and water, you can assume that these frozen treats are safe for a vegan diet.
Is sorbet gluten-free?
Sorbet is gluten-free, as long as no additional ingredients are added that contain gluten. By nature, sorbet is made only from fruit juice or puree, sugar, and water, but if you serve it on a cone that has gluten, it would not be safe to eat on a gluten-free diet.
Sorbet is a safe frozen treat to enjoy on a dairy-free diet, so next time you're out at an ice cream shop and are looking for a dairy-free option, choose the sorbet.
You know this will be safe for you, and you'll feel good after cooling off. Store-bought sorbets are also safe, so pick one of those up next time you're at the store.