Enjoy these gluten and dairy-free picnic recipes and ideas to make the most of the warm weather and being with friends and family.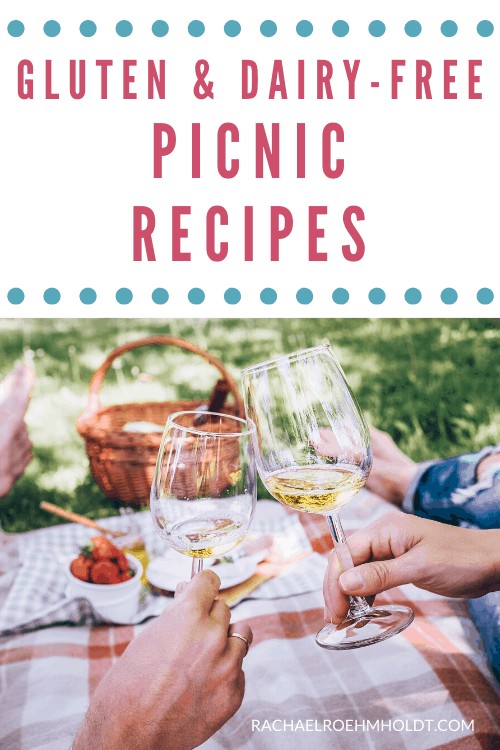 Note: I am a proud Amazon, Chomps, MunkPack, and Thrive Market affiliate and am happy to recommend their service and products to you. Please know that as an affiliate, I may receive a small commission on the products you purchase after clicking through my links. For more info, please see my disclosure policy here.
Picnics are a fun and easy way to enjoy a meal with family and friends out of the house. If you're eating a gluten and dairy free diet, deciding what foods to pack or eat at a picnic can be a little tricky.
I'm here to help you narrow down your options and give you some recipe inspiration for your next picnic.
When it comes to deciding what to eat at picnics, you have a number of quintessential options: salads, sandwiches, and wraps.
In the case of sticking with a gluten-free diet, you might want to choose lettuce wraps or corn tortillas for your wraps though. Sandwiches will need to be on gluten-free bread. Salads are free game, and an awesome addition to any picnic.
Read on: Gluten-free Tortillas: Types, Gluten-free Options, and Brands
Read on: Gluten-free wraps
In this recipe roundup, I've included gluten and dairy-free picnic appetizers, salads, mains, desserts, and even a few store-bought ideas for you to round out your picnic spread.
After all, I don't know about you, but picnics aren't always planned well in advance. I like to whip up a few things, grab a couple others from my pantry, and head out.
Enjoy these recipes and ideas to get packed up, enjoying the weather, and loving some delicious food with people you care about.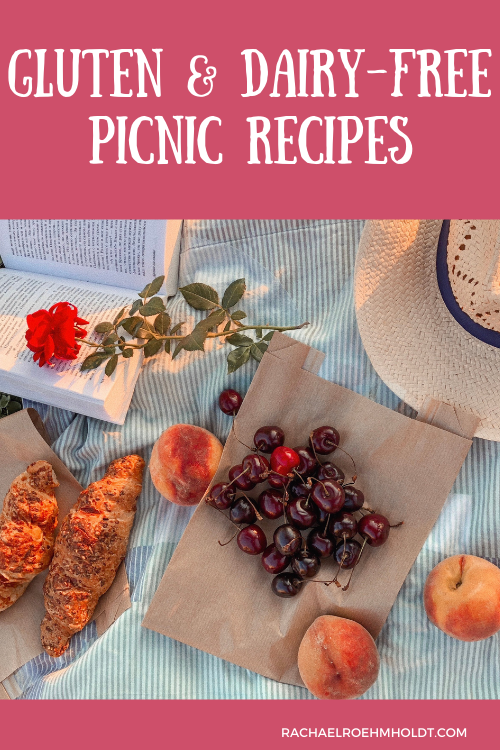 Gluten and Dairy-free Picnic Appetizers
For a quick and simple appetizer for your picnic, make a charcuterie board and fill it with hummus and crackers, roasted chickpeas, spiced nuts, and a homemade dip. Or just bring one of these!
For an easy and impressive appetizer for your picnic, make your own gluten and dairy-free snack board with gluten-free meats, fruits, vegetables, dips, and nuts. Everyone at your picnic can choose what they like.
Hummus is naturally gluten and dairy-free, so try this olive tapenade recipe and serve with your favorite gluten-free crackers as a snack at your picnic.
Read on: Is hummus gluten-free?
These roasted chickpeas are simple to make and are a nice crunchy bite as a picnic appetizer.
With just 5 ingredients and 25 minutes, you can make these gluten and dairy-free snack. This recipe also offers a few flavor variations, like spicy, sweet, rosemary, and cinnamon.
Read on: Are beans gluten-free?
Read on: Are chickpeas gluten-free?
Spiced nuts are a great appetizer no matter what kind of get together you're having. I love this recipe for savory rosemary spiced nuts, because they're full of flavor and easy to pack for a picnic.
Read on: Are nuts gluten-free?
Try this Green Goddess dip with some veggie sticks for dipping. This dip is made with tons of fresh herbs, vegan mayo, and vegan sour cream. All you need is a blender to whip this easy appetizer up.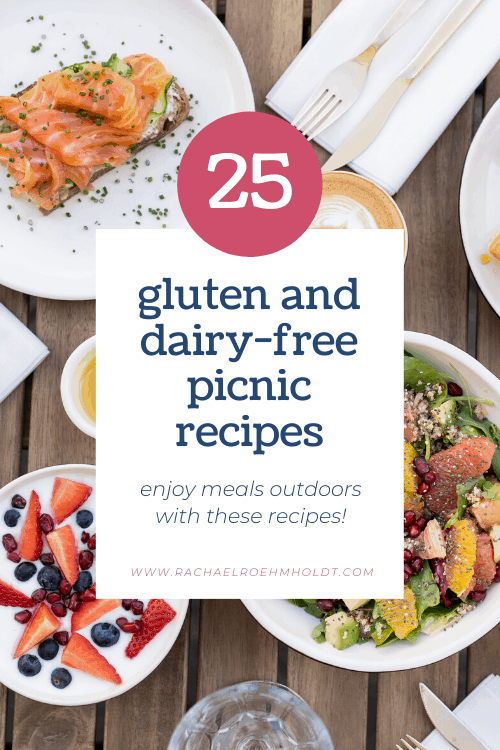 Gluten and Dairy-free Picnic Salads
Salads are great for gluten and dairy-free picnics, because they're easy to customize with ingredients that work for you and your diet. Choose a leafy green salad, pasta salad, quinoa salad, or broccoli salad.
I think just about anything can be made better with bacon added to it – even picnics! Check out this blueberry bacon spinach salad with fresh blueberries, spinach, bacon, and red onion.
The homemade blueberry vinaigrette is light and a perfect sweet balance to the salty bacon in this recipe.
Read on: Is bacon gluten-free?
Read on: 75 Gluten and dairy-free salad recipes
This pesto chicken salad is made with a homemade arugula pesto (you can also use basil if you want too!), chicken, fresh Romaine lettuce or arugula, cherry tomatoes, cucumbers, radishes, and soft boiled eggs.
This Greek pasta salad is made from lentil or chickpea pasta, cucumbers, red onion, grape tomatoes, fresh dill, kalamata olives, and a homemade dressing.
This salad is full of flavor from the fresh veggies and some great protein from the lentil or chickpea pasta.
Quinoa tabouli is made from quinoa, fresh herbs and veggies – a perfect summertime dinner or great as a side dish too.
You get to make your own dressing with just olive oil, lemon juice, salt, and pepper too!
Read on: Is quinoa gluten-free?
This vegan broccoli salad uses a shortcut from the produce department in the form of broccoli slaw, which is always pretty handy when fixing up a salad as a side dish.
Enjoy this recipe with broccoli slaw, broccoli florets, dried cranberries, sunflower seeds, and a balsamic maple mustard dressing.
Read on: 25 Gluten-free side dishes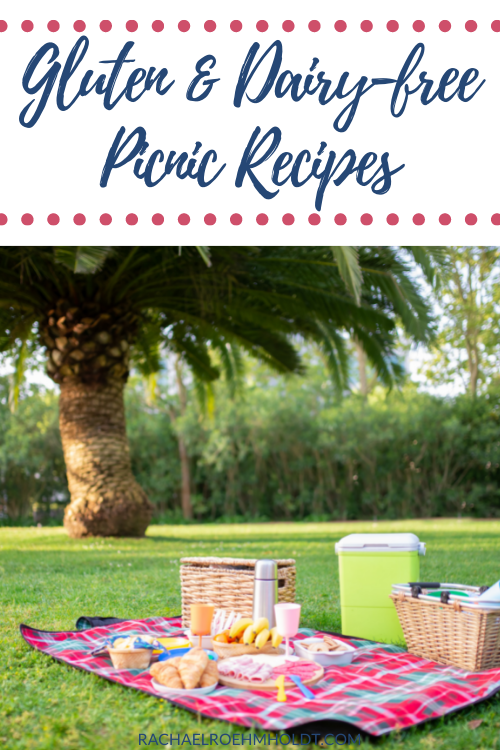 Gluten and Dairy-free Picnic Mains
You can choose whatever your heart desires with what main you bring to your picnic. These gluten and dairy-free ideas include chicken salad sandwiches, black bean burgers, a frittata, lettuce wraps, and turkey meatballs. They all pack up well for easy picnicking.
Sandwiches of any kind are great for a picnic, but this chicken salad sandwich looks delicious with only 5 ingredients: chicken, celery, vegan mayo, grapes, and salt.
Best of all, if you use gluten-free bread, this dish will be completely gluten-free and dairy-free.
If you want a meat-free picnic, try these black bean burgers. You can dress them like burgers, or enjoy them as patties on lettuce wraps. These burgers come together in about 30 minutes too!
Read on: Gluten-free hamburger bun brands or gluten-free hamburger bun alternatives
Having a brunch picnic? Try this bacon and veggie frittata. Frittatas are a great picnic option, because unlike a quiche, you don't have to use a crust.
Without that crust, you know it's gluten-free. This recipe has bacon, peppers, zucchini, and onion and comes together in about 25 minutes.
Read on: Are eggs dairy? Are eggs gluten-free?

Lettuce wraps are a great picnic idea, and these chicken lettuce wraps are simple to prepare the filling at home and pack for your adventure.
The filling in this recipe is warm, but you could easily make and pack other wrap fillings, like tuna salad or egg salad for your lettuce wraps.
Meatballs are a fun picnic idea, because you can make them at home and pack them for your trip. Keep them warm or enjoy them cool with your favorite dipping sauce. This recipe for healthy turkey meatballs are gluten-free and dairy-free.
Read on: Gluten-free Meatballs recipe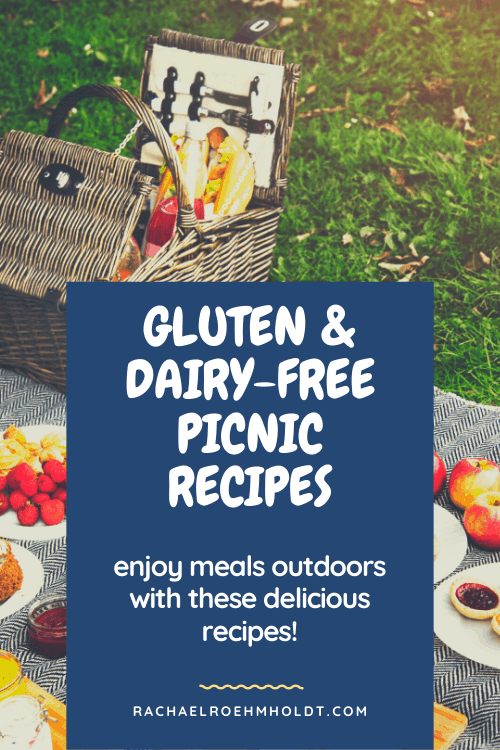 Gluten and Dairy-free Picnic Desserts
What's a picnic without dessert? Try one of these bar recipes for your meal – rice krispies, strawberry oatmeal, and lemon bars. Or make some coconut fruit dip or frosted lemon cookies to finish off your meal.
Rice Krispie Treats are simple to make with just 3 ingredients and a little bit of time. Whip up a batch to bring on your next picnic and your gluten and dairy-free friends will be so happy you did! These are super moist, light, and sweet.
Read on: Are Rice Krispies gluten-free?
These gluten-free strawberry oatmeal bars are would be a great picnic dessert. These are made with gluten-free oats, fresh strawberries, and sliced almonds for lots of flavor and texture.
Be sure to swap out the butter for vegan butter or coconut oil to make it dairy-free.
Lemon bars seem like the perfect picnic treat for dessert. If you're looking for a gluten and dairy-free lemon bar recipe, try this one with a shortbread crust and a delicious homemade lemon custard.
To make this recipe dairy-free, swap out the butter for vegan butter.
Fruit dip is a fun dessert idea for a picnic – plus it's easy too! Whip up this fruit dip in your food processor, bring some rinsed fruit, and let everyone at your picnic enjoy this sweet and delicious treat that's gluten and dairy-free.
If you're a cookie fan, you might want to make these frosted lemon cookies for your next picnic. These cookies take a little less than 30 minutes to make, and are full of lemony flavor. Best of all, they're both gluten and dairy-free!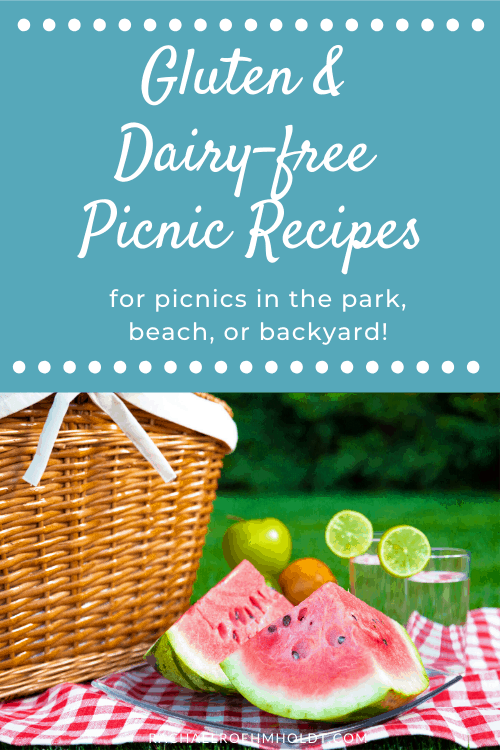 Gluten and Dairy-free Store-bought Picnic Foods
If you're looking for a few easy things you can pick up from the store on the way to your picnic, try some of these quick grab-and-go ideas. Fruits, veggies, chocolate, drinks, something crunchy, and some nuts. You can't go wrong!
To fill out your picnic, bring some fresh fruits and vegetables to snack on. All fruits and veggies are naturally gluten and dairy-free, so cut up some veggie sticks or pack your favorite fruits to round out your meal.
Chocolate is always a fun addition to a picnic. Bring a dairy-free chocolate bar with you to share with others at your picnic. Some of my favorite dairy-free chocolate brands are Theo and Endangered Species.
Read on: Is dark chocolate dairy-free?
Be sure to pack drinks for you picnic that are gluten and dairy-free. Water, juice, sparkling water, wine, and cider are all naturally gluten-free.
If you pack beer, be sure to find a gluten-free beer. You can also make your own tasty drinks at home to pack, like homemade lemonade or fruit and herb infused water.
Pack some gluten-free pretzels or potato chips to add another snack option to your picnic. I like Glutino and Trader Joe's brands of pretzels, and Kettle Chips for potato chips.
Roasted nuts or seeds can be bought at the store to help you add another bite for your picnic.
Find nuts or seeds that have been roasted and salted, but be sure to check ingredients if you look to buy some with flavoring (oftentimes gluten is hidden in many added flavors).
There are so many great food options for you to make and buy at the grocery store to make a successful gluten-free dairy-free picnic. I hope that you'll try some of these recipes next time you decide to take a trip out to picnic with your family and friends.
Love this post? You might want to check out these!
Find recipes and inspiration for sticking with your gluten and dairy-free diet throughout the summer months!