If you follow a dairy-free diet, you may be wondering if gelato contains any dairy. Find the answer in this post.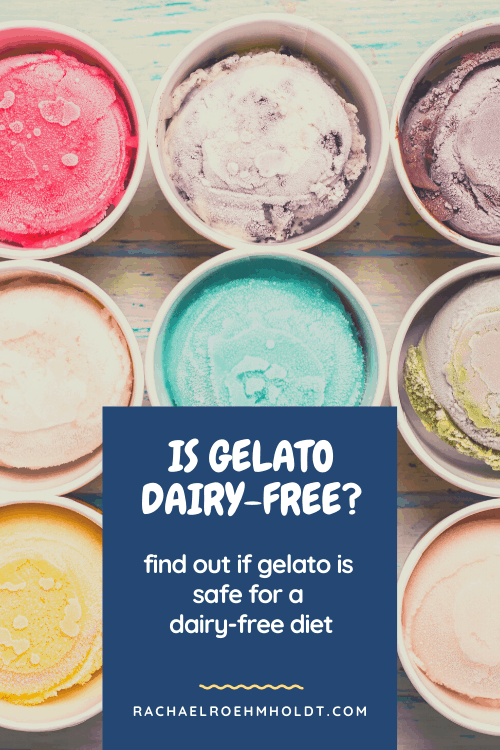 In the summer and warm weather months, what could be better than a frozen treat like gelato? You may have seen some delicious flavors of gelato at the grocery store or even passed a gelato shop in your hometown and wondered if it was safe to enjoy on a dairy-free diet. Let's get into the details to the answer of that question below.
Is gelato dairy-free?
Gelato is not dairy-free, because it contains milk and cream, which are both dairy products. A dairy ingredient is one that comes from any animal milk. Since milk and cream are cow's milk products, gelato is not dairy-free.
What are the ingredients in gelato?
Gelato is most commonly made with milk, cream, sugar, and any ingredients that flavor it, such as espresso, mint, or fruit. "True" gelato, as it's made in Italy, contains at least 3.5% butterfat from either milk and/or cream.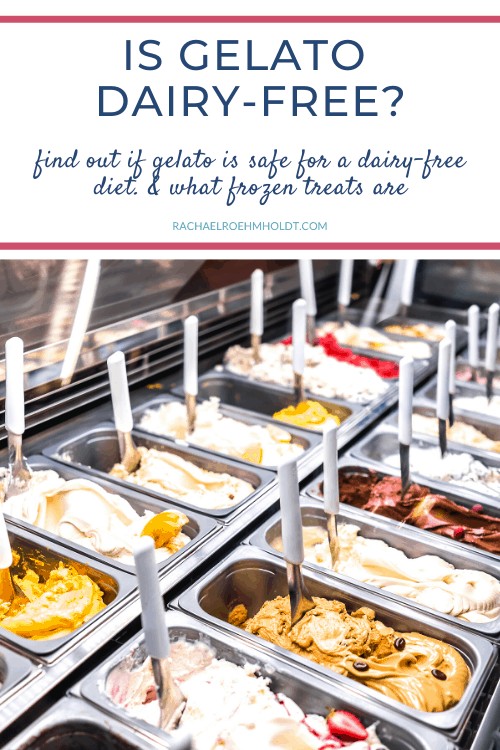 What's the difference between gelato and ice cream?
The main difference between gelato and ice cream is how the ice cream is churned. Gelato is made by being slowly stirred with a machine while freezing. The goal of making gelato is not to incorporate much air. On the other hand, ice cream is made by churning in a machine to incorporate air into the ice cream.
Gelato and ice cream may have the same ingredients, but may vary based on the ratios of milk, cream, and sugar. Ice cream may also contain eggs, which gelato generally doesn't. Gelato contains around 4 and 9% butterfat, whereas ice cream contains between 14 and 25% fat.
Read on: Is ice cream gluten-free?
Is gelato lactose-free?
With the milk and cream in gelato, it will not be lactose-free.
Is gelato vegan?
Gelato is made with both milk and cream, so it is not vegan.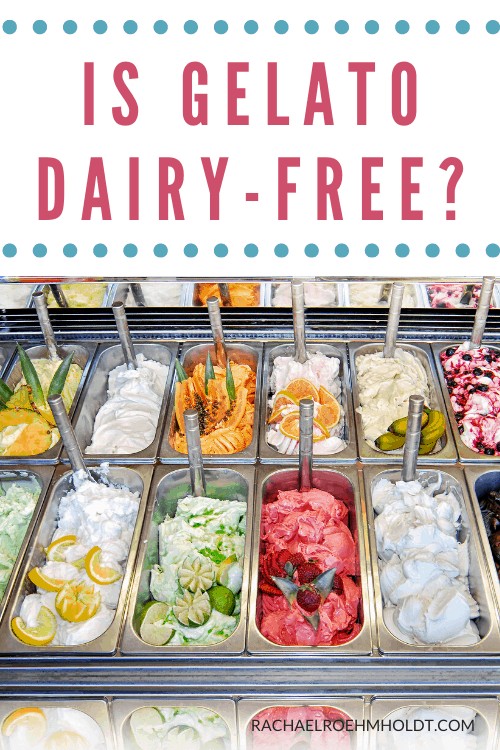 Is gelato gluten-free?
Gelato by nature will be gluten-free, as long as flavorings or other ingredients that contain gluten aren't added in. For example, if cookie pieces are added to the gelato, it would not be gluten-free, because the cookie pieces would contain gluten.
What dairy-free treat can I enjoy instead of gelato?
While gelato is not dairy-free, there are still some great frozen treat options available to you. Sorbettos are an option you may find at gelato shops or at the grocery store. These are made with fruit juice, fruit puree, and water.
You can find sorbettos from the Talenti brand at your local grocery store and these are all dairy-free.
Sorbettos are another name for sorbet, another dairy-free frozen treat. Sorbets are made with just fruit juice, water, and sugar and are safe for a dairy-free diet. You can find a variety of flavors at many ice cream shops and at the groery store.
Any dairy-free ice cream that is made from dairy-free milk bases, such as coconut milk, cashew milk, or rice milk are all safe for a dairy-free diet.
Find a full list of dairy-free ice cream options, brands, and flavors here: The Ultimate List of Dairy-free Ice Cream Brands and Flavors.
Make your own dairy-free ice cream at home with these 25 dairy-free ice cream recipes.
If you're following a dairy-free diet, gelato isn't a good option for you. Be on the lookout for other dairy-free treat options, such as sorbet or dairy-free milk-based ice creams.
Like this post? You might enjoy some of these posts!
Cool down with some of these delicious dairy-free treats: ice cream recipes, frozen yogurt, and tips on which cold treats are good for your dairy-free diet.