Looking for some gluten-free dairy-free Christmas recipes? Check out this post full of 25 Christmas breakfast, snack, dinner, drinks, and dessert recipes.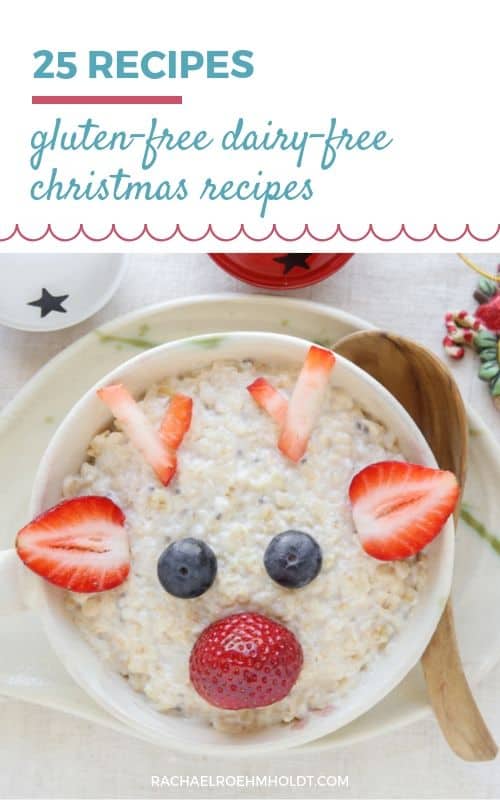 Note: I am a proud Amazon, Chomps, MunkPack, and Thrive Market affiliate and am happy to recommend their service and products to you. Please know that as an affiliate, I may receive a small commission on the products you purchase after clicking through my links. For more info, please see my disclosure policy here.
Food around Christmas is a big deal, and in my opinion, is what makes the season unique and something to look forward to all year long.
Warm special drinks, hot breakfast dishes, big hearty dinners, and making enough food to share with people we love… that's what makes Christmas FEEL like Christmas to me.
When it comes to what to eat around this time of year, I'm always reaching for things that are warm, spiced, have full flavors, and are often cooked low and slow so the smells migrate through my entire house.
For this gluten and dairy-free Christmas recipe roundup, I'm bringing together 25 delicious and Christmas inspired dishes that you'll love through the Christmas season or on actual Christmas day itself.
I've got breakfast dishes, snack ideas, dinner recipes, drinks, and of course Christmas desserts.
Gluten-free Dairy-free Christmas Breakfast Recipes
If you're looking to determine what to make for Christmas morning, try one of these special breakfast ideas.
If you like to make things ahead, try a French toast casserole or baked oatmeal. For some hands on time, try the gingerbread waffles and festive Christmas yogurt parfaits.
I feel like I'm constantly on the hunt for a good french toast casserole recipe – and this one looks simple and straight forward.
Perfect for any Christmas breakfast. This one only takes 10 minutes of prep and one hour of cooking time.
These gluten-free and dairy-free gingerbread waffles are a lovely Christmas breakfast idea to make the most of the holiday's spices and flavors.
Enjoy these from scratch on a weekend or Christmas morning or make them ahead and refrigerate or freeze them for when you need them.
Making a batch ahead of time saves lots of time for being with family and not in the kitchen!
Enjoy an easy breakfast idea with dairy-free yogurt, a homemade gluten-free gingerbread granola, fresh fruit, and nuts to make a festive yogurt parfait.
Use red fruit and green pistachios to make the most of holiday colors.
I love this breakfast idea, because the ingredients can be prepped the day before and everyone in your family can assemble their own parfaits.
If you like to switch up your Christmas breakfast menus every year, give this pecan pie baked oatmeal a try.
This recipe can be made ahead and is full of healthy gluten-free and dairy-free ingredients, like rolled oats (be sure they're gluten-free!), ground flaxseed, eggs, coconut oil, and pecans. It's like dessert for breakfast – but healthier!
These dairy-free gluten-free cinnamon rolls are a great recipe to have on hand any time of year, but especially around Christmas, when you want to make a special treat.
These are made using King Arthur gluten-free measure for measure flour blend and a homemade glaze.
Read on: 21 Gluten-free Dairy-free Christmas Breakfast Ideas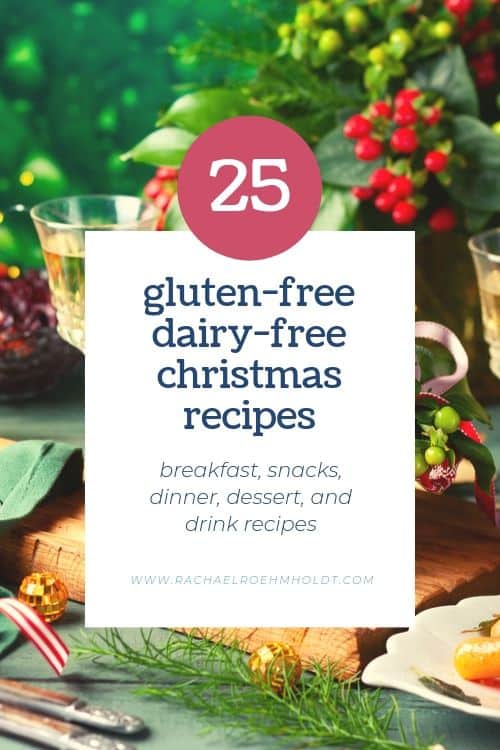 Gluten-free Dairy-free Christmas Snack Recipes
If you'r like my family, we eat a festive breakfast or brunch, then graze until dinner. If your family likes to have some snacks baked in on Christmas Day, consider some of these delcicious options.
Pumpkin pie spiced nuts are so flavorful and can be enjoyed on their own or added to a snack board (charcuterie board).
For some classic snacking, make a batch of this gluten and dairy-free Chex mix – it's a tradition to have this out at my house!
These pumpkin pie spiced nuts are incredibly tasty – sweet, crunchy and best of all, they make your house smell like absolute heaven.
This recipe came together in less than 30 minutes (including the cooling time), which them an excellent appetizer or snack idea for Christmas.
Read on: Are nuts gluten-free?
Add a charcuterie board to your entertaining plan this year! I love this idea, because it requires no cooking and assembly only.
Make it gluten-free by using gluten-free crackers, vegetables, fruits, and gluten-free deli meats. Make it dairy-free by skipping the cheese and using hummus or other dairy-free dips instead. Or try my dairy-free cashew cheese spread.
Read on: Is hummus gluten-free?
These gluten-free apple cinnamon muffins are a great snack for kids or adults alike. Having a batch of these on hand for Christmas morning or between big meals can be a great option. They're gluten-free and dairy-free, plus only take about 10 minutes to put together.
Read on: Get. more gluten and dairy-free muffin recipes
Love Chex mix but need to skip all the gluten and dairy? Check out this gluten-free homemade Chex mix option.
How do you make it gluten-free? Only use gluten-free ingredients – wheat Chex and swap the other gluten-filled additions for gluten-free options, like gluten-free bagel chips and gluten-free pretzels.
Make it dairy-free by using dairy-free butter in place of normal butter. Get the recipe in full and half batches.
Read on: Gluten-free cereal
Spinach and artichoke dip is a delicious appetizer or snack option to serve at your Christmas gathering. This one is dairy-free and has no gluten. Serve with sliced veggies, gluten-free crackers, or gluten-free tortilla chips.
Read on: 40 Gluten and dairy-free stocking stuffers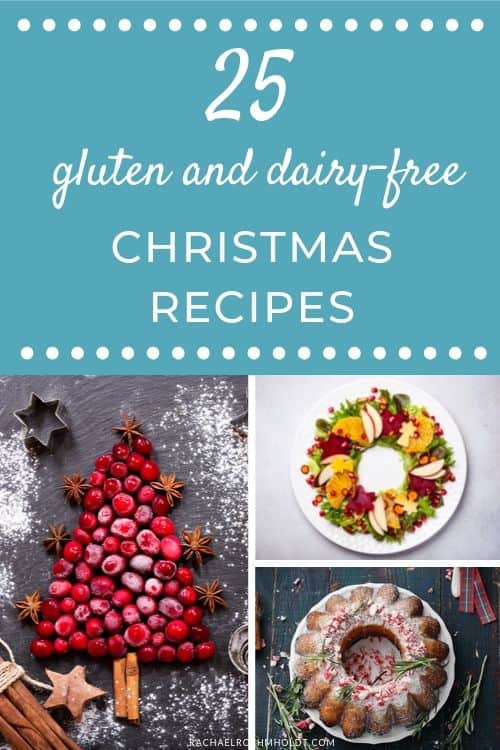 Gluten-free Dairy-free Christmas Dinner Recipes
Christmas dinner can be as simple or complicated as you'd like to make it. Try one of these five protein sources for your main dish.
Choose from prime rib, baked ham, stuffed pork loin, turkey, or a festive pistachio-crusted salmon.
Each with their own twists to make them juts a little more special, you'll love these recipes!
Prime rib can be made many different ways, but this one really looks festive for the holidays, and Christmas dinner.
This one is made with a garlic, thyme, and rosemary crust and topped with a gorgeous green gremolata. It's gluten-free and dairy-free naturally, so feel free to indulge!
Baked ham is a quintessential holiday main dish and this one is super yummy with the addition of apple cider as the base of a glaze.
I feel okay about using butter in this recipe since it's on the glaze, but you can always swap for vegan butter or coconut oil if you're more comfortable.
Be sure the ham you buy is gluten-free (it will say on the package) to feel confident this recipe is 100% gluten-free and dairy-free.
This stuffed pork loin is gorgeous filled with a deep red cranberry and rosemary sauce – perfect for Christmas dinner!
This recipe is dairy-free, and can be made gluten-free by swapping out the whole-wheat breadcrumbs for gluten-free breadcrumbs. So festive too!
If you love turkey for Christmas, here's a great recipe for you. This recipe is cooked up in a foil tent so it steams inside, then at the end you get to take the foil off for an extra crispy skin.
Best of all, you don't need any gluten or dairy for this flavorful holiday main dish.
This pistachio crusted salmon is easy enough for any weeknight, but is beautiful enough to serve at a holiday event and Christmas dinner.
This is quick and easy to put together and uses basic pantry ingredients. Best of all, it's gluten-free, dairy-free, and can be made in 30 minutes flat.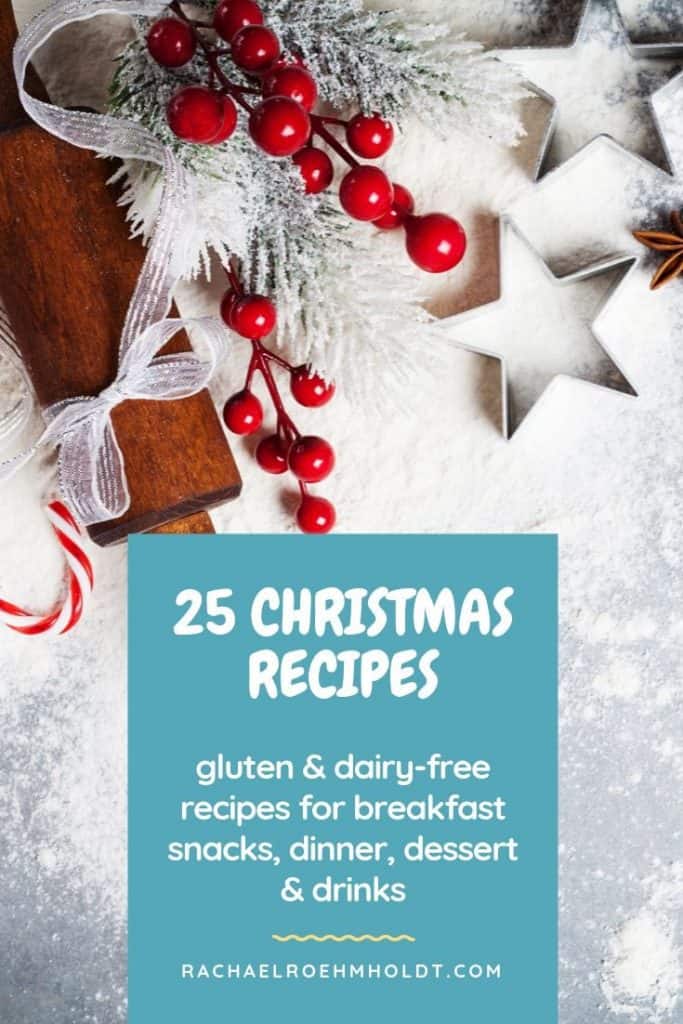 Need some weeknight dinner inspiration? Check out my weekly recipe and menu planning service GFDF Weekly! Click here or the image below for more info.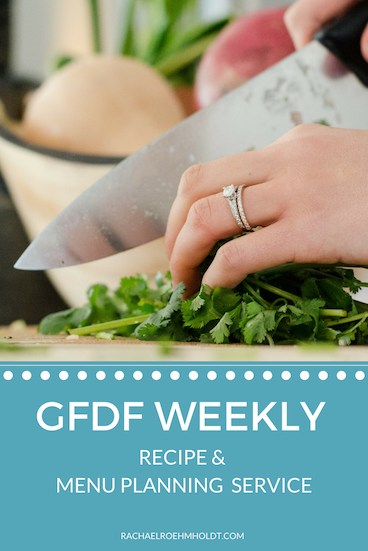 Gluten-free Dairy-free Christmas Drink Recipes
Nothing says holidays than a Christmas-inspired drink! Whether you like to create a drink station or just like to have drink options at the ready for the holiday season, you'll love these five recipes.
Choose from dairy-free hot chocolate, egg nog, and holiday punch for the kiddos.
Just for the adults, you might want to whip up a batch of these peppermint mocha coffee creamer for your. morning coffee. Or cranberry apple cider sangria to go with your dinner!
Many hot chocolate mixes are made with dairy – not this one! I created my very own recipe that is full of flavor, but has no dairy included.
This recipe only requires 3 ingredients to make the mix (so you can store some in the pantry for later) – and 4 to make the entire recipe. It couldn't be easier – or cheaper – to make your own dairy-free hot chocolate at home!
Or make dairy-free peppermint hot chocolate!
This homemade dairy-free egg nog is a great dairy-free alternative to the classic holiday beverage that many love.
This recipe has all the flavors of normal egg nog, but is made from dairy-free milk, banana, maple syrup, cinnamon, vanilla, and nutmeg.
Make even Christmas morning coffee a little bit more festive this year!
Try this homemade dairy-free peppermint mocha coffee creamer that's completely dairy-free, made with coconut milk, cocoa, vanilla extract, and maple syrup. Yum!
Need an adult beverage for your Christmas dinner but want to be sure it's definitely gluten-free and dairy-free? Try this festive cranberry apple cider sangria.
This recipe comes together with red wine, apple cider, cranberry juice, orange liqueur, honey, and fresh cranberries and apples for garnish. Looks delicious!
Cranberry orange holiday punch is delicious and easy to make for your holiday guests at your Christmas get-together.
Of course, there's no gluten or dairy, and needs a few ingredients to make up 7 cups of this tasty drink.
Gluten-free Dairy-free Christmas Dessert Recipes
There is nothing better than Christmas dessert. We love to make all kinds of treats throughout the month of December, including these gluten and dairy-free spritz cookies and sugar cookies.
You might also love to make some festive peppermint macarons, fudge, or even a delicious gingerbread cake – it's amazingly delicious!
Enjoy this gluten and dairy-free take on a classic Christmas cookie without the gluten or dairy. These spritz cookies are super simple and customizable with a cookie press.
Make them gluten-free by using a gluten-free all-purpose flour blend, and dairy-free by using vegan butter in place of butter. There's even an egg-free option!
You can't get more festive for Christmas than peppermint, right? These super tasty peppermint macarons are great for serving – and wowing – your holiday guests.
These are made using Bob's Red Mill almond flour, so you know they're naturally gluten-free. And they're made into sweet little macaron cookie sandwiches with a delicious dairy-free chocolate ganache. What could be better?
Read on: Are macarons gluten-free?
Fudge is one of those simple holiday go-to recipes that people love to make around the holidays, but without the gluten and dairy, this one can get a little tricky.
Try this dairy-free fudge recipe – and make it your way (with or without nuts). Be sure to use dairy-free chocolate chips in this one!
Read on: Is fudge gluten-free?
This gluten-free sugar cookie recipe is made with almond flour, is light, fluffy, and perfectly sweet. Enjoy these sugar cookies on a dairy-free or vegan diet too!
Mix some holiday-colored sprinkles into the dough or frost and decorate for a fun activity!
Nothing says Christmas like gingerbread! This fluffy cake is full of warm holiday spices, like ginger and cinnamon and is super satisfying.
This gingerbread contains no gluten, dairy, or eggs! Enjoy it with powdered sugar sprinkled on top or with a dollop of dairy-free whipped cream.
As you can see, there are plenty of delicious foods to add to your gluten-free dairy-free Christmas this year. There are loads of options and simple ways to make dishes a little more festive.
If you've found a new recipe you love in this list, I'd love for you to share in the comments which one you're looking forward to trying!
Get more holiday recipes and inspiration with 101 gluten and dairy-free holiday recipes!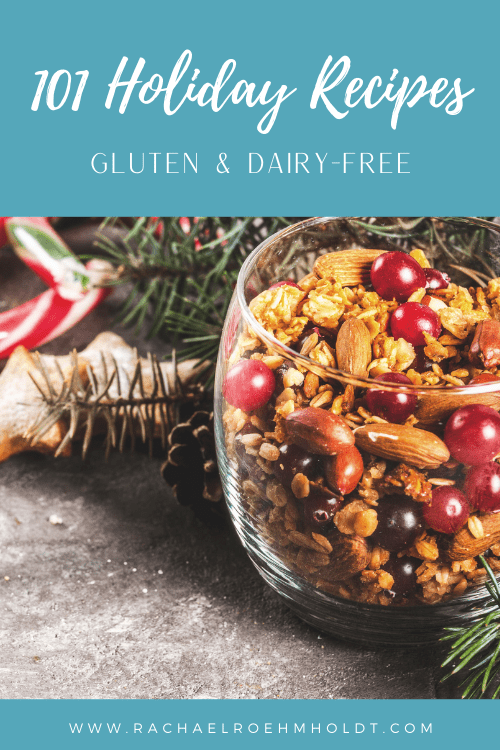 If you loved this post, I hope that you'll share it with your friends on Facebook and pin it for future reference on Pinterest.
If you'd love even more inspiration and recipes for a gluten-free dairy-free diet, be sure to grab my free shopping list – plus 5 free recipes – by entering your details below!
Love this post? Check out some of my other great Christmas and Holiday posts!
Looking for some Christmas and holiday recipes that are gluten and dairy-free? Check out these great posts!