Gluten and dairy-free spritz cookies are perfect for the holiday season! Not only do they have no gluten or dairy, but this recipe has an optional egg-free option too, making it completely vegan-friendly.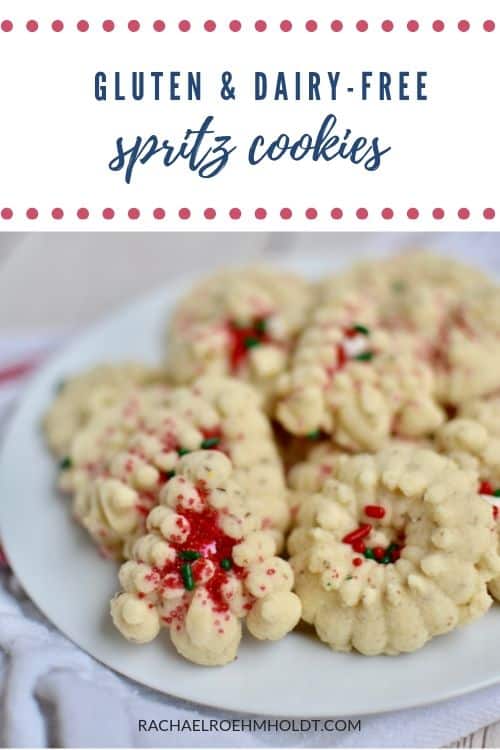 Note: I am a proud Amazon, Chomps, MunkPack, and Thrive Market affiliate and am happy to recommend their service and products to you. Please know that as an affiliate, I may receive a small commission on the products you purchase after clicking through my links. For more info, please see my disclosure policy here.
Spritz cookies couldn't be easier – some flour, butter, eggs, sugar, vanilla, and salt mixed together, put in a cookie press, squirted out, baked, and voila! Easy peasy cookies in no time.
But what do you do if you eat a gluten and dairy-free diet? What ingredients can you use to enjoy your favorite Christmas spritz cookies without the flour and butter that's needed for this classic holiday recipe? Find out in this post!
One of my best holiday memories is making spritz cookies every year with my mom and sister in the kitchen. My mom always had a long list of people she wanted to gift Christmas cookies to, so that meant we made a lot of cookies every holiday season.
My personal favorite to make were spritz cookies because hello!! – what other cookie lets you use a press to make them?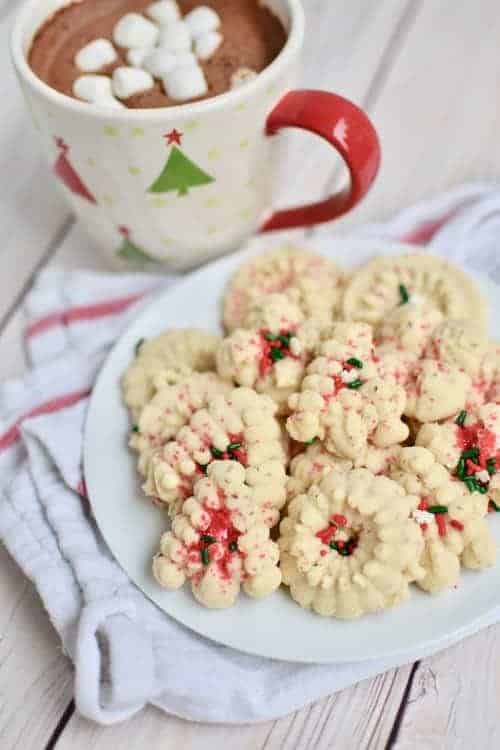 These cookies are so fun to make and decorate, so it makes sense why they're one of my – and loads of other people's – favorites.
If you eat a gluten and dairy-free diet, you'll need to make a few important ingredient swaps to make sure these are safe for your diet. These also make a great gift for folks you may know who are also gluten and dairy-free.
The first swap you'll want to make is for the butter that's called for in this recipe to make it dairy-free. You can go a few routes with this.
You can swap the butter for coconut oil, vegetable shortening, or Earth Balance vegan butter (or another brand of vegan butter you prefer). I have tried this recipe with both coconut oil and vegan butter and prefer the vegan butter for the flavor.
The other important swap in this recipe to make it gluten-free is trading out normal all-purpose flour for a gluten-free flour blend. There are tons of gluten-free flour blends out there – you can buy them or make your own.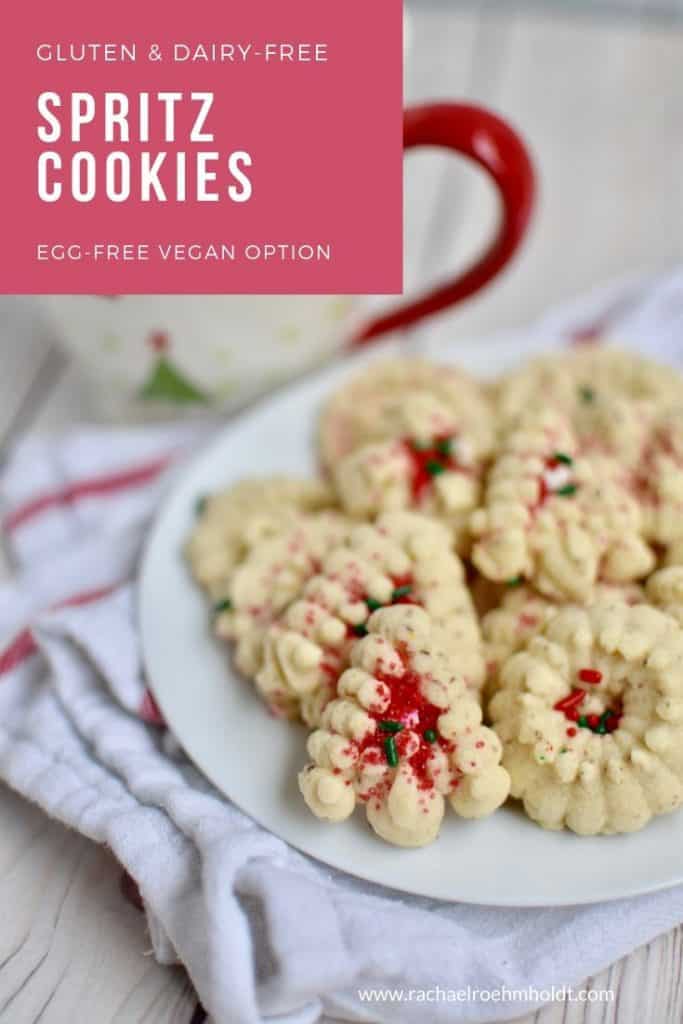 After trying all kinds of different gluten-free flour blends, I prefer the King Arthur Measure for Measure flour blend and have been using it almost exclusively for the past year or so in my baking.
It is tempting to want to make your own blends, but I never seemed to use up all my different gluten-free flours before the expiration dates came around, and that just meant more waste and lost money. I stick with this gluten-free flour blend and so far, it hasn't disappointed.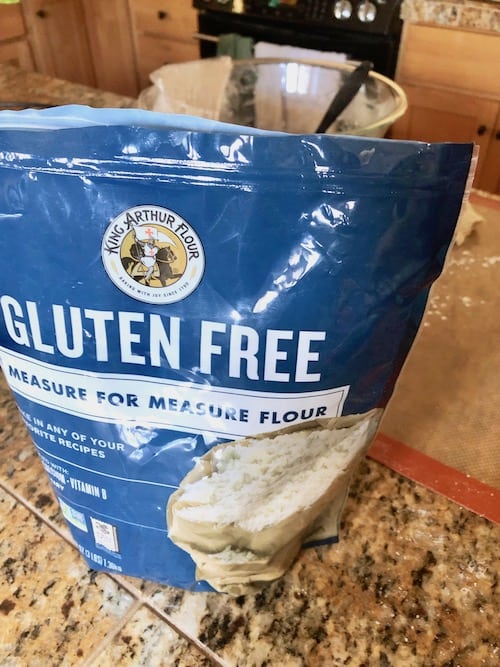 Another swap you might want to make if you don't eat eggs like me (don't worry – you can still eat eggs on a dairy-free diet, I just can't tolerate them in addition to gluten and dairy), you can easily swap the eggs in this cookie recipe for flax eggs.
Even if you do eat eggs, but just don't have any on hand when you go to make these cookies, you can easily use flax eggs too.
To make a flax egg, you just combine 1 tbsp ground flax meal with 3 tbsp warm water and let sit for about 5 minutes, or until it has formed a gel consistency.
When it comes to decorating these spritz cookies, you can get as creative – or as simple – as you want! I like to use the tree or snowflake designs when making Christmas spritz cookies, so we usually wind up decorating ours with green and red sprinkles or blue sprinkles.
There's really no way to go wrong – you can get as creative as you want, and use this dough recipe as a jumping off point for a really fun creative outlet for a winter day.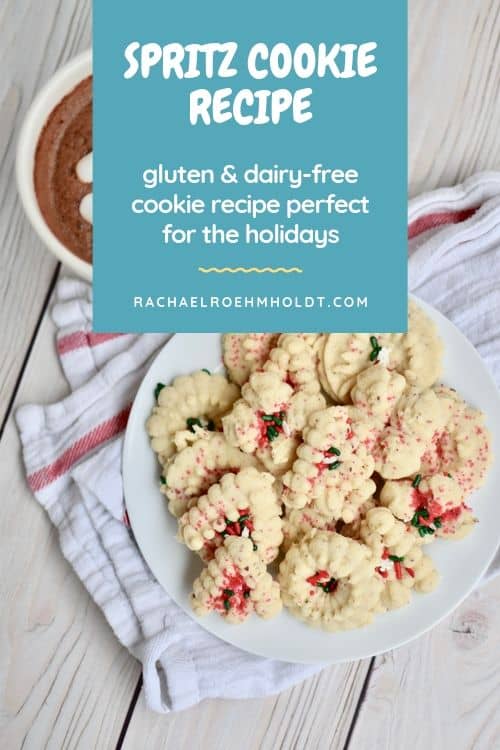 Yield: About 30 cookies
Gluten-free Dairy-free Spritz Cookies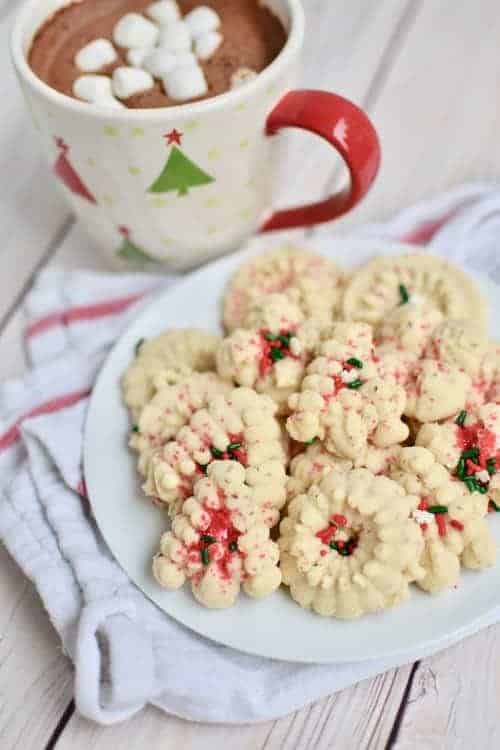 Gluten and dairy-free spritz cookies are perfect for the holiday season! Not only do they have no gluten or dairy, but this recipe has an optional egg-free option too, making it completely vegan-friendly. Perfect for the holidays!
Additional Time
5 minutes
Instructions
Preheat the oven to 350 degrees F. Line two cookie or baking sheets with parchment paper.
In a large bowl or stand mixer, combine the vegan butter and sugar. Add the egg (or flax egg) and vanilla extract, and mix until smooth.
Add the salt and gluten-free flour and mix. Your dough may be a bit sticky, but don't worry!
Transfer the dough to a cookie press (follow the directions that go with your cookie press to make sure you're doing it right). Choose your design to press.
Press dough into your shapes right on the parchment-lined baking sheet. You'll want to leave about an inch or an inch and a half space between cookies.
Sprinkle the cookies with your choice of sprinkles, then bake for 10-12 minutes, or until the bottoms appear to be a little darker in color. The tops of the cookies may not look golden, like you'd expect, so just look at the bottom of the cookie to know if they're done.
Transfer out of the oven to cool for about 5 minutes, then transfer to a cooling rack.
Store cookies in an airtight container for up to 7 days.
Recommended Products
As an Amazon Associate and member of other affiliate programs, I earn from qualifying purchases.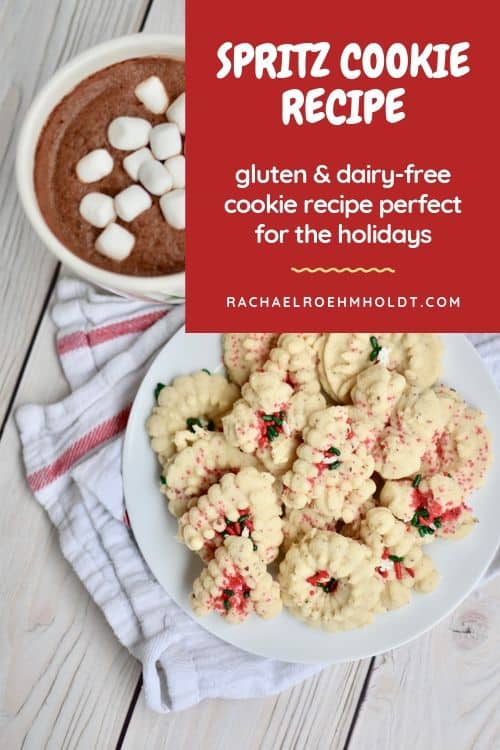 Love this post? Check out some of my other great Christmas and Holiday posts!
Looking for some Christmas and holiday recipes that are gluten and dairy-free? Check out these great posts!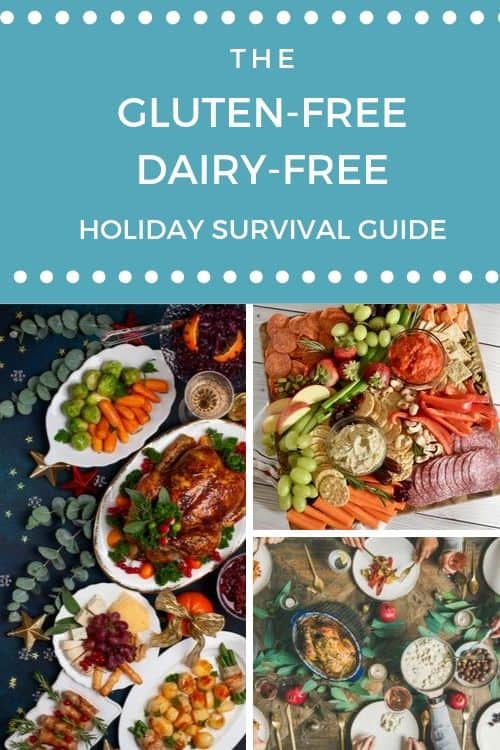 f you loved this post, I hope that you'll share it with your friends on Facebook and pin it for future reference on Pinterest.
If you'd love even more inspiration and recipes for a gluten-free dairy-free diet, be sure to grab my free shopping list – plus 5 free recipes – by entering your details below!