Try these gluten-free dairy-free yogurt parfaits for Christmas breakfast! Perfect for a few or a crowd. Festive, pretty, and delicious!
Note: I am a proud Amazon, Chomps, MunkPack, and Thrive Market affiliate and am happy to recommend their service and products to you. Please know that as an affiliate, I may receive a small commission on the products you purchase after clicking through my links. For more info, please see my disclosure policy here.
Are you looking for a delicious Christmas breakfast idea that's both gluten and dairy-free, and loaded with flavor? Do you want to impress your family members and have them wondering how they can TASTE the holidays on their tongues?
Look no further than this gluten and dairy-free Christmas yogurt parfait made with dairy-free yogurt, a homemade gingerbread granola, pistachios, and strawberries.
Ready for a personal story and rant about how crazy the holidays are? Pull up a chair.
For the past 5 years, I've been really overwhelmed with the Christmas season. Between the shopping, the family events, the friend get-togethers, the school and extracurricular festivities, I am burned out on Christmas before it ever comes.
This year, my mom who is a part-time caretaker from my grandma, is out of town for almost the entire four weeks between Thanksgiving and Christmas. With that, my sister and I are stepping in to be the extra set of hands my grandma needs while she's traveling.
With everything going on this year (and really, every year at this time), it's a LOT. In the past, we've often spent different days with different families, so that I didn't get too overwhelmed in one day.
It's hard to spend quality time with people when you're exhausted – and if you don't know this about me, I'm a HUGE introvert. So a little goes a long way when it comes to socializing.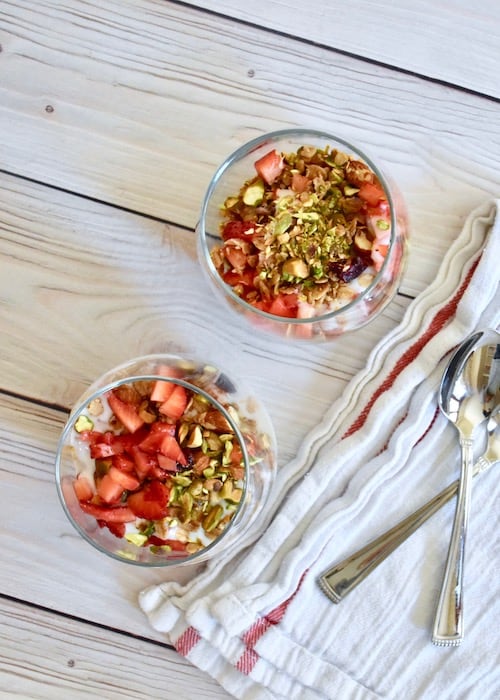 But last year, I realized that spreading the festivities out even further just made it so I had even less down time between them to recharge.
I decided to start taking on hosting Christmas brunch for my husband's side of the family in addition to having a Christmas dinner with my family in the evening on the holiday.
I started planning this whole thing in about…. August to make sure I wasn't overwhelmed when the time came around.
Not only did I host Thanksgiving this year, do all the Christmassy things with my family, do all the shopping, take care of grandma, and ALL. THE. THINGS, but I also need to show up Christmas morning dressed like a real human and have a holiday brunch that feels thought out and festive. Did I say it feels like a LOT??
I'll calm down now. But you get it. The holidays are stressful. Very stressful.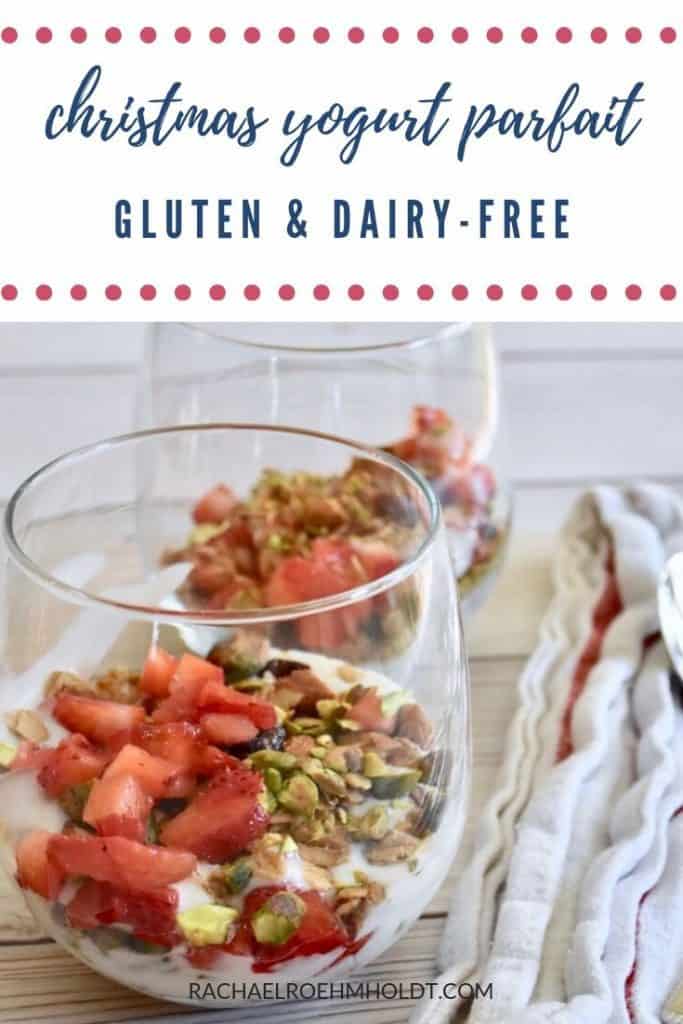 One way I'm coping with all that's going on is to come up with ways to make that Christmas brunch as easy as possible. Last year, I made pancakes (that took way too long), bacon, and eggs.
We also had fruit, hot chocolate, and sparkling cider. My sister-in-law brought bagels and cream cheese. There was too much food, and standing in the kitchen getting it all prepared was a little much.
I'm hoping to do better this year. One dish I'm planning to serve at my Christmas brunch this year are yogurt parfaits. There's honestly nothing easier than a yogurt parfait.
I could not be happier than to offer these holiday-inspired yogurt parfaits at my Christmas brunch because I can either prep them ahead of time so everyone can take one, or I can set all the ingredients out for folks to make their own. A little DIY yogurt parfait bar, if you will.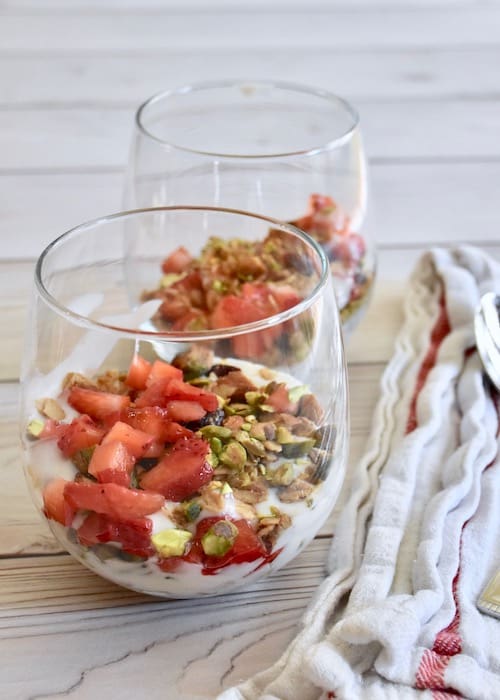 These gluten and dairy-free Christmas yogurt parfaits have just four ingredients:
Chopped pistachios
Chopped strawberries
Choosing granola
I decided I'd use my homemade gingerbread granola in these gluten and dairy-free Christmas yogurt parfaits, because it's so festive – and I already have it on hand from making it as gifts for others.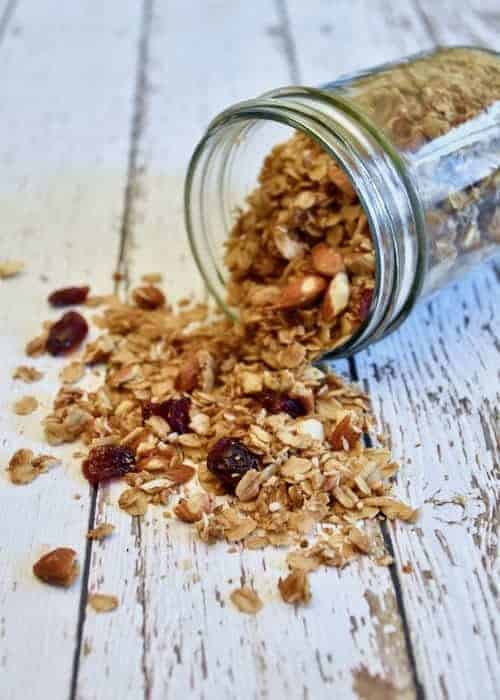 Of course, if you don't want to make your own gluten-free gingerbread granola, you can just as easily buy some, or pick up another gluten-free granola flavor, like this maple walnut granola from Purely Elizabeth, that you and your family love.
Read on: Gluten-free Granola (Dairy-free, Vegan) Recipe
Read on: Is granola gluten-free?
Choosing dairy-free yogurt
For this Christmas yogurt parfait, I'm using the Forager cashew milk vanilla yogurt, because I like the flavor and the consistency of the yogurt. You can easily choose another milk alternative based yogurt for this recipe, like coconut milk yogurt or almond milk yogurt.
There's no right or perfect dairy-free yogurt out there, so if you aren't sure which type of dairy-free milk yogurt you'd like in this recipe, just choose one off the shelf and give it a try. If it's good on its own, it's great for this recipe.
You can also choose a different flavor than vanilla if you'd like. I just like the plainness of the vanilla flavor, but if you find a strawberry or other flavor that you know you like, go ahead and use that. No right or wrong here!
Read more about dairy-free yogurt brands and options.
Read on: Is yogurt gluten-free?
Read on: Is Greek yogurt dairy?
Choosing other ingredients
I also added chopped pistachios and strawberries to my gluten-free Christmas yogurt parfaits, because they are red and green.
Those two ingredients just plain felt festive to me. Of course, there is red in the dried cranberries in the gingerbread granola, so I didn't really need to add any more red from the strawberries, but I thought they looked pretty and decided to add them.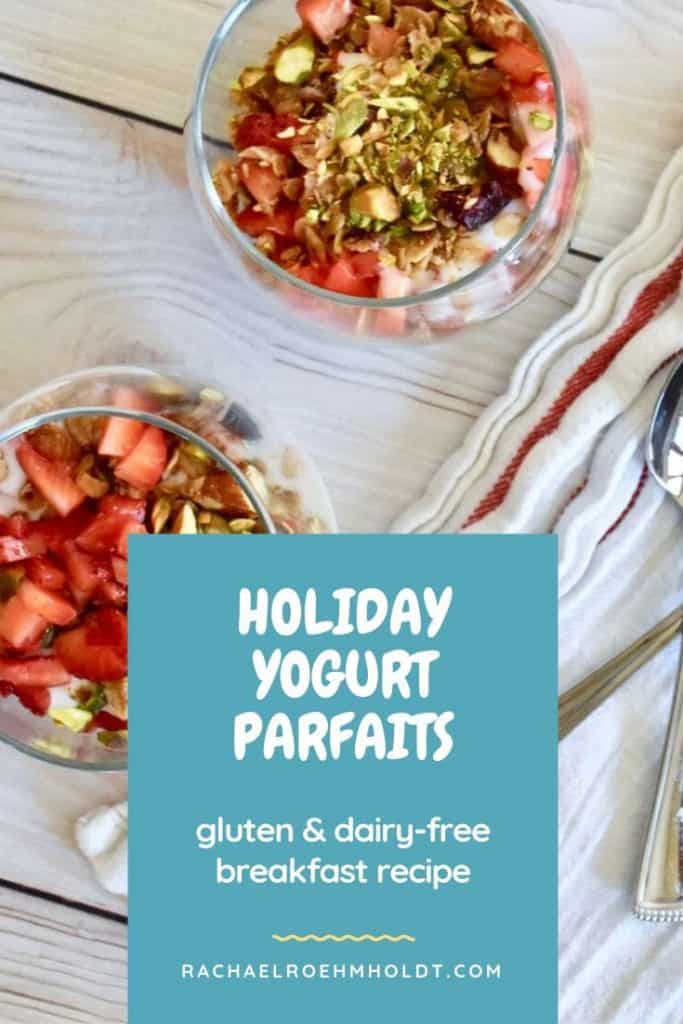 You can choose any other red fruits (or omit them entirely) or nuts that you love (if you're not a fan of pistachios).
There's no wrong way to make this recipe. Again, I just loved the red and green color that showed through in the dish, making them feel super festive.
Yield: 2 servings
Gluten-free Dairy-free Christmas Yogurt Parfaits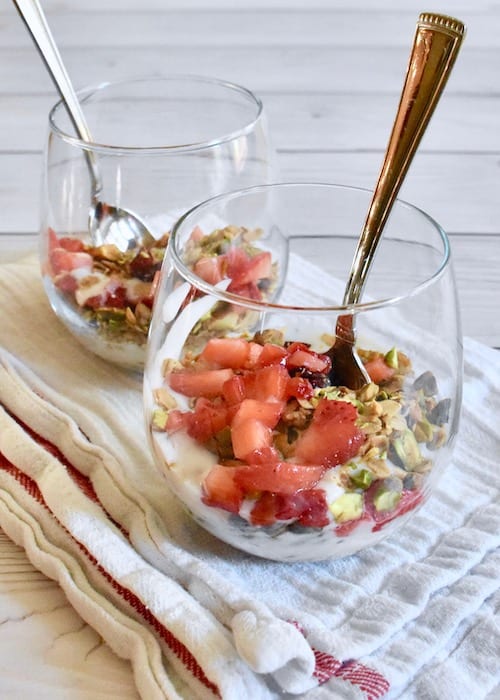 This gluten and dairy-free Christmas yogurt parfait made with dairy-free yogurt, a homemade gingerbread granola, pistachios, and strawberries.
Ingredients
2 - 5 oz containers dairy-free vanilla yogurt (I used Forager cashew milk yogurt)
6 strawberries, chopped
Instructions
In two glasses, add a layer of gingerbread granola to the bottom.
Next, add half the dairy-free yogurt to each glass, on top of the granola.
Sprinkle half the pistachios, and place half the strawberries on top. It's fun if you make sure each layer is visible from outside the glass.
Repeat steps 1 through 3, leaving a few pistachios and granola to place on top.
Enjoy!
I hope if your holiday season is feeling hectic that these gluten-free dairy-free Christmas yogurt parfaits will make it even just a bit less stressful. Enjoy these on Christmas morning for brunch, or really any other day of the week if you want to feel super festive!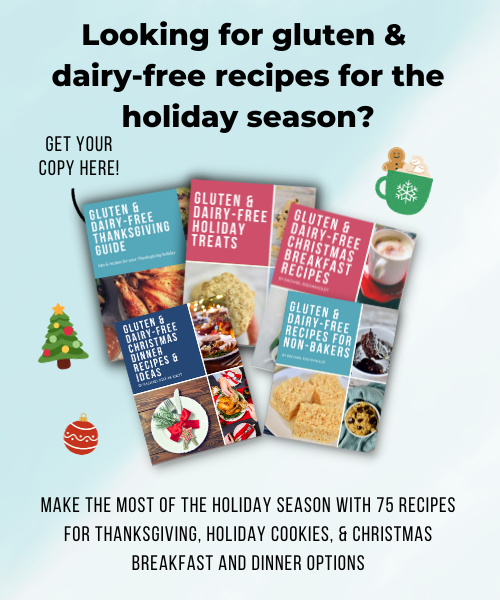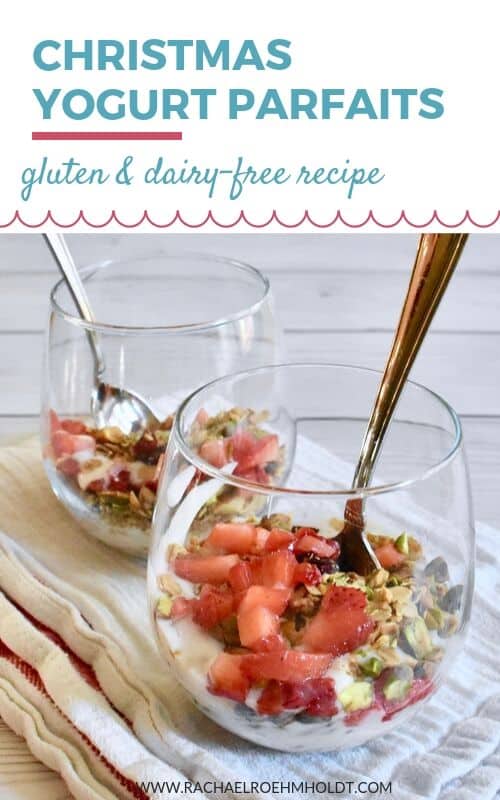 Love this post? Check out some of my other great Christmas and Holiday posts!
Looking for some Christmas and holiday recipes that are gluten and dairy-free? Check out these great posts!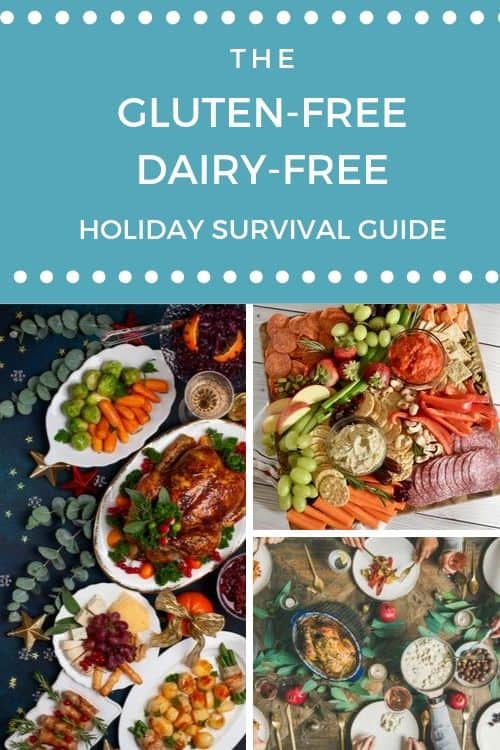 If you loved this post, I hope that you'll share it with your friends on Facebook and pin it for future reference on Pinterest.
If you'd love even more inspiration and recipes for a gluten-free dairy-free diet, be sure to grab my free shopping list – plus 5 free recipes – by entering your details below!