What's Christmas without Christmas candy? Learn which candy is both dairy-free and gluten-free Christmas candy and perfect of a gluten and dairy-free diet throughout the holiday season. These candies are perfect for gifting, decorating gingerbread houses, and eating.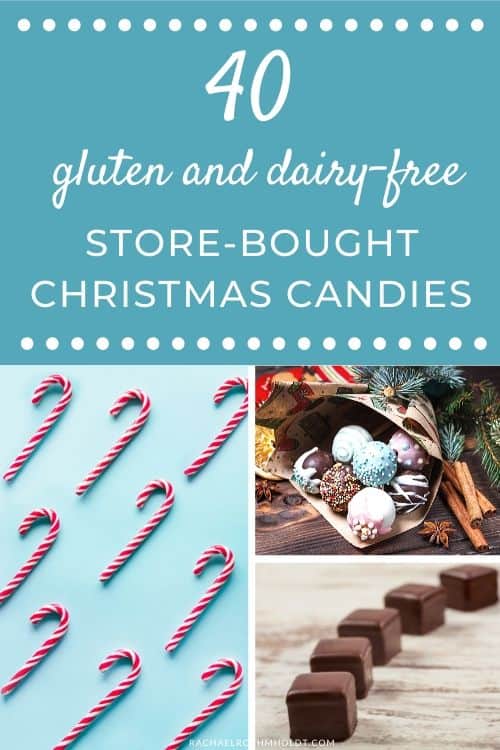 Note: I am a proud Amazon, Chomps, MunkPack, and Thrive Market affiliate and am happy to recommend their service and products to you. Please know that as an affiliate, I may receive a small commission on the products you purchase after clicking through my links. For more info, please see my disclosure policy here.
When it came to creating this list, one of the main reasons I started working on a list like this was that I had created a pretty good list of 25 gluten and dairy-free candy options for Halloween.
I realized that after doing the research with that holiday, it would be really useful to do some research for Christmas too.
After all, so many kids (and adults) get candy in their stockings or share candy with family and friends.
I decided to do some digging to find some great dairy-free and gluten-free Christmas candy so that even if we're not eating gluten or dairy, we can still enjoy some sweets this Christmas season.
When it came to researching dairy-free and gluten-free candy for Christmas, I decided to simply start with the candy that I knew about. Things like: candy canes, chocolate, and different lollipops.
I thought through what different treats I had as a kid and things that I enjoyed. I also tried to think of candy that my son enjoys now that he gets that he tends to eat more candy around the Christmas holiday season.
I decided to add to my list some different candy that I had rounded up for my Halloween post: candies like Necco Wafers, Mike and Ike's, and Hot Tamales.
All of these seemed like good candies to add to my list, because I know that as much as we just enjoy eating candy around Christmas time, some of the time we use candy as decorations for the holidays.
One of the main reasons I created this post was for gingerbread baking and gingerbread house decorating.
I know every year my son and I decorate a gingerbread house and although we usually don't eat it, because we usually buy one of the pre-assembled gingerbread house kits, I thought it would be fun to actually create a list of candy that I could actually eat.
My family isn't usually too keen on eating the candy in those gingerbread house kits, so if we were to do it with treats we'd actually eat, then I know for at least my portion, the candy would need to be both dairy and gluten-free.
I hope that you enjoy this Christmas candy Roundup! This is really just a huge list of candy that you can use for the Christmas season, but also reference throughout the year if you're looking for something sweet.
I'm sure that with everything in this list, you'll find something delicious to share this holiday season! Enjoy these sweets both with eating – and with decorating with them!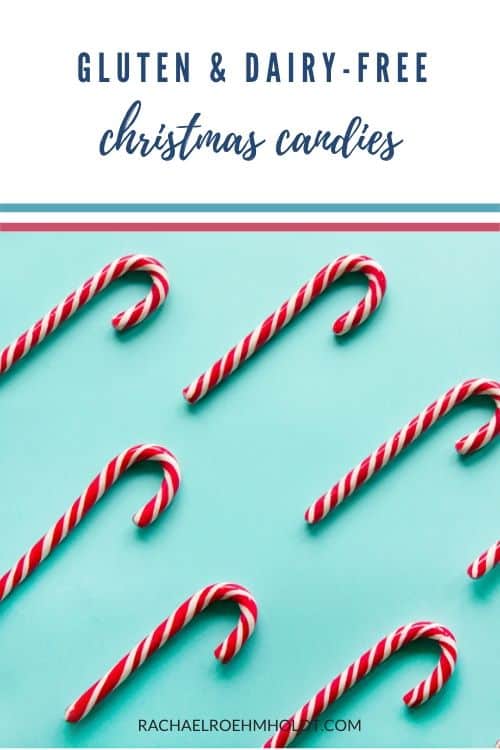 Dairy and Gluten-free Candy Canes
Did you know some candy canes are not gluten and dairy-free? I had no idea! I decided to do a little bit of research to find a few brands that are worth looking for.
The brand that I found that would be the most easy to find in most stores is the Spangler brand.
Spangler candy canes are peanut-free, tree nut-free, milk-free, egg-free, wheat and gluten-free. It's also been manufactured on a dedicated line, so you know that it is going to be absolutely safe for your gluten and dairy free diet.
There are a couple of other brands that are worth looking into which you can find below.
Read on: Are candy canes gluten-free? Plus even more gluten-free candy cane brands
Dairy-free Chocolate
There aren't a ton of gluten-free dairy-free organic chocolate brands out there, but I did find one brand that creates chocolate bars that feel a little on the fancy side.
This is the Theo Chocolate brand. They are located in Seattle, Washington and put out some really great holiday flavors like Nutcracker Brittle, Peppermint Stick, and Cranberry Orange.
Not all of Theo's chocolate is gluten-free or dairy-free, but they do have a few options in their dark chocolate line.
They even offer a vegan line (dairy-free) and you can order a 4-pack on their website with four delicious dark chocolate bars that are perfect for gifting this time of year.
Some other gluten-free dairy-free Christmas chocolate brands are below.
Read on: Are M&M's gluten-free?
Read on: Are Hershey's Kisses gluten-free?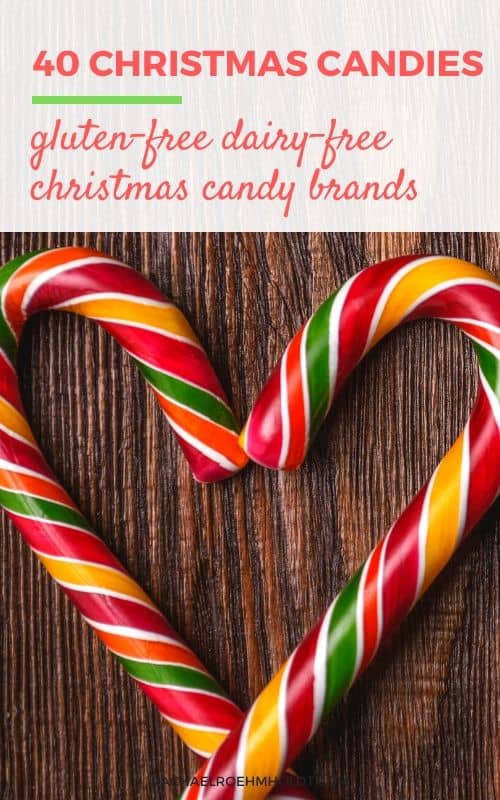 Lollipops
There are a number of different gluten and dairy-free lollipop options for the Christmas season. You can go with a traditional lollipop like Dum Dums with your standard flavors.
Yum Earth also is a great option for anyone who has multiple food allergies or intolerances, as these are all top 8 allergen-free.
Zollipops are an interesting brand for gluten and dairy-free lollipops. I have started buying these for my son throughout the year. They are also top 8 allergen-free, and are made with Xylitol.
This brand claims to be better for your teeth than having traditional sugar in lollipops. So if you're worried about your kids' sugar intake around Christmas time, Zollipops are something to check out.
Check out the brands down below and find a lollipop that is great for you this holiday season.
Read on: Are Tootsie Pops gluten-free?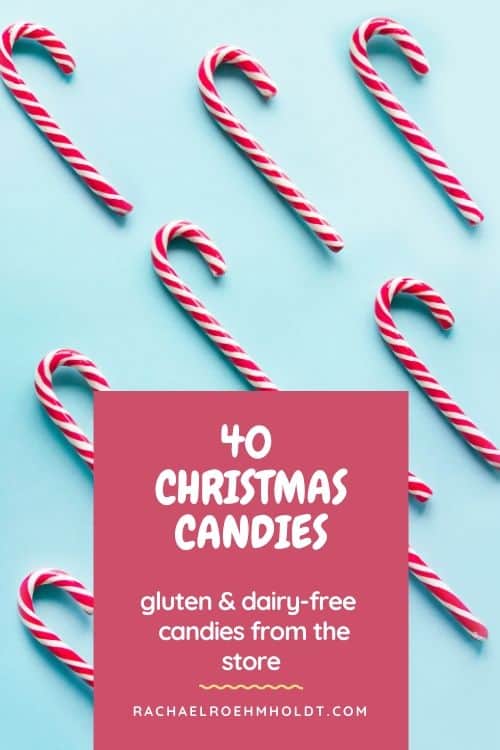 Other dairy and gluten-free Christmas candy for eating and decorating
In this last section, here is simply a group of candies that you might want to eat on their own or they might be candies that you would want to use to decorate gingerbread houses or other baked items around Christmas time.
This list includes some common brands, like Skittles, Starburst, and Lifesavers. You'll also find in this list holiday Brach's and Peeps items.
Read on: Are Skittles gluten-free?
Read on: Are Lifesavers gluten-free?
Although there are some candies listed here that are both gluten and dairy-free, remember that not every product that each of these companies offer are safe for a gluten-free dairy-free diet, so stick to this list or do some research before buying or eating.
Yum Earth and Surf Sweets are top 8 allergen-free friendly, as well, so if you're looking for something that covers multiple food intolerances or allergies, these might be your best bet.
Give these candies as gifts, decorate with them, or do whatever feels good to you this time of year! Enjoy!
Read on: Are Swedish Fish gluten-free?
Read on: Gluten-free Licorice
Read on: Are Jolly Ranchers gluten-free?
Read on: Are Jelly Bellys gluten-free?
I hope that you've found this big list of gluten-free dairy-free candy to be helpful for you this holiday season. Of course, this isn't an exhaustive list and I'm sure there are plenty of other candies and brands out there that might be great for Christmas.
If you don't plan to stick to this list, always remember to do your research before buying. For more information on gluten-free candy, be sure to check out my ultimate gluten-free candy list.
Check ingredient lists and if you still can't determine if something is gluten-free or dairy-free from there, research online going to the brand's website or using Google to help you get the answer you need.
Love this post? Check out some of my other great Christmas and Holiday posts!
Looking for some Christmas and holiday recipes that are gluten and dairy-free? Check out these great posts!