This gluten-free gingerbread granola is both gluten and dairy-free, perfect for gift giving, and tastes like the holidays in each bite.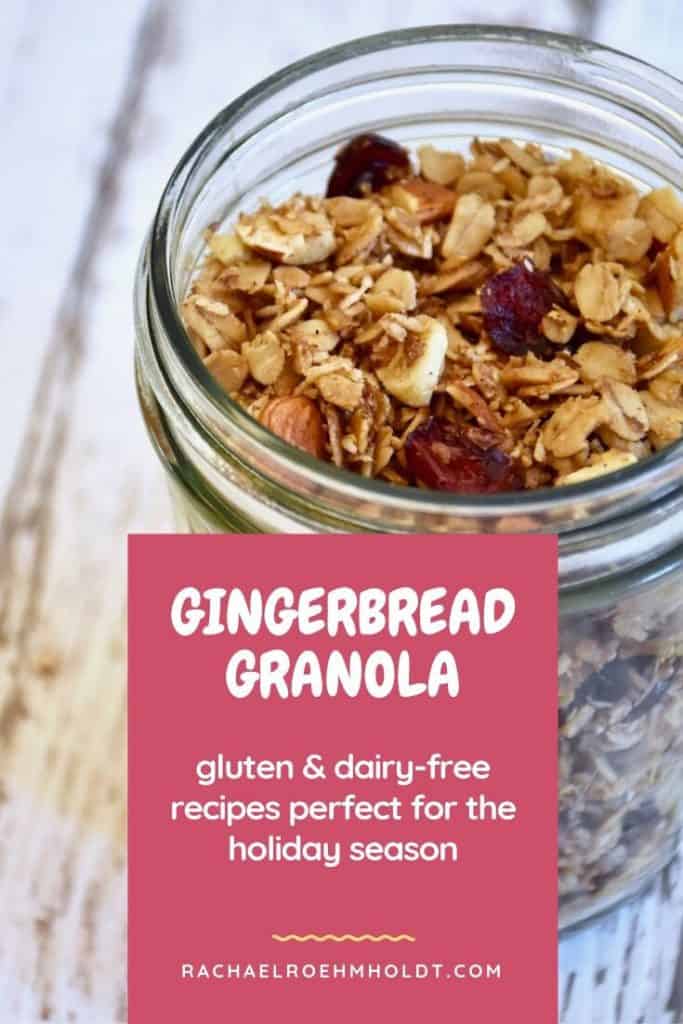 Note: I am a proud Amazon, Chomps, MunkPack, and Thrive Market affiliate and am happy to recommend their service and products to you. Please know that as an affiliate, I may receive a small commission on the products you purchase after clicking through my links. For more info, please see my disclosure policy here.
When it comes to the holiday season, one of the things I love to do is make even the most basic things that my family and I eat more festive. Everything from waffles to making "ornaments" out of pancake batter to making gingerbread granola.
Even though I don't eat a whole lot of granola throughout the year, there is something that feels so homey about this recipe. I love to make it and I love to eat it. Best of all, I love to share it.
When I got to thinking about recipes I could share here on my blog about food gifts you could make that are both gluten and dairy-free for the Christmas season, I had to include my gingerbread granola recipe.
This recipe is perfect for:
Topping with a little almond or coconut milk
Enjoying as a snack all on it's own
Loading up yogurt parfaits
Giving as gifts to friends during the holidays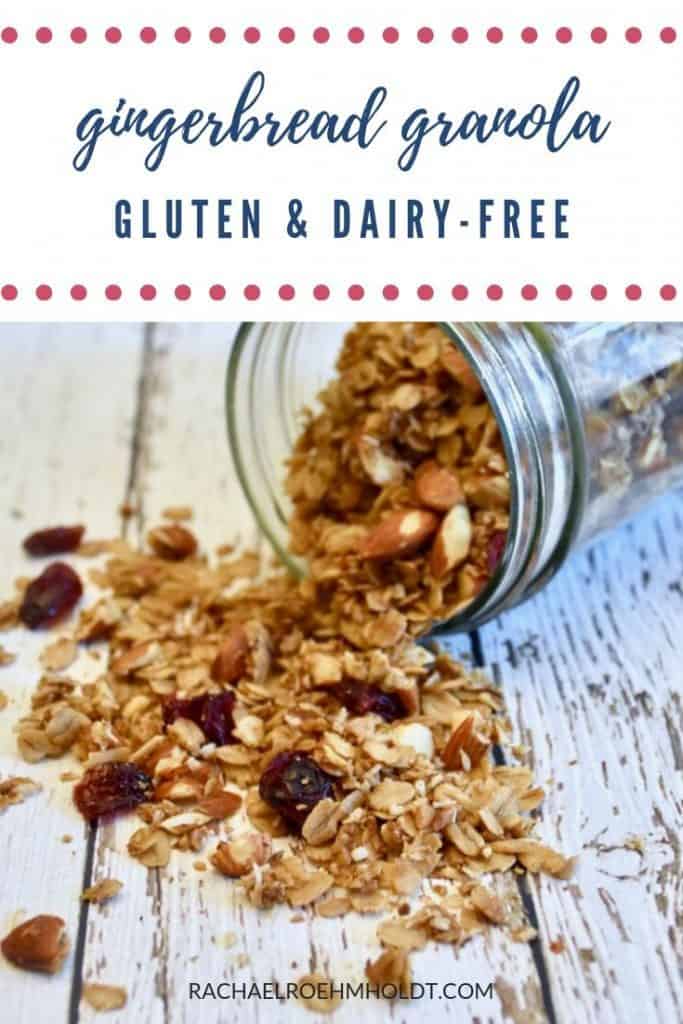 When it comes to preparing this recipe, there really isn't anything too difficult about making your own granola at home. It can sound daunting, but truly, it's just about mixing ingredients up, and giving it some time in the oven.
All you need to do to make this recipe come together is combine the wet ingredients first, then the dry ingredients. Combine them together, place on a parchment-lined baking sheet, and bake. Like I said, it couldn't be easier.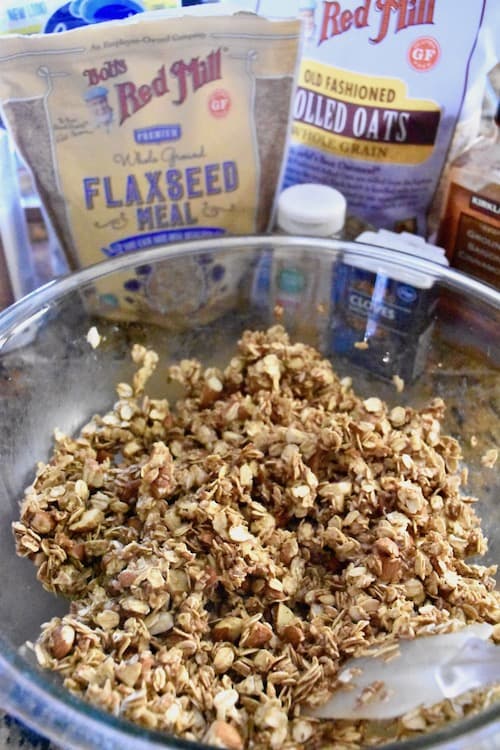 Choosing oats
When it comes to ingredients for gluten-free gingerbread granola, the only thing to be mindful of is the oats that you use. If you're intolerant to gluten like I am, it's in your best interest to use gluten-free oats. You can find that out by looking on the package of the oats you use.
The oats from the bulk bins are probably a no-go, just in case of potential cross-contamination with other bins. You'll want rolled oats, not quick oats, for this recipe.
I like to use Bob's Red Mill gluten-free oats for this recipe, but you can use any other gluten-free rolled oats that you can get your hands on or that you enjoy.
Read on: Are rolled oats gluten-free?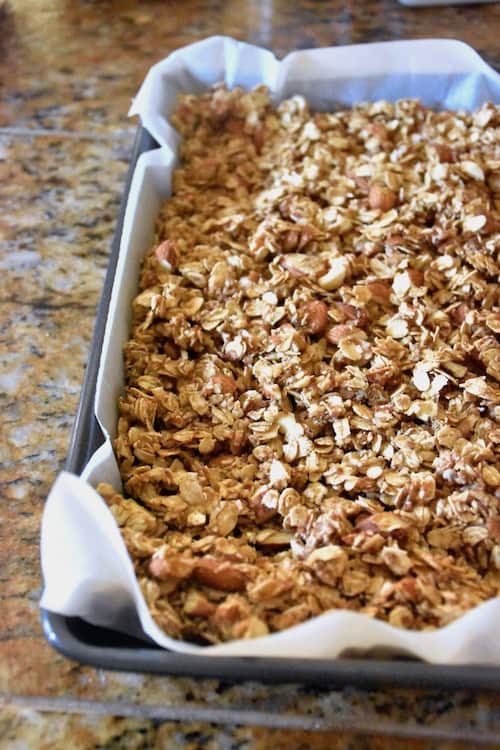 Making this basic granola into gingerbread granola
When you boil down this recipe that I'm sharing, it's really just a basic granola recipe, but what makes this granola recipe great for the holidays are all the gingerbread spices and flavors. To turn this plain granola into something even more Christmassy, I've added:
Get my go-to Gluten-free Granola recipe for any time of the year.
Read on: Is granola gluten-free?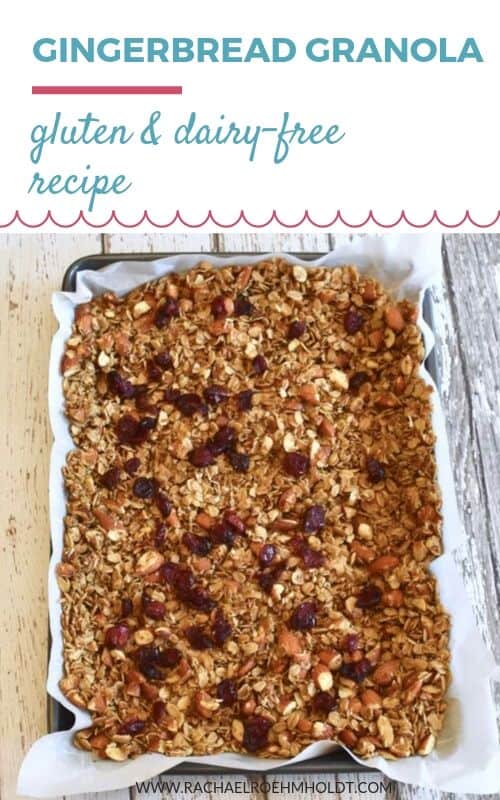 Yeah, cranberries aren't a traditional flavor in gingerbread, but I just love the red color they bring to the recipe. With all these delicious warming spices mixed in with sweet syrup and yummy vanilla and coconut oil, this plain old granola gets kicked up a notch into a perfect granola for the entire holiday season.
As I said above, one of the things I'm excited about with this recipe is how gift-able it is. I really have made a few batches of this, put them into mason jars, decorated with a little ribbon, and shared with family and friends.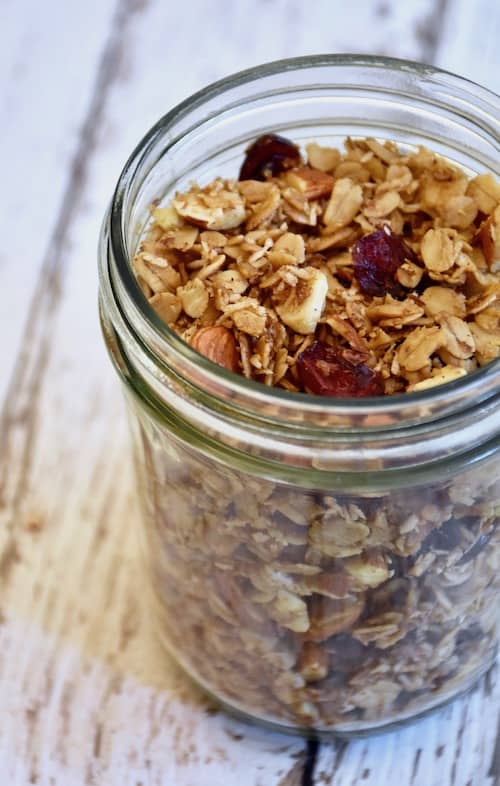 It's super easy to gift this gingerbread granola, and who doesn't like a little something to eat as a gift this time of year? I actually prefer it to getting more stuff that will fill my house. As long as it's gluten and dairy-free, it's a gift I'm happy to receive!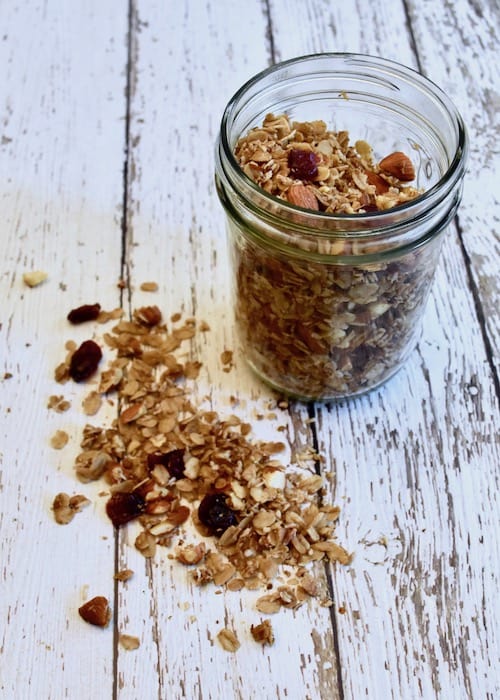 Gluten-free Dairy-free Gingerbread Granola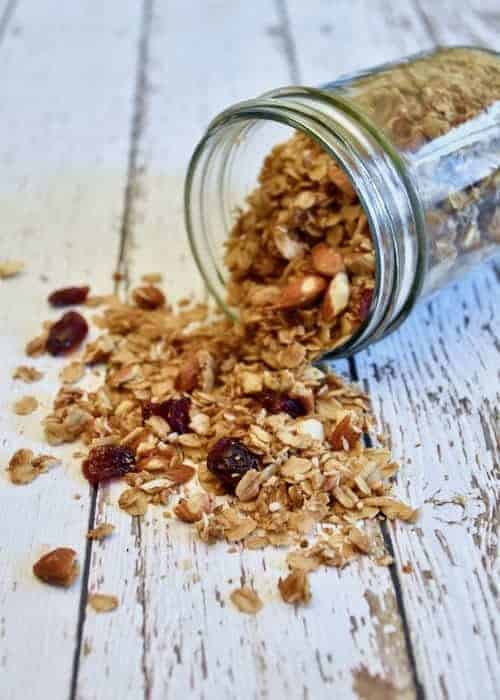 This gluten-free gingerbread granola is both gluten and dairy-free, perfect for gift giving, and tastes like the holidays in each bite.
Ingredients
1/3 cup pure maple syrup
1 tbsp molasses
2 teaspoons vanilla extract
1/2 teaspoon salt
1 cup unsweetened shredded coconut
2 tbsp flax meal
1 cup almonds, chopped
Instructions
Heat oven to 250 degrees.
Line rimmed baking sheet with parchment paper.
Whisk together coconut oil, maple syrup, molasses, vanilla extract, and salt. Stir in oats, shredded coconut, flax meal, ground ginger, cinnamon, nutmeg, cloves, and almonds. Stir everything until well combined.
Transfer to the parchment lined baking sheet in an even layer.
Bake for 25 to 30 minutes, stir, and check on their doneness. If it doesn't look done quite yet, you can continue to bake in 5 minute increments until oats look golden brown. The granola will crisp up as it dries.
Remove from oven and let cool. Once cool, combine the granola with dried cranberries. Store in glass jar with tight fitting lid, like a mason jar, to enjoy for yourself or give as a gift.
Recommended Products
As an Amazon Associate and member of other affiliate programs, I earn from qualifying purchases.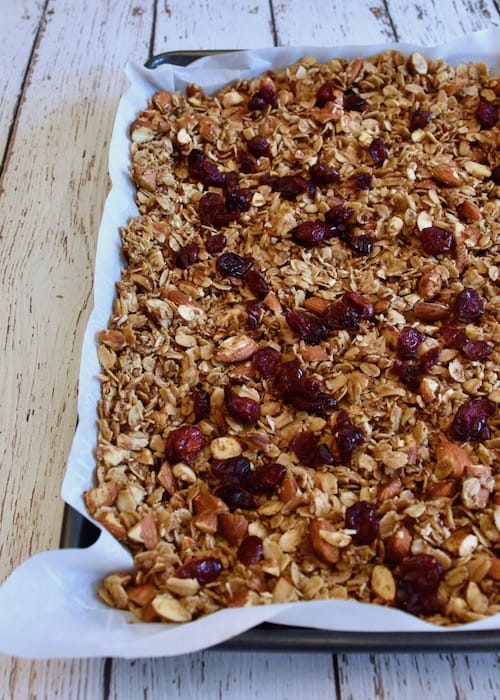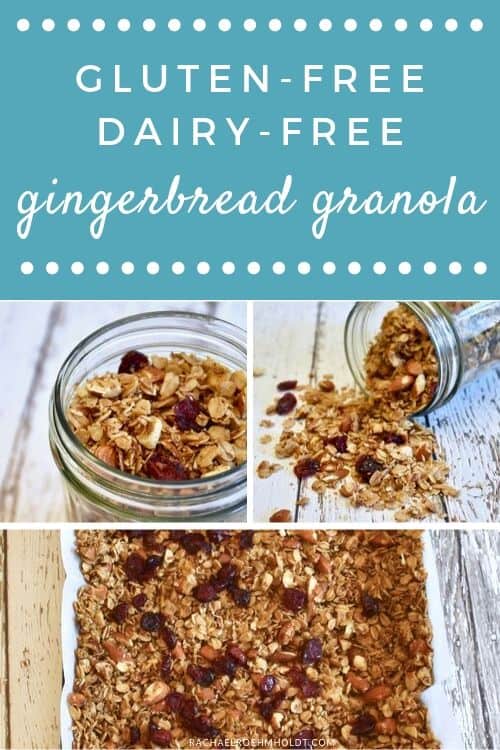 Love this post? Check out some of my other great Christmas and Holiday posts!
Looking for some Christmas and holiday recipes that are gluten and dairy-free? Check out these great posts!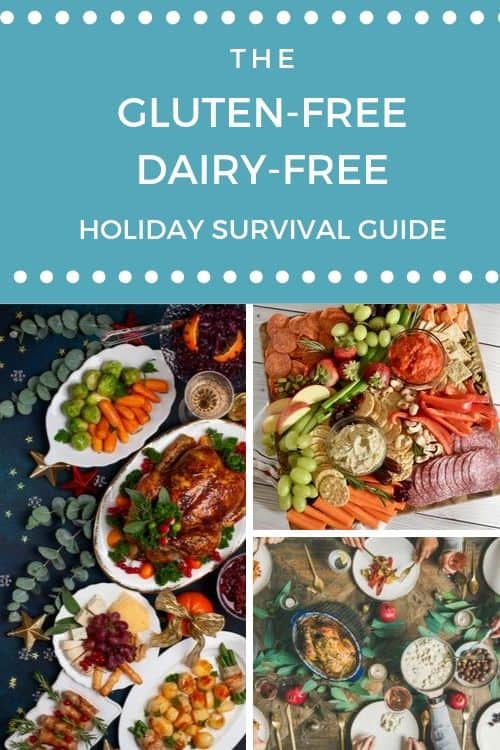 If you loved this post, I hope that you'll share it with your friends on Facebook and pin it for future reference on Pinterest.
If you'd love even more inspiration and recipes for a gluten-free dairy-free diet, be sure to grab my free shopping list – plus 5 free recipes – by entering your details below!