Looking for a healthier version of classic gingerbread? Check out this gluten-free dairy-free vegan take on a classic holiday favorite!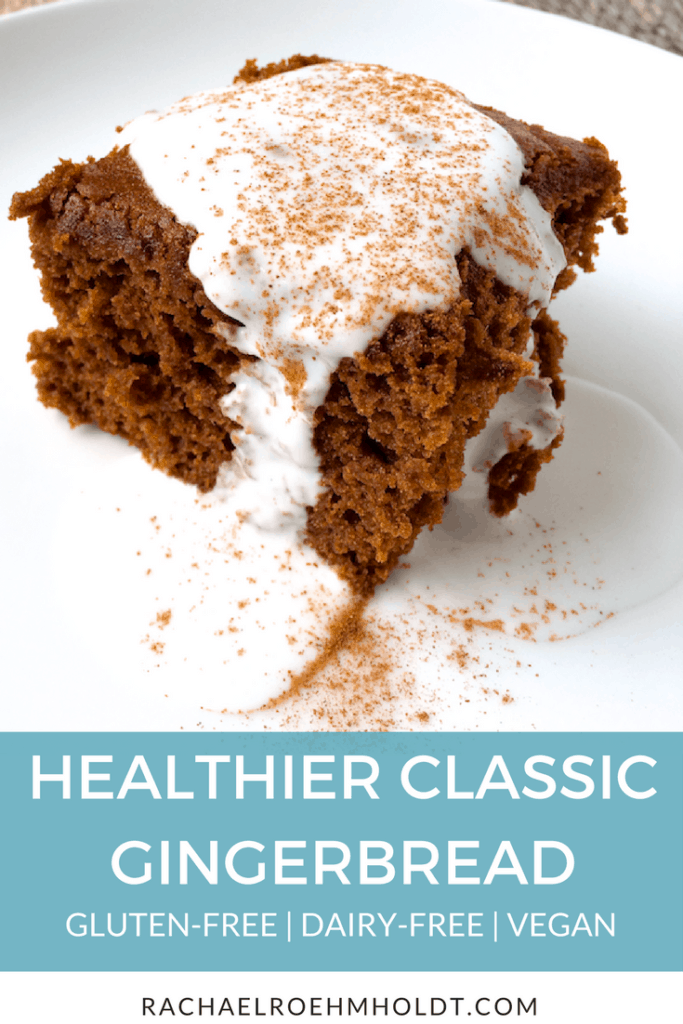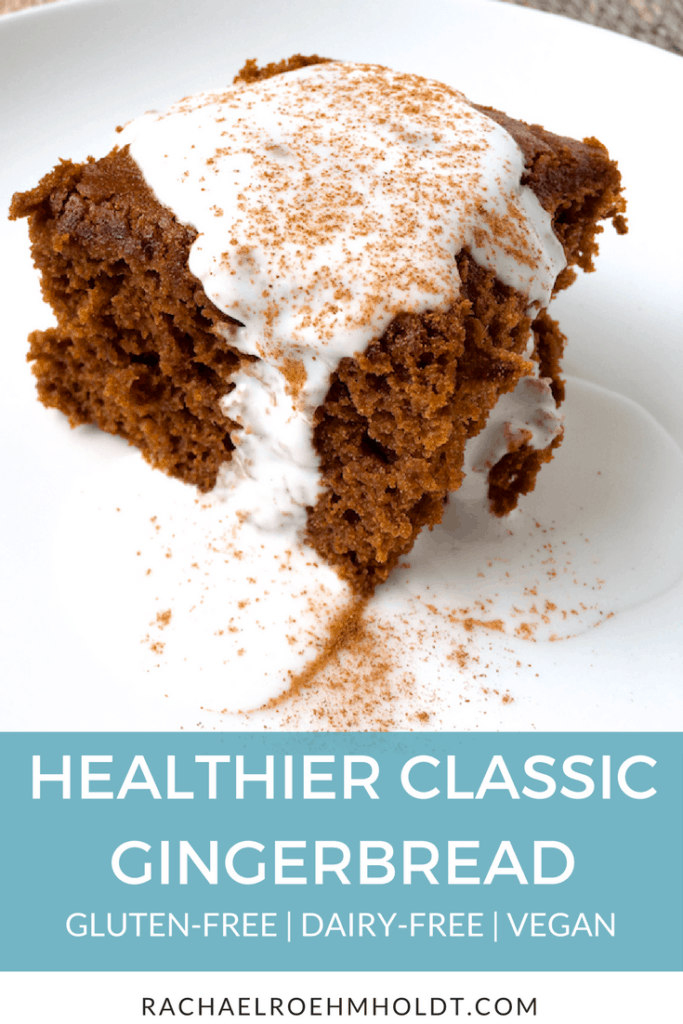 Note: I am a proud Amazon, Chomps, MunkPack, and Thrive Market affiliate and am happy to recommend their service and products to you. Please know that as an affiliate, I may receive a small commission on the products you purchase after clicking through my links. For more info, please see my disclosure policy here.
I haven't always been a huge fan of gingerbread. Sure, I enjoyed gingerbread cookies as a kid and had one during the holidays here and there. They just weren't part of our holiday baking adventures as a kid.
We made spritz cookies, rosettes (deep-fried dough that's bound to burn the crap out of you), no-bake peanut butter chocolate cookies, and even peanut brittle a few years using my Grandma's famous recipe.
Gingerbread – especially of the traditional cake variety – is something completely new to me. In fact just a few years ago, I had never even tried it.
My first year as a corporate employee, one of my coworker friends started chatting about holiday goodies and how her all-time favorite recipe was her mom's homemade gingerbread.
I remember sitting there staring at her thinking "they're just cookies, right?" But she went on to explain that it was actually more of a cake than a cookie. I was enchanted and she agreed to bring it to our holiday party that year.
After my first bite of that gingerbread, I was pretty smitten. It tasted JUST like the cookies, but with a more fluffy and moist texture. I loved it and for years have thought about making my own version.
Which is what brings me to today's post. I scoured online looking for a gluten-free recipe for classic gingerbread and found just a few that met the qualifications.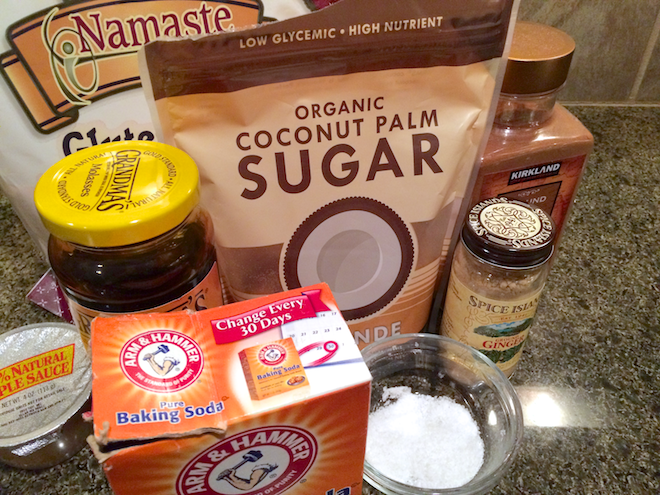 The one I stumbled upon that seemed to have the least amount of ingredients and the most ones I had on hand was this one, which is precisely the recipe that I have adapted to be even a little healthier.
For my simple healthy swaps, I traded out the butter or vegan butter for unsweetened applesauce and the refined sugar for coconut sugar, which has plenty of minerals that refined white sugar doesn't have and also has a lower glycemic index – keeping your blood sugar from spiking tremendously.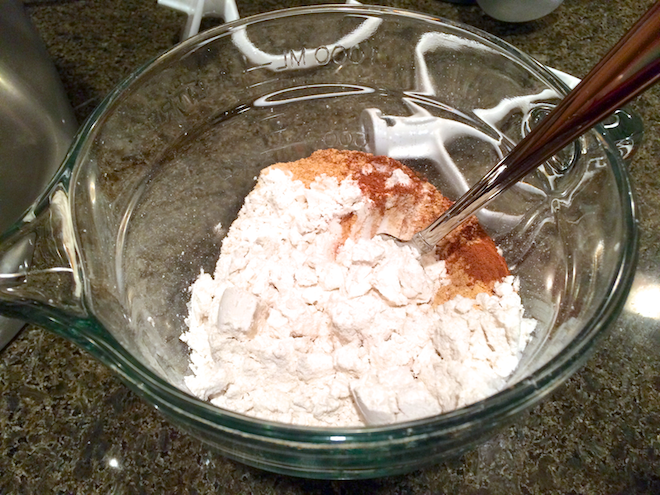 Don't get me wrong – there is no way that this cake is certifiably "healthy" – it's cake, it's not supposed to be. But with a few healthy swaps, us gluten and dairy-free folks can enjoy our classic gingerbread just like everyone else!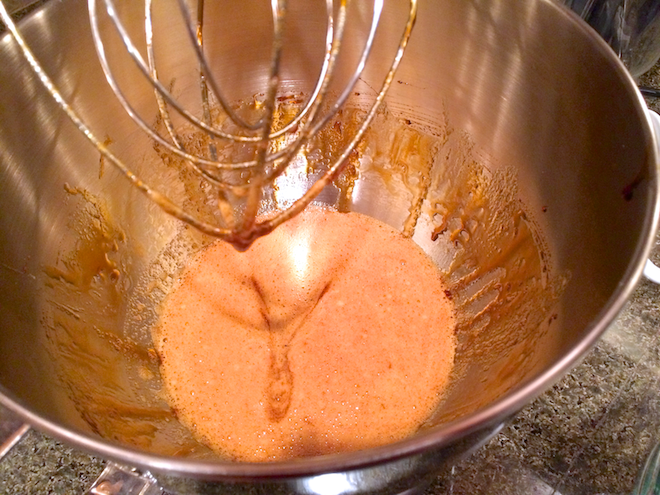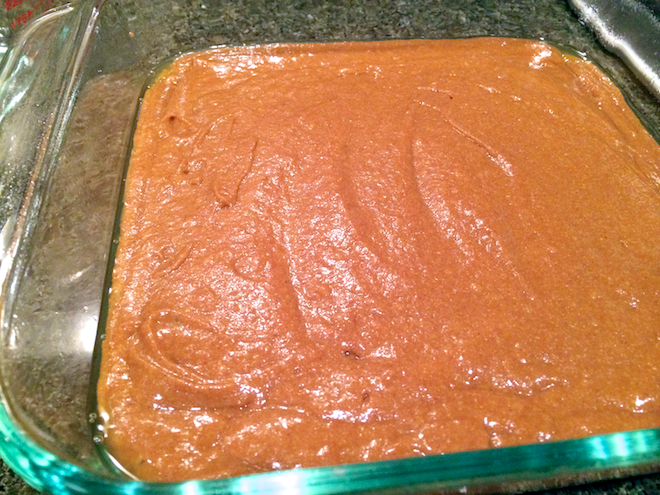 Yield: Serves 12
Gluten and Dairy-free Gingerbread Cake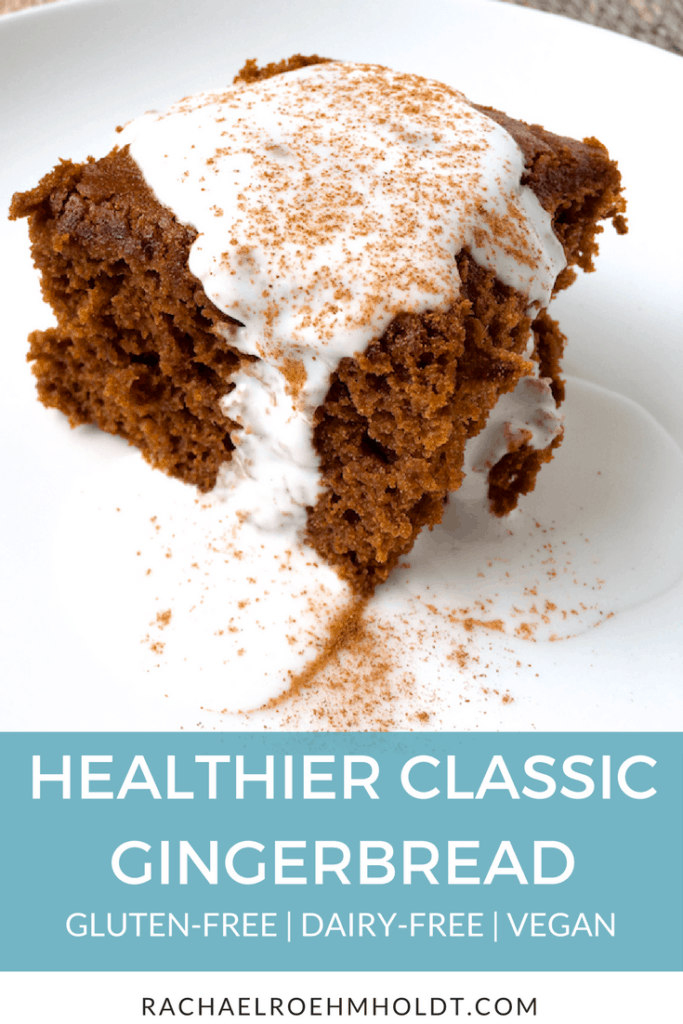 Looking for a healthier version of classic gingerbread? Check out this gluten-free dairy-free vegan take on a classic holiday favorite!
Ingredients
½ cup applesauce
1/2 cup coconut sugar
1 egg or flax egg (1 tbsp ground flax + 3 tbsp warm water)
1/2 cup mild molasses (not blackstrap)
1 1/2 cup gluten-free flour mix (I used Namaste Foods)
1/2 teaspoon salt
1 1/2 teaspoon baking soda
2 teaspoons ground ginger
3/4 teaspoon cinnamon
1/2 cup boiling water
Instructions
Preheat oven to 350 degrees F. Lightly oil 8" x 8" pan.
In a large mixing bowl or stand mixer bowl, cream together applesauce and coconut sugar. Add egg and beat well. Add molasses and beat to combine.
In a separate medium bowl, combine flour, salt, baking soda, ginger, and cinnamon, and whisk to combine. Gradually add dry ingredients to wet ingredients and beat just until combined. Add boiling water and beat just until smooth, scraping sides once if using stand mixer. Batter will be thin.
Place in pan and bake 35 minutes or until toothpick inserted in center comes out clean. Cool pan on rack.
Serve warm or cool with dairy-free whipped cream.
Recommended Products
As an Amazon Associate and member of other affiliate programs, I earn from qualifying purchases.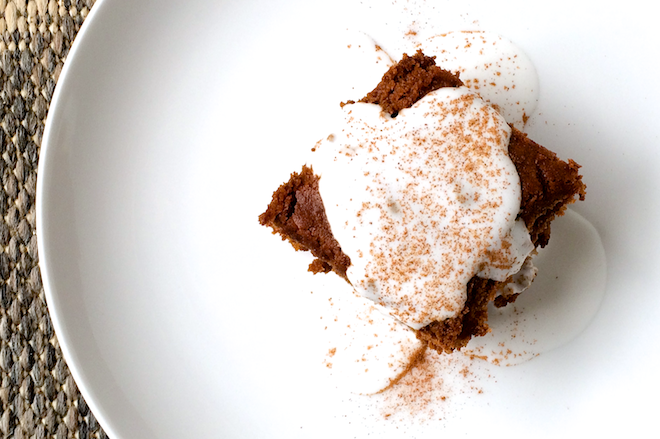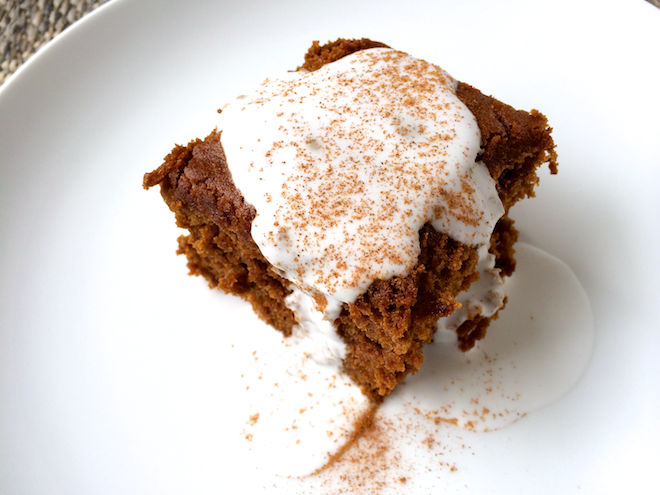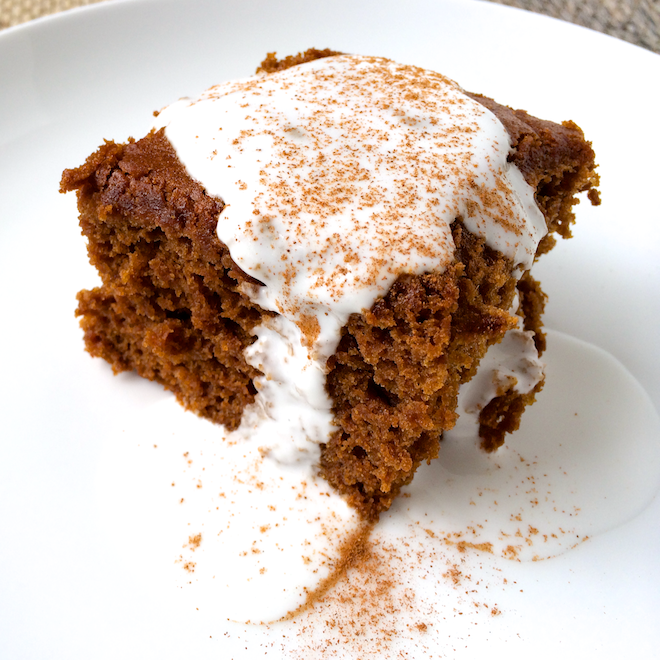 Are you a classic gingerbread lover?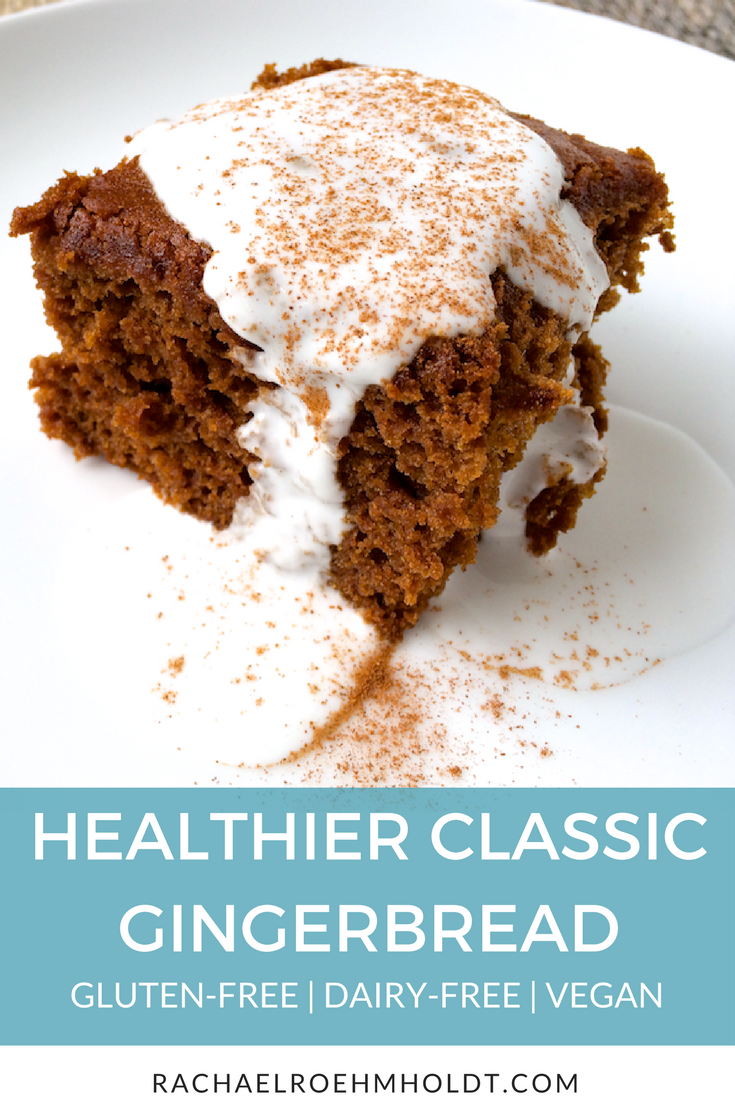 Love this post? Check out some of my other great Christmas and Holiday posts!
Looking for some Christmas and holiday recipes that are gluten and dairy-free? Check out these great posts!
If you loved this post, I hope that you'll share it with your friends on Facebook and pin it for future reference on Pinterest.