Do you love eggnog and need a dairy-free alternative? Try this delicious dairy-free eggnog recipe that's also vegan – plus some dairy-free eggnog brands to try out from the store!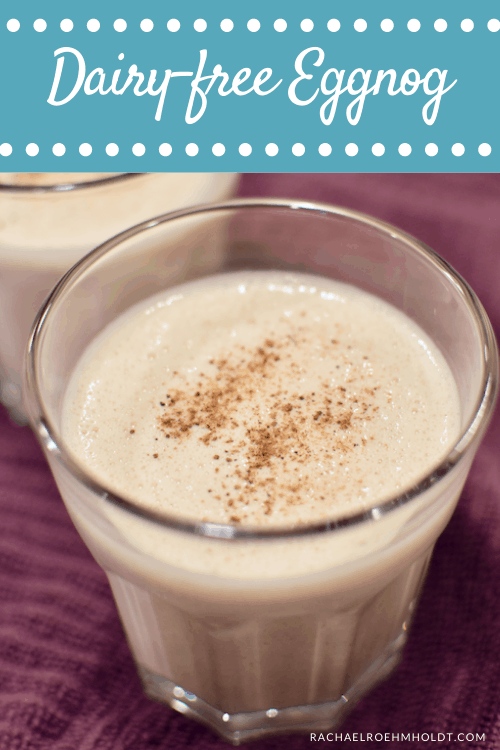 Note: I am a proud Amazon, Chomps, MunkPack, and Thrive Market affiliate and am happy to recommend their service and products to you. Please know that as an affiliate, I may receive a small commission on the products you purchase after clicking through my links. For more info, please see my disclosure policy here.
We're finally gearing up for Christmas around my house. It took a little while this year. Usually I'm quick to want to break out the tree and start decorating right after Thanksgiving, but this year I felt more like it would be too much work to take everything out and put it all back away again.
We've also been toying with the idea of selling our house the past couple of weeks, so if we decided to go that route, we wouldn't want a big giant Christmas tree in the middle of the house to tell potential buyers "hey, we're looking to move, but not really!"
On that front, we've decided to hold off until after the holidays before we start thinking about it again. Just too much on our plates right now!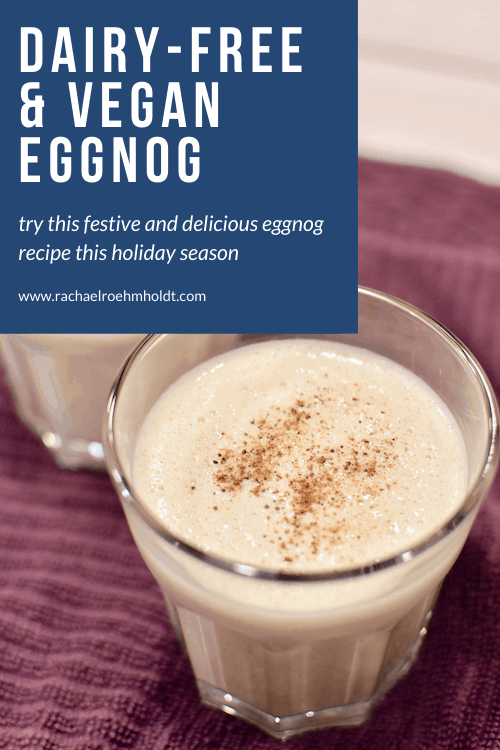 Eggnog is one of those collective holiday treats that everyone can agree only comes out once a year (probably for good reason with so much fat and sugar in it).
It's one of those drinks that most people seem to either love or hate. I've always enjoyed it, although have drastically pulled back from drinking it in my adult years.
As a kid, I was all about it and my mom would buy it for Christmas morning. It was always a special treat. I think even one year, my stepdad made eggnog french toast for Christmas breakfast which, if I remember correctly, was a better idea than it was a meal.
These days, I'm living the dairy-free life, which means that eggnog is off the table. I also don't eat eggs anymore, so a vegan eggnog is what I'm seeking out generally these days.
In honor of trying to get creative and bring an old holiday tradition back to life, I tried my hand at making a dairy-free eggnog.
I'll be the first to say that this isn't perfectly in line with the flavor profile or texture of your standard eggnog recipe – but it's not too far of a long shot to enjoy it either. My husband even tried it – and he liked it too!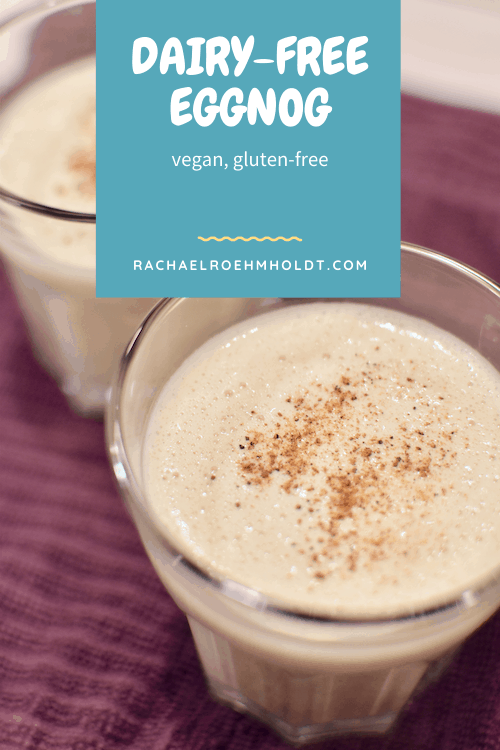 What's great about this recipe is that not only does it not have dairy so it won't do a doozy on my stomach or make me feel weighted down for too long, but it also only has natural sugars from the maple syrup).
This change alone will keep your blood sugar levels a little more stable than your go-to eggnog from a carton and help keep your energy levels from spiking then plummeting later, after the sugar shock has worn off. A big "pro" in my book!
Let's talk a bit more about eggnog and why I'd even need to make a dairy-free version of eggnog in the first place!
Is eggnog dairy-free?
Eggnog is traditionally made from egg yolks, sugar, whole milk, heavy cream, nutmeg, and bourbon if you're feeling up for it.
This super sweet drink is loaded with dairy from the whole milk and heavy cream. It is a nightmare of a drink if you try to stay away from dairy for your health.
Luckily there are ways to mimic the flavor and texture of this drink so you can enjoy this classic holiday beverage without sacrificing your stomach.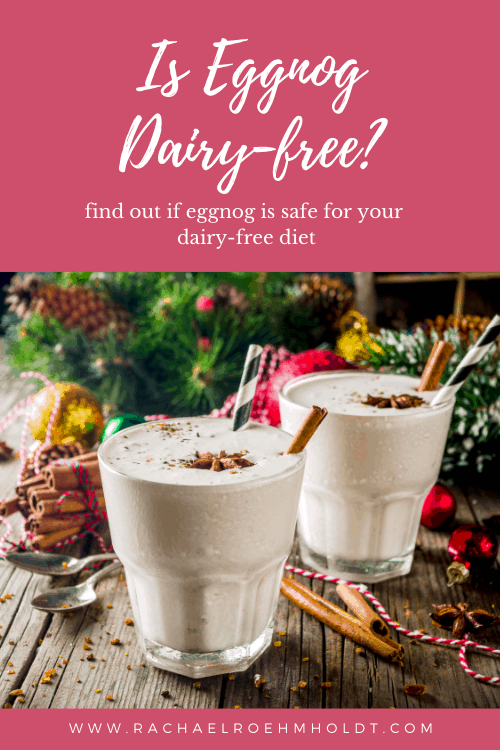 Does eggnog have eggs in it?
Eggnog wouldn't be called eggnog if it didn't have eggs! Most traditional eggnog recipes do include eggs, but you can make an egg-free or vegan version by swapping out the eggs for a thick and creamy coconut milk to mimic the texture.
Is eggnog gluten-free?
If you follow a gluten-free diet, you'll be pleased to know that eggnog is gluten-free. Though some eggnog contains bourbon, this distilled alcohol does not have any gluten in it.
Of course, be sure to check ingredients lists before buying. But homemade versions will be 100% gluten-free as there are no gluten-containing grains or products in most recipes.
Read on: Is bourbon gluten-free?
If you're like me and avoid dairy, eggs, AND gluten, you'll want to make a vegan eggnog at home. While you'd think that removing some of the main ingredients of eggnog would make it taste too different, I'm pleased to share my own recipe with you today.
But before I get to that recipe, let's talk about dairy-free eggnog fo those of us who DON'T feel like making our own.
I'll be the first to admit that it's fun to make these recipes from scratch, but when I'm entertaining or just don't want to take on one more task in the kitchen, buying a carton off the shelf at the store is MUCH more appealing.
Where can I buy dairy-free eggnog?
You can look for dairy-free eggnog at your local grocery store or health food store. I've seen it at my local Kroger store, Trader Joe's, and have heard from others it's available at Aldi too.
You can also try to look through some of the brand websites at store locators to find the product you're looking for near you.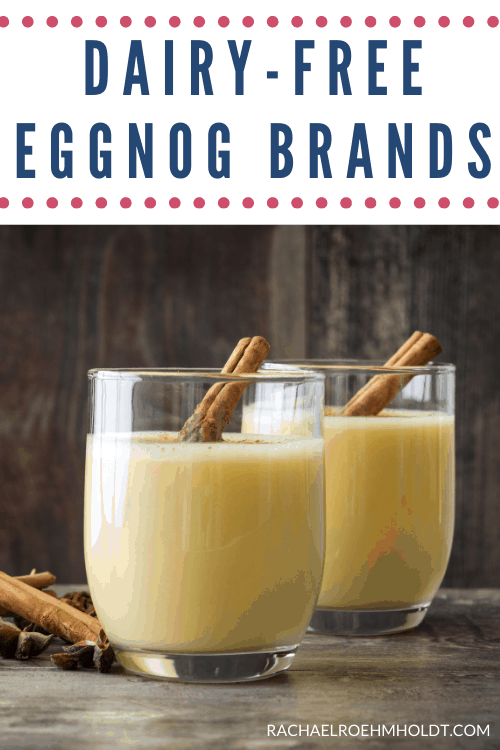 Dairy-free Eggnog Brands
If you're on the hunt for a dairy-free or vegan eggnog from the grocery store, look for one of these brands! Most of these will have to be found in the refrigerated section at the grocery store, so online options are pretty tough to come by.
Almond Breeze Almondmilk Classic Nog
Trader Joe's Almond Nog
So Delicious Coconutmilk Holiday Nog
Silk Nog Original
Califia Farms Almondmilk Holiday Nog
365 Holiday Almond Nog
Good Karma Holiday Nog
Earth's Own Almond Nog
Pecan Malk Nog
Rebbl Spiced Coconut Milks
Marin Living Foods Nog
Sammi's Best Soy Nog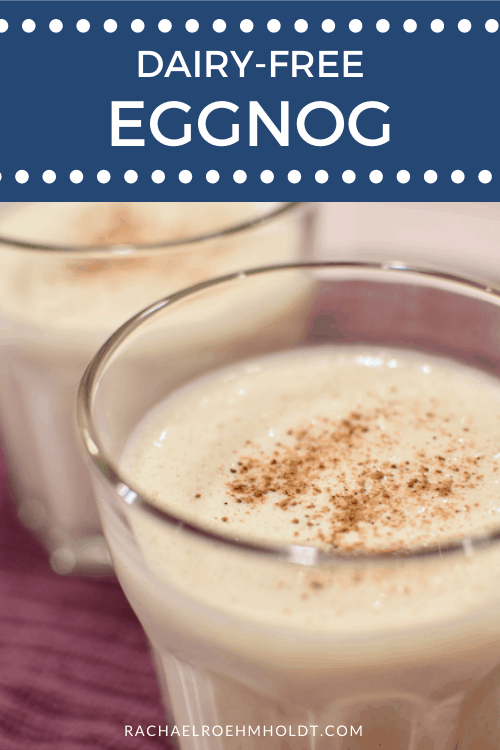 Dairy-Free Eggnog
Back to this homemade delicious dairy-free eggnog! This dairy-free eggnog recipe is:
Creamy
Thick
Sweet
Spicy
Easy to make
Delicious
Perfectly festive
Vegan
If you love the flavor of eggnog, give this recipe a try!
Yield: 6 1/2 cup servings
Dairy-free Eggnog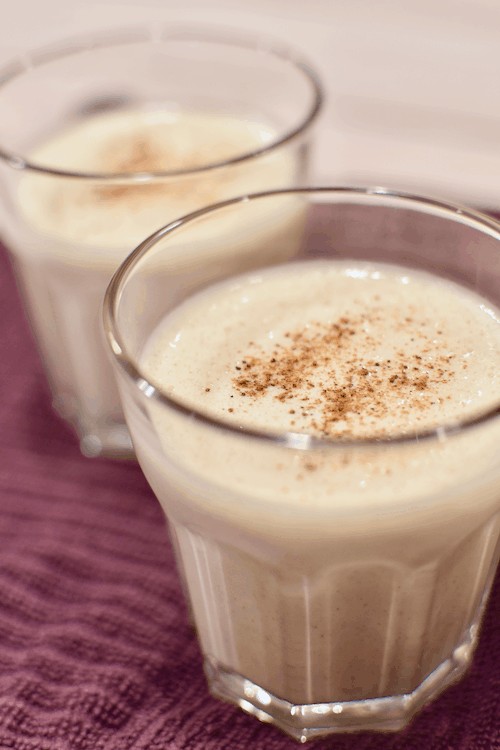 Enjoy this festive vegan and dairy-free eggnog this holiday season that's full of creamy richness and spices.
Ingredients
1/2 cup raw cashews
1 cup dairy-free milk (I used almond)
1 - 14 oz can full-fat coconut milk
1/4 cup maple syrup
1 tsp cinnamon
1/2 tsp vanilla
1/2 tsp ground nutmeg
Bourbon (optional)
Instructions
Soak the raw cashews in a small bowl covered with water overnight. Or if short on time, place the cashews in a bowl and cover with boiling water. Let sit for 30 minutes, then drain soaking water.
In a high-speed blender, add soaked cashews, coconut milk, maple syrup, cinnamon, vanilla, and nutmeg. Blend on high until smooth.
Transfer to glasses and top with a sprinkle of nutmeg.
Notes
Bourbon is completely optional in this recipe, and I prefer it without. Feel free to add what you want or choose to add it to some glasses and skip it in others. The choice is yours!
Store any leftovers for later in the fridge for up to 4 days. Shake the eggnog before serving as some separation might happen after it settles.
Recommended Products
As an Amazon Associate and member of other affiliate programs, I earn from qualifying purchases.
If you're dairy-free, you don't have to go egg nog-free forever! Give this recipe a try and let me know what you think!
Are you an egg nog fan?
Love this post? Check out some of my other great Christmas and Holiday posts!
Looking for some Christmas and holiday recipes that are gluten and dairy-free? Check out these great posts!