These gluten-free dairy-free gingerbread waffles are perfect for Christmas breakfast or throughout the holiday season. Check out the recipe below!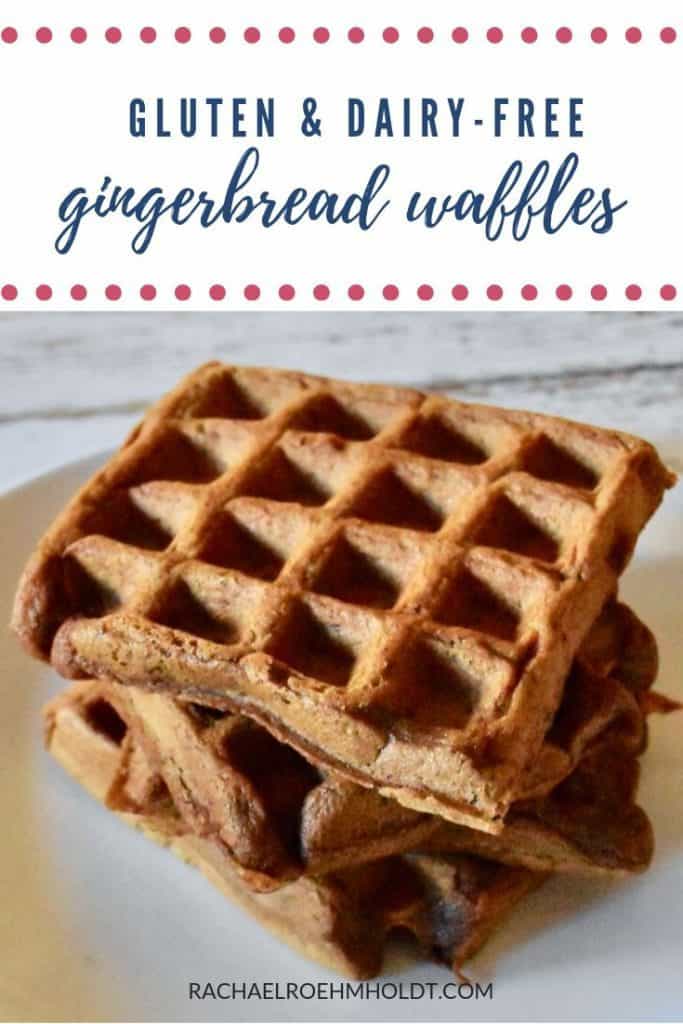 Note: I am a proud Amazon, Chomps, MunkPack, and Thrive Market affiliate and am happy to recommend their service and products to you. Please know that as an affiliate, I may receive a small commission on the products you purchase after clicking through my links. For more info, please see my disclosure policy here.
The flavor of gingerbread says quintessential holidays to me. After all, I have two other gingerbread recipes on my blog raving about how much I love it.
You can see my gluten and dairy-free gingerbread cake recipe and gluten-free gingerbread granola recipe if you're a big fan of this flavor too.
We don't eat a ton of waffles in my house, favoring pancakes more for the every once in a while weekend treat. But when they do get made, it feels like a big deal.
These gingerbread flavored waffles just make them a little more of a big deal. With their extra spiciness from three different spices and richness from thick and sweet molasses, these gingerbread waffles are perfect for the holiday season or even Christmas breakfast itself!
Choosing a gluten-free flour blend for gluten-free waffles
While there are a ton of different gluten-free flour blends out there, I decided to stick with my tried and true King Arthur measure for measure gluten-free flour blend. You are certainly welcome to use any flour blend you enjoy – or even make your own if you're feeling ambitious.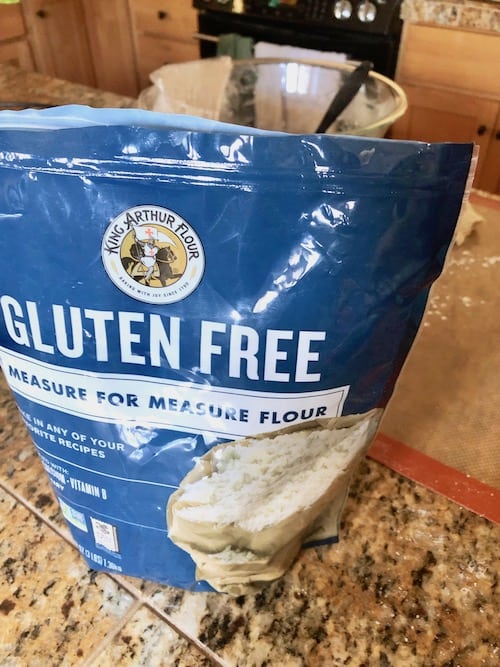 The key to gluten-free flour for waffles is to make sure it's not too dense, so thicker flours like teff flour or any flour blends that contain chickpeas are probably a little too heavy for this recipe.
I like a combination of some of the lighter gluten-free flours, like rice flour, tapioca starch, and potato starch.
Lucky for me, these lighter flours are what make up King Arthur brand, so I like to buy it pre-made and super convenient. Nothing beats convenience and quick shortcuts around the holiday season, right?
Just be sure to note whether or not your gluten-free flour blend contains xanthan gum. If it does, you don't need to add any to the recipe. If it doesn't, you'll want to add about ¾ to 1 tsp of xanthan gum to the waffle mixture.
I'm not sure precise measurements, because I haven't done it this way – and it will likely depend on the gluten-free flour blend you use, but using the ratios in this article, it seems that amount would do the trick.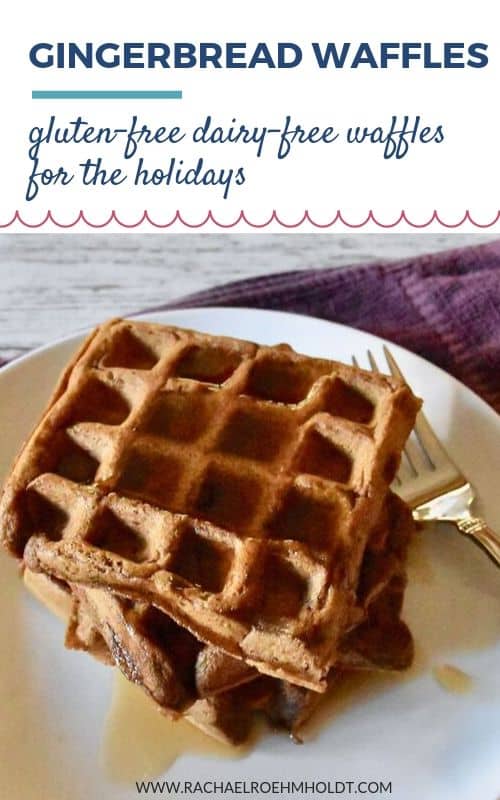 Making the gluten and dairy-free gingerbread waffles
Making these waffles couldn't be easier, and luckily they're very similar to how you'd make any other traditional waffle.
Combine the dry ingredients including the gluten-free flour, baking powder, spices, and salt in a bowl, and whisk to combine. In another bowl, combine the almond milk, oil, vanilla, and molasses and whisk together.
Next, transfer the wet ingredients to the bowl with the dry ingredients, and whisk everything well until there are no lumps.
Finish up the recipe by working in batches ladling the waffle batter onto your waffle maker until they've cooked through.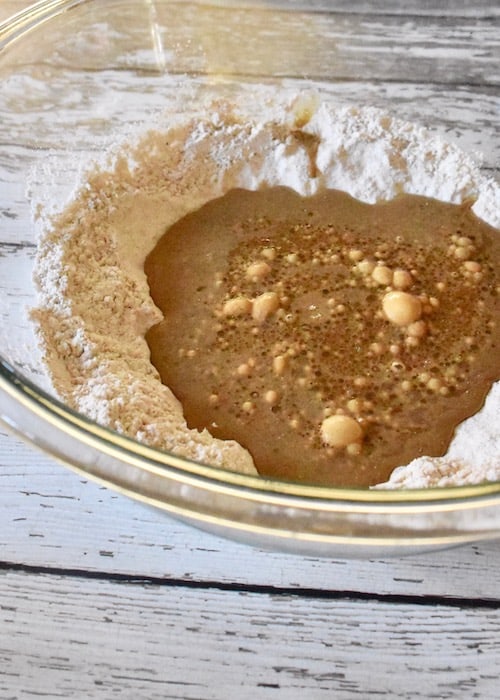 Serving your gluten and dairy-free gingerbread waffles
There are a few different ways you can serve these delicious gingerbread waffles.
You could take the traditional route and serve them simply with butter and maple syrup.
Read on: Is Maple Syrup Gluten-free?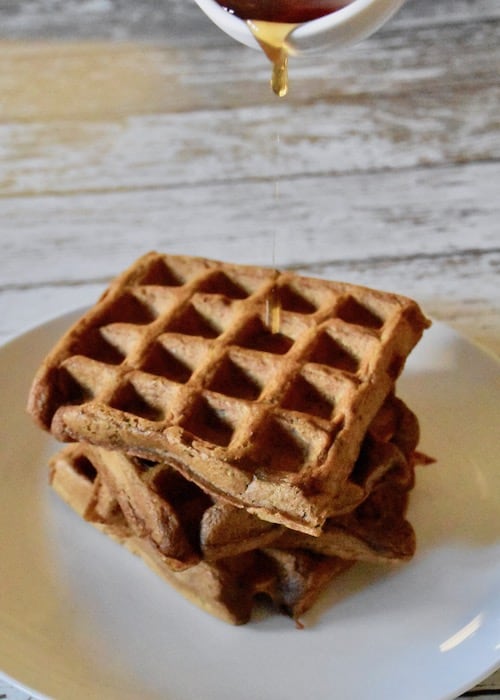 You could add a little cinnamon to your butter for some spiced butter, then top with maple syrup.
You could serve with a homemade fruit syrup, like raspberry or even cranberry for something a little different and festive for the holidays.
You could top your gingerbread waffles with fresh fruit, like raspberries or blueberries. Or even some cooked apples and pears.
You can even get super fancy and top your gluten and dairy-free gingerbread waffles with whipped coconut cream, and a dusting of powdered sugar.
The options really are endless!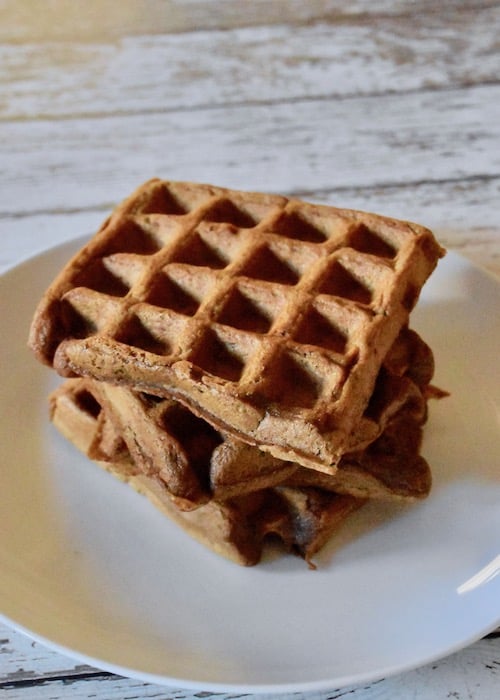 Storing gluten and dairy-free gingerbread waffles
You didn't eat them all right away?! Are you crazy? Just kidding… kind of. If you find yourself with extra gingerbread waffles, you can easily store these in an airtight container, like these, for up to a week.
Alternatively, you can make these in a larger batch and freeze them for later use. To do this, you'll want to layer the waffles in a freezer bag.
I like to place one layer of waffles in the bag, then put down a sheet of parchment paper, then layer another set of waffles on top.
I can usually only fit that many in one bag, so depending on the size of your waffles, you could use one or two freezer bags for an entire batch.
To reheat your gingerbread waffles, you'll want to pop them in the toaster or microwave for about 30 seconds until they warm through.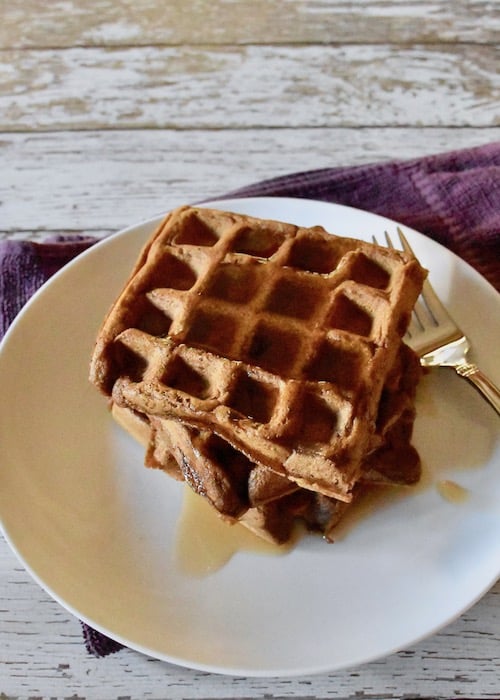 If you love the flavor of gingerbread, I hope this recipe for gluten and dairy-free waffles comes in handy for you during this holiday season. They're perfect for Christmas breakfast or really any time throughout the month of November or December.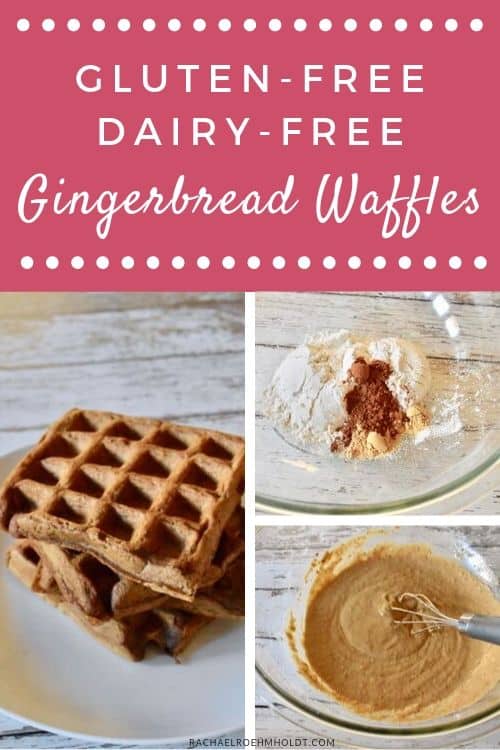 Gluten-free Dairy-free Gingerbread Waffles
Gluten-free Dairy-free Gingerbread Waffles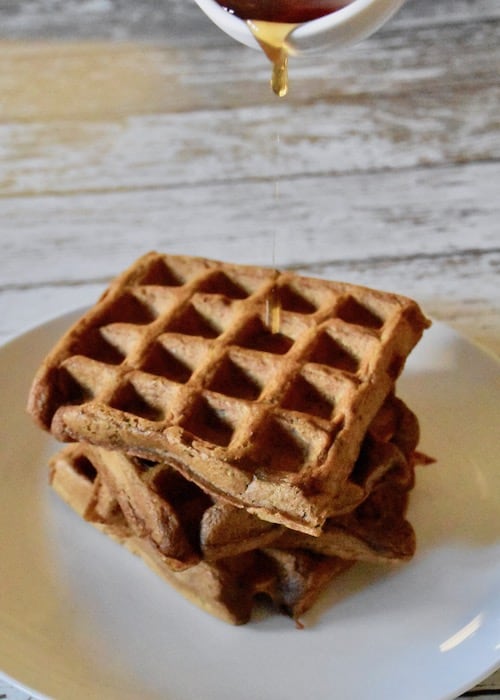 These gluten and dairy-free gingerbread waffles are great for the holidays or Christmas breakfast. They freeze well and reheat well in the toaster.
Ingredients
Pinch of salt
2 eggs or flax eggs
3 tbsp canola or vegetable oil (can also swap for melted coconut oil)
Instructions
Preheat waffle maker according to manufacturer's instructions.
In a mixing bowl, combine gluten-free flour blend, baking powder, ground ginger, ground cinnamon, ground nutmeg, and salt. Mix together until there are no lumps.
In another smaller mixing bowl, combine almond or coconut milk, eggs or flax eggs, vanilla extract, canola or vegetable oil, and molasses. Whisk to combine.
Pour the wet ingredients into the dry ingredients, and again, mix everything together so there are no lumps remaining.
Ladle the waffle batter into the waffle maker once it's heated. I like to use a ¼ cup measuring cup to fill each section of my waffle maker, but you can use whatever works best for you.
Close the cover and let cook, until the "Ready" indicator light or sound comes on.
Remove the waffle from the waffle maker and set aside.
Repeat steps 3 to 5 until you've used all your batter.
Serve your gluten-free dairy-free waffles with vegan butter and syrup, spiced butter and syrup, fresh fruit, a homemade raspberry or cranberry syrup, or whipped coconut cream.
Store leftovers in the fridge for up to a week in an airtight container. You can also freeze these by layering parchment paper between the waffles in a freezer bag. When ready to reheat, simply pop it in the toaster or microwave.
Recommended Products
As an Amazon Associate and member of other affiliate programs, I earn from qualifying purchases.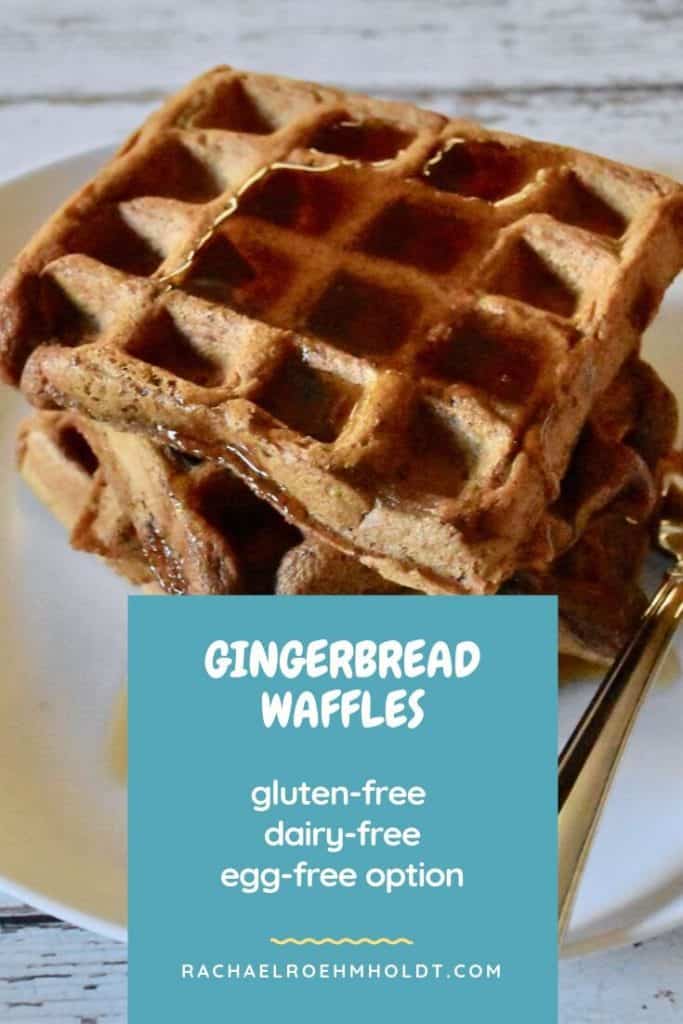 Love this post? Check out some of my other great Christmas and Holiday posts!
Looking for some Christmas and holiday recipes that are gluten and dairy-free? Check out these great posts!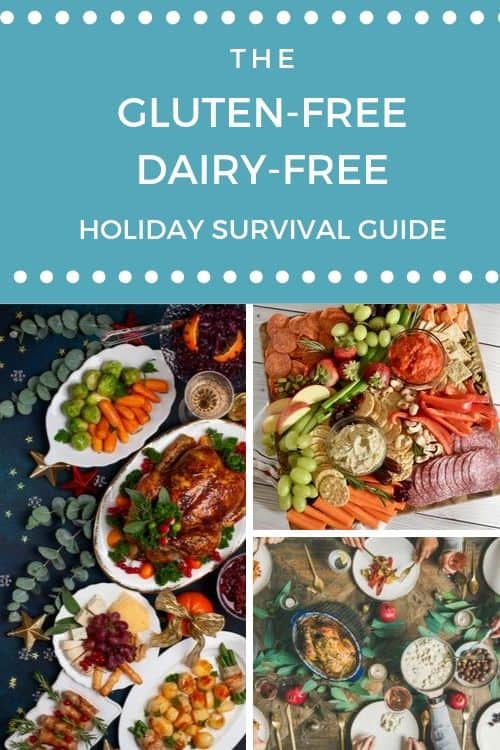 If you'd love even more inspiration and recipes for a gluten-free dairy-free diet, be sure to grab my free shopping list – plus 5 free recipes – by entering your details below!