Do you have food intolerances to gluten or dairy? Thanksgiving, Christmas or the holidays in general just getting you down? Check out this post to find out how to enjoy the holiday season and all the glorious food while you're learning how to eat a gluten-free dairy-free diet!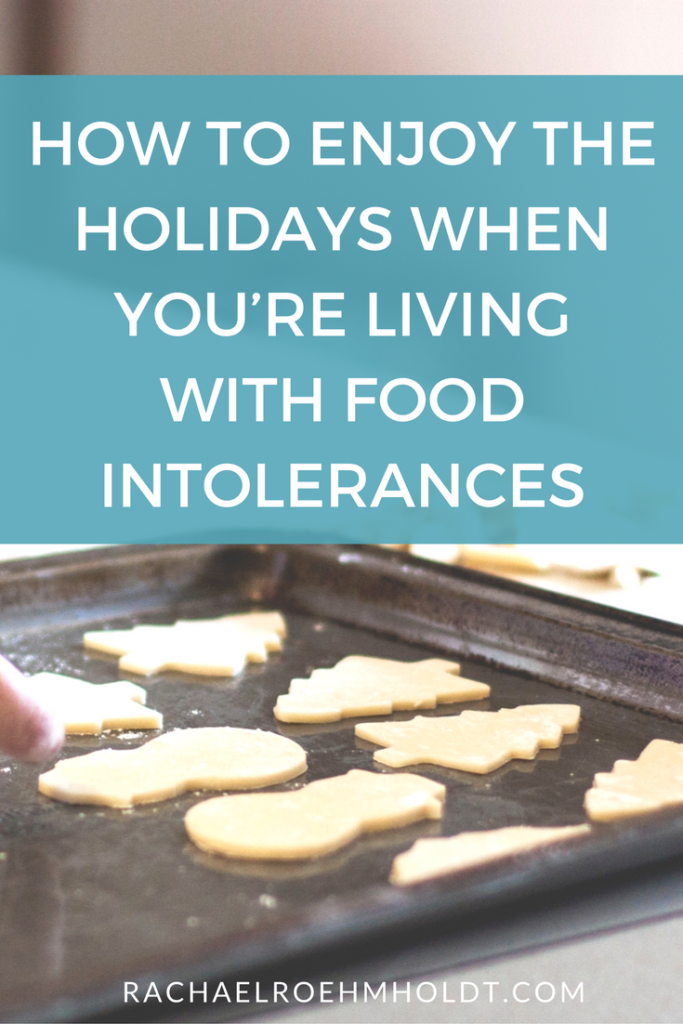 Are you struggling with the idea of the holidays coming up and not sure how you're going to be able to enjoy yourself – and food – while avoiding gluten and dairy?
One of the requests that came up in a recent survey that I sent out to my community is this exact topic.
Truth be told, I've actually been working out this topic in my head for years, but just never got around to is how to handle the holidays with people who don't eat the same diet as you do. I actually had 3 outlined blog posts all with different points sitting on my computer from years past – haha!
I can't tell you how hard of a time I have staying true to my GFDF (and egg-free) diet during the holidays. The past two years, I just haven't. That's the truth.
But I know that just jumping in and going for it isn't an option for all of us. And honestly, when I do indulge in these foods, I really never feel good afterwards. So I thought Id share with you the best tips that I (at least try to) live by during this time of year to stay consistent to this lifestyle – even with all the temptations around.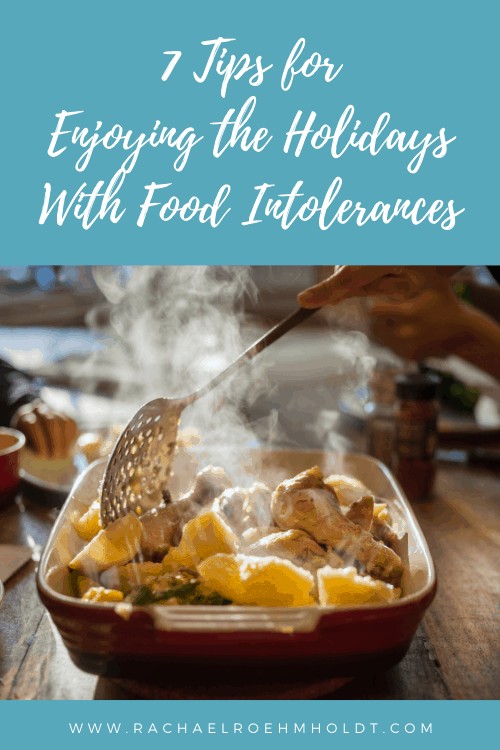 These are my top 7 tips for enjoying the holidays with food intolerances
1. Focus on what you CAN eat
I think we all feel deprived when were looking around a spread of food thinking I can't have that. I can't have that. I can't have that. So one of my best tips is to try to be as optimistic and positive as possible.
Look around for all the foods you CAN eat. At a big holiday meal, there are usually meat, veggies, and maybe a side or two that are potentially gluten- and dairy-free.
At our holiday gatherings, my mom usually does most of the cooking and she makes the same things every year. So I have a pretty good sense as to what's safe and what's not.
At Thanksgiving and Christmas, I can always assume that turkey or ham, green beans (without any added butter or cream sauce), potatoes (without butter), green salad, and cranberry sauce are all safe.
2. Don't be ashamed of your needs
One of the things that I've done multiple times over the past few years is to eat something so that I don't stand out or call attention to my specific needs. I have felt like being a gracious guest was more important than what my body really needed.
And honestly, it feels okay in the moment, and then later I regret it. I always wind up thinking was that bread REALLY worth feeling like a zombie for 2 days after? And usually the answer is no. Its okay to not eat everything at the table.
Seriously don't compromise your needs for the food at the table. Speak up before the event and make sure that the host is aware of your needs. Having food intolerances is so common these days that you might even find that others around you are going through the same things and just haven't spoken about it.
Use your change in diet as an opportunity to explain what's going on with you and your life. Even the most closed-off people who don't understand much of anything when it comes to health can understand wanting to not feel like crap for days after eating something.
3. Offer to help shop and choose or alter recipes
Depending on how you handle holiday meals – whether you host, this might not apply to you. But if you're a guest and it feels appropriate to your relationship with the person, offer ahead of time to help them shop and choose or alter recipes that work for you. Or help them rework a recipe.
My grandma brings a sweet potato casserole to our holiday meals every year – and its my FAVORITE thing on the planet. After one holiday season of having to skip it due to the flour and butter, I finally talked to her about it and we looked through the recipe together and came up with a few alternatives.
She was more than happy to comply and loved it even more that I was raving about her dish at the dinner table. I remember feeling awkward about having to ask to her to buy special ingredients and offered to buy them for her. She replied with Heavens no! That's not necessary! I just want you to eat!
Some people aren't open to this idea, so just roll with the punches if it feels awkward. Even after years of eating no gluten or dairy, my mom still doesn't understand what I can and cannot eat. So talk to whoever is doing the majority of the cooking and be aware of what's in the food you pile on!
You might even consider offer up a list of ingredients that aren't safe for you to eat and come up with ideas for alternatives for specific ingredients. (If you have questions about this, ask in the comments below and we'll get you sorted!)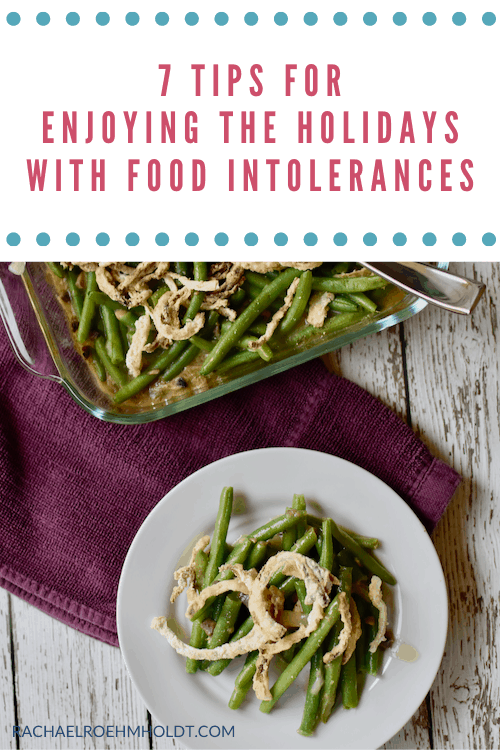 4. Offer to bring a dish to the family meal – make it safe for you and delicious for others
On the heels of learning of my food intolerances a few years back, I decided that the only way I was going to be able to eat ANYTHING at the holiday events was to bring something myself. Sure, it wasn't convenient but we usually do potluck-style meals anyway.
The main thing to keep in mind is to find recipes that everyone will want to enjoy. Ive brought a few dishes over the years that were safe for me that NO ONE touched, because they knew they were gluten and dairy-free. Womp womp. I have learned not to bring my own quinoa stuffing or massaged kale salad to my family – haha! I'll save those for my own house and dinners.
5. Be prepared with a snack and/or eat beforehand
This is a total buzzkill tip, but if you're really worried about what a holiday meal or event will have available, bring your own snacks in your purse or stashed in your car.
Again, this is something I've done and while it makes you feel like a kid who's screaming THIS ISN'T FAIR!! while you're eating a pumpkin pie Larabar while everyone else is having pie – just remember that you wont feel awful for days later.
And that the short-term indulgence probably isn't as wonderful as sitting on the pot or having a headache and moping around on the couch.
Here are some of my favorite snacks to take on the go with me.
6. If you're hosting, make sure the menu offers something for you AND everyone else
Most of the tips so far have been all about being a guest at someone else's event, but I imagine (because it is this way for me) that the biggest temptations come from being around other people than being in my own space.
So if you host the big holiday gatherings, be mindful of others desires for holiday traditions. Yes, it feels unfair that you can't have all the things you used to – but from my perspective, that's your issue to deal with not everyone else's.
Coming from the side of having attempted to keep everything safe for me as a host, I know that people tend to be REALLY passionate about some of their traditions.
While other traditions just aren't a huge deal. So taking the butter out of the mashed potatoes and replacing it with Earth Balance or swapping out coconut milk for heavy cream or evaporated milk in recipes might be fine.
Completely reimagining something super heavy on the dairy or gluten, like cheesecake or fudge might not go over so well.
Consider where everyone is coming from and try your best to serve your needs and keep everyone else (at least remotely) happy. 😉
7. When all else fails, make a few of your favorite dishes at home just for you!
Finally, if you feel like you're totally missing out on the holiday experience because of your new diet and everyone else is eating amazing food and you're not, set aside a day to make some new gluten and dairy-free versions of some of the favorites you feel like you've missed out on.
I have done this in the past (especially that first year of giving up the foods) and made things my way so that no one else would give me grief about being difficult or how healthy everything tasted.
Remember that as you're making your way through the holiday season, it's really about enjoying yourself. I think we all put so much emphasis on the food, but for me with hindsight on my side, I can now say that food is just the connector.
We all talk about and worry about the food, but when it all comes down to it, sharing the meal is more important than what we're actually eating.
I hope that if you've been worried about these next few weeks coming up that you've found a little bit of relief knowing that you can have a say in how your holidays go. Remember that there are SO MANY great options and alternatives available to you, so make this an amazing holiday – without any regret!
Want to see more Thanksgiving content? Check out these posts!
Try these delicious gluten and dairy-free recipes and tips for your next Thanksgiving or family feast! This list includes stuffing, green bean casserole, pumpkin pie, and more!