Find out if coconut flour is safe for a gluten-free diet, what it's made of, used for, and what brands are good choices when you're gluten-free.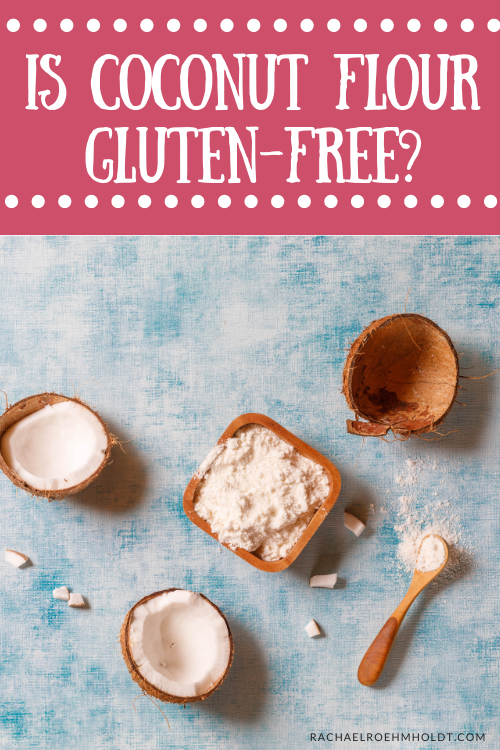 Note: I am a proud Amazon, Chomps, MunkPack, and Thrive Market affiliate and am happy to recommend their service and products to you. Please know that as an affiliate, I may receive a small commission on the products you purchase after clicking through my links. For more info, please see my disclosure policy here.
If you're getting started with a gluten-free diet and curious what types of flour are safe for you, you may be wondering if coconut flour is one of them.
Coconut flour has been up and coming in the health food world in the past decade or so, because it's considered to be low carb and full of healthy fats and fiber.
But if you're gluten-free, you know that looking at each and every ingredient that goes into your body matters. One bite of a food that has gluten and you could be feeling the effects of it for days after.
So whether you're trying to decide to make that recipe that calls for coconut flour or you're eyeing a package of coconut flour cookies at the grocery store, I hope this post can clear up some of the questions you may have about this ingredient.
In this post, we'll talk about what coconut flour is, what it's made from, what it's used for, and answer the question "is coconut flour gluten-free?"
We'll also go over a list of some gluten-free coconut flour brands in case you need a jumping off point of what to look for next time you're at the grocery store or trying to recreate your favorite cookies at home.
Let's talk coconut flour!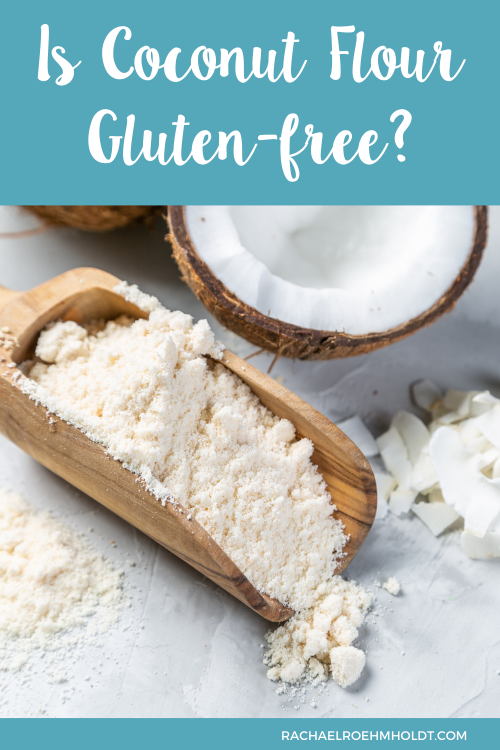 What is coconut flour?
Coconut flour is white or off-white colored flour that's used in many healthy recipes. It's become more popular as the trend to move away from refined all purpose and wheat flour has come up.
Coconut flour got it's rise from the paleo diet movement, where folks praise the nutritional benefits of coconut flour.
This flour is high in fiber, healthy saturated fats called MCT (or medium-chain triglyceride), and is said to be good at stabilizing blood sugar, promoting good digestion, and heart health (source).
Coconut flour is also considered to be "low carb" and "low sugar" food when consumed in moderation.
What is coconut flour made from?
Coconut flour is made from dried coconut that's been ground into a powdered form, or flour.
According to BBC Good Food, "coconut flour is a soft flour made from dried coconut meat. When coconut milk is squeezed from coconut meat, this meat is then dried at a low temperature and ground into flour which is suitable for baking."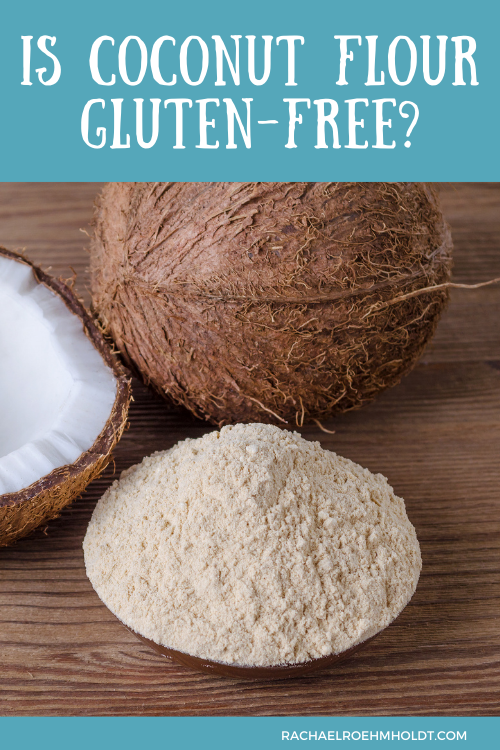 What is coconut flour used for?
Coconut flour is an extremely versatile ingredient. You can use it to make all kinds of baked goods, including cakes, cookies, muffins, pancakes and waffles, brownies, and even bread.
Though you can use it in a variety of ways, it's important to note that it's properties are not the same as other flours. It is a highly absorbent flour, meaning it takes a lot more liquid than a traditional all purpose flour does.
According to this website, for every 1 cup of all purpose flour, you can substitute with ¼ to ⅓ cup of coconut flour.
What is gluten?
Gluten is a protein found in most wheat products, and acts as the "glue" that helps to hold wheat, barley, kamut, spelt, farro, durum, bulgur, rye, and semolina together to maintain their shape.
You can find gluten in whole grains, but also in many processed foods as well. Many processed foods have hidden gluten in them in the form of gluten or wheat derivatives.
These are also in the form of flavorings, binders to keep ingredients together, or other additives.
Read on: What is gluten in food? The basics of a gluten-free diet
Is coconut gluten-free?
Coconuts are a naturally gluten-free food, and therefore safe to enjoy on a gluten-free diet.
As long as the coconut has not been processed or cooked with other gluten-containing ingredients, this is a good option for folks who avoid gluten.
Is coconut flour gluten-free?
Coconut flour comes from coconuts, which is a naturally gluten-free food.
Coconut flour can safely be enjoyed on a gluten-free diet provided no other gluten ingredients are added to a recipe, and the coconut flour has been processed on equipment that doesn't also process gluten-containing grains.
Look for a gluten-free label on the packaging of the coconut flour that you choose next time you're at the store.
This will help you make an informed decision and know for certain that the brand tests their flour for gluten and consistently comes up with less than 20ppm of gluten in that product.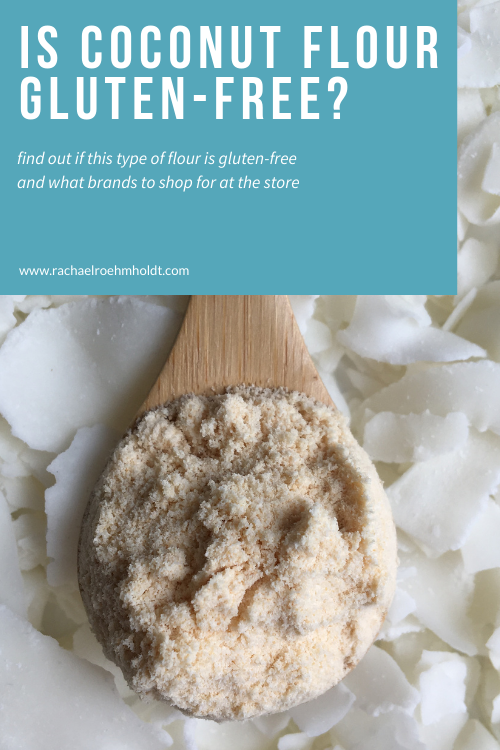 Brands of gluten-free coconut flour
Since coconut flour is naturally gluten-free, it's not hard to find a brand of gluten-free coconut flour. Next time you're shopping at the grocery store, health food store, or online, look for one of these brands.
If you've been looking to find out if coconut flour is a good choice for your gluten-free diet, I hope you've found the answers you've been after here in this post. Most coconut flour is safe for your diet if you avoid gluten.
As with any food, check for gluten-free labels on packaging to help you make an informed decision about brands. A gluten-free label will show you that there's less than 20ppm in that product and you can purchase with confidence.
If you loved this post, I hope that you'll share it with your friends on Facebook and pin it for future reference on Pinterest.
Love this post? You might also want to check out these!
Find out if your favorite foods and ingredients contain gluten with these posts!