3-ingredient gluten-free dairy-free Chicken Enchiladas are fast, easy, and gluten-free and dairy-free! A quick weeknight meal that only takes 10 minutes to prep!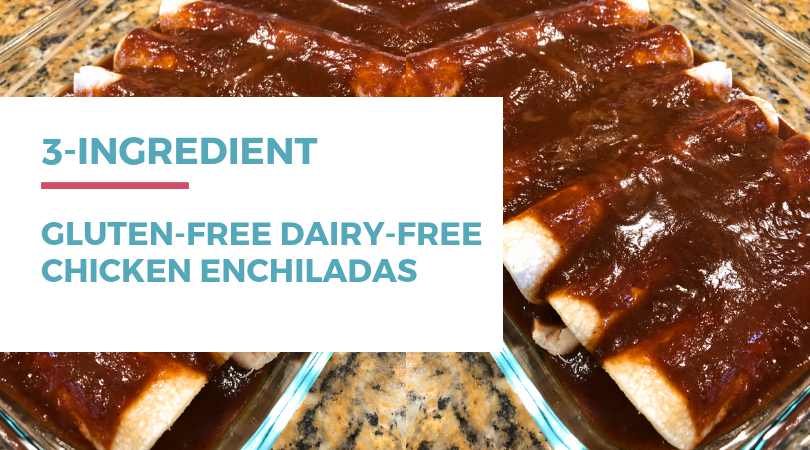 Note: I am a proud Thrive Market affiliate and am happy to recommend their service and products to you. Please know that as an affiliate, I may receive a small commission on the products you purchase after clicking through my links. For more info, please see my disclosure policy here.
The past few months, I've been having a BLAST creating recipes and sharing them with other women in my GFDF Weekly service. When I created this recipe and menu planning service, I wasn't sure how it was going to go did people really want recipes? Aren't there enough recipes out there to suit everyone?
What I quickly realized after a number of women signed up right away, and after I started diving in to methodically plan, create, and share my recipes more, was how important time, effort, and energy is when it comes to getting meals to the table.
Knowing it wasn't just me looking for quick, easy meals has been a little bit of a kick in the pants to provide this service. It's nice to know you're not alone – and if helping you go gluten and dairy-free is my goal, apparently sharing recipes and menu ideas is how I'll help you get there!
Don't get me wrong I've known forever that making meals isn't always at the top of my list of fun things to do in a given day. Some days when life is busy, eating is more a necessity than something I LOVE to do. Being in my kitchen is fun and I love to experiment, but the cleanup is definitely not something I look forward to.
All this to say It's been awesome hearing from so many women who validated what has been true for me for entirely too long. I like to eat delicious food, but I don't always love to be hanging out in the kitchen.
Which is why this GFDF Weekly project has been so good for me, my budget, and my family. Of course, I know everyone who is receiving the recipes are benefitting too – but seriously, I am LOVING it!
With the accountability of having to share recipes every week, it actually keeps me sticking with my plan, knowing I have to create in order to share. And I can't share unless I know it tastes good. So I've been in my kitchen more than ever. And looking for shortcuts and easy ways to get meals to the table to make not only YOUR lives easier, but mine too.
I mean, seriously, who wants to be in the kitchen more than 45 minutes any day of the week?! Not this gal.
I want to share with you a recipe that I created just for my buddies in GFDF Weekly a recipe that in it's essence isn't difficult, but taking a few shortcuts, made it an awesome dish that was done in 30 minutes!
Read on: Gluten-free Tortillas: Types, Gluten-free Options, and Brands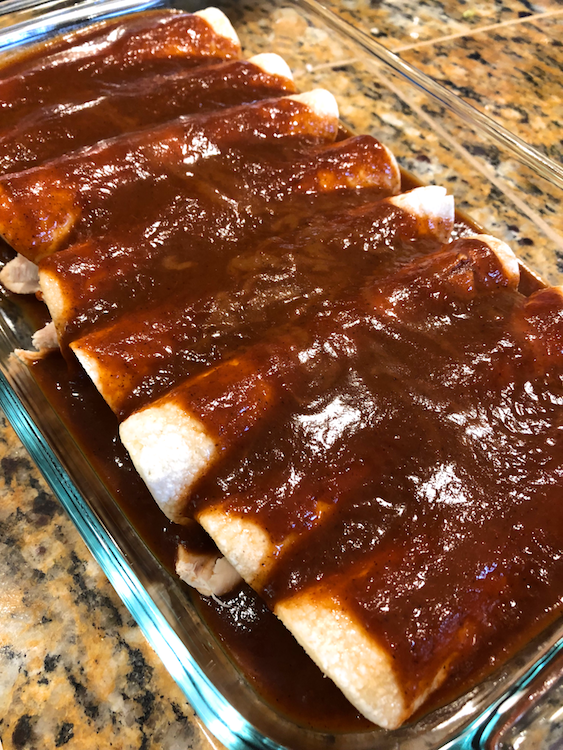 3-Ingredient Gluten-free Dairy-free Chicken Enchiladas
Serves 4
Prep time: 10 minutes
Cook time: 20 minutes
Ingredients
1 Costco chicken, meat removed from bone and shredded or chopped (you'll use about half the meat)
8 corn tortillas
1 13 oz bottle gluten-free enchilada sauce (I used Sky Valley)
Directions
Preheat the oven to 375 degrees F.
Place one tortilla on a plate or other flat surface. Add about to a 1/4 cup shredded or chopped chicken to the center. Roll the tortilla, then place seam-side down into a 7″ x 11″ glass baking dish.
Repeat step 2 with the remaining tortillas.
Pour the entire bottle of enchilada sauce over the enchiladas.
Cover with foil and bake for 20 minutes.
Remove from the oven and serve.
I've made chicken enchiladas in the past and they've been good, but a little more involved. Pre-cooking chicken in the oven, attempting to make my own enchilada sauce a little too much effort for me on a weeknight.
This recipe is kind of an all-around winner, because:
It used an already-done hot chicken from Costco
I sourced out my enchilada sauce – and made sure it was gluten-free
It took me 5 minutes to prep
It took 20 minutes in the oven
I was able to add cheese to the half that I knew my husband and son would eat
And that last point is important to note: my entire family doesn't eat the way I do. I eat gluten and dairy-free, but both my hubby and son do not. I add cheese to their half of dishes all the time. I let them make their own garlic toast as a side. I put out toppings for dishes that have gluten or dairy in them, because it makes them happy and I don't have to use it for myself.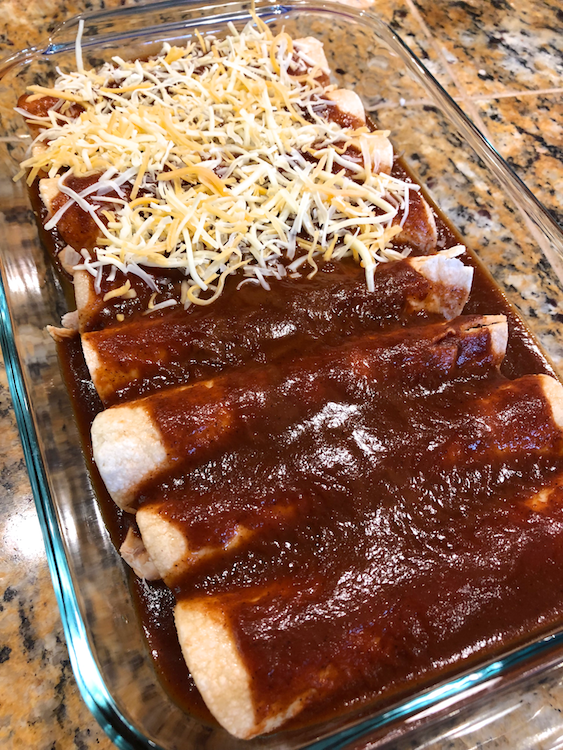 I mention this, because I try to make notes in all my recipes in GFDF Weekly for those of you who have dairy or gluten-loving family members. I'll put a note in where it makes sense to add some cheese or sour cream, or serve with crusty bread that I just know I won't touch.
If you're in need of some weekly recipe inspiration or menu planning organization, check out GFDF Weekly. I send out 5 recipes a week, plus a combined shopping list for all 5 recipes to help you get healthy GFDF meals to the table. It's all very straight-forward, very easy, and I'm in and out of my kitchen within about 30-45 minutes every day (if it's more, it's usually hands-off time). Check out the sneak peek of GFDF Weekly over here.