Find out what Lifesavers are made of, what flavors they come in, and if this ring-shaped candy is safe for your gluten-free diet.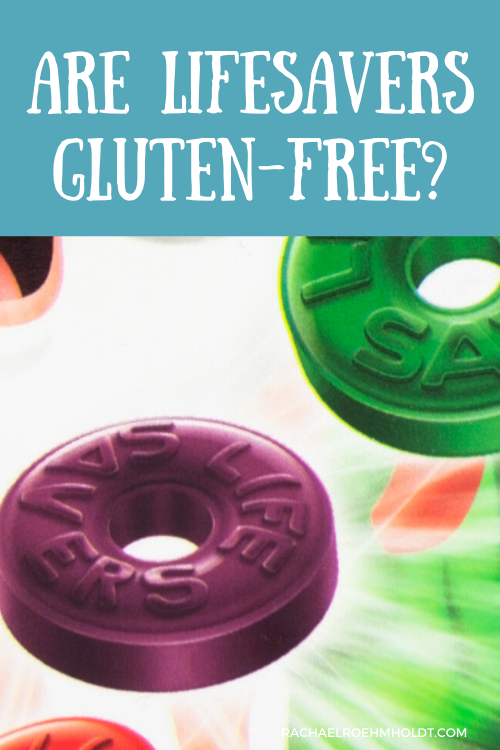 Note: I am a proud Amazon, Chomps, MunkPack, and Thrive Market affiliate and am happy to recommend their service and products to you. Please know that as an affiliate, I may receive a small commission on the products you purchase after clicking through my links. For more info, please see my disclosure policy here.
Lifesavers are one of those candies that you always know what they are from the moment you come across them. Either wrapped in a roll to keep in your bag or pocket or in a bag big enough to share, this candy is easy to spot.
With a signature ring shape with a hole in the center and the words Life Savers around the ring, it's easy to know what this candy is even from afar.
Whether you're looking at this post to know what's okay to give your children who can't eat gluten or are here because you're hoping to fit this candy into your gluten-free diet, you're in the right place.
We're going to dive into the topic of Lifesavers and get all the questions you might have about this brand of candy here in this post. Find out what Lifesavers are, what the different varieties offered are, what the main ingredients are in each of the different varieties, as well as go over the different flavors offered.
We'll also answer the big question: Are Lifesavers gluten-free? Plus, we'll make sure your questions are answered about dairy ingredients and if the gummies are safe for gluten-free folks as well.
If you love Lifesavers or know someone who is gluten-free who does, this post will help you get the answers you need to make an informed decision about enjoying this candy.
What are Lifesavers?
Lifesavers are a brand of candy that comes in a variety of flavors. While the original Lifesavers used to be only hard candy, the brand has expanded to include mints and gummy candy as well. You can even find Lifesavers candy canes around the holiday season.
This candy is easily recognizable, as it is a circle with a hole in the center and the words Life Savers around the ring. This can be found on all three types of their hard candy, mints, and gummies.
According to the brand's website, Lifesavers have been around since 1912 with their first flavor being Pep-O-Mint. Less than a decade later, fruit flavors started being introduced. Today, there are over 30 flavors across their different product offerings.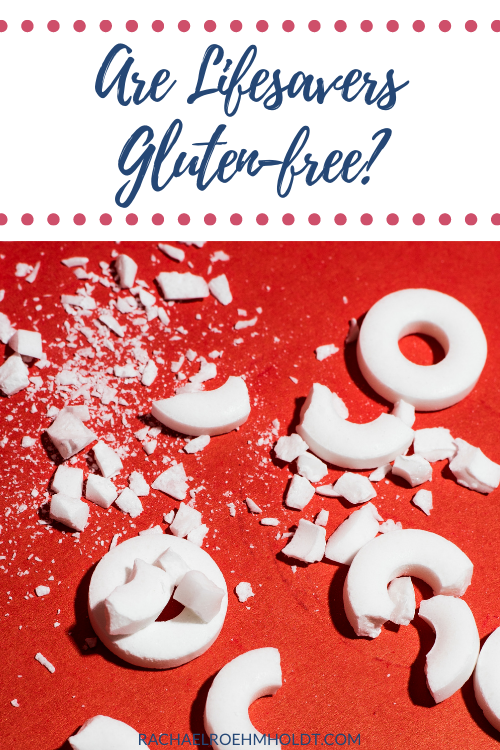 What are Lifesavers made from?
The different types of Lifesavers are made from different ingredients. To give us an idea of what ingredients are found in each type, let's go through a few popular flavors of each type.
Lifesavers Hard Candy – 5 Flavors ingredients list includes:
"Sugar, corn syrup, high fructose corn syrup, citric acid, natural and artificial flavors, colors (red 40, yellow 5, blue 1).
Lifesavers Mints – Wint-O-Green flavor ingredients include:
"Sugar, corn syrup, artificial flavor, stearic acid."
Lifesavers Gummies – Wild Berries flavor has the following ingredients included:
"Corn syrup, sugar, water, modified corn starch, gelatin, less than 2% of: citric acid, natural and artificial flavors, mineral oil, colors (red 40, blue 1, yellow 5), carnauba wax."
What are the different flavors of Lifesavers?
Lifesavers come in many different varieties, so let's go over the different types of this candy, as well as the flavors that come in each.
Lifesavers Hard Candy
5 Flavors

Cherry
Watermelon
Raspberry
Orange
Pineapple

Butter Rum
Fruit Variety

Watermelon
Pineapple
Mango
Melon
Wild Cherry
Fruit Punch
Green Apple
Grape
Tangerine
Strawberry
Raspberry

Wild Cherry
Lifesavers Mints
Wint-O-Green
Pep-O-Mint
Orange Mint
Lifesavers Gummies
5 Flavors

Cherry
Watermelon
Green Apple
Strawberry
Orange

Collisions

Raspberry Lemonade
Cherry Watermelon
Pineapple Punch

Wild Berries

Strawberry
Red Raspberry
Blackberry
Black Raspberry
White Grape
Cherry Berry

Neons

Bold Berry
Orange Pop
Pink Punch
Cherry Lime Splash
Electric Lemonade

Exotics

Lemon Star Fruit
Mandarin Orange
Asian Pear
Fuji Apple
Raspberry Dragon Fruit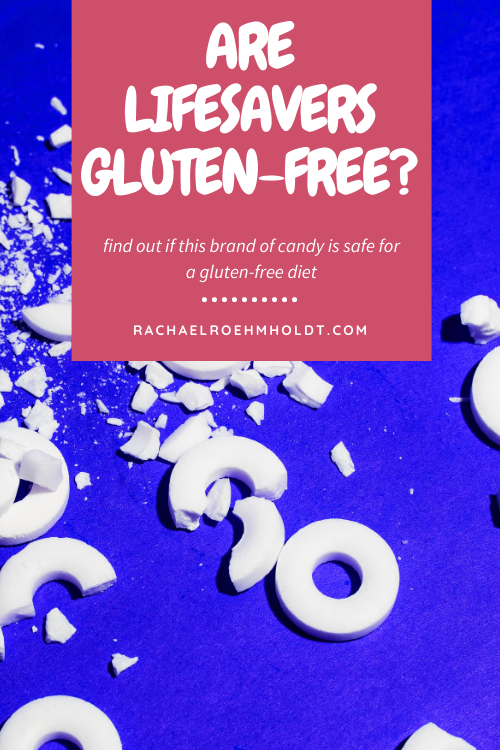 What is gluten?
Gluten is a protein found in most wheat products, and acts as the "glue" that helps to hold wheat, barley, kamut, spelt, farro, durum, bulgur, rye, and semolina together to maintain their shape.
You can find gluten in whole grains, but also in many processed foods as well. If you purchase wheat bread, there will be gluten in it, because wheat by nature has gluten.
Many processed foods have hidden gluten in them in the form of gluten or wheat derivatives. These are also in the form of flavorings, binders to keep ingredients together, or other additives.
Read on: What is gluten?
Are Lifesavers gluten-free?
The Lifesavers brand and larger parent company, Mars Wrigley, does not make any gluten-free claims on Lifesavers on their packaging or website.
While researching this post, I was able to find a quote on Very Well Fit that calls out the stance of the Mars Wrigley brand as it relates to their products and gluten:
"According to a company spokesperson, while several Mars Wrigley products may be gluten-free, they are subject to cross-contamination. The company takes customer safety very seriously and will never label their products as gluten-free because they may be manufactured in a facility that contains gluten. All ingredients are listed on the packaging label. They emphasize that customers should always check the label before purchasing any Mars Wrigley products."
That said, after reviewing ingredients for each of the different flavors and varieties, there are no gluten ingredients in any of their candies. You can consider this brand of candy gluten-free and safe to enjoy on a gluten-free diet.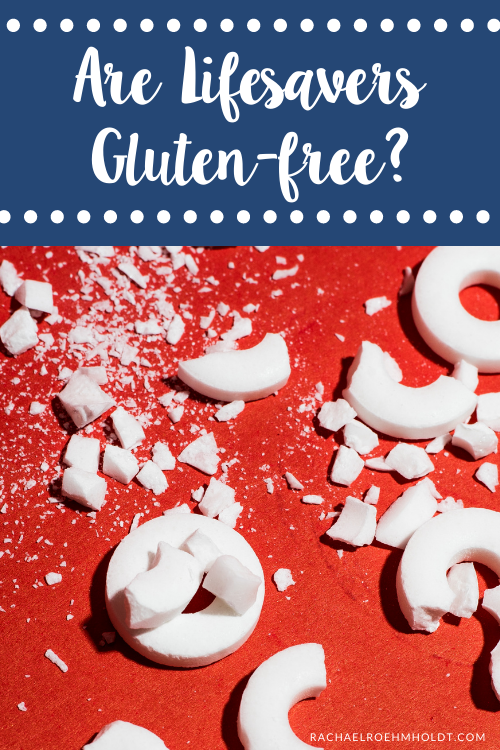 Are Lifesavers dairy-free?
Lifesavers candy does not contain any dairy ingredients and should be considered safe for a dairy-free diet.
Are Lifesavers gummies gluten-free?
Lifesavers gummies are considered gluten-free as there are no gluten-containing ingredients in the ingredient list of these products.
It's always a good idea to check ingredients lists in case the recipe changes, as the Mars Wrigley company shares that they're committed to updating their ingredients lists as they change.
Read on: Are gummy bears gluten-free?
Are Lifesavers candy canes gluten-free?
Lifesavers candy canes are made with sugar, corn syrup, citric acid, natural and artificial colors, malic acid, colors, and glycerol. None of these ingredients are known hidden ingredients of gluten.
Read on: Are candy canes gluten-free?
Read on: Dairy and gluten-free Christmas candies from the store
If you love Lifesavers and have been wondering how this candy can fit into your gluten-free diet, I hope this post has helped you get the information and answers you've been looking for. Lifesavers are generally safe for folks on a gluten-free diet, including their hard candy, mints, gummies, and even their candy canes.
If you loved this post, I hope that you'll share it with your friends on Facebook and pin it for future reference on Pinterest.
Love this post? You might also want to check out these!
Find out if your favorite foods and ingredients contain gluten with these posts!