Find out if Tootsie Rolls are gluten-free, dairy-free, and vegan. Plus get your most common questions about Tootsie Rolls answered.
Note: I am a proud Amazon, Chomps, MunkPack, and Thrive Market affiliate and am happy to recommend their service and products to you. Please know that as an affiliate, I may receive a small commission on the products you purchase after clicking through my links. For more info, please see my disclosure policy here.
Tootsie Rolls are a popular kid's candy that make their way into stores mostly around Halloween or in the big bags of "Kid's Mix" of candy you can find at the store. Tootsie Rolls come in a few flavors, chocolate "midgees" and "snack bars" being the most popular.
They also sell vanilla Tootsie Rolls and Tootsie Fruit Chews, which are the same texture of Tootsie Rolls but have different fruit flavors, like orange, vanilla, lemon, cherry, and lime.
Tootsie Pops are a similar but slightly different candy. The same Tootsie Roll candy is inside a lollipop, and I've included them in this post too.
My son loves Tootsie Rolls and asks for them year round and a sweet memory I have of him is asking for a Tootsie Roll after Halloween when he was about five.
When he asked for it , he asked for a "toot-sie" roll and pronounced it "toot" instead of "tut-sie" which is phonetically how we say it. It brings a smile to my face to think of it, because it provided quite a bit of laughter in our house at the time.
As with any candy or any food, it's important to know what we're eating is safe for a gluten-free diet.
In this post, we're going to dive into this favorite treat and answer the question "are Tootsie Rolls gluten-free?" by looking at the ingredients list of this candy.
We'll also find out if they're dairy-free and vegan, and wrap up the post discussing Tootsie Pops and how they fall into the gluten-free category.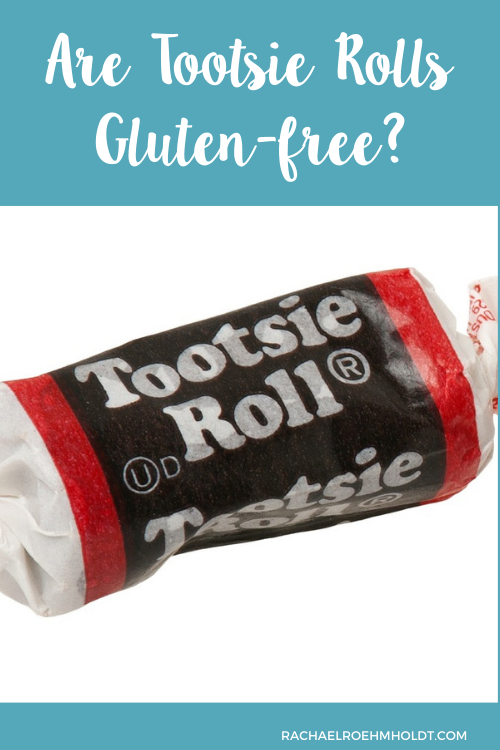 Ingredients of Tootsie Rolls
The ingredients in classic Tootsie Rolls are: sugar, corn syrup, palm oil, condensed skim milk, cocoa, whey, soy lecithin, artificial and natural flavors.
The ingredients in Tootsie Roll Fruit Chews vary slightly, and contain the following ingredients: sugar, corn syrup, palm oil, condensed skim milk, whey, malic acid, artificial and natural flavors, soy lecithin, artificial colors (including FD&C yellow 5, red 40, blue 1).
Read on: Is corn syrup gluten-free?
Read on: Is soy lecithin gluten-free?
What is gluten?
Gluten is a protein found in most wheat products, and acts as the "glue" that helps to hold wheat, barley, kamut, spelt, farro, durum, bulgur, rye, and semolina together to maintain their shape.
Gluten is naturally occurring, and therefore is impossible to strip away from the grain. If a grain naturally has gluten in it, there's no way to make that food gluten-free.
Gluten can be found in candy as one of the main ingredients, especially in gummy candies, as wheat flour or wheat starch. You can also find it in flavorings, thickeners, or binders.
Are Tootsie Rolls gluten-free?
Tootsie rolls are gluten-free, because they contain no wheat or other gluten ingredients. If you follow a gluten-free diet, this candy is safe to enjoy.
Though the Tootsie company even states on their FAQ page that "At this time, all of our confections are gluten free. We do not use wheat, barley, rye, oats, triticale, spelt or any of their components and that includes our dusting on our conveyor belts. We do use corn and soy products in the manufacturing of our products."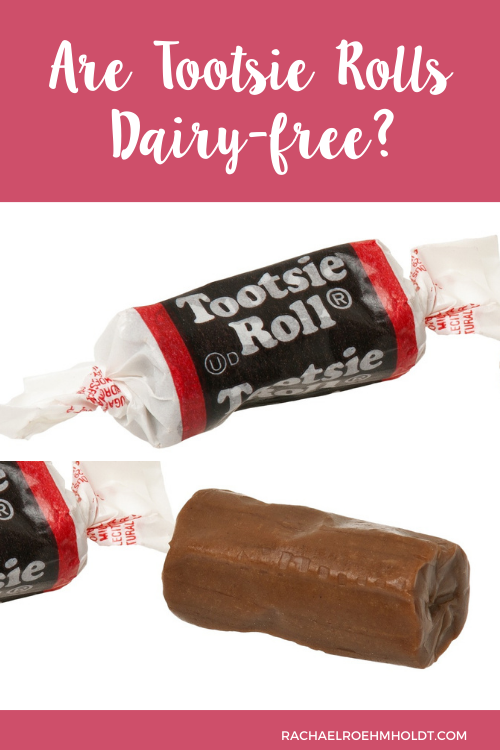 Are Tootsie Rolls dairy-free?
Tootsie Rolls contain whey and condensed skim milk making them not a good choice for someone following a dairy-free diet. Both the chocolate and fruit chews contain dairy products, so you'll want to find a different treat if you're avoiding dairy products in your diet.
Read on: Is whey dairy?
Are Tootsie Rolls vegan?
Tootsie Rolls are not vegan, because they contain dairy ingredients. If you're vegan, you'll want to find another treat to satisfy your sweet tooth.
Are Tootsie Pops gluten-free?
Tootsie Pops use the same ingredients as Tootsie rolls on the inside of the pops, with a hard candy shell on the outside. The candy shell is made with gluten-free ingredients and are safe for a gluten-free diet.
Here are the ingredients of Tootsie Pops:
"Sugar, corn syrup, palm oil, citric acid (may contain malic acid), condensed skim milk, cocoa, whey, artificial and natural flavors, soy lecithin, artificial colors (including FD&C red 40, yellow 5, blue 1), strawberry powder."
Are Tootsie Pops vegan?
By reviewing the ingredients list of Tootsie Pops, we can see that they contain condensed skim milk and whey, both dairy ingredients.
Like Tootsie Rolls, Tootsie Pops are not dairy-free or vegan.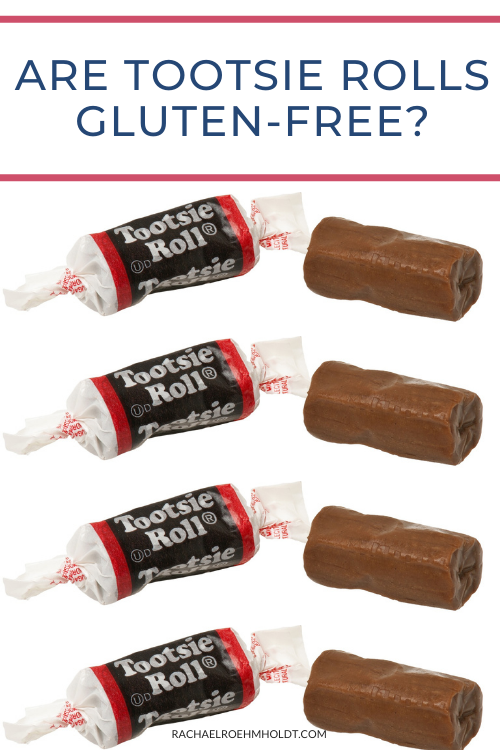 What Tootsie Rolls products are gluten-free?
According to the Tootsie Roll website, all Tootside products, including Tootsie Rolls, Fruit Chew Rolls, Tootsie Pops, and Fruit Chew Pops. Here are some Tootsie Roll products you can look for that are gluten-free.
Tootsie Roll Mini Bites
Tootsie Fruit Chew Mini Bites
Tootsie Roll Snack Bars
Tootsie Roll Midgees
Tootsie Roll
Tootsie Roll Vanilla Midgees
Tootsie Fruit Chews
Grape Tootsie Pops
Blue Raspberry Tootsie Pops
Raspberry Tootsie Pops
Caramel Tootsie Pops
Cherry Tootsie Pops
Chocolate Tootsie Pops
Orange Tootsie Pops
Strawberry Vanilla Tootsie Pops
Green Apple Tootsie Pops
Wild Apple Berry Tootsie Pops
Wild Black Berry Tootsie Pops
Wild Blue Berry Tootsie Pops
Wild Cherry Berry Tootsie Pops
Wild Mango Berry Tootsie Pops
Blue Razz with Cherry Center Fruit Chew Pops
Lemon-lime with Orange Center Fruit Chew Pops
Orange with Lime Center Fruit Chew Pops
Strawberry with Lemon Center Fruit Chew Pops
All Tootsie candies, falling under several brands, are also gluten-free. Check out their website to see which candy brands you can also feel safe buying for a gluten-free diet.
If you love Tootsie Rolls, I hope this post has helped you make an informed decision about whether or not to enjoy these on your gluten-free diet. All Tootsie Roll products are gluten-free, but not dairy-free so choose wisely depending on your body and your food needs.
f you loved this post, I hope that you'll share it with your friends on Facebook and pin it for future reference on Pinterest.
Love this post? You might also want to check out these!
Find out if your favorite foods and ingredients contain gluten with these posts!