Find out if Swedish Fish are gluten-free and safe for a gluten-free diet, plus which flavors and varieties are available.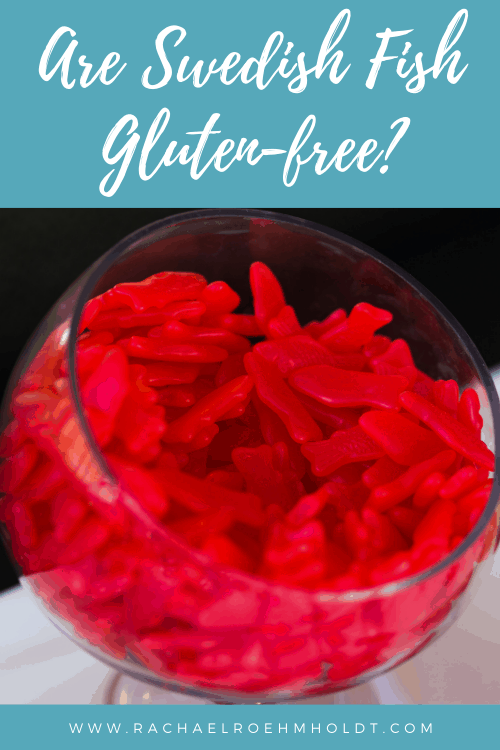 Note: I am a proud Amazon, Chomps, MunkPack, and Thrive Market affiliate and am happy to recommend their service and products to you. Please know that as an affiliate, I may receive a small commission on the products you purchase after clicking through my links. For more info, please see my disclosure policy here.
Swedish fish are a red fish-shaped gummy candy that tastes like berries. They are perfect for movie watching, handing out for Halloween, or enjoying when you get a sweet tooth.
Swedish Fish were originally lingon-berry flavored, but in the U.S., most folks say they taste like berries or cherries. You can find them at most grocery stores and they're a big hit at movie theaters too.
If you've been following a gluten-free diet for any amount of time, you know that gummy candies can sometimes contain wheat starch.
In this post, we're going to talk all about Swedish fish and find out if they're gluten-free, plus which varieties are available.
Let's cover the basics before we answer the question of: Are Swedish Fish gluten-free?
Ingredients of Swedish Fish
There are a few ingredients in this gummy candy. Here is the ingredients list from the back of a package of Swedish Fish:
Sugar, Invert sugar, corn syrup, modified corn starch, citric acid, white mineral oil, natural & artificial flavor, red 40, carnauba wax.
As you can see, they're made mostly of sugar, flavorings, artificial color, and carnauba wax. No wheat starch to be found in this candy!
Read on: Is corn syrup gluten-free?
What is gluten?
Gluten is a protein found in most wheat products, and acts as the "glue" that helps to hold wheat, barley, kamut, spelt, farro, durum, bulgur, rye, and semolina together to maintain their shape.
Gluten is naturally occurring, and therefore is impossible to strip away from the grain. If a grain naturally has gluten in it, there's no way to make that food gluten-free.
Gluten can be found in candy as one of the main ingredients, especially in gummy candies, as wheat or wheat starch. You can also find it in flavorings, thickeners, or binders.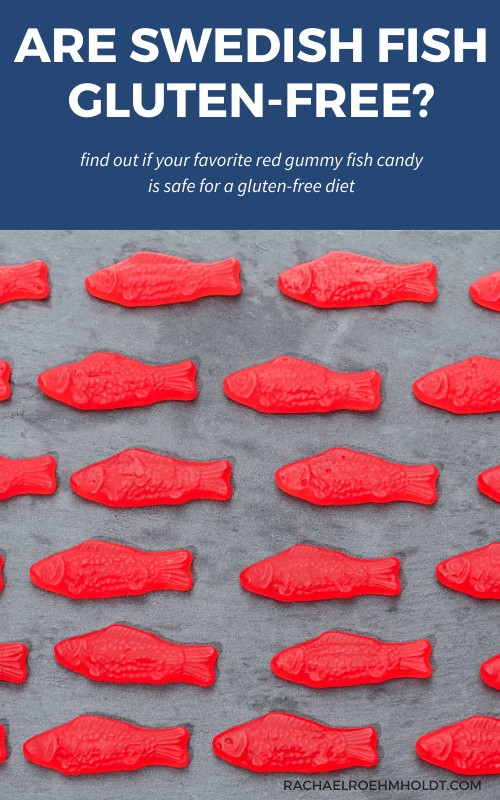 Are Swedish Fish gluten-free?
Swedish fish are gluten-free and safe for a gluten-free diet. Although they do not have a gluten-free label on their products, they are made with no gluten-containing ingredients.
If you are extremely sensitive to gluten and even trace amounts from cross contamination affect you, you may want to skip this candy option and find one with a gluten-free label instead.
Are Swedish Fish dairy-free?
Swedish Fish contain no dairy ingredients, and are safe for a dairy-free diet. They are one of only a few candies that are allergen-friendly across multiple allergens, like gluten, dairy, nuts, and soy.
What Swedish Fish products are gluten-free?
All flavors of Swedish Fish are gluten-free and safe to enjoy on a gluten-free diet. You'll find flavors and varieties, including those below.
Swedish Fish Assorted Candy
Swedish Fish Assorted Soft & Chewy Candy
Swedish Fish Bags Original Soft & Chewy Assorted Candy
Swedish Fish Brand Soft & Chewy Candy Christmas Colors
Swedish Fish Candy
Swedish Fish Candy Go-Paks!
Swedish Fish Eggs Assorted Soft & Chewy Candy
Swedish Fish Hearts BG
Swedish Fish Mini Candy
Swedish Fish Mini Crush Flavored Candy
Swedish Fish Mini Tropical Flavored Candy
Swedish Fish Original Soft & Chewy Candy
Swedish Fish Soft & Chewy Candy
Swedish Fish Soft Candy Berry Fat-Free
Swedish Fish Tails Candy
Swedish Fish Tropical Flavored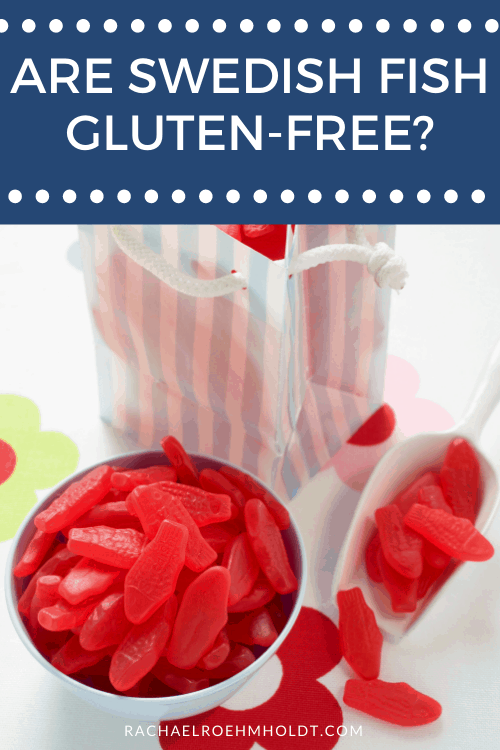 Where can I buy Swedish Fish candy?
You can buy Swedish Fish candy at most grocery stores, big box stores like Target or Walmart, movie theaters, and many convenience stores.
You can also look for them online through Amazon or other retailers if you have a tough time finding them locally.
As with any product that makes no gluten-free claims, it's best to review ingredients lists on packaging before buying, as recipes can change at any time.
If you love Swedish Fish, you can feel comfortable enjoying this candy as long as you aren't sensitive to gluten at the trace level amount.
Enjoy these next time you're watching a movie, looking for a treat for your kids, or give some as a gift to a friend who follows a gluten-free diet.
If you loved this post, I hope that you'll share it with your friends on Facebook and pin it for future reference on Pinterest.
If you're looking for more info on your favorite candy brands, find out if they're gluten-free in these posts!