Find out what dark chocolate is, what it's made of, and when it's safe for a dairy-free diet – plus get a list of dairy-free dark chocolate brands.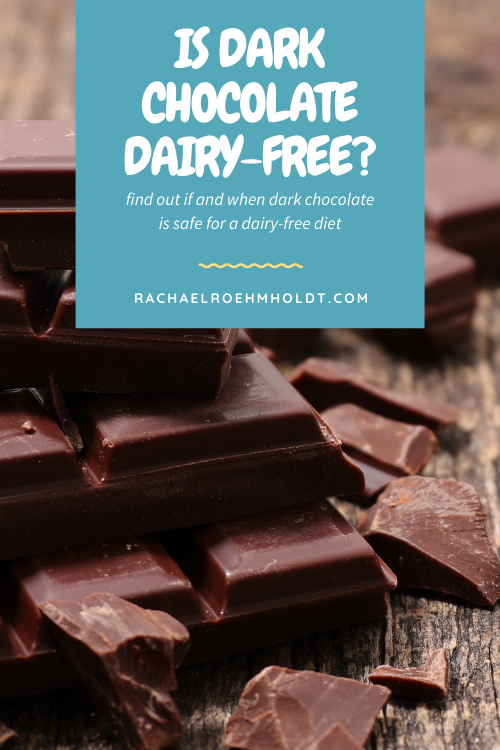 Note: I am a proud Amazon, Chomps, MunkPack, and Thrive Market affiliate and am happy to recommend their service and products to you. Please know that as an affiliate, I may receive a small commission on the products you purchase after clicking through my links. For more info, please see my disclosure policy here.
If you love dark chocolate and enjoy grabbing a square as a treat regularly or prefer to add a little drizzle to your coffee, you aren't alone.
Dark chocolate is a delicious and decadent treat that you can find added to so many desserts, sweets, coffee, and even some savory dishes.
If you avoid dairy in your diet for health or other reasons, you may be wondering how dark chocolate can fit into your dairy-free diet. After all, it seems intuitive that dark chocolate would be dairy-free, right?
Well, not always. And that's what we're going to talk about in this post. Let's go over what dark chocolate is, what it's made of, and if it's considered a dairy-free food.
We'll also talk about why dairy sometimes hides in dark chocolate, what "may contains milk" labels mean, and of course go over a few dairy-free dark chocolate brands you can shop for next time your chocolate craving strikes.
Let's talk about one of my favorite treats – dark chocolate!
What is dark chocolate?
Dark chocolate is most commonly used in dessert recipes or enjoyed by the square as a sweet treat. It can also be used as a syrup, in chocolate chips, as a chocolate sauce, in dark chocolate cocoa powder, and even in savory dishes, like mole sauces.
Dark chocolate is a type of chocolate that has a more intense flavor of chocolate than milk chocolate. It's made with more cacao powder than that of milk chocolate and has a slightly bitter flavor as well.
Dark chocolate can be used for many different recipes and comes in a variety of forms, like chocolate chips, bars, and even chocolate syrup.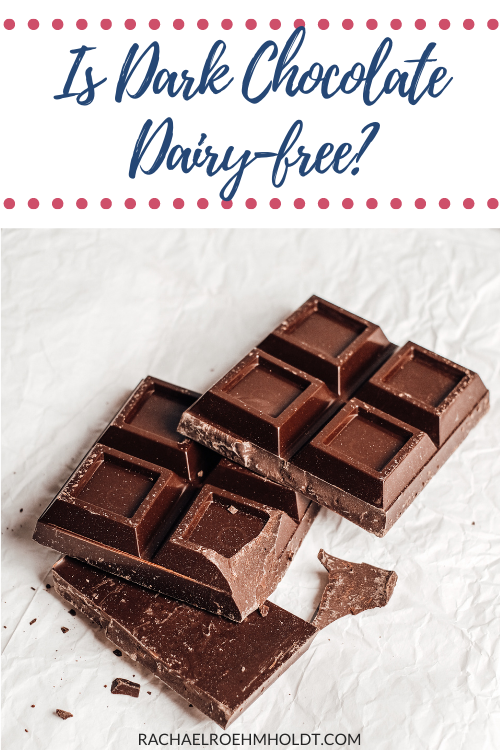 What is dark chocolate made of?
Dark chocolate is generally known as chocolate that is made without milk products. Most dark chocolate contains cacao beans, cocoa liquor, or cacao powder as well as sugar, lecithin or another emulsifier, and other flavorings, like vanilla.
While many folks immediately think of dairy when they think of chocolate, it is easy to make chocolate without it. Milk isn't actually necessary for the creation of chocolate and dark chocolate is proof of that.
What is dairy?
Dairy is a general name for ANY food that is made from milk. Technically, this is any food made from cow's milk or goat's milk or sheep's milk. Any animal milk is dairy.
However, mostly when we're talking about dairy, we're talking about drinking cow's milk, because that's what is most popular here in the United States.
Is chocolate dairy-free?
Depending on the brand and type of chocolate that you're looking at, it may or may not be dairy-free.
MIlk chocolate almost always contains dairy in the form of whey, skim milk, or cream. It's common for milk chocolate to not be a good choice for a dairy-free diet.
Dark chocolate is likely to be dairy-free, but  not guaranteed. This depends on the brand. For example, more popular chocolate companies use dairy products in their dark chocolate to create their signature texture and flavor.
Brands like Dove, Hershey's, and Ghiradelli are all brands that use milk or dairy products in their dark chocolate.
Other manufacturers that have a smaller presence contain no milk or dairy products and are completely safe for a dairy-free diet. This is one of the reasons you'll want to be aware of reading ingredients lists before buying or consuming any dark chocolate if you're on a dairy-free diet.
Read on: Dairy-free chocolate: the ultimate guide
Read on: 25 gluten and dairy-free 5-ingredients or less chocolate recipes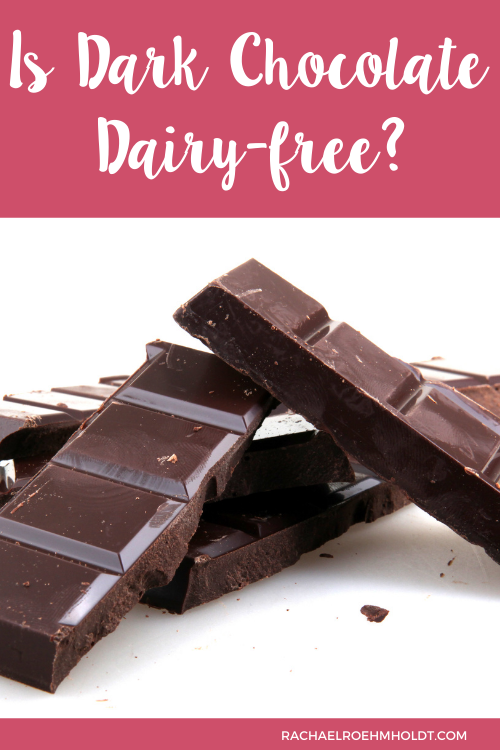 Is dark chocolate dairy-free?
Out of all the different types of chocolate, dark chocolate is the most likely to be dairy-free. If you're following a dairy-free diet, look for dark chocolate, then review the ingredients list to find out if that product contains dairy.
You might be wondering if there is milk in dark chocolate, and again, that will depend. The darker or the higher the percentage of cacao that is in the chocolate, usually that means the less likelihood of milk being in that chocolate product.
I like to look for these specific ingredients when I'm looking for dairy in any product.
One of my little secrets is that I carry around a copy of my GFDF Take Along Cards so that I always have a point of reference when I can sneak a peek at the ingredient list of a food.
>> Get your copy of the GFDF Take-Along Cards to make this easy on you.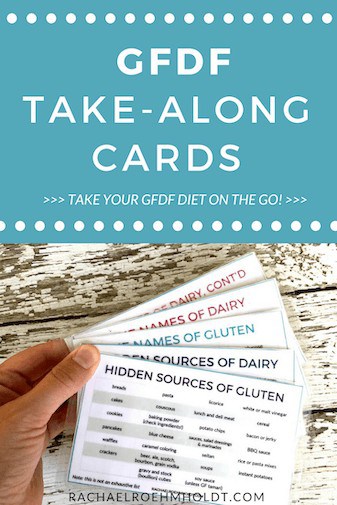 Why does some dark chocolate contain dairy?
Unfortunately for you and I who are trying to avoid dairy in our diets, dark chocolate isn't always dairy-free. A lot of major manufacturers of chocolate will label their chocolate as dark chocolate, but it will still contain milk or other dairy products.
Usually this is done because they are trying to create a specific flavor or texture that people familiar with their brand are used to. For example, Dove chocolate is known to be very rich and creamy, and even if their dark chocolate is darker in flavor than their milk chocolate, the recipe they use to make it creamy includes dairy products.
Yes, it's confusing to consumers, and again, makes it worth reviewing ingredients lists even if a package says it's dark chocolate.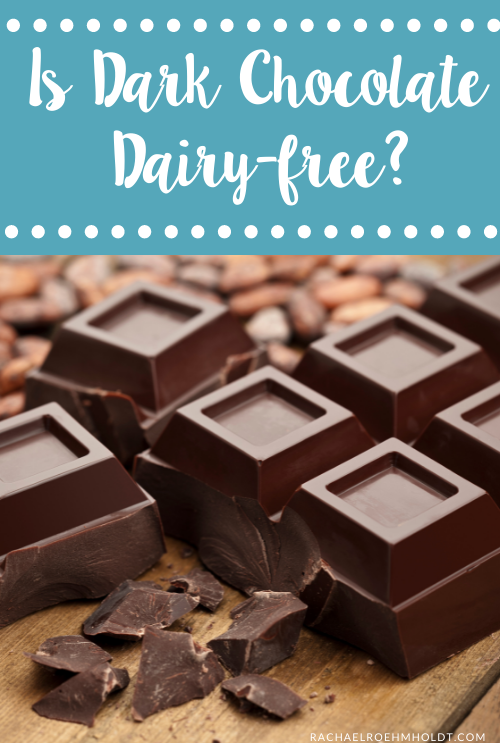 What does "may contain milk" mean on dark chocolate?
If you happen to find a package of dark chocolate and review the ingredients lists only to find no obvious dairy ingredients, you will probably think you're in the clear to enjoy that on a dairy-free diet, right?
Sometimes. If you find a label next to the ingredients list that states "may contain milk," you're likely going to be confused. This label can be used when milk or dairy is present in the product or if the company simply hasn't tested to see if there is dairy in their products.
They make this note for folks who have dairy allergies and need to know if there is a possibility of trace dairy in the food. "May contain milk" might mean that the manufacturer uses the same processing equipment as it does when it manufactures milk chocolate.
Keep this in mind and know your own level of sensitivity to dairy when you're choosing a dark chocolate brand and option that works for you and your diet.
Dairy-free dark chocolate brands
There are quite a few dark chocolate brands that have no dairy and are safe for a dairy-free diet. These are the brands I was able to find online and research, though there are likely many more that I haven't rounded up.
Use this as a jumping off point for your next shopping trip, but you don't have to skip reviewing other products and their ingredients to help you discover something new.
For more details on dairy-free dark chocolate, be sure to check out my post dedicated to this specific topic. I also share lists of dairy-free dark chocolate chips, syrup, and sauce.
Read on: Dairy-free chocolate chips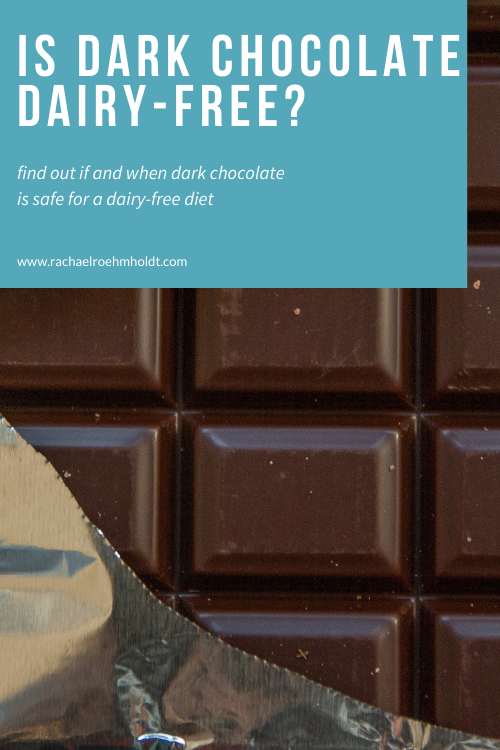 Are my favorite dark chocolate candies dairy-free?
As mentioned earlier in the post, not all dark chocolate is dairy-free. You may be wondering about some popular brands of dark chocolate, so let's get you answers to those questions now.
Is Hershey's dark chocolate dairy-free?
Nearly all Hershey's chocolate products contain dairy, that includes many of their dark chocolate bars and candies as well.
Hershey's Special Dark chocolate contains both milk fat and milk and has an allergen warning for milk on the label. You'll want to avoid this flavor and option from Hershey's.
Hershey's offers many different dark chocolate candies, so it's always a good idea to review the ingredients list on your favorite Hershey's chocolate bar before purchasing to confirm if there is dairy present in that product or not.
Is Lindt dark chocolate dairy-free?
Some flavors of Lindt dark chocolate do not contain milk or dairy products, but almost all have a "May contain milk" label on the package. Be aware of this label if you have a dairy allergy or have a reaction to even trace amounts of dairy in your food.
According to the Lindt website, "While our white and milk chocolate products contain the most, our 70%, 85%, 90%, 95%, 99% and 100% bars do not have milk products in them. All Lindt manufacturing facilities process milk, dark and white chocolate products. We have an allergen control program in place, and adhere to a strict Good Manufacturing Practice (GMP) system in order to reduce the risk of cross contamination, however, we do label all of our chocolate products that do not contain milk as an ingredient with the statement "may contain traces of milk" as a precaution for those that are most sensitive to milk and whey."
Are dark chocolate m&m's dairy-free?
The ingredients in dark chocolate m&m's contain skim milk, milkfat, and lactose. With even just these few ingredients, we can see that this flavor of m&m's is not a good option for a dairy-free diet.
All m&m's products contain dairy, so you'll want to look for a different candy to get your craving met if this is a treat you enjoy eating regularly.
If you've been wondering if dark chocolate contains dairy, know you aren't alone. While in theory it makes sense that dark chocolate would have no milk, it's not always the case.
As with almost all packaged and processed foods, it's a good idea to review ingredients lists before purchasing to find any hidden dairy ingredients.
It's also a good idea to know your own level of sensitivity to dairy so that you can make an informed decision around if you need to buy only chocolate that has no dairy ingredients or if you need to also check there is no "may contain milk" labels as well.
If you loved this post, I hope that you'll share it with your friends on Facebook and pin it for future reference on Pinterest.
Love this post? You might want to check these out!
Find out if your favorite foods and ingredients contain dairy with these posts!