Get 25 gluten-free side dish recipes, including salads, rolls, vegetables sides, potatoes, and rice and grain dishes. Most are dairy-free!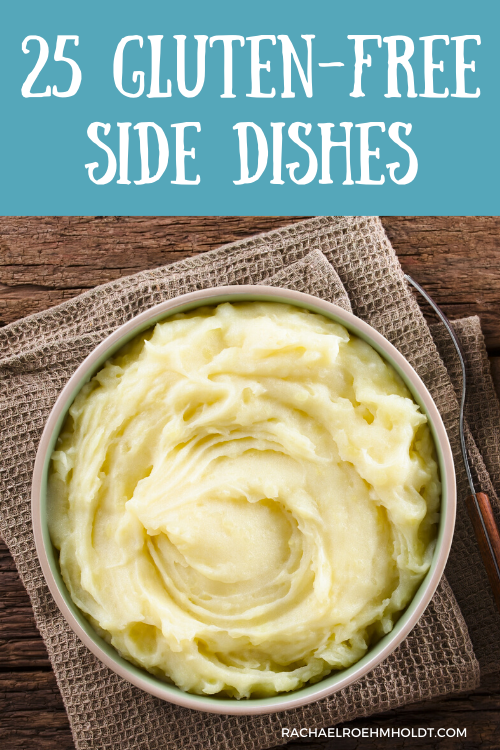 Note: I am a proud Amazon, Chomps, MunkPack, and Thrive Market affiliate and am happy to recommend their service and products to you. Please know that as an affiliate, I may receive a small commission on the products you purchase after clicking through my links. For more info, please see my disclosure policy here.
If you're getting started with a gluten-free diet, you may have realized that many of your main dish recipes would need to get a revamp with flour, bread, or breadcrumb toppings. But what about the side dishes that you serve alongside all your favorite meals?
Many side dishes contain gluten, making it tricky to ensure that this transition to eating gluten-free is an easy and straightforward one. If you follow a gluten-free diet, you'll love this post.
We're going to go over some of the side dishes you know and love that might contain gluten, then we'll go through an entire list of 25 gluten-free (most are also dairy-free!) side dish recipes.
These can replace some of your old favorites or you might be inspired to try something completely new.
What is gluten?
Gluten is a protein found in most wheat products, and acts as the "glue" that helps to hold wheat, barley, kamut, spelt, farro, durum, bulgur, rye, and semolina together to maintain their shape.
Gluten is naturally occurring, and therefore is impossible to strip away from the grain. If a grain naturally has gluten in it, there's no way to make that food gluten-free.
Where does gluten show up in side dish recipes?
Gluten isn't always in every side dish recipe, but it does make an appearance in many dishes that you likely make at home, buy at the store, or order from restaurants.
These are some common places you're likely to find gluten in the side dishes you eat.
In croutons on salad
In salad dressings
In bread and rolls
As a breadcrumb topping
In pasta salads or sides
In creamy sauces
On French fries or other crispy foods
In soups
In rice pilafs
In whole grain dishes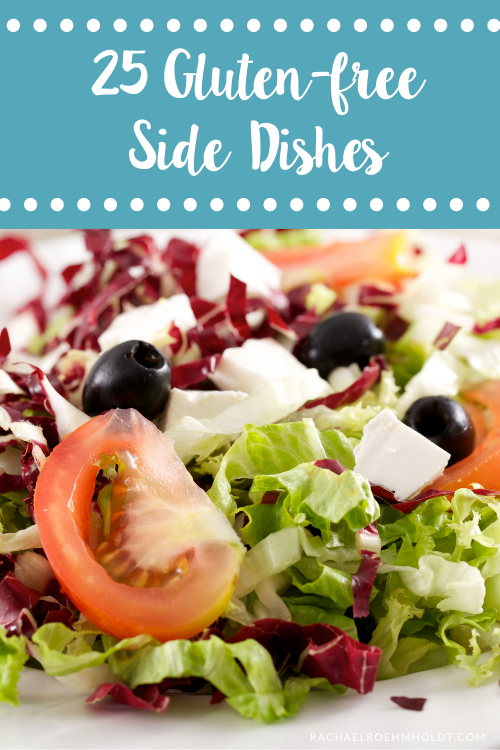 Gluten-free Side Salad Recipes
If you love salads as a side dish to your favorite meals, try one of these five delicious options.
You'll find spinach salad, broccoli salad, a chopped salad perfect for your favorite Italian dinners, a quick kale salad, and a pasta salad option.
A strawberry spinach salad just screams spring and summer to me! Enjoy this salad with a homemade creamy poppyseed dressing and a bed of spinach, basil or mint, strawberries, avocado, pecans, shredded chicken, and slivered almonds. Omit the cheese for a dairy-free salad.
This vegan broccoli salad uses a shortcut from the produce department in the form of broccoli slaw, which is always pretty handy when fixing up a salad as a side dish.
Enjoy this recipe with broccoli slaw, broccoli florets, dried cranberries, sunflower seeds, and a balsamic maple mustard dressing.
A classic Italian chopped salad includes Romaine lettuce, radicchio, cannellini beans, sun dried tomatoes, and a red wine vinaigrette.
This is a perfect side dish for any of your favorite Italian meals.
This 10 minute kale salad is perfect for when you have extra kale around.
With just a few leaves of kale, an apple, some walnuts, dried cranberries, and a simple dressing of olive oil, lemon juice, and maple syrup, this salad comes together really quickly and easily.
Avocado pasta salad combines some of the great flavors of pasta salad with a homemade avocado dressing.
In this salad, you'll find gluten-free pasta, fresh corn, grape tomatoes, red onion, avocado, and chives.
Read on: 75 Gluten and dairy-free salad recipes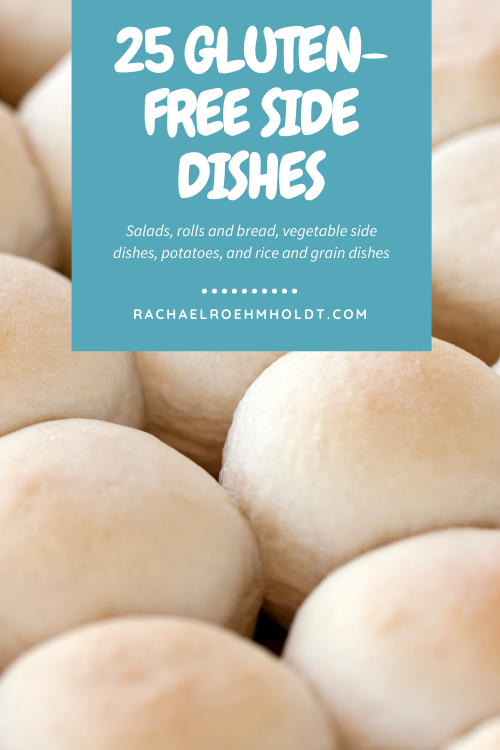 Gluten-free Bread and Roll Recipes
Many meals aren't complete without bread or rolls. If you're gluten-free, you don't need to give these up.
Just try one of these recipes for Irish soda bread, flatbread, dinner rolls, biscuits, and artisan bread.
This hearty bread is made with gluten-free flour, sugar, baking soda, baking powder, salt, butter, currants or raisins, buttermilk, and eggs.
If you follow a dairy-free diet, be sure to use vegan butter in place of butter in this recipe.
Sometimes a meal just calls for flatbread instead of regular bread or rolls. You'll love this recipe that's made with vegan yogurt, olive oil, baking powder, salt, and gluten-free baking flour. They're best when made on a cast iron griddle or skillet!
If you're looking for a dinner roll with no gluten, dairy, or eggs, try this recipe. It works great as a side dish to all your favorite soup, stew, or big family dinners, as well as for sliders and mini sandwiches.
Enjoy these gluten-free biscuits that are also dairy-free and vegan. Plus get some recommendations for some store-bought gluten-free biscuit mixes for those I-need-a-shortcut days.
Try this beautiful artisan bread that's not only gluten-free but vegan as well. It has a crispy crust and a soft center – just like all the breads you'll find at grocery stores and bakeries. Now you don't have to miss out on the delicious bread!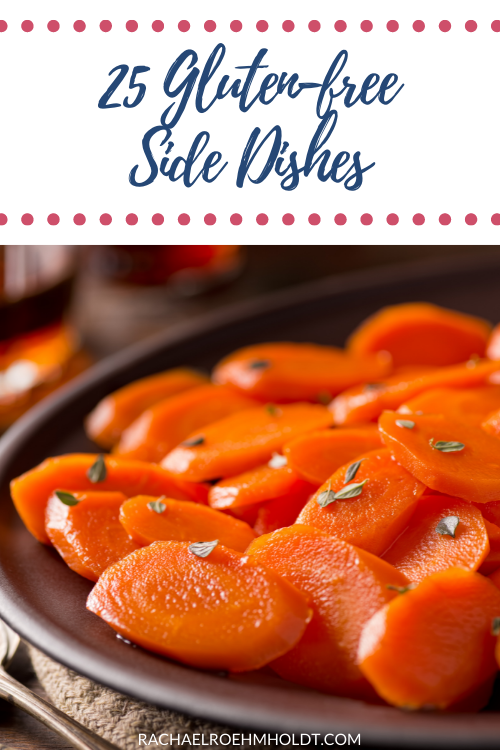 Gluten-free Vegetable Side Dish Recipes
Vegetables are always a staple side dish at my house.
You might want to try out some of these simple but delicious veggie sides, like maple glazed carrots, sesame asparagus, green beans, roasted broccoli, and sautéed cabbage.
This maple glazed carrot recipe couldn't be easier. With some fresh carrots, cumin, mustard, maple syrup, and Italian parsley, this recipe comes together quickly in the oven.
The recipe calls for ghee, but you can also use vegan butter or coconut oil instead to make it dairy-free.
I love veggie recipes that are simple enough to let the flavors of the vegetables come through, and this asparagus recipe does just that!
This 15 minutes recipe uses one pound of asparagus and a homemade sauce that really highlights the flavors of the asparagus.
These green beans are made using just 5 ingredients – green beans, onion, garlic, chicken broth, and salt).
These are gluten-free, dairy-free, and EASY. Plus you can have them going in your crockpot while you get other more important dishes done.
Roasted broccoli is one of my go-to side dish recipes, because it's so simple, full of flavor without needing a lot of extra ingredients, and the crispiness from roasting can't be beat.
Try this recipe with olive oil, salt, pepper, lemon juice, and red pepper flakes.
Cabbage isn't always the most coveted ingredient, but if you haven't tried it sautéed simply with some salt, pepper, and a little turn of the pan of apple cider vinegar – you'll love this idea and keep coming back to it like I do.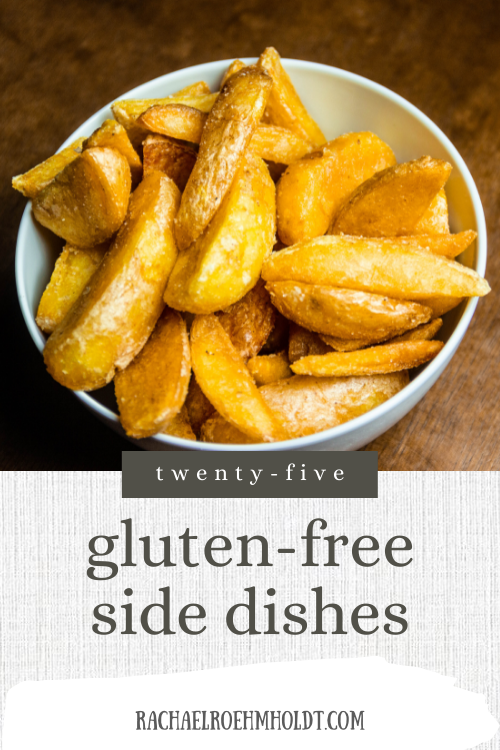 Gluten-free Potato Side Dish Recipes
Potatoes make it to the table with many of my favorite gluten-free dinners.
Try one of these five yummy potato recipes, including mashed and roasted potatoes and sweet potatoes, plus a vegan potato salad recipe.
Read on: Is potato salad gluten-free?
Did you know mashed potatoes don't require loads of butter and cream to make at home? These mashed potatoes are made using dairy-free milk and vegan butter.
Try these plain or add your favorite mix-ins, like roasted garlic, fresh herbs, or bacon. Serve with some delicious gluten-free gravy on top.
If you're looking for a gluten, dairy, and egg-free potato salad, this vegan potato salad is going to be a winner for you.
This recipe keeps it simple with potatoes and red onion, alongside a delicious homemade dressing.
These cinnamon roasted sweet potatoes and cranberries are a wonderful side dish idea, because they combine such classic fall flavors that are full of healthy carbohydrates and fiber. This recipe is only 6 ingredients and looks gorgeous too.
I love mashed potatoes year round, but they are great in the fall and winter months when they're at their most popular.
These come together with just sweet potatoes, water, salt, pepper – and you can make them dairy-free by swapping out ghee for vegan butter.
These roasted potatoes are a great side dish for a weeknight or even special dinner.
They're made with Yukon Gold potatoes that hold up well to roasting and are seasoned with avocado oil, salt, pepper, and chopped rosemary.
Read on: Gluten-free Thanksgiving side dishes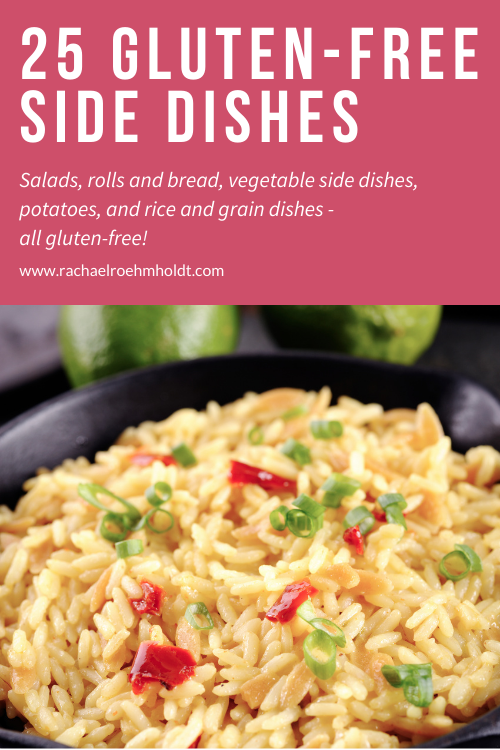 Gluten-free Rice and Grain Side Dish Recipes
If rice or other grains are some of your favorite side dishes, you might want to try one of these gluten-free recipes.
I've included a vegan Greek salad, a gluten-free Rice-a-Roni dish, wild rice and kale salad, a quinoa dish, and a simple millet recipe for something new to experiment with.
I love recipes that are simple, healthy, and don't require a ton of ingredients. This salad fits the bill on all those! Enjoy this Greek salad with Romaine lettuce, artichokes, cherry tomatoes, kalamata olives, green olives, and red onion.
If you love boxed rice side dish mixes, you'll enjoy this homemade version with gluten-free spaghetti noodles and rice.
It's seasoned with nutritional yeast, onion flakes or powder, garlic powder, dried parsley and thyme, salt, and turmeric. Be sure to use vegan butter if you're also on a dairy-free diet.
Read on: Is Rice a Roni gluten-free?
This wild rice kale salad has kale, chicken, wild rice, apple, avocado, almonds, and dried cranberries with a homemade tangy lemon balsamic cilantro dressing.
For an easy side dish that's loaded with protein and flavor, you'll love this quinoa dish. It's made with quinoa, black beans, corn, tomatoes, cilantro, and green onions.
It's flavored with lime juice, garlic, and chicken or vegetable broth to give it loads of flavor.
If you're wanting to try something new, try a different gluten-free grain like millet. This simple side dish comes together with just millet, vegetable broth, onion, and fresh parsley.
Mix up your whole grains to get new flavors and textures from your side dishes.
Read on: 101 Holiday gluten-free dairy-free recipes
Read on: 25 Dairy-free gluten-free Thanksgiving recipes
Read on: 25 Gluten-free dairy-free Easter recipes
Read on: 25 Gluten and dairy-free picnic recipes and ideas
If you've been looking for some tasty side dishes that work well with your gluten-free diet, I hope this post has given you some great inspiring recipes to try.
In any recipes you make at home, be sure to make swaps for gluten ingredients to ensure you stick with a gluten-free diet. These recipes will give you a great place to start.
If you loved this post, I hope that you'll share it with your friends on Facebook and pin it for future reference on Pinterest.