Find out what Sapporo is made from and if this popular beer brand is safe for folks on a gluten-free diet.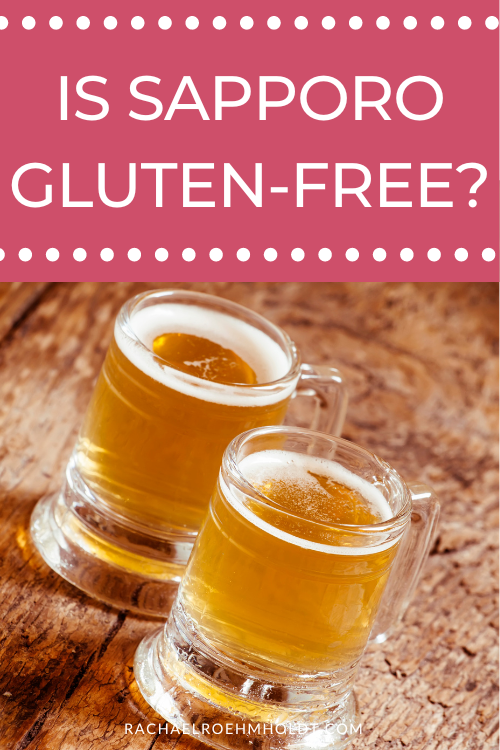 Note: I am a proud Amazon, Chomps, MunkPack, and Thrive Market affiliate and am happy to recommend their service and products to you. Please know that as an affiliate, I may receive a small commission on the products you purchase after clicking through my links. For more info, please see my disclosure policy here.
Sapporo is a well-known beer brand with roots tied back to Japan. You can often find it sold at Asian restaurants, as well as liquor stores, bars, and Japanese or Asian markets.
If you love to have a glass of Sapporo when you go out for a Japanese dinner, you might be wondering if this beer brand contains gluten. If you're just getting started with a gluten-free diet, you may have heard that many traditional beers contain gluten and wondering in particular about Sapporo.
In this article, we'll take a deep dive into the world of Sapporo beer and discuss whether or not it's a safe choice for folks getting started with or continuing to enjoy a gluten-free diet.
We'll talk about what Sapporo is, what it's made from, provide insights into gluten, discuss whether or not many traditional beers are gluten-free, and finally help you get all the information you need about this beer in your diet by answering the question: Is Sapporo gluten-free?
Ready to get started? Let's get into it!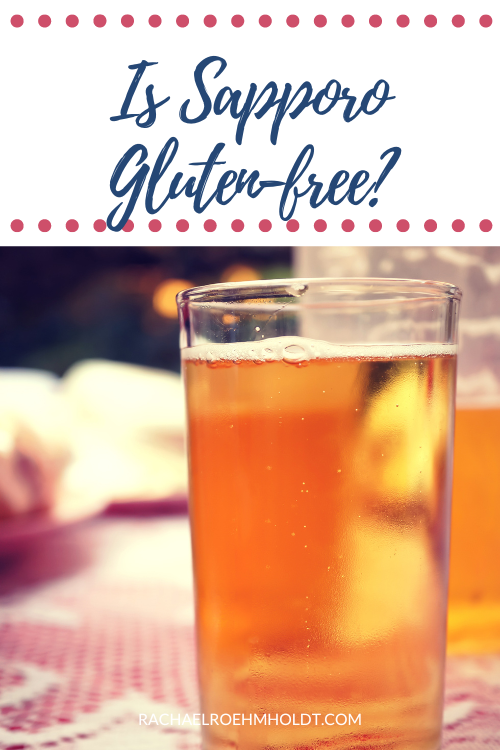 What is Sapporo?
Sapporo is a brand of Japanese beer. It is known to be the oldest brand of beer in Japan, according to their Wikipedia page. This brand is the top-selling Asian beer in the American market since it was brought to the States in 1984. Their beer is brewed in the US, Canada, and Vietnam according to the brand's website.
The beer itself is promoted as having a "signature crisp, refreshing flavor and clean finish." There are five main beers Sapporo comes in: Sapporo Premium Beer, Sapporo Pure, Sapporo Premium Black Beer, Sapporo Premium Light Beer, and Sapporo Reserve Beer.
What is Sapporo made from?
While the Sapporo website itself doesn't explicitly mention which ingredients are included in their popular beers, I was able to find ingredients listed on another website.
Sapporo Premium Beer contains malted barley, water, yeast, hops, and rice. Yes, rice.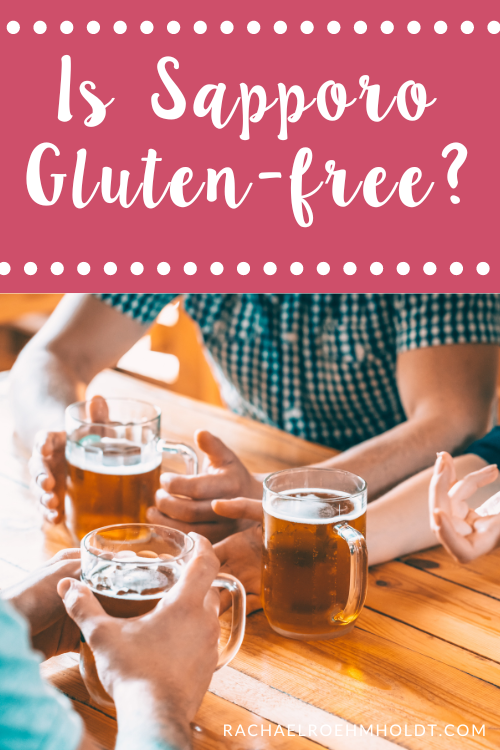 What is gluten?
Gluten is a protein found in most wheat products, and acts as the "glue" that helps to hold wheat, barley, kamut, spelt, farro, durum, bulgur, rye, and semolina together to maintain their shape. You can create a malt from any of these grains.
Gluten is naturally occurring, and therefore is impossible to strip away from the grain. If a grain naturally has gluten in it, there's no way to make that food gluten-free.
Is beer gluten-free?
In short, the answer is no. Most beer is brewed with gluten-containing grains like malted barley and wheat, which makes it not a good option for folks on a gluten-free diet.
Unlike distilled alcohol such as whiskey, where the gluten is distilled out of the final product, beer retains the gluten during the brewing process. You can read more about that here: Is Whiskey Gluten-free?
That said, there are some gluten-free beers that are made using gluten-free grains from the start and are available at many grocery and liquor stores.
Some manufacturers also make "gluten-removed" beer, where the beer is made using gluten-containing ingredients, then processed to remove the gluten to get it lower than the designated level to be considered gluten-free (20ppm).
Learn more about gluten-removed beer here: Does Beer Have Gluten?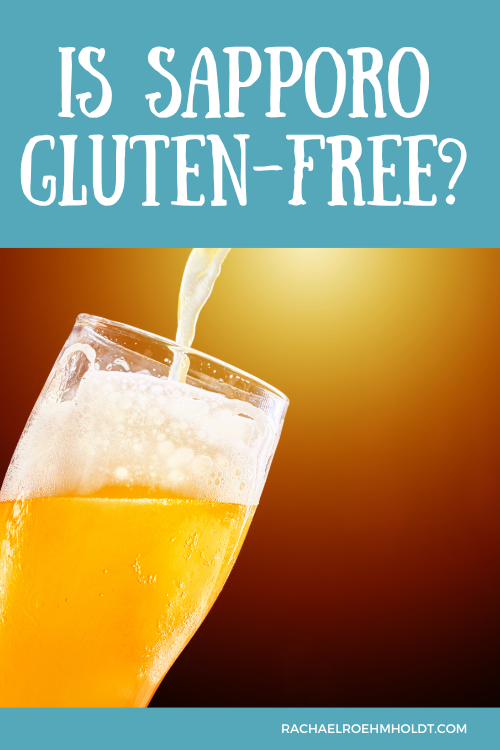 Is Sapporo gluten-free?
Unfortunately, Sapporo is not considered gluten-free because it contains malted barley – a gluten-containing grain. If you enjoy beer, but are bummed to see that Sapporo contains gluten, know that there are loads of other gluten-free beers available.
For a big list of gluten-free beer brands and options, check out this post: Does beer have gluten?
If you're looking for some non-alcoholic beer options, don't miss this post: Gluten-free Non alcoholic Beer.
If Sapporo is your go-to beer, I hope that you now have the information you need to make a different choice while following a gluten-free diet. Know that even if this brand contains gluten that there are loads more options available on the market.
Love this post? Check out more from the Gluten-free Alcohol Series.
Wondering which alcohol is safe for a gluten-free diet? Find out in the Gluten-free Alcohol series!