Find out what Chick-fil-A fries are made of and if they are safe for a gluten-free diet. Plus what you need to know about fast food fries.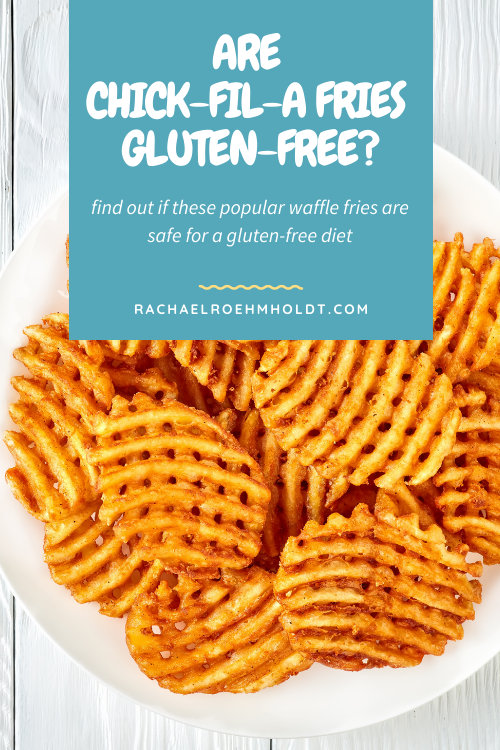 Note: I am a proud Amazon, Chomps, MunkPack, and Thrive Market affiliate and am happy to recommend their service and products to you. Please know that as an affiliate, I may receive a small commission on the products you purchase after clicking through my links. For more info, please see my disclosure policy here.
If you enjoy stopping by Chick-fil-A once in a while on a busy day, you may have wondered what their menu is like as it relates to a gluten-free diet.
There are so many obvious ingredients that contain gluten from fast food restaurants: hamburger buns, breading on fried chicken patties, and many breakfast muffins or biscuits.
But what about French fries? Are French fries at different fast food restaurants gluten-free? In this post, we're going to dig into the details of Chick-fil-A French fries and discover what they're made of and if they're going to be a safe option for folks on a gluten-free diet.
What are Chick-fil-A fries made of?
Chick-fil-A outlines their ingredients on their website. Their waffle potato fries are made of the following ingredients:
"Potatoes, high oleic canola oil with dimethylpolysiloxane added as an anti-foaming agent, vegetable oil (canola, palm, soy), salt, disodium dihydrogen pyrophosphate (to maintain natural color), dextrose."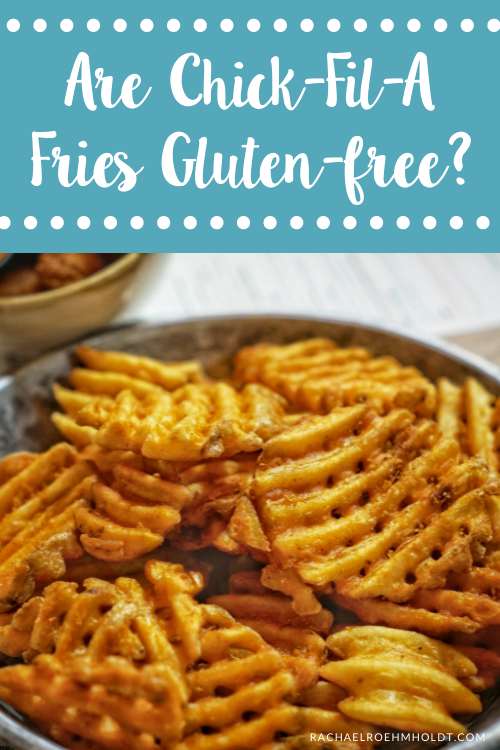 What is gluten?
Gluten is a protein found in most wheat products, and acts as the "glue" that helps to hold wheat, barley, kamut, spelt, farro, durum, bulgur, rye, and semolina together to maintain their shape.
Gluten is naturally occurring, and therefore is impossible to strip away from the grain. If a grain naturally has gluten in it, there's no way to make that food gluten-free.
Gluten is often added as a binding ingredient in many foods, and in French fries, it may be in a batter that is added to help get a French fry to be more crispy on the outside.
Are French fries gluten-free?
French fries can easily be made to be gluten-free, however not every batch of French fries is created equally. Some fries have added flour as a coating to bump up the crispiness factor after frying.
Other French fries are cooked in a shared bath of oil in their fryers. If you order French fries from a restaurant or fast food place, be sure you know where the fries are being cooked so you know if there's a possibility that the fries are swimming in a bath of oil that has also been cooking foods that contain gluten.
Read on: Are French fries gluten-free?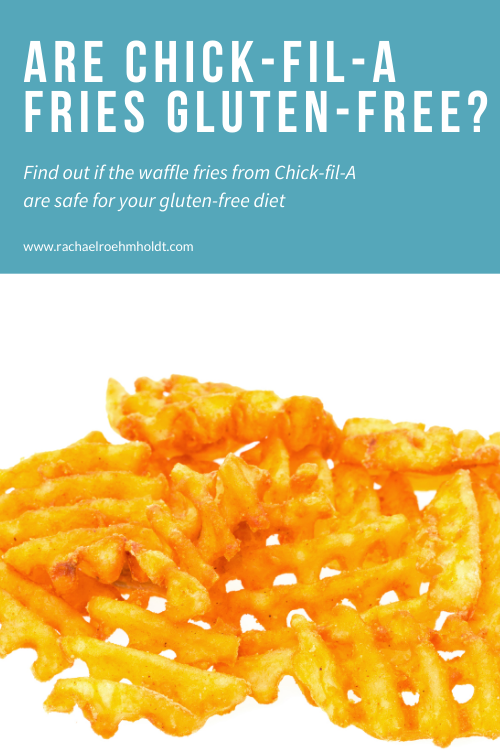 Are Chick-fil-A fries gluten-free?
According to the Chick-Fil-A website, their French fries don't contain any gluten. Though their website didn't state anything about cross contamination in a fryer, I found an article by Gluten-free Living that says "The waffle fries are cooked in canola oil while the fried chicken is cooked in peanut oil. That's right—the French fries are safe at a fast-food restaurant!."
Yes, Chick-Fil-A has gluten-free French fries!
That said, if you are sensitive to gluten at even trace amounts, you may opt to skip this restaurant entirely as there are many menu items that contain gluten.
Read on: Are McDonald's French fries gluten-free?
Read on: Are Burger King French fries gluten-free?
Read on: Are Wendy's French fries gluten-free?
Read on: Are Arby's fries gluten-free?
Are Chick-fil-A dairy-free?
Chick-fil-A fries do not contain any dairy ingredients and should be safe to enjoy on a dairy-free diet.
If you've been wondering if Chick-fil-A fries contain gluten, I hope this post has helped you get the answers you've been looking for.
As far as I was able to find, the fact that Chick-fil-A uses a specific type of oil to fry their waffle fries makes it so they don't use a shared fryer with other gluten containing fried foods.
We can safely assume that these fries are gluten-free, but you'll want to keep in mind that this restaurant is not promoting any gluten-free foods at all, so use caution.
If you loved this post, I hope that you'll share it with your friends on Facebook and pin it for future reference on Pinterest.
Love this post? You might also want to check out these!
Find out if your favorite foods and ingredients contain gluten with these posts!