Find out if Wendy's chili is safe for a gluten-free diet, and what other Wendy's chili-based menu items are gluten-free.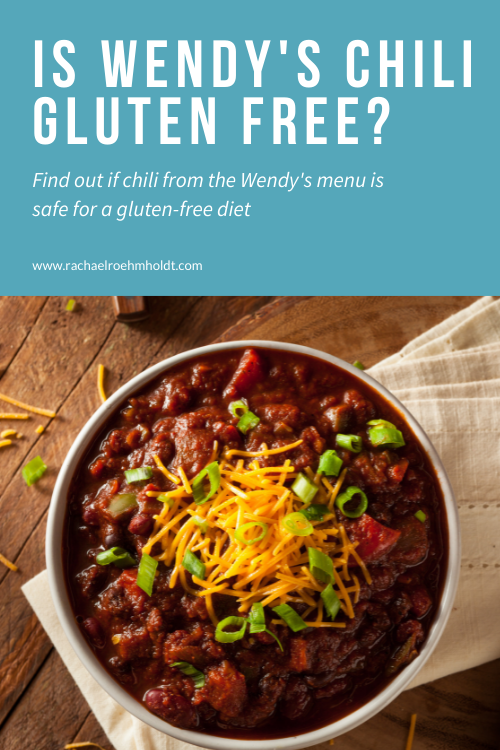 Note: I am a proud Amazon, Chomps, MunkPack, and Thrive Market affiliate and am happy to recommend their service and products to you. Please know that as an affiliate, I may receive a small commission on the products you purchase after clicking through my links. For more info, please see my disclosure policy here.
Whether you're just getting started with a gluten-free diet or have been at it a while, you know that finding fast food options can be tricky. There aren't always options for main dishes and we can be relegated to sad side salads without much of anything on them.
If you like to visit Wendy's or have a family member who likes scooting through the drive through once in a while, you might be wondering what options there are for you if you stay away from gluten.
Wendy's offers chili as one of their side dishes, and it's full of meat, beans, and green peppers. The chili is really yummy, but is it gluten-free?
Find out in this post what Wendy's chili is made of, if it's safe for a gluten-free diet, and if other menu items that come with chili are also gluten-free.
Next time you're thinking about a fast food choice, I hope this information gives you some ideas as to whether or not the chili is a good option for you.
What is Wendy's chili made of?
According to the Wendy's website, here are the ingredients in their signature chili:
"Chili Base (Chili Sauce [Water, Tomato Paste, Tomatoes (Tomatoes, Tomato Juice, Calcium Chloride), Sugar, Modified Corn Starch, Salt, Chili Pepper, Spices, Flavor Enhancer (Dextrose, Salt, Yeast Extract, Modified Corn Starch), Citric Acid, Garlic Powder, Disodium Inosinate and Disodium Guanylate, Onion Powder, Xanthan Gum], Onions, Celery, Green Peppers), Water, Ground Beef (Beef, Salt), Chili Beans (Prepared Pinto Beans, Prepared Red Kidney Beans), Soy Lecithin."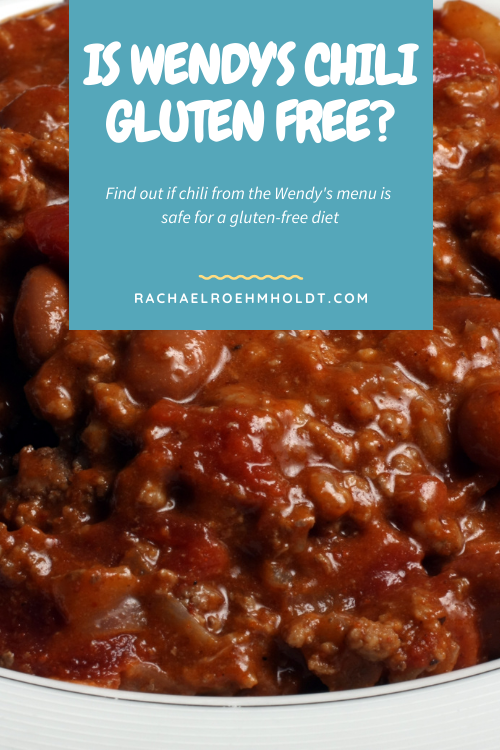 What is gluten?
Gluten is a protein found in most wheat products, and acts as the "glue" that helps to hold wheat, barley, kamut, spelt, farro, durum, bulgur, rye, and semolina together to maintain their shape.
Gluten is naturally occurring, and therefore is impossible to strip away from the grain. If a grain naturally has gluten in it, there's no way to make that food gluten-free.
Gluten is often added as a binding ingredient in many foods, particularly those that have been processed.
Is Wendy's chili gluten-free?
There are no ingredients in the chili that show us there may be gluten in this food, however Wendy's makes this allergen statement for all of their menu items:
"We provide known instances of allergens; however, cross contact is possible due to common handling and preparation areas in our restaurants. We are unable to guarantee that any menu item can be completely free of allergens. Customers with allergies and sensitivities should exercise judgment when ordering."
If you avoid gluten in your diet, you may or may not have issues with this chili from Wendy's. If you can tolerate small amounts of gluten in your diet without having a reaction, this might be an okay option for you.
However, if you are known to react to even trace amounts of gluten, I'd assume this isn't the best menu option to choose as it's in a facility that deals with gluten ingredients all day and the risk of cross contamination is probable.
Read on: Is chili gluten-free?
Read on: Get my easy crockpot gluten-free chili recipe
Read on: Wendy's Gluten-free Menu Items
Is Wendy's chili dairy-free?
On the website that shows the ingredients list for Wendy's chili, there's a "contains" note at the bottom stating "Contains: Milk and Soy."
If you follow a dairy-free diet and have been considering this as a side dish or main from Wendy's, you may want to consider switching to a different order option.
Read on: Get 50 gluten-free dairy-free soup, stew, and chili recipes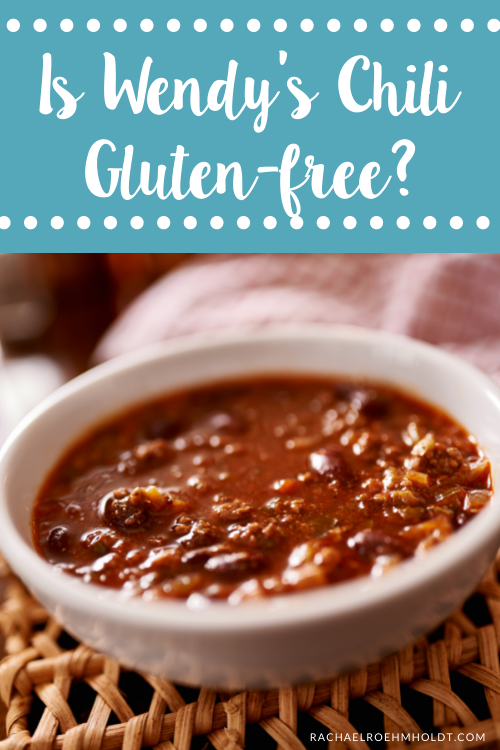 Are Wendy's chili cheese fries gluten-free?
There are no gluten ingredients in any of the chili cheese fries main ingredients. The chili, french fries, and shredded cheddar cheese all don't have wheat or gluten, however since the fries are cooked in a shared fryer with ingredients that contain gluten, they aren't considered gluten-free.
Know your body and its level of sensitivity to gluten before ordering this menu item. If trace amounts of gluten affect you, avoid these fries.
Read on: Are Wendy's fries gluten-free?
Read on: Is cheese gluten-free?
Is Wendy's chili and cheese baked potato gluten-free?
The baked potato from Wendy's is considered gluten-free. The cheese from Wendy's is considered gluten-free. The chili may or may not contain gluten.
As we talked about earlier in the post, there are no gluten-containing ingredients in the chili, but there may be opportunities for cross contamination as well. Use your best judgment on whether or not you order this menu item on your gluten-free diet.
Read on: Are potatoes gluten-free?
If you've been wondering if Wendy's chili is a good option for you and your gluten-free diet, I hope this post has given you the information you've been looking for.
Though there are no gluten containing ingredients in the chili, it's quite possible that cross contamination can occur in a fast food restaurant. Be aware of your level of sensitivity to gluten and decide what will work best for you and your body.
If you loved this post, I hope that you'll share it with your friends on Facebook and pin it for future reference on Pinterest.
Love this post? You might also want to check out these!
Find out if your favorite foods and ingredients contain gluten with these posts!