Are you trying to follow a gluten and dairy-free diet on a budget? If so, check out these 25 tips to shop, save, and cook smart!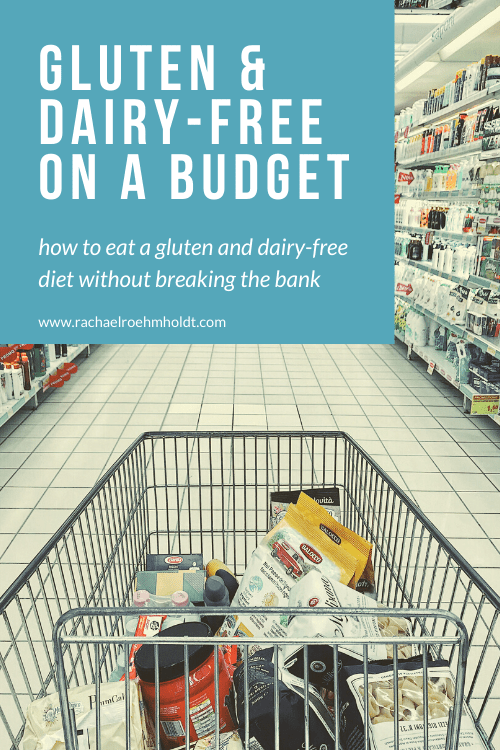 Note: I am a proud Amazon, Chomps, MunkPack, and Thrive Market affiliate and am happy to recommend their service and products to you. Please know that as an affiliate, I may receive a small commission on the products you purchase after clicking through my links. For more info, please see my disclosure policy here.
When you first discovered you had to cut the gluten and dairy from your life, you probably thought "wow, how in the heck am I going to do this?" Then after a few trips to the store, maybe you discovered just how easy it is to replace the foods in your diet with their gluten-free and dairy-free counterparts.
There's gluten-free pasta, dairy-free cheese, and even gluten-free dairy-free pizza available.
Once you've had a few trips to the store under your belt, that's when you checked in with your budget and realized – "Oh no, this gluten and dairy-free diet isn't going to be as easy as I thought! I just blew my monthly grocery budget in two trips to the grocery store!"
I've been in your shoes exactly. When I was going gluten and dairy-free in my diet and lifestyle, all I wanted was to feel normal. To eat normal things. To live a normal life. And to stay on a normal budget.
I set out to find ways in order to eat a gluten and dairy-free diet while also keeping an eagle eye on my food budget each month. And not going crazy whenever I went grocery shopping.
I've learned to shop, save, and cook smartly while eating foods that make me feel good – and don't bust my monthly budget. Truth be told, I feel like a total pro at eating healthy satisfying meals that fit my lifestyle AND keep money in my pockets these days.
It's also one of the reasons I feel confident in creating and sharing my gluten and dairy-free meal plans each and every week. I know how to make meals that taste good and don't cost a lot.
In this post, I'm going to share with you the 25 tips I've discovered along my gluten and dairy-free journey. I have shared a number of these tips over the years on my blog, but with shopping less and trying to stay out of grocery stores a little more often, I have found a new twist on budgeting and planning gluten and dairy-free meals.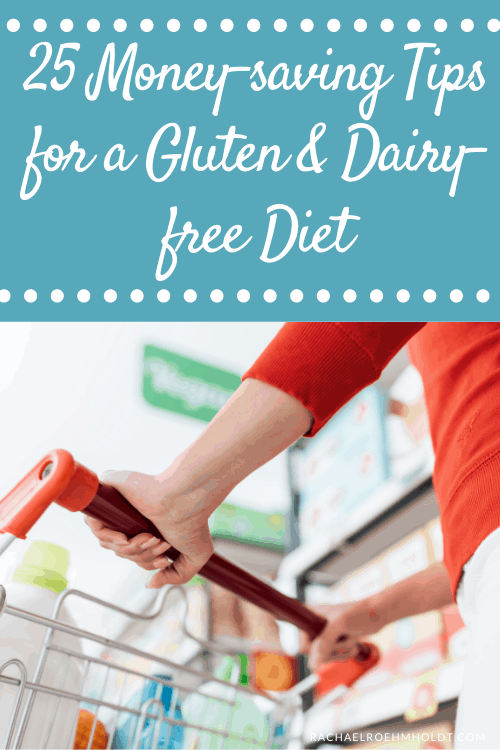 1. Structure your meals around naturally gluten-free and dairy-free foods.
There are plenty of naturally gluten-free and dairy-free foods that don't have the overhead or high price tag of holding a "gluten-free" or "dairy-free" label.
Many of the healthiest foods have no gluten or dairy in them at all! Some of these foods are meat, eggs, nuts and seeds, whole grains, and fruits and vegetables. So many dishes can be made from these ingredients – just get creative!
Instead of making meals that rely on expensive "gluten-free pasta" or "dairy-free cheese," opt for foods without the labels and get the most bang for your buck nutritionally.
Center your meals around these foods and save on the overhead of fancy packaging. Think main dishes centered around lean meats, whole grains, and fruits and veggies in the form of salads, soups, and whole grain bowls.
Read on: What foods are naturally gluten and dairy-free?
2. Eat fruits and veggies as snacks – with homemade dips on the side.
Gluten-free dairy-free snack foods aren't easy to come by. Not to mention when you do find something decent tasting, it's safe to say it might put a dent in your wallet and won't add a ton to your diet nutritionally.
Many snack foods are full of empty calories and sugar, so opt for the most nutrient dense foods you can find.
Fruits and veggies are a great snack option, because you can get more per dollar than those boxed or packaged snack items.
Homemade dips are a great way to mix up the monotony of having the same snack day in and day out.
Try making your own dairy-free ranch, hummus, and peanut or cashew butter based sweet dips for apple and pear slices. You'll get a ton for your money when it's homemade – plus you can control the quality of ingredients and know exactly what's in it.
Read on: 21 Gluten-free Dairy-free Healthy Snack Ideas from the Store
Read on: 101 Gluten and Dairy-free Snacks
Read on: Is hummus gluten-free?
3. Make your own snack mixes at home.
Trail mix is an easy snack to buy at the grocery store, but you don't always know what extra ingredients find their way into the packages. Plus if you don't like everything that's in the mix, you might be throwing money away.
Buy ingredients to make your own snack mix at home – one that you actually like! Get creative with different raw, roasted and salted nuts and seeds, dried fruits, and even gluten-free rice cereals, pretzels, or dairy-free chocolate chips or candies. The possibilities are endless!
Stock up on ingredients you love, mix up a big batch, and store in a sealed glass jar for easy snacking. Better yet, make a few different mixes for variety, portion them out into plastic bags and have them ready for any on-the-go snacking you might need.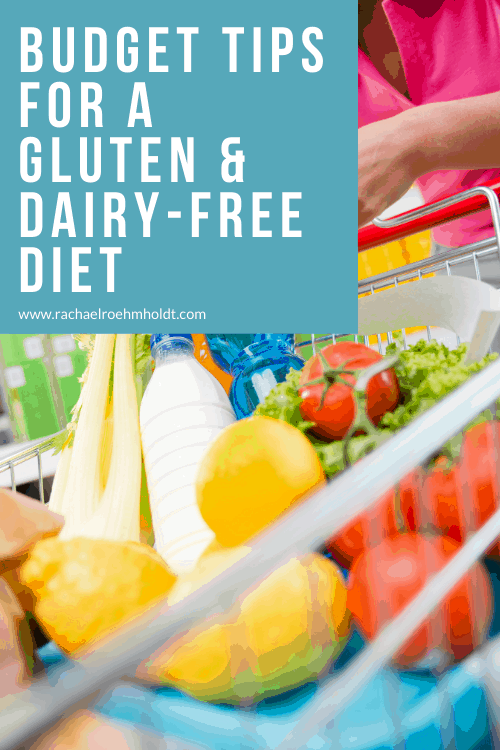 4. Have a set of "go-to" budget-friendly recipes that are gluten and dairy-free.
It can be so tempting to try a million recipes that you find on Pinterest or from other sites or cookbooks, but you may find yourself buying a lot of ingredients you won't use very often. Especially if you've tried the recipe and didn't love it, then you're left with too much of a very expensive ingredient you don't plan to use much of in the future.
Sometimes we need to have a few "go-to" recipes that we can return to when we're in a pinch – whether we're waiting on payday or saving up for that big vacation in a few weeks. Plan to have a few standby meal ideas that will allow you to stay within your budget – whenever you need them.
Dedicate some time to finding a few recipes that are budget-friendly that you can always rely on to be budget friendly – and those that you know you'll come back to. Some of the best budget-friendly recipes are often those that don't have a lot of ingredients.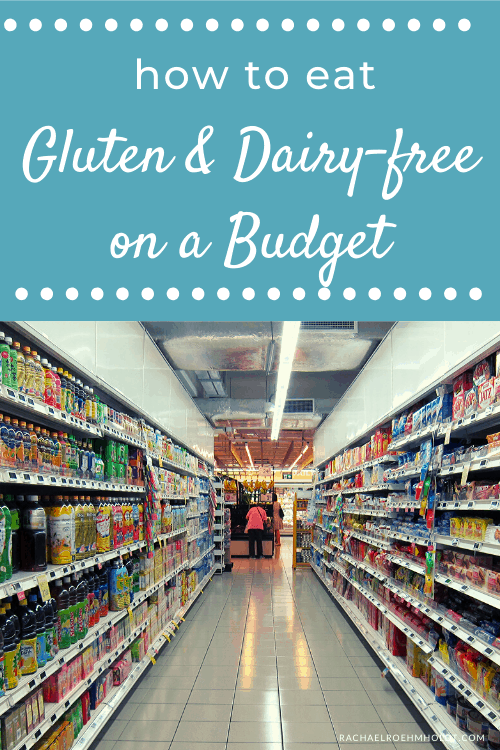 5. Make a menu plan & shopping list to avoid extra trips to the store
Menu planning is one of my best tips for saving money, keeping me out of the drive-thru lines, and whining in front the fridge night after night.
It's also a great strategy for avoiding extra trips to the grocery store – because when I have everything planned out, I can buy what I need for the upcoming meals and won't miss important ingredients.
Those extra trips to the store add up, especially if you're like me and can never seem to walk out of the store with just the item I went there for.
I inevitably end up with three or four (or more!) extra things in my basket – and that means more money adding up in my grocery budget.
Plan out your meals for one or two weeks at a time, then write out all the ingredients you need to make those meals come together. Once you have that list, you can compare what you already have with what you need at the store – and there's your smart shopping list.
Read on: 7 Easy Steps To Create a Gluten-free Dairy-free Menu Plan
Don't want to do the menu planning and organizing on your own? Check out my gluten and dairy-free meal planning service, GFDF Weekly.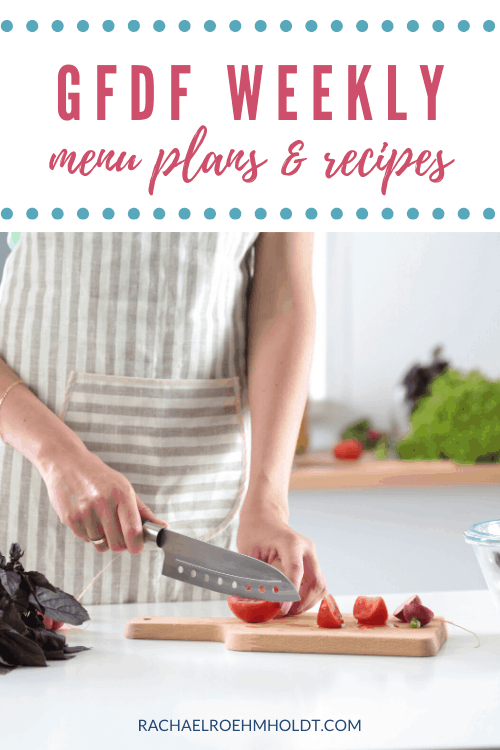 6. Make your own quick-fix meals.
We all need a few quick-fix meals in our back pocket. Especially when eating a gluten-free dairy-free diet, the quick and easy options at the grocery store are often the most expensive. Frozen pizzas, pre-made dinners, and rice bowls aren't very budget-friendly.
With a little planning, you can have a set of quick-fix meals ready for you in your freezer or fridge (if you need them for the week ahead). Create dishes that you can easily reheat in the microwave or on the stove.
Some of my favorite quick-fix meals are:
Burrito bowls with rice, beans, and crockpot salsa chicken. After cooking, I add salsa and any fresh veggies I have on hand.
Chicken and rice bowls with veggies. These can be jazzed up with barbecue sauce, tamari (gluten-free soy sauce), or any other of your favorite condiments.
Gluten-free pasta and meat sauce. I like to make a big batch on busy weeks and stretch it with extra veggies or beans in the sauce.
Preparing quick-fix meals ahead of time – and in large batches – will ensure that you aren't caught in the freezer aisle blowing your budget on a frozen meal on busy weeknights.
7. Make restaurant-inspired food at home.
Going to restaurants when you don't eat gluten and dairy can be overwhelming. You have to decipher menus, figure out what's safe for your gluten and dairy-free needs and what's not, then ultimately take a gamble that your order will come back with your customizations being met. It's doable, but it can be stressful. And expensive.
Some of the easiest foods that are restaurant-inspired at home are Mexican and Asian dishes, since they are easy to create without the gluten and dairy.
With Mexican dishes, corn tortillas, meats, veggies, rice, beans, and salsas are all safe to eat – just make sure to skip the cheese and sour cream in recipes.
With Asian dishes, swap out your standard soy sauce for tamari gluten-free soy sauce and load up on meats, rice, and veggies.
Read on: Gluten-free Tortillas: Types, Gluten-free Options, and Brands
Read on: Gluten-free Chinese Food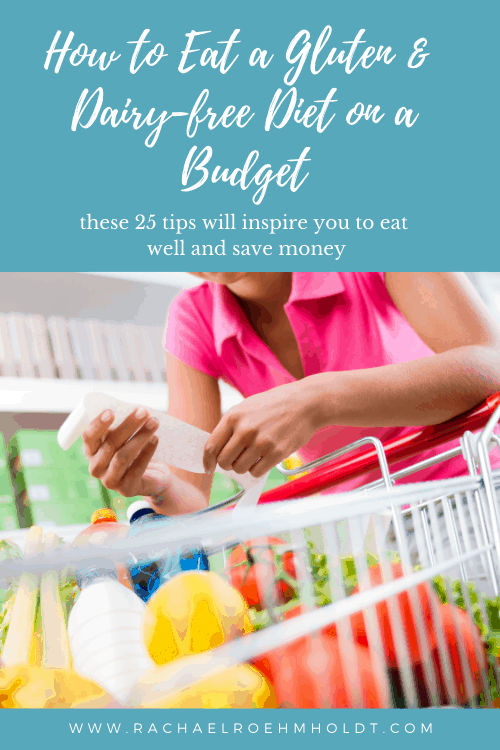 8. Stock up on staples to stretch a buck.
There are a few staples you can stock up on to make your food budget stretch even further – especially if you plan to use them frequently in your meals as the main dish or sides.
Beans, potatoes, cornmeal (for polenta), and rice are among the cheapest foods you can buy at the grocery store, especially if you buy dried beans and cook them yourself. Plus there are so many ways to cook and eat them.
Get creative by mixing these staples with cheaper produce, like lettuce, spinach and in-season produce to help you stretch your food budget a little farther each week.
Read on: Which whole grains are gluten-free?
Read on: Is polenta gluten-free?
9. Buy from the bulk food bins.
Do you ever buy a large container of an ingredient only to use a small amount? One great way to get around this is to shop from the bulk food bins. You can find all kinds of grains, nuts, seeds, dried fruits, baking items, and beans in these bins.
Shopping this way helps keep costs down, because you're not paying for fancy packaging and you're only buying what you need at that particular time – cutting down on waste.
If you're super-sensitive to gluten, this is a tip you'll want to skip, especially since there can be a fair amount of cross-contamination between bins – and you just never know.
But if not, utilize those bulk food bins for buying just what you need, and cutting down on overspending on ingredients you won't use much of.
10. Shop the perimeter of the store.
Did you know the freshest and most nutrient-dense foods can be found around the perimeter of the store?
Think about it, all the "shelf-stable" foods are in the center of the store, because they don't have to be swapped out as often as fresh foods that spoil quickly. The center of the store is also where many of the most expensive foods are in the grocery store.
Consider cooking and shopping using only the freshest ingredients you can find. Many of these foods can be found in the produce, meat, and bulk foods sections of the store.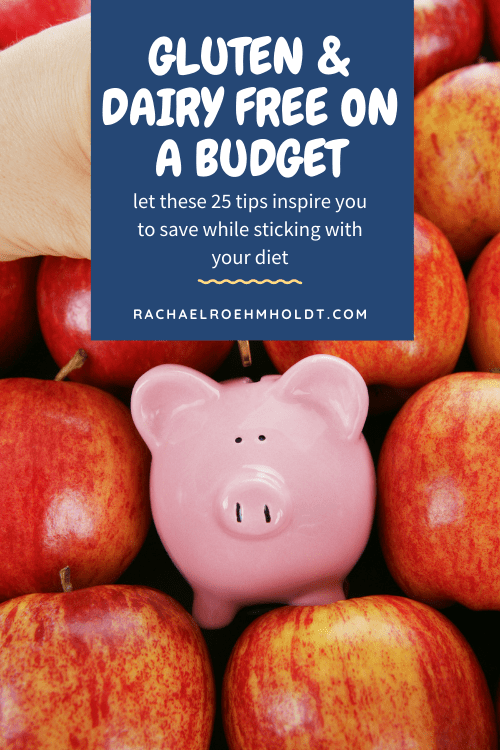 11. Learn to store your food properly to prevent waste.
One of the easiest places to save money is to use up the food you have before letting it spoil in your fridge or pantry. While many foods have a lengthy shelf life like grains, dried beans, and nuts, others like produce or fresh meat don't have as long before they go bad.
When you know how to properly store your food, your food will last longer – giving you more time to use it up. Do some research on how to store specific food items properly to make them last. Here are a few long-lasting storage tips:

Chop, rinse, and run lettuce through a salad spinner to clean it. Place a paper towel over the lettuce in the salad spinner, put the top on, and store in the fridge. Grab and go salads just got easier!
Place herbs (just the stems) in a glass with a bit of water before storing in the refrigerator.
Don't store potatoes and onions next to one another. They make the other ripen faster and can spoil more quickly than if they were stored separately. Same goes for apples and bananas.
Store rice and other whole grains in sealable glass containers in your pantry.
Nuts and seeds are best stored in glass jars in the fridge. The oils in them spoil faster than if they were left on the shelf of your pantry.
12. Follow gluten-free and/or dairy-free brands on social media and join their mailing lists for regular coupons and discounts.
So many companies appreciate loyal followers, that's why getting on mailing lists, liking big brand's social media pages, and even calling these companies can really pay off.
One woman I met who was following a gluten and dairy-free diet had made a full list of every brand she used. She would regularly call the companies and ask for coupons, sharing with them that she was a loyal buyer and wanted to keep buying their products. Almost every single one would send her discounts, samples, and coupons in the mail. Score!
Of course, you don't need to spend hours on the phone to reap the benefits. You can hop over to their social media pages or even their websites to find sales, deals, and apply for coupons. Many of these brands will send you a coupon just for signing up to their mailing list.
13. Shop around for best prices on gluten-free and dairy-free alternatives you buy.
Don't you hate when you go to one store and spend $10 on an item, then head to another store a few days later and find the same item at half the price? You feel totally duped and kick yourself for not going to that other store first.
As you do your regular shopping, keep a mental (or physical) note of the prices on the specific gluten and dairy-free foods you buy. That way, you don't find yourself overspending on items that you regularly buy and can always be on top of where the best deals are.
One example is a gluten-free pasta that I buy regularly is about $2.29 at my local grocery store, and goes for about $1 per box on Amazon. Of course, I have to buy about 8 or 10 boxes to get that deal, but I know I'll use it eventually, so it's worth it to me.
Some of my favorite places to check for prices other than my local grocery stores are Costco, Amazon, Thrive Market, and the brand's website itself. You can often find discounts on buying certain foods in bulk (like gluten-free flours direct from the manufacturer).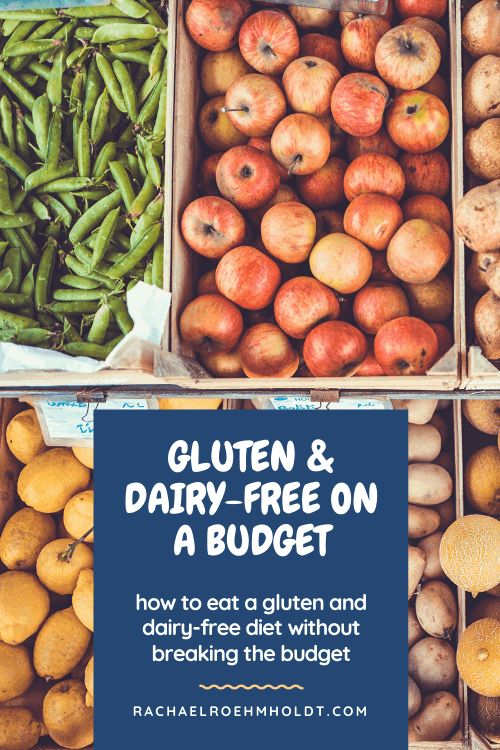 14. Prioritize your organic produce.
There's no doubt that organic produce is better for you health-wise. Without pesticides and herbicides on your food, you can be 100% sure that what you eat isn't doing just as much harm as it is good for your body every time you take a bite.
While it might be ideal to buy all organic produce, the costs add up quickly. That's why prioritizing your spending on organic produce can be key to keeping your grocery bills within your budget.
I recommend using the Dirty Dozen and Clean 15 lists to help you make decisions on what produce you buy organically grown and what you can safely opt for conventionally grown.
These lists are put out every year by the Environmental Working Group, and they rank the most commonly found produce items by the amount of pesticides they contain on them.
The top twelve that rank the highest for pesticides that make their way into the food are called the Dirty Dozen, and these are generally the foods you want to buy organic whenever possible. They are worth the extra cost.
The foods that rank in the bottom fifteen that have the least amount of pesticide residue are called the Clean 15. These are generally safe to buy conventionally grown, so you can save money on the organic option.
Each year, the Environmental Working Group puts out a new list. To find out what made the current Dirty Dozen and Clean 15 lists for this year, click here.
15. Grow your own food in your garden.
What's better than buying food on a budget? Not buying food on a budget.
The easiest and best way to get the food that you want to eat on regular rotation without having to pull out your credit or debit card is to grow it yourself. If you have the space – and a green thumb – consider growing a few seasonal fruits and vegetables in your own garden.
You don't even need a big plot of land to grow your own food. You can grow a ton of different foods in containers without having to give up much yard or patio space.
Another great thing to save money on in your garden is fresh herbs. They can go for upwards of $5 for one package of herbs, whereas you can grow a whole plant of them for just pennies.
Think about the produce that you buy regularly and do some research to see what would grow best in your area.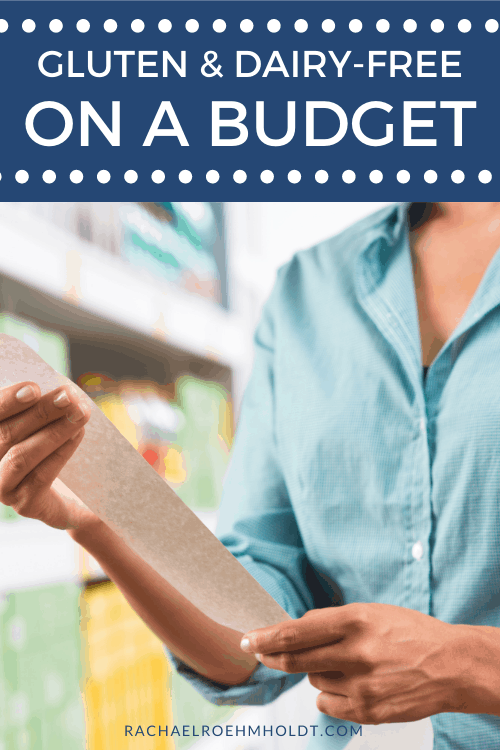 16. Consider buying into a CSA.
A CSA, also known as Community Supported Agriculture, is your opportunity to purchase fresh produce directly from a farm or group of farmers. Instead of going to the grocery store, you skip the middleman – and their overhead fees – and support the farmer instead of the store.
CSA's are also great, because you only get what is local, fresh and seasonal. The perfect blend of keeping costs down when it comes to produce.
Depending on where you live and what options are available to you, buying into a CSA share might save you some money. Sites like Local Harvest can help you find out what's available in your area to help you weigh your options.
Before I had space for a garden of my own in previous homes, I used Full Circle Farms, and was really pleased with the service. You select the produce you'd like to get each week and it's delivered to your doorstep once a week.
17. Eat seasonally.
While it may be easy to find just about any fruit or vegetable year round at your grocery store, eating produce when it is in season is a great way to keep costs down.
Eating in-season fresh produce not only allows you to save money, because there is less overhead in transporting specific foods from far away places, but eating seasonally is better for your overall health.
In any given season, fresh in-season foods provide you all the vitamins and minerals you need to stay healthy where you live. Consider what it means to eat tomatoes in the winter – they are often expensive, aren't as vibrant in color or flavor, and aren't as easy to find at the grocery store.
However buying and eating tomatoes in the summer, when they are ripe and in season, you will find many sales, perfect shade of red tomatoes, and an abundance of them in the produce department of every grocery store.
How do you know if something is in season? Think about what your body craves.
In fall, you crave sweet potatoes, onions, apples, mushrooms, and winter squash. Get gluten and dairy-free fall recipes here.
In winter, you crave dark leafy greens and root vegetables like potatoes, onions, and beets. Get gluten and dairy-free winter recipes here.
In spring, you crave lettuces, spring onions, asparagus, and strawberries. Get gluten and dairy-free spring recipes here.
In summer, you crave watermelon, berries, fresh lettuces, and summer squash. Get gluten and dairy-free summer recipes here.
Try to purchase and eat seasonal produce and see if it affects your overall grocery budget.
18. Make your own gluten-free or dairy-free alternatives.
A few years ago when I started eating a gluten and dairy-free diet, there were very few gluten-free and dairy-free alternatives to the 'real thing' available.
These days, there are plenty of gluten-free breads, cake mixes, muffins, cookies, and crackers on the market. There are also dairy-free milks, butter spreads, cheese, and coffee creamers.
There are plenty of options, but they can sometimes come with a hefty price tag. With a little bit of practice and a good recipe or two, you can save a ton of money by making your own gluten-free or dairy-free alternatives.
Try making your own non-dairy milk, like this cashew milk. Or make almond milk, hemp milk, oat milk… there are so many ways to make it – and all you need is a good blender and water.
You can try to make your own dairy-free cheese with cashews and a few other pantry ingredients. Or even dairy-free sour cream or dairy-free alfredo sauce.
Make a batch or two of this gluten-free dairy-free pizza dough dry mix for easy pizza nights.
Or grab some herbs and seasonings from the pantry along with some mayonnaise, you can make your own dairy-free ranch dressing.
Although these homemade alternative foods might take a bit more effort and a few more ingredients, it's worth it to learn how to create these foods now. If you intend on living a gluten and dairy-free lifestyle for a long time to come, these skills will pay off for years to come.
19. Make your own salad dressings
Salad dressing is one of those foods that many people don't realize how easy it is to make at home. Bottled dressings are notorious for containing hidden gluten and dairy.
Creating your own dressings at home are not only a great way to save money, but are an easy way for you to get creative with the ingredients you use. You can make whatever flavors you want with just a few ingredients from the grocery store.
Many dressings all have the same base recipe: olive oil and various vinegars (white wine, red wine, balsamic, or apple cider). These ingredients are great staples to keep in your pantry for anytime cooking, but are especially handy for throwing together quick dressings for salads or even marinades for chicken or beef.
You can even make your own dairy-free ranch dressing (one of my biggest requests!) with mayonnaise and a few spices and herbs. Toss a few things together in your blender, food processor, or whisk together in a bowl – and you have a dressing made in minutes.
It's so easy to do, so why pay big bucks for something that you can make in just seconds in your own kitchen?
Read on: 75 gluten and dairy-free salad recipes
20. Make your own gluten-free and dairy-free desserts.
Once you've adopted a gluten-free dairy-free diet, you'll realize quickly when you get a sweet tooth just how expensive those pre-made specialty cookies and cakes are at the grocery store. One of the easiest ways to save money and still satisfy your cravings is to make your own treats at home.
This way you can control the sugar content, but also the quality of ingredients. You can make healthier versions of your favorite desserts and know that they are completely safe from gluten and dairy.
There are so many great dessert recipes online. To get you started, check out these 101 gluten and dairy-free dessert recipes. I also have a ton more dessert recipes over on my gluten and dairy-free recipes page.
Get tons of gluten and dairy-free dessert recipes here.
21. Find a gluten-free all-purpose flour that works for you.
One of the first questions that pops into many people's minds when they hear they can't eat gluten any longer is "How am I going to bake without flour?"
It's a legitimate question and one that seems really scary – especially if you've peeked at the back of any of those gluten-free bread packages. There are a million flours out there and deciding what you might want to invest in – and what you don't – can be a really daunting process.
My best tip for saving money is to experiment with the many gluten-free all-purpose flour mixes to find one that you like. Unless you're planning to bake very frequently, buying a million different gluten-free flours is overwhelming and expensive.
Read on: Check out the 5 best gluten-free flour blends.
22. Freeze leftover portions of food you don't eat.
If you make a dish and have leftovers that you know you won't get to, try to freeze them so you can eat them later on. I am really good at making big batches of soup that I get really sick of after 3 or so days.
One of the best things I've found to minimize waste is to portion out about 3 days of servings, then freeze the rest. After a few weeks or a few months, I'll have a meal that's completely ready and just needs to be defrosted and reheated. No extra work required.
The same can be said for fruits or vegetables, meat, rice or quinoa, and even chicken or vegetable stock. So many things can safely be frozen and reheated, and it's a shame for food to go to waste when you spend money on it.
23. Shop your fridge, pantry, and freezer before grocery shopping.
Before you make a list and decide you need new ingredients from the grocery store, go through the items you already have. Sometimes it's enough for me to visually look through everything and come up with an idea, while other times I need to make a list of ingredients I have on hand.
It's helpful to write down everything that I have available to me, so I can brainstorm meal ideas that use up those forgotten ingredients. Many times we'll wind up having breakfast for dinner, an unusual combination of meat, vegetables, and rice or quinoa, or just boring old spaghetti and sauce.
It's nice to use what we have before spending more money on food that we simply don't need if we have more available to us already.
Read on: How to Stock Your Gluten and Dairy-free Fridge
Read on: How to Stock Your Gluten and Dairy-free Pantry
24. Get groceries delivered or do a pickup at the grocery store.
I mentioned this at the beginning of this post, but I am notorious for finding things that are not on my grocery list when I go to the store. I can go in with a list and still wind up with at least 4 or 5 things that I didn't plan to buy.
One of the ways that I ironically save money is to pay for grocery pickup or delivery. You're probably wondering… how can she save money if she's PAYING to have someone pick out her groceries for her?
The answer is that I'm much more likely to pay more for items I know I don't need and impulse buy than the total cost of the pickup or delivery.
I know a lot of people like to hand select their own produce, but in this day and age when we've become so aware of germs spreading, having just one set of hands on the items I'm getting makes me feel a lot more comfortable than having to walk through a sea of people in order to pick things out.
25. Make large batches of food and stretch them with different side dishes or different twists.
A great idea for staying on a budget is to make a large batch of food that you know will stretch a few meals, then mix it up to keep things interesting and a little different.
You could make a pot roast with potatoes and carrots, and mix up the side dishes you serve with it. One night it could be green salad, another it could be fruit salad, and another could be garlic toast.
You could make a big pot of soup with sausage and quinoa and change up the veggies that get added to it as you reheat every night. Saute some new vegetables into the pot before you add the sausage and quinoa soup to give it a new flavor. Add kale one night, and corn and black beans another.
You could make a big batch of shredded chicken and use it in a variety of ways: added to salads, soups, chicken salad sandwiches, tacos, or enchiladas. Get creative!
I hope that if you've been trying to find ways to follow your gluten and dairy-free diet while on a budget that these tips have been useful for you.
Whether you like to stick to a budget all the time or are just looking for a few ways to cut down on food expenses right now, plenty of these ideas can be put into action to cut your food budget significantly. 
If you loved this post, I hope that you'll share it with your friends on Facebook and pin it for future reference on Pinterest.
Do you have any other great tips for staying on a budget while eating gluten and dairy-free? I'd love to hear them in the comments!