Looking for some gluten-free dairy-free recipes for spring? Check out these 25 awesome recipes, including breakfast, lunch, dinner, dessert, and drinks.
Note: I am a proud Amazon, Chomps, MunkPack, and Thrive Market affiliate and am happy to recommend their service and products to you. Please know that as an affiliate, I may receive a small commission on the products you purchase after clicking through my links. For more info, please see my disclosure policy here.
I can't tell you how long I've been waiting for spring to arrive. Not only am I excited about all the yummy spring foods that are now available at the grocery store now, but this past winter just felt like it went on for ages.
The snow, the colds and virus bugs, the never-ending chilly weather. I'll be glad to put away my cold weather gear and start getting outside more again.
When it comes to eating seasonally for spring, I am always ready to put away the hearty flavors of soups, stews, and chilis and welcome light and bright flavors back into my diet. I bring a lot of salads, lighter meats, fruit, and a lot more fresh herbs.
One of my best tips with sticking with a gluten-free dairy-free diet is to try new recipes regularly, so you don't get stuck in a rut with cooking. I've rounded up 25 awesome recipes that I want to try this spring – but also to hopefully inspire you to try some of them too.
I've only included gluten-free and dairy-free recipes, so you don't have to do any extra legwork when it comes to making ingredient swaps.
This spring roundup of gluten-free dairy-free recipes will get you started on the right foot to fully welcome spring.
I've got you covered from everyday breakfast recipes to on-the-go lunches, to quick and easy dinner recipes, and delicious fruit-filled desserts, and refreshing spring smoothies and juices.
I hope you enjoy these fresh and bright flavors as much as I am in the coming weeks.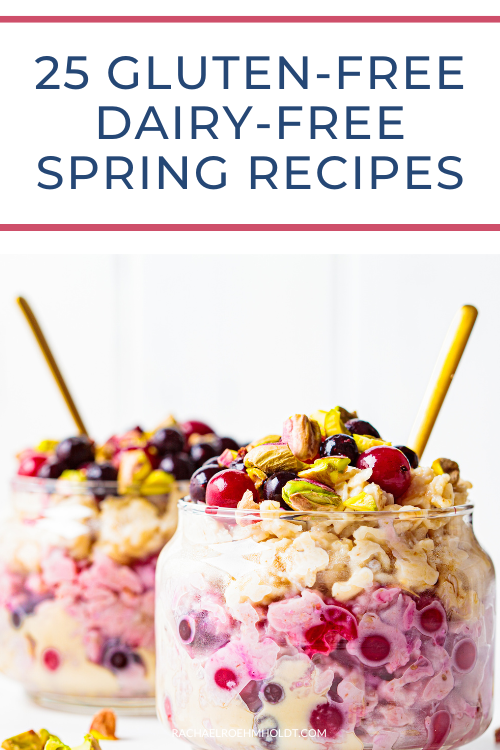 Gluten-free Dairy-free Spring Breakfast Recipes
If you're looking for a few ways to make the most of spring ingredients and the light and brightness of the season, you'll love these gluten and dairy-free breakfast recipes.
Make this spring dessert-inspired granola for all the flavors of carrot cake in your morning dairy-free yogurt or with dairy-free milk. This granola is made with oats, carrots, coconut, raisins, and walnuts – plus there's no refined sugar!
Read on: Is granola gluten-free?
This blueberry lemon overnight French toast bake looks decadent with tons of frozen blueberries, gluten-free bread, eggs, and fresh lemon zest and juice. The best part about this recipe is that it only takes about 10 minutes to assemble.
If you're looking for a new twist on your smoothies for spring, check out this cherry smoothie bowl.
Smoothie bowls sound a lot more fancy than they are: make a smoothie in your blender, then instead of pouring into a cup to drink, put it in a bowl, and top with your favorite toppings, like hemp seeds, almonds, and fresh fruit.
If you love the flavors of spinach and artichokes together, you'll love this breakfast casserole. It's gluten-free, dairy-free, and has tons of veggies and bacon. It takes about 15 minutes to prep and 50 minutes in the oven.
Read on: Is bacon gluten-free?
Overnight oats have saved me many times over when life has been super busy. This delicious recipe highlights one of my favorite spring fruits into a raspberry chia jam that is layered between overnight oats.
Tons of flavor and lots of healthy ingredients in this recipe!
Read on: 25 Gluten and dairy-free brunch recipes
Read on: 75 Gluten and dairy-free breakfast ideas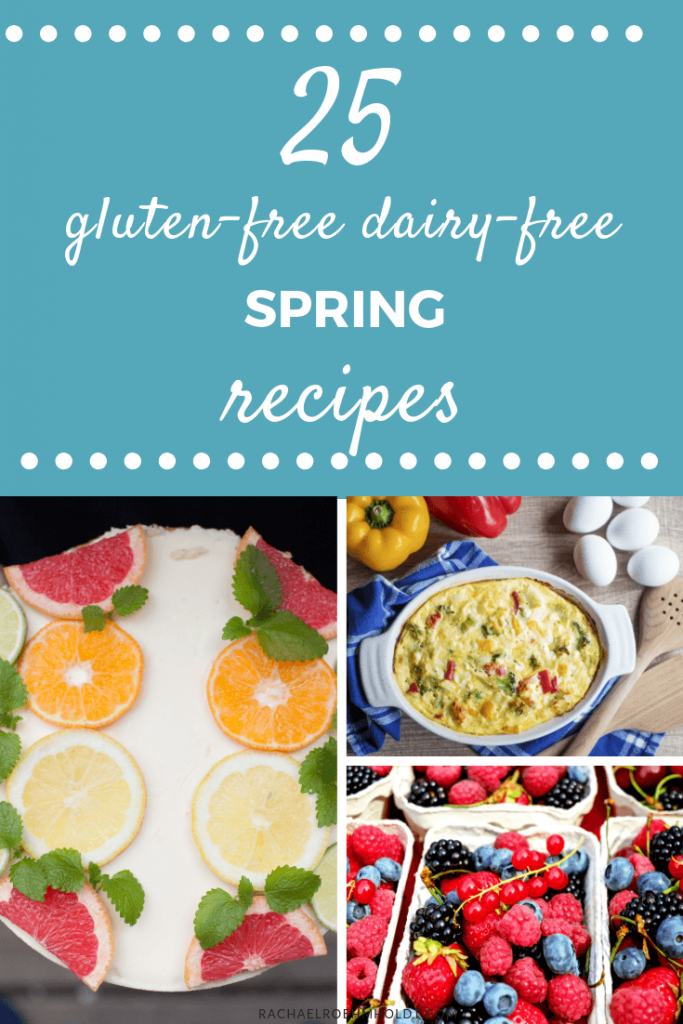 Gluten-free Dairy-free Spring Lunch Recipes
Light and healthy are the words I think of when I'm trying to brainstorm spring lunch ideas. Try some of these delicious options for some gluten-free lunch inspiration.
Spring is when I start trading in my soups and stews for more light and healthy salads. This salad in a jar concept is awesome, especially for taking with you to work or on the go.
Put all your salad ingredients in the jar strategically so your ingredients don't get soggy before lunchtime.
Read on: 75 Gluten and dairy-free salads
These quinoa fritters are gluten-free and dairy-free, and while they're also great as an appetizer, they make a pretty awesome spring lunch idea too.
Make a batch of these at the beginning of the week and have a few lunches ready to be packed for school or work.
Grilled chicken veggie bowls are a super healthy lunch that highlight some combine some great spring ingredients, like asparagus and green beans with jasmine rice, quinoa, and chicken.
Enjoy meal prepping this gluten-free dairy-free recipe for any spring lunch.
Read on: Is quinoa gluten-free?
We love lettuce wraps in our house. They're light, healthy, and you can fill them with anything you could put in a tortilla or sandwich.
This mayo-free creamy tuna lettuce wrap recipe is made with tuna, celery, carrots, and green onions. The creamy sauce is made from soaked cashews, garlic, and salt. Delicious!
I'm always looking for quick and easy recipes for lunches, and these tortilla pinwheels are both gluten-free and dairy-free, and made with just a few ingredients.
Layer up corn tortillas, sliced turkey deli meat (Boar's head brand is gluten-free), taco seasoning, and mashed avocados.
Roll them up, slice them, and ta da a healthy and fun lunch idea for at home, work, or on the go.
Get my gluten-free taco seasoning recipe.
Read on: Gluten-free Tortillas: Types, Gluten-free Options, and Brands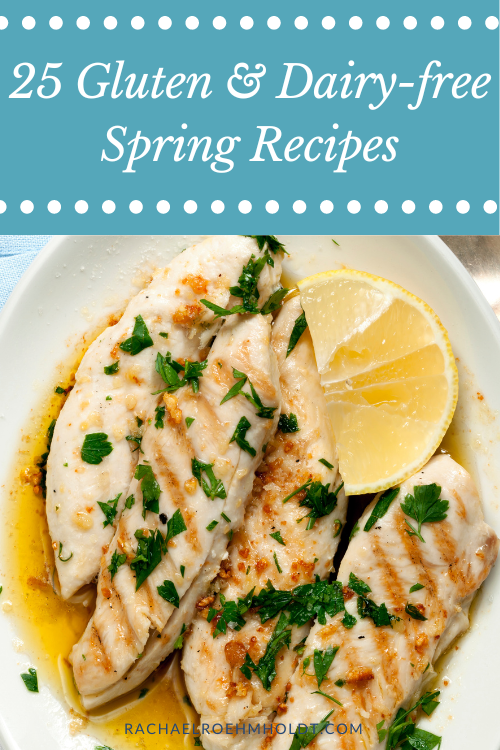 Gluten-free Dairy-free Spring Dinner Recipes
Spring dinners are full of lemon, pesto, turkey, and ham in my house. Try one of these recipes for make the most of spring flavors.
Lemons are a quintessential spring ingredient in my mind, and this recipe for lemon chicken highlights them perfectly. This recipe is simple, calls for minimal prep time, and is gluten-free, dairy-free, and all other top allergens.
Read on: 25 Gluten-free chicken recipes
I love making zoodles when zucchini starts popping up at my grocery store in the spring.
Zoodles are simply zucchini that's been spiralized into noodle shapes. This recipe is delicious with homemade gluten-free meatballs and a simple roasted red pepper sauce.
Okay, so this isn't a dinner recipe entirely… but this avocado pesto is an amazing jumping off point for a delicious dinner. Make this avocado pesto, then top chicken or gluten-free noodles with it.
You can use it as a spread for sandwiches, tortilla wraps, or use it as a dressing for a homemade chicken and rice bowl.
This orange chicken recipe is gluten-free and dairy-free, and made in just 30 minutes. I love to use my Instant Pot when life feels busy, because so much work can be done in just the one pot (easy cleanup!).
Enjoy this dish with jasmine rice or the cauliflower rice called for in the recipe.
Read on: 101 Gluten and dairy-free Instant Pot recipes
This maple crockpot ham is great for any spring get-together you may have – or to make for dinner and take advantage of lots of leftovers.
This recipe only calls for 4 ingredients: ham, maple syrup, brown sugar, dijon honey mustard, and allspice. Cook it low and slow in your crockpot for a delicious gluten-free and dairy-free dinner option.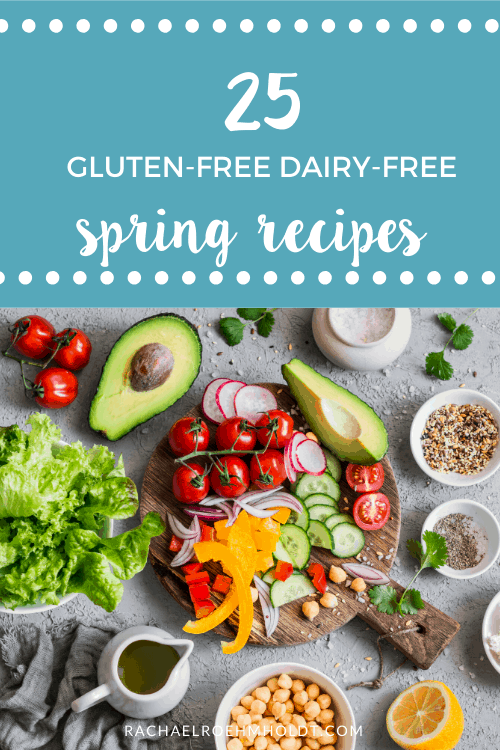 Gluten-free Dairy-free Spring Dessert Recipes
Spring desserts are some of my favorites. You'll love the ones I've picked out – lemon cake, strawberry oatmeal bars, coconut cake, lemon bars, and strawberry sorbet.
If you're looking for a spring inspired dessert, look no further! This almond flour lemon cake looks to die for! It's gluten-free and dairy-free and with toppings of coconut whipped cream and tons of fresh fruit, it is lovely to look at too!
These gluten-free strawberry oatmeal bars are referenced in this blogger's post as a breakfast bar, but quite honestly, I'd probably enjoy them all day long.
These are made with gluten-free oats, fresh strawberries, and sliced almonds for lots of flavor and texture. Be sure to swap out the butter for vegan butter or coconut oil to make it dairy-free.
This gluten-free coconut cake would be delicious in spring or summer, but it looks so good I'm adding it to this roundup.
Enjoy this cake with coconut from 5 different sources: coconut milk, coconut oil, shredded coconut, coconut custard, coconut whipped cream, and toasted coconut. It looks amazing!
Do you love lemon bars in the spring like I do? Enjoy these gluten-free lemon bars with a shortbread crust and a delicious homemade lemon custard. To make this recipe dairy-free, swap out the butter for vegan butter.
If it's warm in the spring where you are, you might love to take advantage of fresh or frozen strawberries and pull out the flavor with this strawberry sorbet recipe.
It's just two ingredients: frozen strawberries and raw agave (you can easily swap this for honey or maple syrup too), so it's completely safe for a gluten-free dairy-free diet.
Read on: 25 Gluten-free Easter dessert recipes
Read on: 101 Gluten and dairy-free cake recipes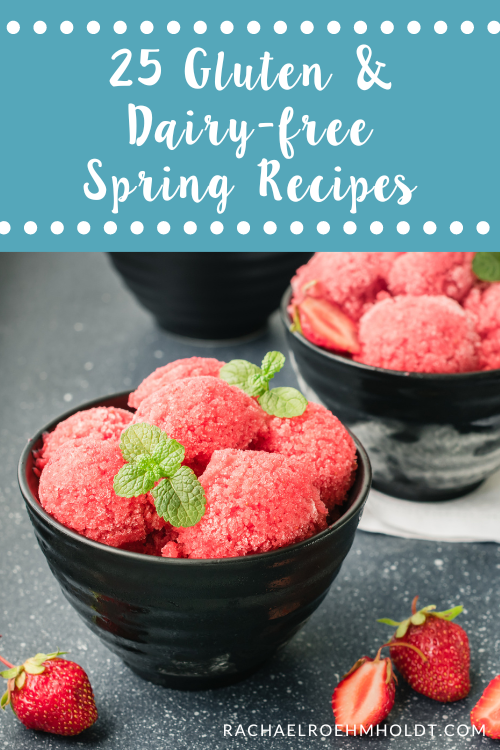 Gluten-free Dairy-free Spring Drink Recipes
Eating seasonally doesn't only have to mean what you eat – it can be what you drink too. These spring drinks are all seasonally inspired with fresh fruits and glowing greens.
If you like to incorporate spring ingredients throughout your entire day, try this mango carrot orange smoothie.
Not only do you get some awesome vitamin A from the carrots, vitamin C from the oranges, and sweet fiber from the mango, but it's totally delicious for breakfast, as a snack, or even as a healthy dessert!
I've got to tell you, I've never tried to drink chai tea in the warmer months of spring or summer. I've always reserved it for the fall and winter months.
This recipe has me rethinking that stay-inside-the-box mentality with fresh ginger, lemon juice, sugar, and Tazo chai latte concentrate. This tart and spicy drink looks perfect for everyday sipping or serving guests.
What's to say about a recipe that invites the new season in? This smoothie recipe is made with orange juice, dairy-free milk, strawberries, and bananas. It's completely dairy-free, easy to make, and full of vitamins to boost your immunity.
So many people start talking about detoxing during the spring, but really, I think we could just be lightening up everything we eat once the weather starts turning, focusing on healthy fruits and vegetables the season has to offer.
This glowing skin green juice is made from apples, celery, and kale, and promises to help you get great skin! It looks delicious and super healthy.
What I love most about this recipe, honestly, is just how it looks (be sure to click through the link to see it).
This smoothie recipe is gluten-free and dairy-free, and made with mangoes, raspberries, bananas, almond milk, and orange juice. If you're looking to enjoy your smoothie in terms of how it tastes AND how it looks, try this recipe!
Looking for some weeknight dinner inspiration to help you stay on track all through the spring months? Check out my weekly recipe and menu planning service
GFDF Weekly
!
Click here
or the image below for more info.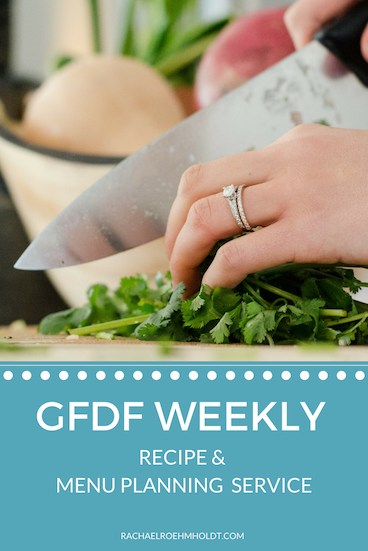 I hope this list has given you some recipe inspiration to make the most of this spring's fresh ingredients and to help you stick with your gluten-free dairy-free diet by enjoying some of these tasty recipes.
If you loved this post, be sure to check out my comprehensive gluten-free dairy-free food list below for free. Enter your details for instant access plus get 5 free recipes.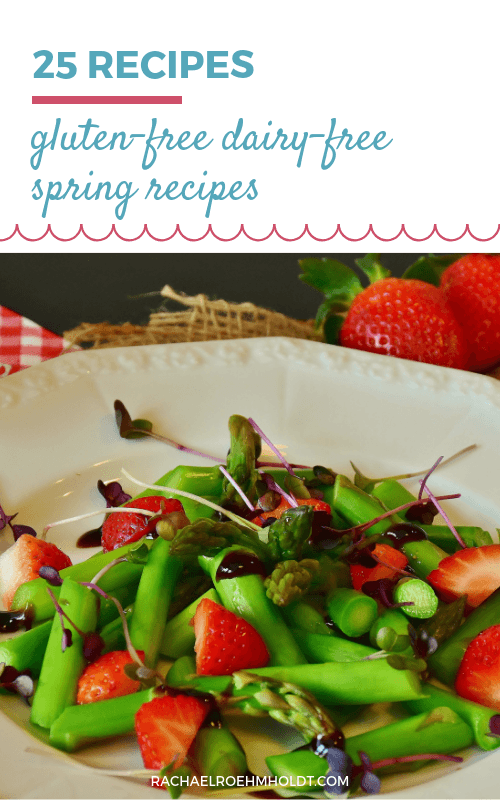 Love this post? You might also want to check out these!
Find recipes and inspiration for sticking with your gluten and dairy-free diet throughout the spring months!