Looking for some gluten-free dairy-free recipes for spring? Check out these 25 awesome recipes, including breakfast, lunch, dinner, dessert, and drinks.
I can't tell you how long I've been waiting for spring to arrive. Not only am I excited about all the yummy spring foods that are now available at the grocery store now, but this past winter just felt like it went on for ages. The snow, the colds and virus bugs, the never-ending chilly weather. I'll be glad to put away my cold weather gear and start getting outside more again.
When it comes to eating seasonally for spring, I am always ready to put away the hearty flavors of soups, stews, and chilis and welcome light and bright flavors back into my diet. I bring a lot of salads, lighter meats, fruit, and a lot more fresh herbs.
One of my best tips with sticking with a gluten-free dairy-free diet is to try new recipes regularly, so you don't get stuck in a rut with cooking. I've rounded up 25 awesome recipes that I want to try this spring – but also to hopefully inspire you to try some of them too. I've only included gluten-free and dairy-free recipes, so you don't have to do any extra legwork when it comes to making ingredient swaps.
This spring roundup of gluten-free dairy-free recipes will get you started on the right foot to fully welcome spring. I've got you covered from everyday breakfast recipes to on-the-go lunches, to quick and easy dinner recipes, and delicious fruit-filled desserts, and refreshing spring smoothies and juices. I hope you enjoy these fresh and bright flavors as much as I am in the coming weeks.
Gluten-free Dairy-free Spring Breakfast Recipes
Gluten-free Dairy-free Spring Lunch Recipes
Gluten-free Dairy-free Spring Dinner Recipes
Gluten-free Dairy-free Spring Dessert Recipes
Gluten-free Dairy-free Spring Drink Recipes
Looking for some weeknight dinner inspiration to help you stay on track all through the spring months? Check out my weekly recipe and menu planning service
GFDF Weekly
!
Click here
or the image below for more info.
I hope this list has given you some recipe inspiration to make the most of this spring's fresh ingredients and to help you stick with your gluten-free dairy-free diet by enjoying some of these tasty recipes.
If you loved this post, be sure to check out my comprehensive gluten-free dairy-free food list below for free. Enter your details for instant access plus get 5 free recipes.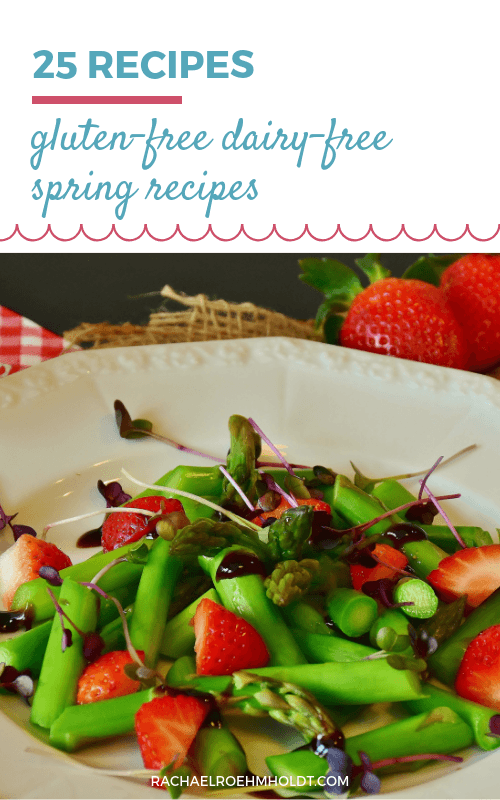 Love this post? You might also want to check out more of my recipe roundups here: