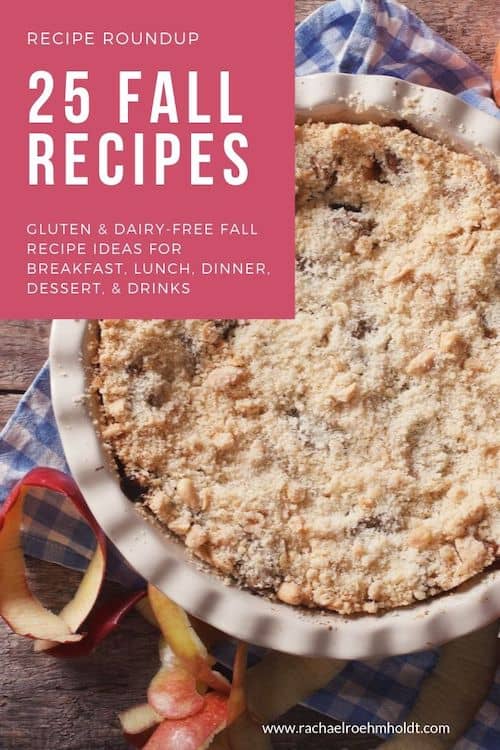 I say this every year on my blog, but fall is my favorite season. I love the colors, the layers, the warm beverages, and as much as it pains me to say it come January the rain.
One of my favorite things about every season – but fall in particular, is the food (the gluten-free dairy-free recipes, to be exact). I love the grounding root vegetables, the dark leafy greens, wild rice, hearty stews, warming curries, and pumpkin – and apple – everything.
One of my go-to tips on sticking with a gluten-free dairy-free diet is to try new recipes regularly to keep things fresh and interesting. What better way to do that than to move along with the seasons.
In this seasonal recipe roundup, I've put together 25 delicious-looking recipes for fall that I think you'll love. If you're looking for some fall recipe inspiration, I've got you covered.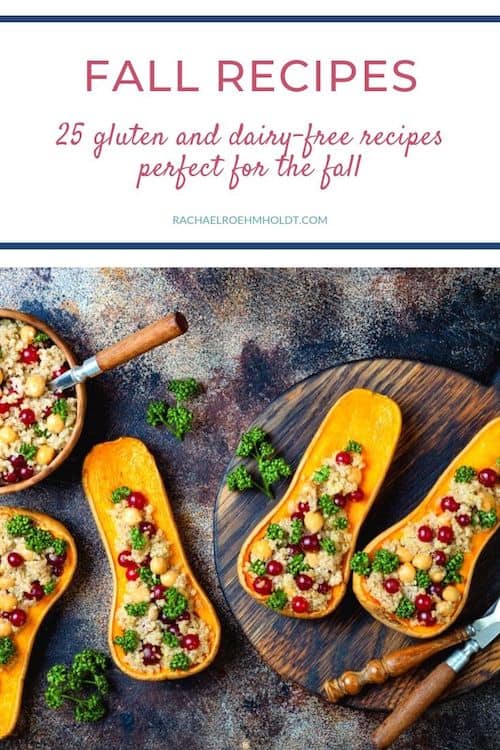 Gluten-free Dairy-free Fall Breakfast Recipes
These spinach and sausage egg muffins are a great make-ahead breakfast dish. They have no gluten or dairy, and are made with sausage, eggs, coconut milk, olive oil, baking powder, salt and pepper, and spinach.
After cooking up the sausage and placing in baking cups, you whisk all the other ingredients together and pour it over each cup.
Bake at 375 degrees F for 20 to 25 minutes. Best of all, you can store these for up to a week in the fridge, or toss them in the freezer to reheat in the microwave for later.
I know that super hearty breakfasts aren't always great for you, but I'm a big sucker for hash brown casseroles, especially in the cooler months.
Many hash brown casseroles contain cheese, but this one doesn't, making it safe for a dairy-free diet.
The recipe includes bacon, pork, red or sweet potatoes, eggs, coconut milk, salt, and pepper. What's great about this recipe is that you can get creative with the toppings, with things like salsa, cilantro, or parsley. Yum!
Read on: Is bacon gluten-free?
Nothing says fall quite like pumpkin spiced everything! These waffles are perfect for a gluten and dairy-free diet, because they call for rice flour and all-purpose gluten-free flour blend.
Add a few fall-inspired spices like cinnamon and nutmeg, and some canned pumpkin puree and these traditional waffles get kicked up a notch into a delicious fall breakfast option.
This sticky cinnamon roll baked oatmeal combines two great fall breakfast ideas and make them a little healthier. With the cinnamon roll flavors and oats, plus the protein powder and eggs, this isn't your standard carb-heavy oatmeal.
This is a delicious but well-balanced breakfast treat that you'll love for a special fall weekend morning.
Three ingredient sweet potato hash browns with avocado and eggs on top? Yum! This screams fall, and best of all, there's no gluten or dairy!
I love that this recipe is super simple, because that's about all the effort I like to put in first thing in the morning.
With a balance of hearty sweet potatoes, healthy fats from the avocado, and the protein from the eggs, this is a great breakfast idea for just about any day of the week.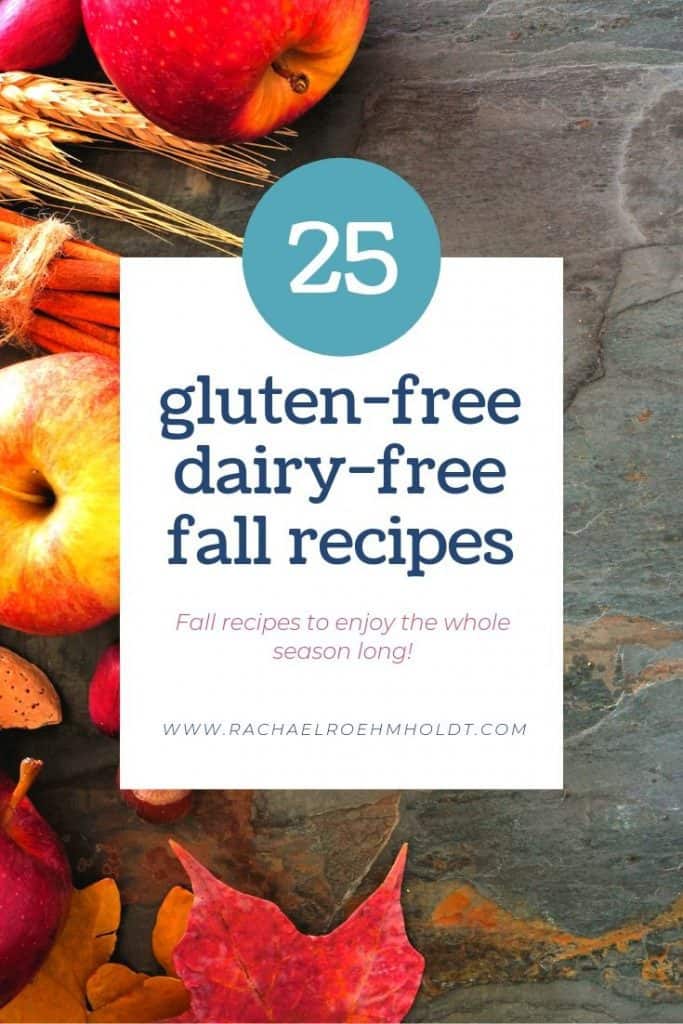 Gluten-free Dairy-free Fall Lunch Recipes
When it comes to lunch, I like things to be quick and easy. This squash, kale, and quinoa soup is super healthy, and comes together fast using an Instant Pot.
With only 5 ingredients and 10 minutes of prep time, this one is a winner for fall!
This veggie and quinoa bowl is perfect for fall lunches, because you can prep so many of the ingredients ahead of time. Prep each one individually then portion them out for lunches.
The flavors of this recipe scream fall with the roasted pumpkin, beets, and Brussels sprouts. Top with some chicken and you have a very hearty fall lunch option.
This delicious soup is simple, hearty, and only needs a few ingredients. With homemade meatballs, and grounding vegetables like onions, carrots and garlic, this fall soup is perfect for chilly or rainy days when you need to warm up.
I love when recipes include simple ingredients, but they highlight the deliciousness and unique flavor of each and every of them.
This recipe is super simple with sweet potatoes, kale, garlic, and wild rice… but together with some olive oil, smoked paprika, and pine nuts – it's a dish you'll love to enjoy for fall.
If you love salad, but need a little more weight to your salads in the fall, check out this delicious fall harvest salad with apple cider vinaigrette.
With flavors like roasted butternut squash, apples, cranberries, and kale… this isn't your standard summertime light salad. This one will fill you up and satisfy those fall cravings.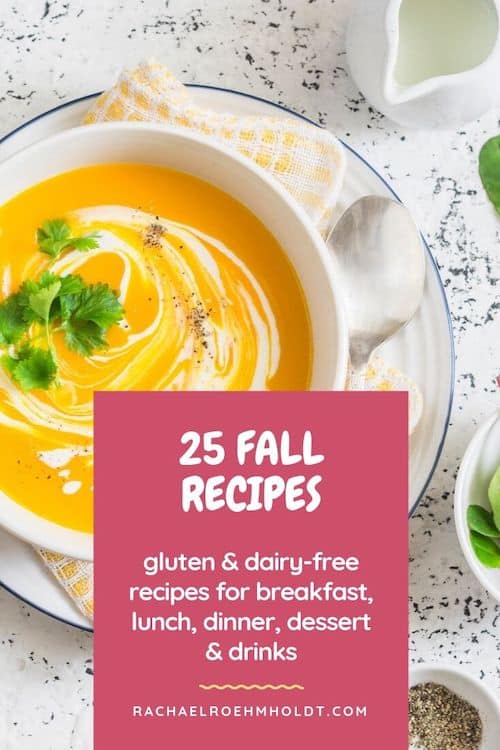 Gluten-free Dairy-free Fall Dinner Recipes
I love love love curries in the fall months. This coconut curry chicken is made with coconut milk, curry spice, lots of garlic, ginger, and lime juice, along with onion, bell pepper, and chicken.
You'll love how simple this dish is and how festive it feels for fall with it's warm spices.
Once it starts cooling off in the fall months, that's what signals me that it's time to break out the crock pot. I love heartier dishes in the fall months, and this crock pot roast with potatoes couldn't be simpler.
Of course, it's full of hearty flavor and grounding root vegetables like potatoes, onions, and carrots.
So many people overcomplicate chili, but I think it's one of the easiest things in the world to make – and its one of my favorite dishes in the fall. This recipe is naturally gluten and dairy-free!
With round beef, tomatoes, canned beans, and fresh onions and peppers, this recipe comes together quick and easy in your crockpot!
This comforting fall dish of pork chops with apples and onions is quintessential fall food. It's naturally gluten and dairy-free, and seasoned with fresh herbs, dijon mustard, and loads of flavor for the bone-in pork chops. Gotta love a one-pan meal too!
This stuffed butternut squash dish is perfect for a fall dinner, because of all the tasty fall ingredients: squash, kale, cranberries, and quinoa.
It's loaded with flavor, so you won't miss the gluten or dairy at all. It looks so pretty, I would even serve this as a Thanksgiving dinner side dish!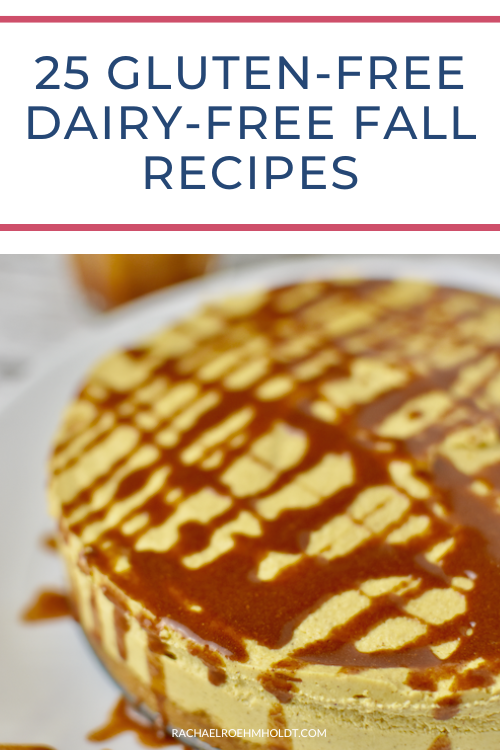 Gluten-free Dairy-free Fall Dessert Recipes
Does anything sound more divine than pumpkin cheesecake? Holy moly, sign. me. up!
This gluten and dairy-free cheesecake is made with a gluten-free graham cracker crust, and a filling made with cashews, pumpkin puree, and maple syrup. Top the whole thing off with a cinnamon sugar drizzle or some dairy-free whipped cream – and yum!
This recipe is perfect for Thanksgiving, but you could make it for a special get together with friends or family any time throughout the fall season.
Fall is apple season, and what better treat could you make than caramel apples?? But if you're dairy-free like me, you know that caramel is basically all butter, milk, and sugar. Which is delicious, but doesn't make me feel great.
This vegan caramel is made with sugar, cream of tartar, water, refined coconut oil, and soy milk. They're made just the same as you would any other caramel apple recipe – make the caramel, dip the apples in. on sticks, and thoroughly enjoy!
Read on: Is cream of tartar gluten-free?
This apple spice cake has the fall flavors of apples and tons of fall spices, like nutmeg, cinnamon, and ginger.
This simple recipe comes together in less than 40 minutes, and uses a pre-made gluten-free flour blend, so you know it will be easy! Enjoy this one as a special weekend treat or any night of the week a sweet treat is calling for you!
Apple crisp is easy to put together, tastes like fall in a bowl, and this recipe is actually pretty healthy!
Gluten-free Harvest Apple Crisp is made with apples, brown sugar, coconut milk, and ground cinnamon for the filling, and gluten-free all-purpose flour, brown sugar, cinnamon, and coconut oil for the topping. This recipe is simple – in the very best way – and delicious!
You gotta love a dessert recipe that promises no baking! This recipe is made with pecans, almond flour, shredded coconut, dates, ground ginger, cinnamon, molasses, and coconut oil.
Tons of fall flavor, healthy sweeteners, and even some healthy fats – this recipe is a winner for fall!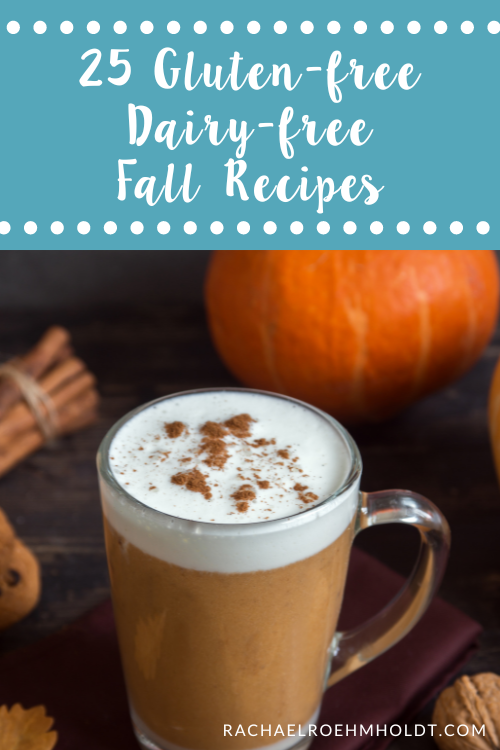 Gluten-free Dairy-free Fall Drink Recipes
Are you a pumpkin spice latte fan? Check out this dairy-free version made with home brewed coffee, pumpkin puree, coconut milk, sea salt, and coconut sugar or maple syrup.
This couldn't be easier. Pour in your coffee, add in the extra ingredients, and whisk together. Done and delicious!
This easy chai latte uses chai tea bags, which makes it pretty easy to come together. All you need to do is warm up your almond or other dairy-free milk on the stove top, add the chai tea bags and steep. Then add maple syrup, vanilla, cinnamon, cloves, and nutmeg.
The recipe calls for blending in a blender, but you could easily whisk everything to combine on the stove. Enjoy as is or top with coconut whipped cream!
If you're looking for a simple and delicious holiday drink that can be simmering in the background before a big holiday get-together, this cranberry pear cider is perfect.
Made with pears, oranges, cranberries, and spices, you'll make this up in your slow cooker for a few hours. Then when you're ready, strain it all through a sieve, add some maple syrup to sweeten, and you're ready to serve!
If you love festive fall drinks, this caramel apple sangria sounds perfect for you. All you need is a. bottle of white wine, sparkling apple cider, caramel syrup, and 4 apples.
Combine chilled wine and cider, then mix in the caramel syrup. Add the chopped apples, then transfer to the fridge until you're ready to serve.
Sometimes adding a little fall infusion into the everyday things make the mundane just a little more exciting.
This autumn infused water is super simple – combine a thinly sliced apple, plum, pear, and a few sticks of cinnamon with cold water, and pop it in the fridge. Let the flavors combine and enjoy throughout the day.
You can even keep topping up the container with water for a few days to make your infused water last for much longer than just the one serving.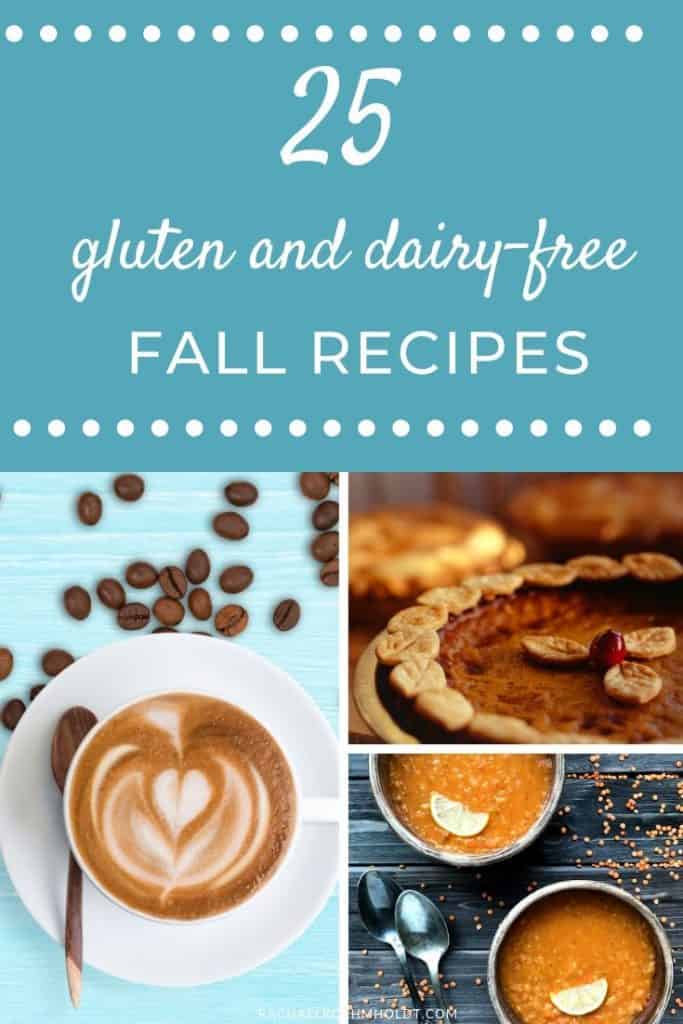 I know life can get busy with new routines, kids going back to school, and programs starting up, so I wanted to mention how WONDERFUL menu planning can be for those busy times.
In my busiest times, planning out my meals and having ingredients on hand for them has saved my rear time and time again.
I would love to share with you my weekly recipe and menu planning service, GFDF Weekly. In GFDF Weekly, you'll get 5 new dinner recipes each and every week – all gluten and dairy-free – delivered straight to your inbox.
I'll also send a shopping list for you to save or print and head straight to the store for all you need to make that week's meals.
Sound like something you'd be interested in so you can make the most of fall flavors on your gluten and dairy-free diet? Click here or the image below to get subscribed now.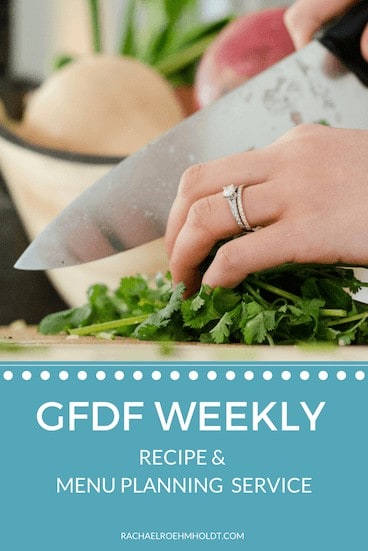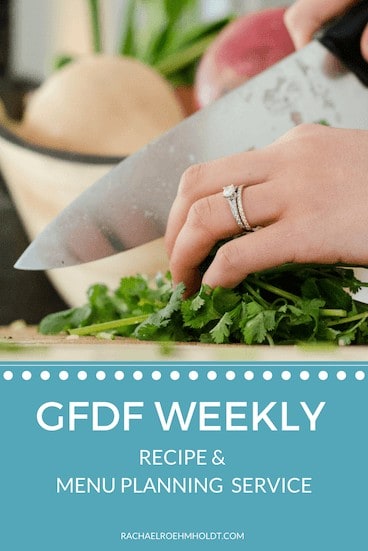 I hope this list has given you some recipe inspiration to make the most of fall's hearty warming flavors and ingredients – and to help you stick with your gluten-free dairy-free diet by enjoying some of these tasty recipes.
Looking for more fall content? Don't miss these posts!
Enjoy the flavors of fall with this roundup of all the best gluten and dairy-free fall content!
If you loved this post, be sure to check out my comprehensive gluten-free dairy-free food list below for free. Enter your details for instant access plus get 5 free recipes.