Get a dairy-free ranch seasoning recipe for some delicious homemade ranch dressing or to season your favorite chicken or roasted vegetables!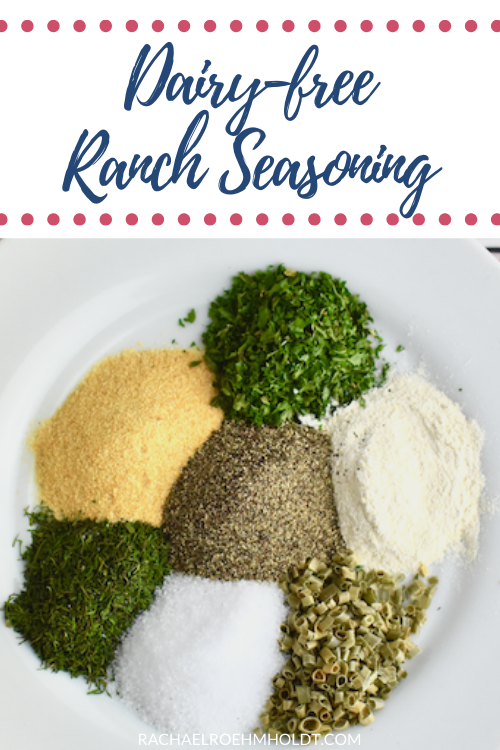 Note: I am a proud Amazon, Chomps, MunkPack, and Thrive Market affiliate and am happy to recommend their service and products to you. Please know that as an affiliate, I may receive a small commission on the products you purchase after clicking through my links. For more info, please see my disclosure policy here.
Do you and your family love ranch seasoning added to your favorite dinner recipes? Or do you like having ranch seasoning packets on hand to mix up a quick salad dressing or veggie dip at a moment's notice?
If you do, you're not alone. Ranch is one of the most popular flavors that Americans flock to in all forms. But if you're following a dairy-free diet or are trying to steer clear of dairy products for your health, you may be looking for a way to enjoy your favorite ranch flavors without the dairy ingredients.
I lived without ranch dressing and ranch seasoning for years until I finally decided I needed to get creative and start making my own at home! Now I make dairy-free ranch seasoning and keep it in my pantry, so I can mix up a batch of dairy-free ranch dressing any time we need it.
We love to use ranch for a French fry dip, and particularly love ranch flavored roasted broccoli and potatoes. If you and your family are also big ranch fans, you're going to love this dairy-free ranch seasoning and use it in all the favorite ways you love to use ranch too.
Before we get to the recipe, let's be sure we're on the same page about what ranch seasoning is, why it's not a great idea on a dairy-free diet to just pick up a packet from the store, and what you need to have on hand to make a batch of dairy-free ranch seasoning for many dressings and ranch-flavored recipes to come.
Let's talk ranch!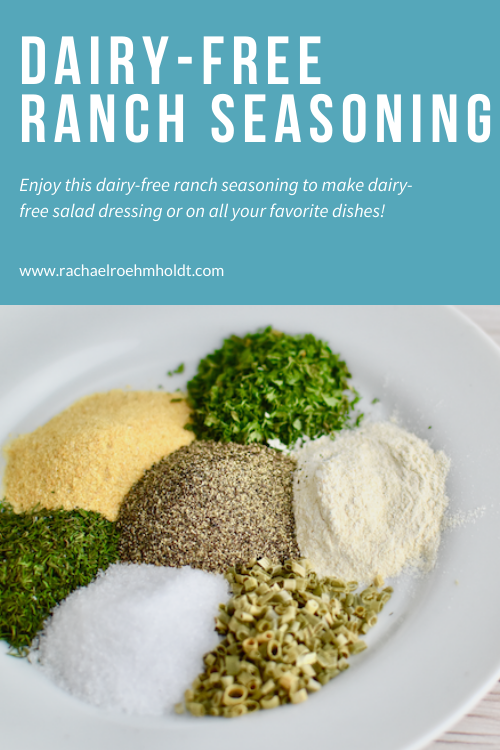 What is ranch seasoning?
Ranch seasoning is a dry mix of herbs and seasonings that is mainly used to make ranch dressing or dip. Many brands of ranch seasoning are available at the grocery store and people like to use it on salads, as a vegetable dip, or as a seasoning for chicken, broccoli potatoes, or even French fries.
The most popular ranch seasoning is made by Hidden Valley, though there are others as well as store brands that make a dry ranch seasoning mix.
Read on: 5 Best dairy-free ranch dressing brands
Read on: Is Hidden Valley Ranch gluten-free?
What are the ingredients in ranch seasoning?
In Hidden Valley ranch seasoning, one of the most popular ranch seasoning brands, you can find the following ingredients:
"Maltodextrin, buttermilk, salt, monosodium glutamate, garlic, onion, lactic acid, calcium lactate, spices, citric acid, less than 1% of: calcium stearate, artificial flavor, xanthan gum, carboxymethylcellulose, guar gum, natural flavor."
There's also a note that says "Contains: Milk and Soy."
Can you buy ranch seasoning?
You can buy ranch seasoning at the grocery store in packets in the section or aisle with seasoning blends and spices. The most popular brand of ranch seasoning is Hidden Valley, but some other brands you might find are Uncle Dan's, Signature Select, McCormick, Great Value, and Kroger.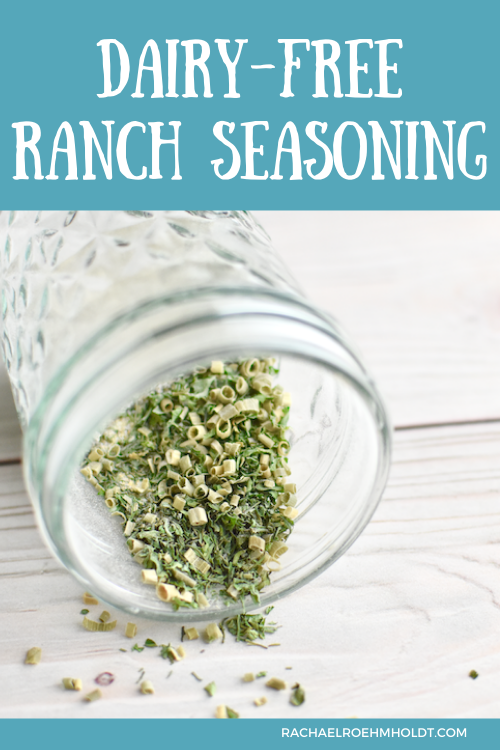 What is dairy?
Dairy is a general name for ANY food that is made from milk. Technically, this is any food made from cow's milk or goat's milk or sheep's milk. Any animal milk is dairy. However, mostly when we're talking about dairy, we're talking about drinking cow's milk, because that's what is most popular here in the United States.
The most common foods that are considered to be dairy are: milk, cream or heavy cream, cheese, ice cream, and yogurt. This includes different variations of each of these as well, such as: hard cheeses, soft cheeses, cottage cheese, feta cheese, flavored milks, different flavored ice creams and yogurts, pudding, and sherbet.
If a product is made from cow's milk or any animal milk, it is considered to be a dairy product.
Does ranch seasoning have dairy?
Most ranch seasoning options from the grocery store contain dairy. For example, in Hidden Valley ranch seasoning, you'll find dairy in the buttermilk that's added to the ingredients.
You can look for buttermilk in the ranch seasoning packets you're considering buying, or look for other hidden names of dairy.
One of my little secrets is that I carry around a copy of my GFDF Take Along Cards so that I always have a point of reference when I can sneak a peek at the ingredient list of a food.
>> Get your copy of the GFDF Take-Along Cards to make this easy on you.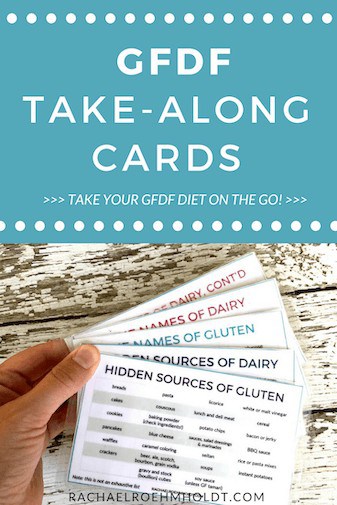 Read on: Does ranch have dairy?
Is ranch seasoning gluten-free?
Hidden Valley ranch seasoning and dressings are all gluten-free, but other brands may not be. Be sure to check the ingredients lists of all the ranch seasoning packets you are considering purchasing and look for hidden names of gluten so you know which are safe to buy.
If you are making your own ranch seasoning at home, you can easily make sure it is gluten-free just by checking that the ingredients you use are gluten-free before you mix them together.
Read on: Is ranch gluten-free?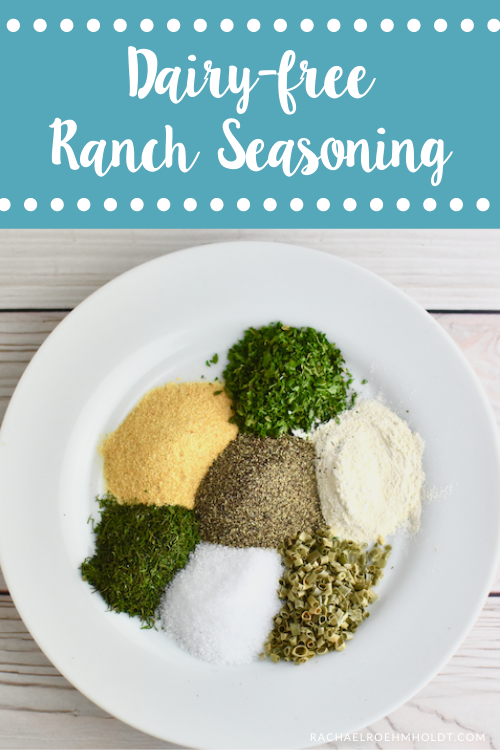 Dairy-free ranch seasoning
For an easy dairy-free ranch seasoning, you can make your own at home by combining a few herbs and seasonings that you probably already have on hand in your pantry.
I use the same ingredients that I use to make my dairy-free ranch dressing (that's also gluten and egg-free!). It's important to me to be able to whip this up whenever I have a craving or we're having salad for dinner, so dried herbs are great for this recipe because they last a long time.
Of course, if you want to make a fresh dairy-free ranch seasoning, you can swap any of these dried herbs for fresh ones.
These are the ingredients you'll need:
To make your dairy-free ranch seasoning, simply combine all the ingredients in a bowl and mix together. You can use this seasoning right away on your favorite dishes or store it in a container in your pantry until you're ready to use it in a recipe.
Read on: 75 gluten and dairy-free salad recipes
What can you use dairy-free ranch seasoning on?
Dairy-free ranch seasoning can be used in place of any ranch seasoning you'd use in another recipe. Here are some of the most popular uses for dairy-free ranch seasoning:
Homemade ranch dressing made with vegan mayo, apple cider vinegar, and coconut milk
Season vegetables like broccoli or potatoes before roasting
Added to a casserole
Use as a seasoning on chicken breasts or burgers
Added to beef or turkey burgers
Sprinkled on popcorn
Added to mashed potatoes
Season French fries or tater tots at home before baking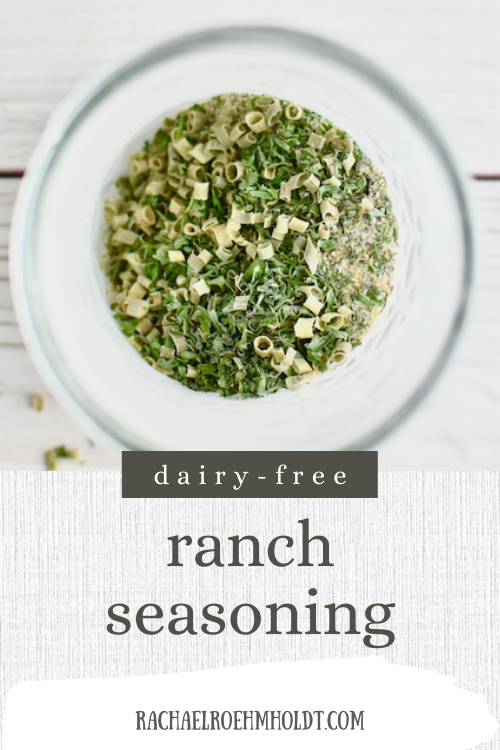 How to store dairy-free ranch seasoning
Dairy-free ranch seasoning can be stored in a sealed glass container in your pantry for as long as the dry ingredients are still good. Go by the soonest expiration date on all your dried herbs and seasonings to help you determine when to use the seasoning mix by.
How to make dairy-free ranch dressing
To make dairy-free ranch dressing, you'll want to add 1 ½ tbsp of dairy-free ranch seasoning to a bowl with ½ cup of vegan mayo, ½ cup full fat coconut milk, and 1 tsp apple cider vinegar.
You can get the full recipe for dairy-free ranch dressing here, and use it on all your favorite salads, burgers, and other dishes.
Yield: 2/3 cup
Dairy-free Ranch Seasoning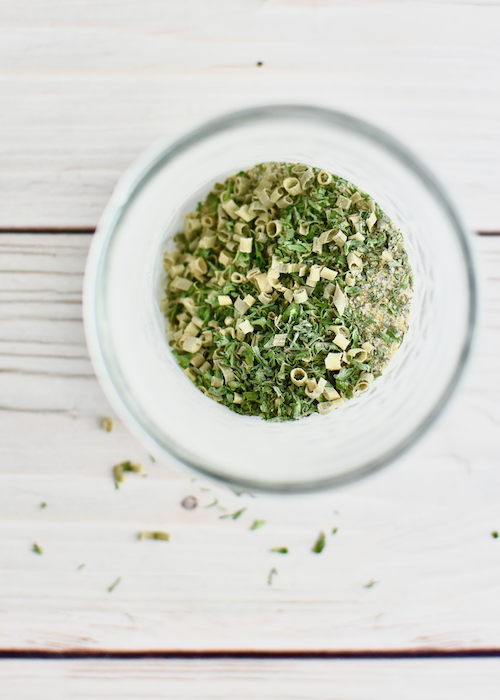 Enjoy this dairy-free ranch seasoning mix to mix up a batch of dairy-free salad dressing any night of the week or add your favorite chicken, burgers, or roasted veggies.
Ingredients
1 ½ tbsp salt
1 ½ tbsp pepper
1 ½ tbsp dried parsley
1 ½ tbsp dried dill
1 ½ tbsp dried snipped chives
1 ½ tbsp garlic powder
1 ½ tbsp onion powder
Instructions
Combine all ingredients in a small bowl. Whisk to combine.
Use in dairy-free ranch dressing recipe or to season your favorite chicken, potato, or roasted vegetable recipes.
Store in a sealed airtight glass jar in your pantry until ready to use.
Notes
To make dairy-free ranch dressing, you'll want to add 1 ½ tbsp of dairy-free ranch seasoning to a bowl with ½ cup of vegan mayo, ½ cup full fat coconut milk, and 1 tsp apple cider vinegar. 
Recommended Products
As an Amazon Associate and member of other affiliate programs, I earn from qualifying purchases.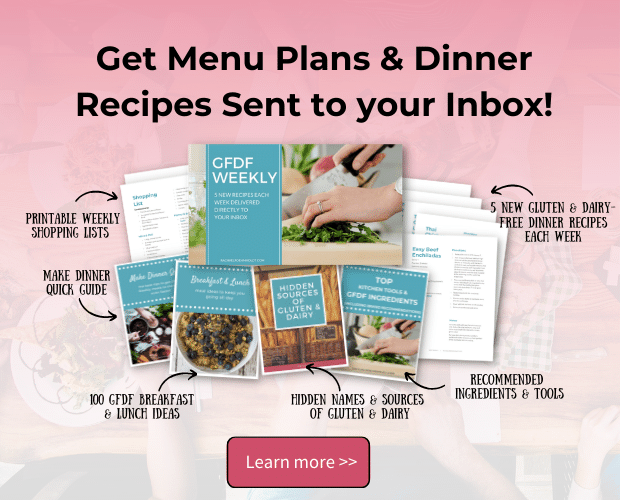 If you loved this post, I hope that you'll share it with your friends on Facebook and pin it for future reference on Pinterest.
Love this post? You might also want to check out more of my recipe roundups here!
Find some delicious gluten and dairy-free recipes in these popular recipe roundup posts!
Want more? Check out all my Gluten-free Dairy-free Recipes!