Find out if chicken stock is made from and if this ingredient is safe for your gluten-free diet. Plus the difference between stock and broth.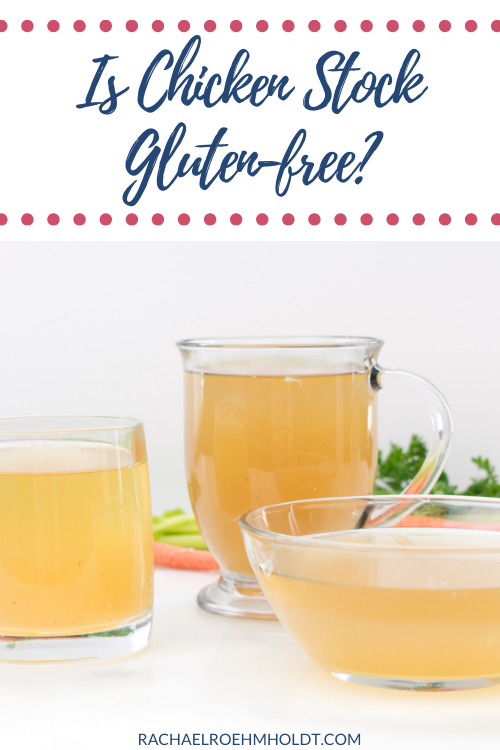 Note: I am a proud Amazon, Chomps, MunkPack, and Thrive Market affiliate and am happy to recommend their service and products to you. Please know that as an affiliate, I may receive a small commission on the products you purchase after clicking through my links. For more info, please see my disclosure policy here.
If you love to make homemade soup, gravy, or sauces, you're probably familiar with chicken stock. This popular ingredient can be made at home over the course of hours of hands-off cooking time in a big pot on a long afternoon.
Or it can be bought at the store in cans or cartons for a quick and convenient option to add loads of flavor to your favorite recipes.
However you make or get your chicken broth, you and I can likely agree that this ingredient is packed with rich flavor and color and adds some healthy protein and fat to any recipe it's included in.
If you follow a gluten-free diet, you know that gluten can hide just about anywhere and in any food or recipe. Even the most basic ingredients like chicken stock can be a culprit for gluten.
That's why I thought we'd call out all the most popular questions about this ingredient as it relates to following a gluten-free diet, and answer them the best we can. Hopefully by the time you're done reading this post, you can feel confident about adding this ingredient to your diet.
In this post, we'll talk about what chicken stock is, what it's made of, and if chicken stock is gluten-free. We'll also go over what the differences and similarities are between chicken stock and chicken broth. Finally, we'll wrap up with a list of gluten-free chicken stock brands you can shop for at the store.
Before you buy any carton of chicken stock, be sure to read this article first!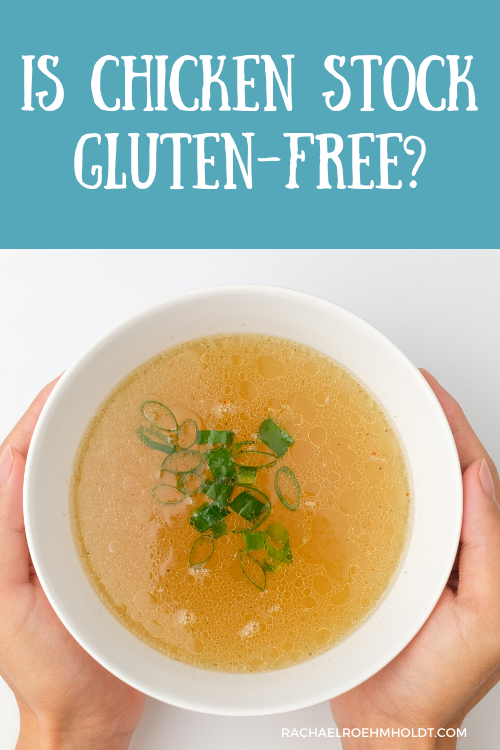 What is chicken stock?
Chicken stock is a liquid that comes from the simmering of vegetables and chicken bones. Chicken meat can be included in the liquid, but isn't always.
Chicken stock is cooked low and slow over a medium heat for at least a few hours to help the collagen and gelatin of the bones to break down and be integrated into the liquid. This collagen is full of flavor, but also has protein and gut health benefits.
According to Medical News Today, chicken stock is said to be helpful for digestion, because it "contains glutamine which helps maintain the integrity of the intestinal barrier." This barrier helps keep what's in the intestines in the intestines, meaning it helps with leaky gut or gut impermeability.
This is especially helpful for folks who have food sensitivities and intolerances, as many of these intolerances can be linked back to gut health issues.
Chicken stock is useful for many dishes, including soups, stews, and sauces. Other dishes you might see chicken stock in are gravy, marinades, and rice or whole grain dishes.
Chicken stock can be used interchangeably with chicken broth oftentimes, because the flavor is similar but more intense in chicken stock than in broth. You'll also gain more protein and fat from chicken stock versus chicken broth.
What is chicken stock made of?
Chicken stock is usually made with very simple ingredients, such as water, chicken bones or a chicken carcass and aromatic vegetables, like carrots, onions, garlic, and celery. Seasonings like salt, pepper, bay leaves, thyme, parsley, and other herbs or spices may be added for extra flavor.
Additional vegetables can be added to chicken stock to add flavor or use up extra food scraps in the kitchen.
A homemade chicken stock usually has very few ingredients and store bought varieties should as well. You may find some additional ingredients in store bought varieties to help with texture and preservation for it to maintain freshness while being shelf stable.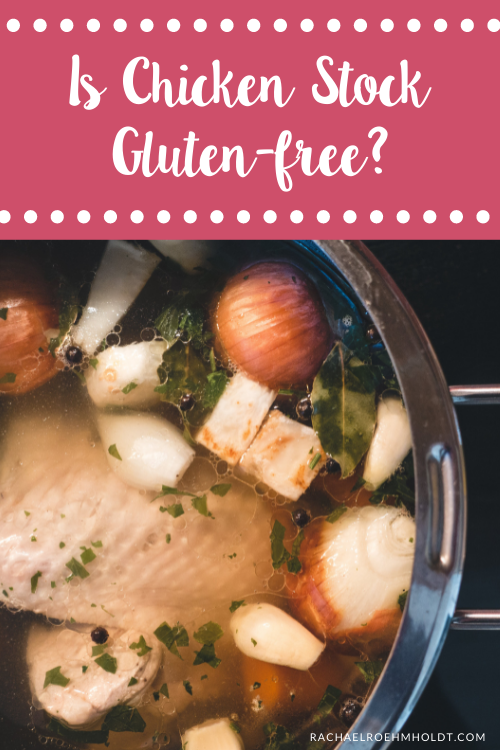 What is gluten?
Gluten is a protein found in most wheat products, and acts as the "glue" that helps to hold wheat, barley, kamut, spelt, farro, durum, bulgur, rye, and semolina together to maintain their shape.
Gluten is naturally occurring, and therefore is impossible to strip away from the grain. If a grain naturally has gluten in it, there's no way to make that food gluten-free.
Gluten is often added as a binding or thickening ingredient in many foods, particularly those that have been processed.
Read on: What is gluten?
Is chicken gluten-free?
Chicken is a naturally gluten-free food. When prepared simply and without added gluten ingredients, chicken is considered to be gluten-free and safe for folks on a gluten-free diet.
The places to look out for with gluten and chicken is the seasonings used on it or where it has been processed.
Chicken is considered gluten-free unless an ingredient has been added to it that contains gluten. Another way chicken could contain gluten is if it is cooked in an area that is shared with another food that contains gluten, causing cross contamination.
Read on: Does chicken have gluten?
Read on: 25 gluten-free chicken recipes
Read on: Gluten-free chicken and dumplings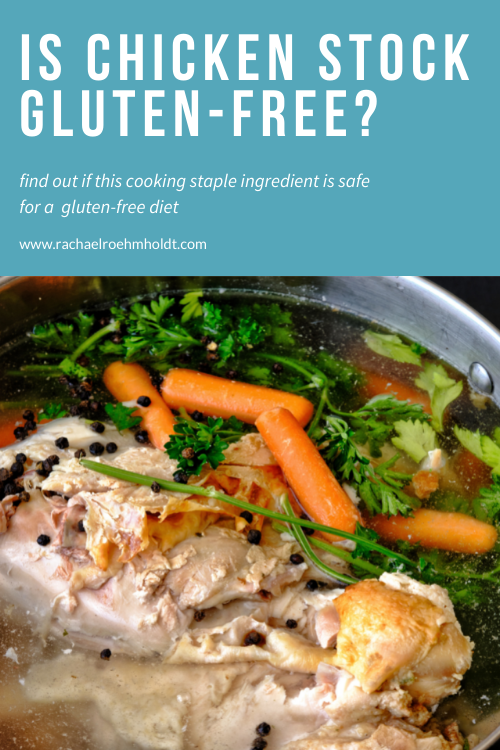 Is chicken stock gluten-free?
Homemade chicken stock can easily be made gluten-free by using only ingredients that are naturally gluten-free, like chicken, vegetables, herbs and spices.
Chicken stock bought from the store may or may not be gluten-free. This is because some brands use yeast extract or autolyzed yeast extract, ingredients made from barley, which is a gluten-containing grain.
Since some brands use this ingredient while others don't, it's important to check ingredients lists for any yeast extract or autolyzed yeast extract or other names of gluten.
Read on: Is yeast extract gluten-free?
A quick way to find out if the chicken stock you're picking up from the store is gluten-free is to simply look for a gluten-free label on the packaging. This will tell you that there is less than 20ppm of gluten in the product, a requirement made by the FDA in order to have this label.
A gluten-free label also tells you the manufacturer has taken the time to test the levels of gluten in their processing to find out that it's safe for a gluten-free diet.
One of my little secrets is that I carry around a copy of my GFDF Take Along Cards so that I always have a point of reference when I can sneak a peek at the ingredient list of a food.
>> Get your copy of the GFDF Take-Along Cards to make this easy on you.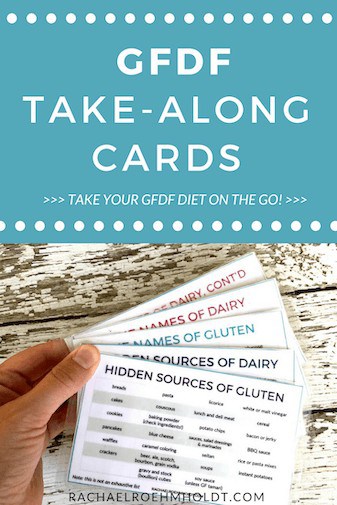 Are chicken stock and chicken broth the same?
Chicken broth and chicken stock can sometimes be used interchangeably in your cooking, but the main difference is that chicken broth is made with chicken meat whereas chicken stock is made with chicken bones.
The result is that chicken broth is usually lighter in flavor and color than chicken broth, which has the collagen and gelatin from the chicken bones and is a thicker consistency and heavier flavor.
You can make both of these at home using simple ingredients like cooked chicken or a chicken carcass or bones, along with some vegetables, herbs and spices. The difference in making broth versus stock is whether or not you make your liquid with meat (broth) or bones (stock).
Read on: Is chicken broth gluten-free?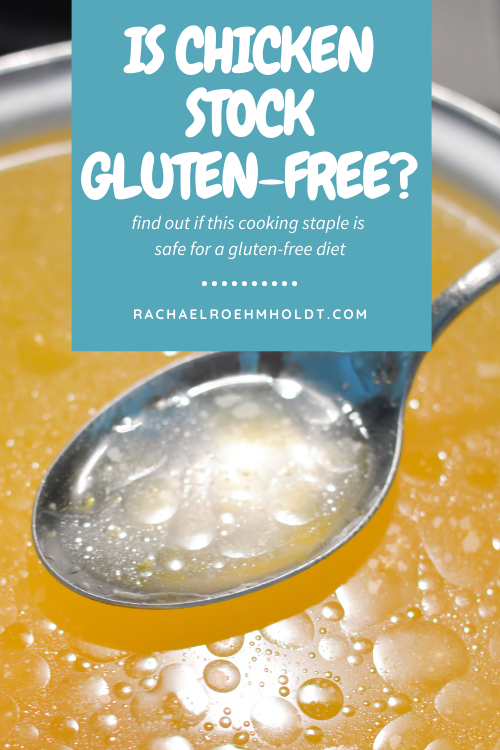 How to use chicken stock in your cooking
Chicken stock is a versatile cooking staple that you'll love having on hand for some flavorful savory meals. Here are just a few of the ways you can make the most of this ingredient.
Read on: Is cream of chicken soup gluten-free?
Gluten-free chicken stock brands
Not all brands of chicken stock are gluten-free, so I've rounded up some options that have a gluten-free label to help you narrow down your options next time you're shopping for this ingredient while at the store.
If you've been looking to find out if chicken stock is an ingredient you can make or buy from the store and use regularly in your cooking on a gluten-free diet, I hope this post has helped you get the information you've been looking for. Homemade chicken stock can easily be made gluten-free with the right ingredients.
However, store bought chicken broth should be looked at with a careful eye on ingredients, as sometimes gluten makes its way into the product in the form of yeast extract or autolyzed yeast extract.
If you loved this post, I hope that you'll share it with your friends on Facebook and pin it for future reference on Pinterest.
Love this post? You might also want to check out these!
Find out if your favorite foods and ingredients contain gluten with these posts!