Get 25 delicious gluten-free chicken recipes, most are also dairy-free! Recipes for gluten-free chicken soup, chicken casseroles, chicken crockpot dishes, classic chicken recipes, and chicken pasta recipes.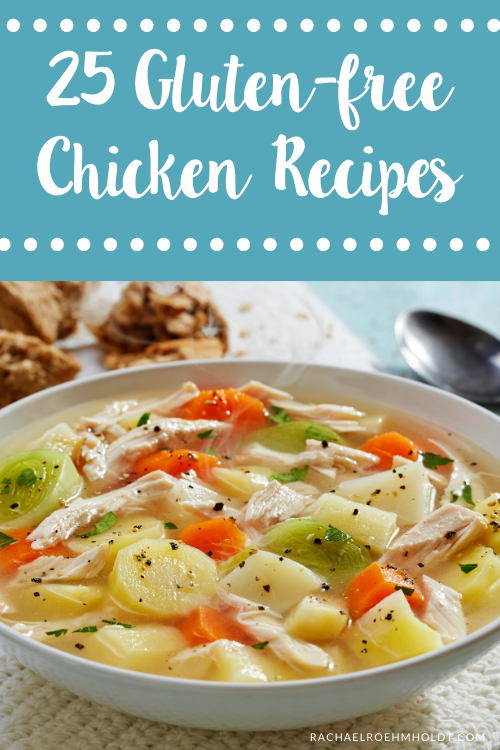 Note: I am a proud Amazon, Chomps, MunkPack, and Thrive Market affiliate and am happy to recommend their service and products to you. Please know that as an affiliate, I may receive a small commission on the products you purchase after clicking through my links. For more info, please see my disclosure policy here.
If you enjoy using chicken as one of your main protein sources in your week, you're not alone! My family cooks chicken at least once a week and we love it in a variety of ways from soup, casseroles, and our favorite – chicken tacos.
Though chicken is naturally gluten-free, not all dishes that use chicken in them are. Which is why I thought it would be a good idea to round up some delicious recipes that feature chicken as a star ingredient.
In this roundup, I'm sharing gluten-free chicken soup, gluten-free chicken casseroles, gluten-free chicken crockpot dishes, gluten-free classic chicken recipes, and gluten-free chicken pasta recipes.
Before we get into the recipes, let's be sure we're on the same page as it relates to gluten and how chicken fits into a gluten-free diet.
What is gluten?
Gluten is a protein found in most wheat products, and acts as the "glue" that helps to hold wheat, barley, kamut, spelt, farro, durum, bulgur, rye, and semolina together to maintain their shape.
Gluten is naturally occurring, and therefore is impossible to strip away from the grain. If a grain naturally has gluten in it, there's no way to make that food gluten-free.
Is chicken gluten-free?
Chicken is a naturally gluten-free food. When prepared simply and without added gluten ingredients, chicken is considered to be gluten-free and safe for folks on a gluten-free diet.
That said, chicken isn't always prepared in a way that is a good choice for a gluten-free diet.
Here are some places you'll want to be watchful of gluten in your chicken dishes and recipes:
Seasonings, like premade herb and spice mixes
Flour or roux
Chicken recipes that contain breading if all purpose flour is used
Pasta, pizza, or other dishes that obviously contain bread or flour
You can read more about these potential places for gluten to come into a recipe in this post: Does chicken have gluten?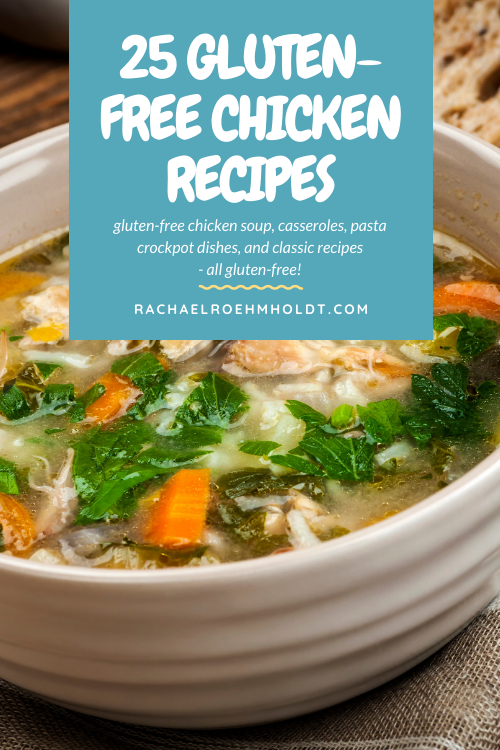 Gluten-free Chicken Soup Recipes
Try one of these gluten-free chicken soup recipes for a delicious cold-weather meal. Here are some recipes for gluten-free chicken noodle soup, cream of chicken soup, and a some delicious soups that are full of chicken and veggies.
Read on: 25 Gluten-free Chicken Soup Recipes
This soup recipe is perfect to have on hand for any cool fall or winter days. This chicken noodle soup recipe is updated to be gluten-free with gluten-free noodles. What's even better? It's made in an Instant Pot, making your life just that much simpler at meal time.
Read on: Is chicken stock gluten-free?
Try this gluten and dairy-free cream of chicken soup on its own or as an addition to your favorite casseroles. It's made with pantry staples that you probably already have on hand too.
Read on: Is cream of chicken soup gluten-free?
Try this Mediterranean inspired chicken soup that's loaded with tomatoes, bell peppers, zucchini, capers, onions, and garlic. It's full of flavor and comes together quickly!
If you're looking for a soup to warm your belly but keep it light, try this chicken detox soup. It's loaded with veggies like carrots, broccoli, and peas, so you know you're getting your vitamins and greens too.

Try this crockpot chicken enchilada soup to warm you up on chilly nights. This recipe is loaded with chicken, fire roasted tomatoes, bell pepper, and enchilada-inspired spices. Enjoy this yummy recipe with avocado and cilantro on top!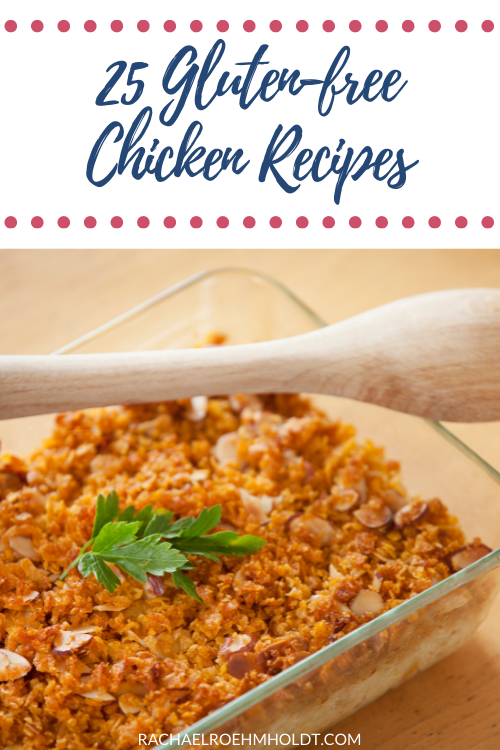 Gluten-free Chicken Casserole Recipes
Try one of these gluten-free chicken casseroles next time you're looking for a hearty comfort-food meal.
This super simple chicken parmesan bake is a healthier remake of a classic comfort dish. This dish is made with spaghetti squash, chicken, eggs, a homemade marinara sauce, and a almond flour topping. Despite the name, there actually isn't any parmesan in it, making it dairy-free too!
Enjoy these gluten and dairy-free chicken enchiladas with the help from a rotisserie chicken, corn tortillas, and a bottle of gluten-free enchilada sauce. You can bake them like this or add some dairy-free cheese to top them off.
When I was a kid, my mom made chicken, broccoli and rice casserole at least once a week. This version kicks the gluten and dairy and makes it way healthier – without losing the same tasty flavor.
Chicken Divan is a classic comfort dish, but this one is remade to be gluten and dairy-free using cashew cream and coconut milk instead of all the cream of chicken soup and cheddar cheese. You won't even miss the gluten or dairy in this yummy remake!
I love that this dish came out of leftovers in a fridge. Christal from Nutrition in the Kitch says she found some chicken breast and quinoa in the fridge and whipped this up. It just goes to show that you can make something new and creative even with seemingly plain ingredients.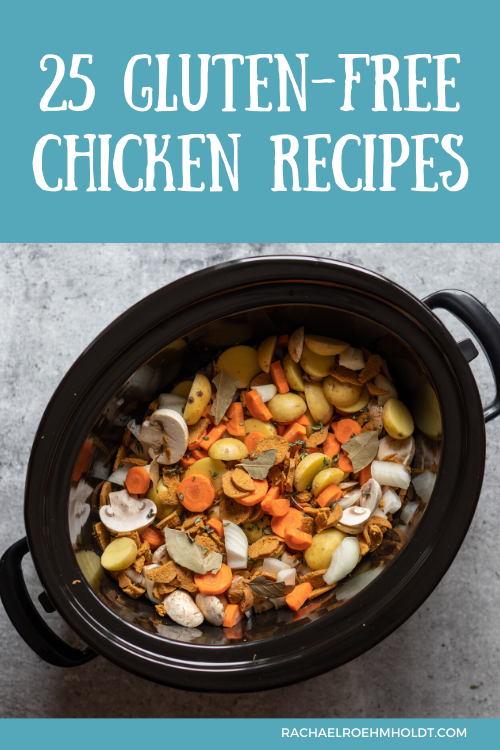 Gluten-free Chicken Crockpot Recipes
Let your crockpot do the hard work for you to get dinner to the table. I love cooking chicken in my crockpot, because it usually only takes minutes to prepare and a delicious meal is done and ready for me in a few hours.
This is my go-to gluten-free chicken taco recipe that I make in both my crockpot and Instant Pot. With just chicken breasts, taco seasoning, and salsa, this recipe could not be simpler and is so delicious!
This gluten-free chicken tortilla soup is full of fresh vegetables, like red bell pepper and zucchini. You'll enjoy the spice from this soup from green chiles and jalapeños. Try this one on a night you need a quick-fix dinner – it only takes 30 minutes!
This naturally gluten-free, dairy-free soup is loaded with healthy ingredients like sweet potatoes and kale. What I love about this recipe is that it only needs 6 ingredients and a little bit of time. There are even kid-friendly adaptations if you want to make a few swaps!
Shredded chicken can be used in SO many different ways. You can use this with gluten-free pasta, in soups, on salads, in chicken salad, on sandwiches, or even in tacos or enchiladas. This is a perfect recipe for meal prepping for lunches or dinners for the week too!
Think you need to order takeout full of sodium and gluten in order to get your teriyaki chicken fix? Think again! Try this super simple chicken teriyaki that cooks low and slow and will be ready for you when you and your family are hungry. Best of all, you can be assured it's gluten-free with tamari soy sauce.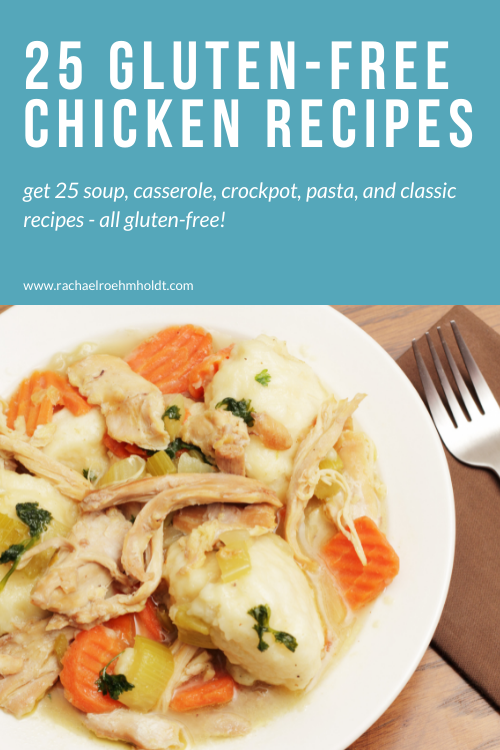 Gluten-free Classic Chicken Recipes
If you're looking for a few classic chicken recipes, you'll love these. Gluten-free chicken and dumplings, chicken lettuce wraps, a chicken pot pie soup, and a chicken and rice soup. If you love orange chicken, you'll find a gluten-free option for this recipe as well.
Nothing says comfort food like a big bowl of chicken and dumplings. These gluten-free dumplings are homemade with gluten-free Bisquick mix, vegetables, and cooked chicken. You'll love this soup!
If you're looking for a light dinner option or a chicken appetizer recipe, try these chicken lettuce wraps. They're gluten-free with a homemade sauce with tamari soy sauce, honey, garlic, onion powder, and water. The filling is made with ground chicken, carrots, celery, and water chestnuts for a perfectly crunchy bite.
Try this healthy chicken pot pie soup that's full of flavor and creamy richness without any gluten or dairy. It gets its creaminess from potatoes, cauliflower, and dairy-free almond or cashew milk.
Chicken noodle soup is perfect for sick days or really any cool weather day. Try this take on chicken noodle soup by swapping the noodles for rice, making it completely gluten-free.
Enjoy this gluten-free version of a delicious orange chicken. This recipe comes together with a gluten-free breading and a homemade gluten-free orange sauce. Serve with rice and your favorite stir-fried vegetables.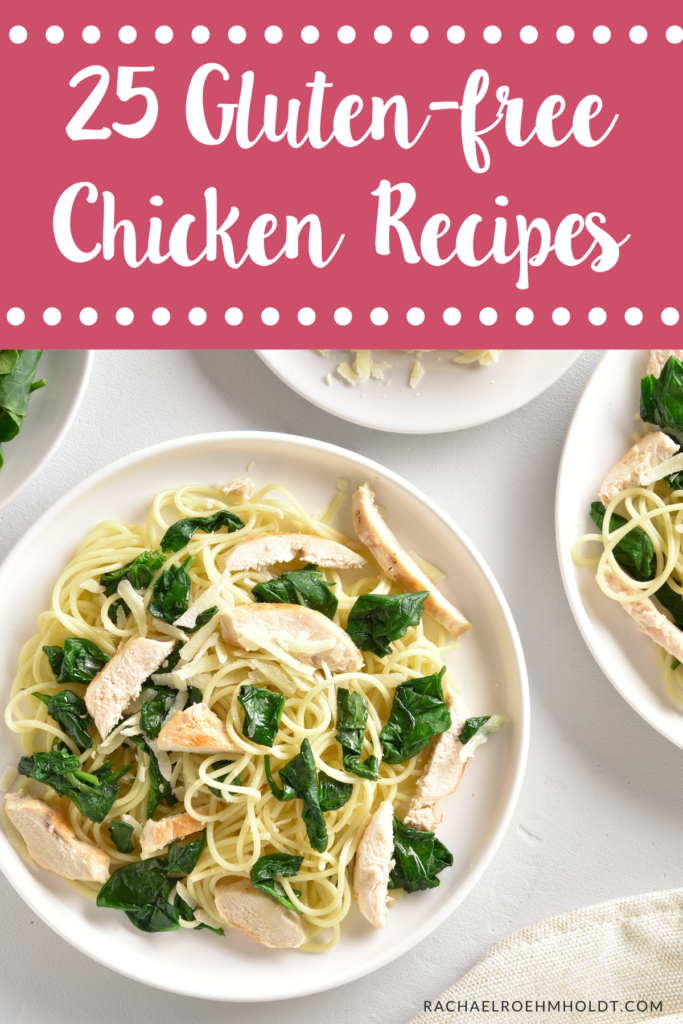 Gluten-free Chicken Pasta Recipes
Chicken pasta a big hit at my house. Try one oft these pasta recipes that use chicken as a main protein and add loads of flavor with sauces and extra ingredients.
Read on: Gluten-free pasta: brands & options
This chicken casserole is the ultimate gluten-free dairy-free comfort food. This sauce in this dish has mushrooms, cashews, and even soy sauce for some depth of flavor. You won't miss the dairy one bit in this recipe!
Enjoy this creamy lemon pasta that's made with a homemade creamy lemon sauce flavored with coconut cream and nutritional yeast and gluten-free noodles.
If you're looking for an easy weeknight dinner option, use shredded rotisserie chicken and some pantry staples like onions, garlic, diced tomatoes, coconut milk, nutritional yeast, and capers to get this meal made in under 30 minutes.
If you enjoyed chicken alfredo before giving up gluten or dairy, this recipe will make your day. This dairy-free chicken alfredo uses fresh vegetables like onions, red peppers, mushrooms, and broccoli along with a homemade dairy-free alfredo sauce. Enjoy this with your choice of gluten-free pasta to make it completely gluten-free.
Read on: Is alfredo sauce gluten-free?
Try this delicious gluten-free pasta dish with gluten-free pasta, chicken breasts, onions, peppers, and a homemade tomato based sacue with loads of flavorful seasonings.
If you love chicken as one of your main protein sources for lunches and dinners, I hope this post has given you some inspiration for how to enjoy this ingredient and stick with your gluten-free diet.
If you loved this post, I hope that you'll share it with your friends on Facebook and pin it for future reference on Pinterest.
Love this post? You might also want to check out more of my recipe roundups here!
Find some delicious gluten and dairy-free recipes in these popular recipe roundup posts!
Want more? Check out all my Gluten-free Dairy-free Recipes!