Looking for some gluten-free dairy-free chicken casserole recipes? You'll love this post! Find Mexican, Italian, veggie, chicken and rice, and chicken and potato casseroles.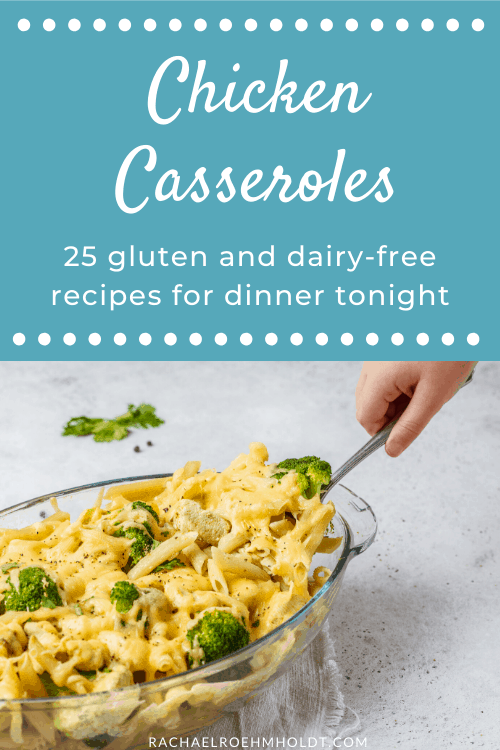 When it comes to dinner time, nothing beats a quick prep time and a long cook time that doesn't involve me hanging out in the kitchen.
My favorite types of dinners don't involve lazily stirring things over the stove, but the ones that allow me to put some ingredients together, then shove them in the oven for at least a half an hour. Of course, these casseroles all have to be gluten and dairy-free.
That time while my casserole is baking is sacred. It's the time where I squeeze in a quick workout, do the dishes, swap out the laundry, clean up the dining and living room, and generally get on top of my day.
When I have dinners that involve more time in the kitchen and no hands-off cooking time, I'll be honest, those chores are a lot less likely to happen during that day.
Sure, I'll get to them eventually, but that time when I can walk away knowing that my meal is being cooked and I can be doing something else is glorious.
In my house, we are big chicken eaters. You'll find that out quickly if you join my gluten and dairy-free meal planning service, GFDF Weekly. Chicken is on the menu every week in various forms.
I'm of the mindset that the meat that I buy should be great quality but not overly expensive, so while I know I could buy chickens from local farms, I usually opt for buying the organic chicken breasts from Costco.
I like the Costco chicken, because they're organic and I can feel good about making even one good choice by avoiding growth hormones going into my family's bodies, but also because they're not as expensive as other options out there.
I feel like when it comes to buying meat (or really anything) that there's a middle road and that's what I usually tend to gravitate towards.
I've rounded up these gluten and dairy-free chicken casserole recipes, because I got so much great feedback from my 101 gluten and dairy-free casserole recipe roundup that I thought it would be great to go in a little further and share some chicken-only casserole recipes with you.
Many of the ones in this roundup are those you can find in the 101 casserole roundup, but there are plenty that are new too.
If you aren't familiar with Thrive Market, they have amazing gluten and dairy-free foods, as well as supplements and probiotics.
You can check out all the great things I have to say about this service, AND get a 30% off your first order AND a free gift (up to $24 value) when you sign up for either their monthly or annual plan.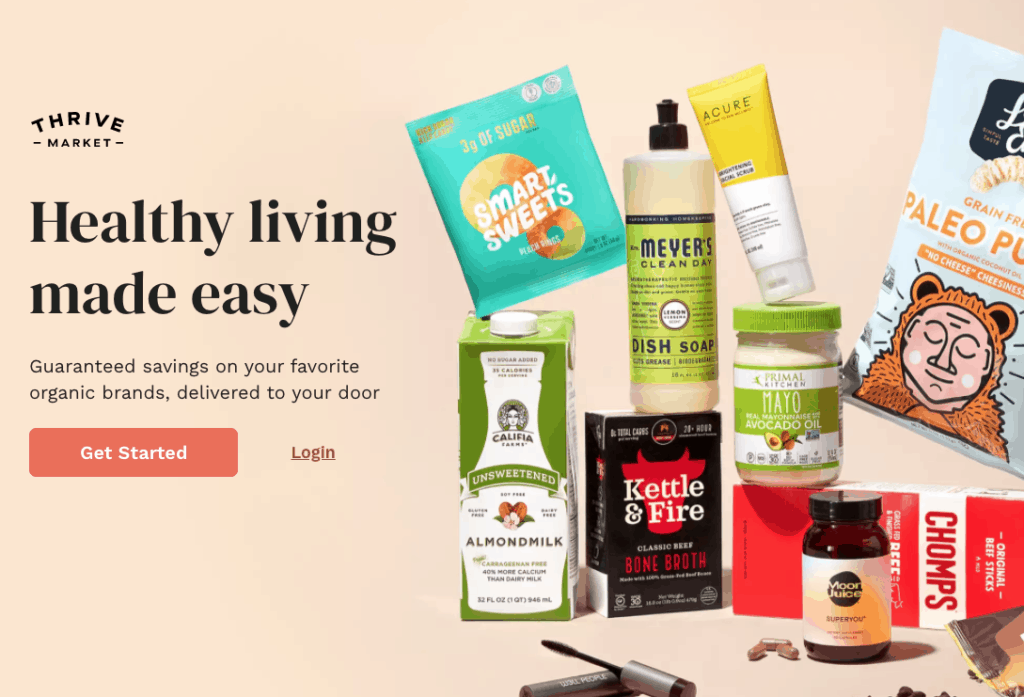 If you love chicken and using what you have ready in the pantry, getting things done while you know dinner is cooking in the oven, and hearty full-flavored meals, then this recipe roundup is for you!
I hope you find a few recipes to bookmark and try out for yourself.
Read on: Does chicken have gluten?
Read on: 25 Gluten-free chicken recipes
Read on: Is chicken stock gluten-free?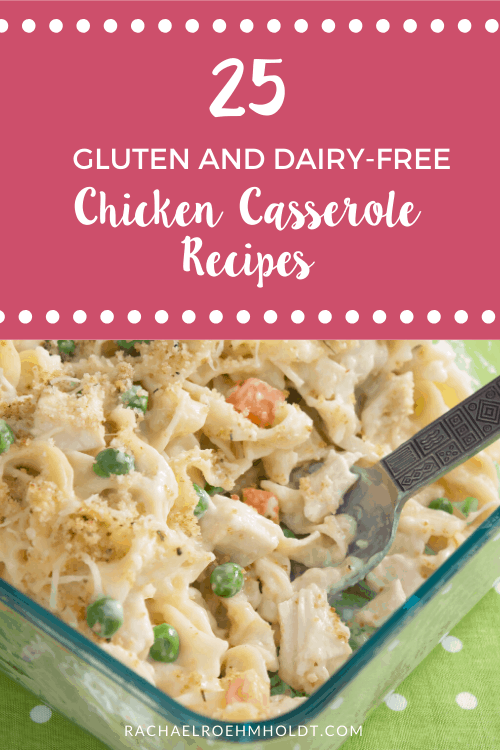 Gluten-free Dairy-free Chicken Casserole Recipes
This chicken casserole is the ultimate gluten-free dairy-free comfort food.
This sauce in this dish has mushrooms, cashews, and even soy sauce for some depth of flavor. You won't miss the dairy one bit in this recipe!
Read on: Top 5 gluten-free soy sauce brands
This chicken broccoli alfredo is super healthy and made gluten-free with cooked spaghetti squash and dairy-free using coconut milk, nutritional yeast, and herbs.
Enjoy this meal in the fall when spaghetti squash is at it's peak.
Read on: Is alfredo sauce gluten-free?
Read on: Dairy-free alfredo sauce
This super simple chicken parmesan bake is a healthier remake of a classic comfort dish.
This dish is made with spaghetti squash, chicken, eggs, a homemade marinara sauce, and an almond flour topping.
Read on: Gluten-free spaghetti sauce
One of the sauces that I wrote off after becoming dairy-free was alfredo sauce, but this dairy-free version uses cauliflower, onion, salt, garlic, and chicken broth to create a healthier alternative so you don't have to give up one your favorite meals.
Try this homemade dairy-free alfredo in this delicious chicken alfredo bake.
Read on: Is chicken broth gluten-free?
Read on: Gluten-free chicken broth
This Italian Chicken Pasta Bake recipe is an awesome update to a favorite comfort dish.
It's made with chicken, pasta, tomatoes, onions, garlic, and basil. Be sure to use dairy-free cheese to make sure it's dairy-free.
Read on: Gluten-free pasta brands and options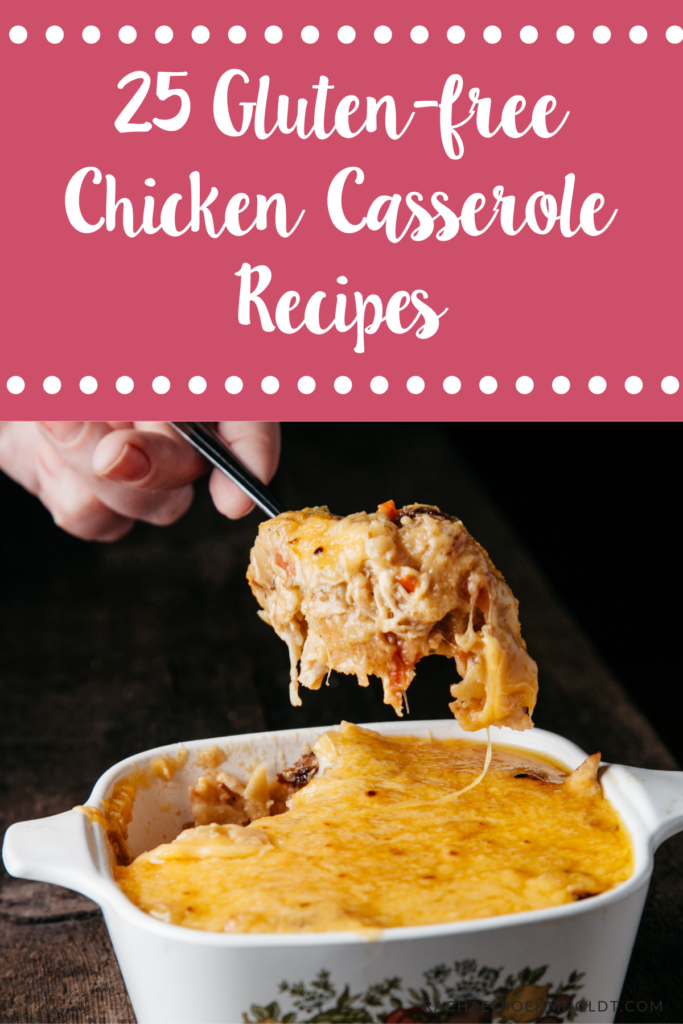 This tasty lemon and herb chicken casserole is an updated take on comfort food.
Instead of heavy cream or any dairy products at all, this recipe uses a homemade gravy made with arrowroot flour, almond milk, herbs and seasonings. Genius!
Read on: Gluten-free gravy
One of the easiest ways to make a standard gluten-filled dish a little healthier is to swap out that ingredient for a whole food ingredient.
In this recipe, spaghetti is swapped for spaghetti squash, making it naturally gluten-free and a lot healthier and guilt-free too. Try this creamy garlic spaghetti squash casserole with a homemade coconut milk and mushroom sauce.
When I was a kid, my mom made chicken, broccoli and rice casserole at least once a week.
This version kicks the gluten and dairy and makes it way healthier – without losing the same tasty flavor.
Broccoli and cheese are a match made in heaven – and with this homemade vegan cheese sauce, you can enjoy it guilt and dairy-free.
The cheese sauce is made with white cannellini beans, carrots, vegetable broth, nutritional yeast, and a few other ingredients to give it its savory flavor.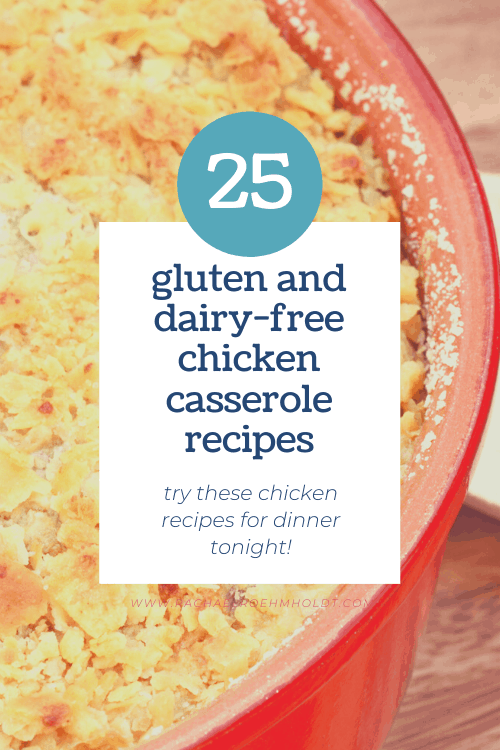 This tasty comfort food casserole is not only gluten-free and dairy-free, but freezer friendly.
Make it ahead of time then pop it into a baking dish on the day-of to cook. Easy!
I love love love Mexican food – any time I can make it at home easily and healthy, I'm in heaven.
This recipe is easy, takes under an hour, and is easy to make dairy-free by swapping out for Daiya or another vegan cheese option.
This Southwest chicken and rice casserole claims that even kids can make it!
With ingredients you likely already have on hand, you can have a tasty dinner in under an hour. Just be sure to swap out the flour for a gluten-free version.
This recipe is great for a crowd – and with gluten-free and dairy-free options, it's easy to throw together and feed everyone in the family or for a get-together. Be sure to use dairy-free cheese!
Read on: 25 gluten and dairy-free Mexican casserole recipes
This tasty chicken and chorizo dish is made completely gluten and dairy-free with the use of gluten-free pasta and dairy-free cheese.
The recipe calls for dairy-free cream, which isn't specified, but I'd use full fat coconut milk for this ingredient.
I love that this dish came out of leftovers in a fridge. Christal from Nutrition in the Kitch says she found some chicken breast and quinoa in the fridge and whipped this up.
It just goes to show that you can make something new and creative even with seemingly plain ingredients.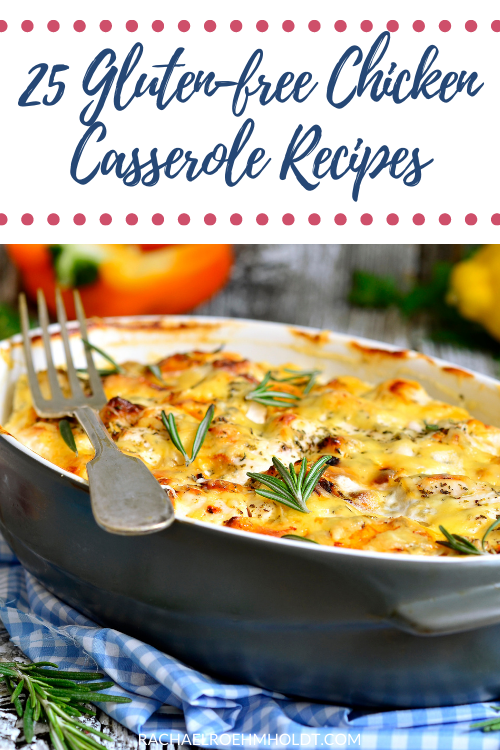 Chicken Divan is a classic comfort dish, but this one is remade to be gluten and dairy-free using cashew cream and coconut milk instead of all the cream of chicken soup and cheddar cheese.
You won't even miss the dairy in this yummy remake!
Read on: Is cream of chicken soup gluten-free?
This barbecue chicken casserole dish is right up my alley with all the flavorful barbecue sauce plus chicken, bacon, and spaghetti squash to get your veggies – this meal ticks all the boxes for an awesome dinner idea.
Read on: Is bacon gluten-free?
Read on: Gluten-free BBQ sauce
This recipe isn't low on ingredients, but it is big on flavor. With all the veggies, chicken and bacon, you'll be happy filling your belly with loads of vitamins and nutrients you need to keep your belly happy for a while.
While I love comfort food, it doesn't always mean it's great for you – this creamy chicken casserole dish delivers on both comfort and health.
With loads of veggies, coconut milk, chicken, and bacon, your belly will be satisfied – and your waistline will be too.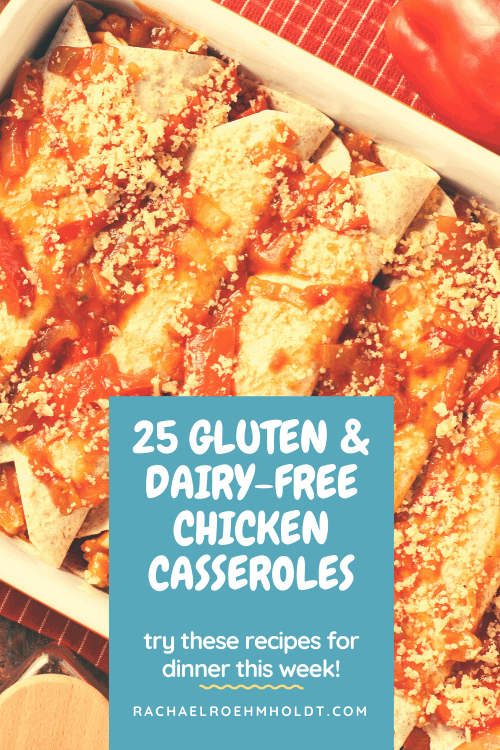 When I think of chicken casserole, spicy buffalo chicken isn't the first thing that comes to mind.
But this yummy dish ticks all the marks for being healthy, gluten-free and dairy-free so it's a winner for this roundup!
This Tuscan chicken spaghetti squash takes a healthy turn by adding collagen to the recipe.
Collagen is not only a great health food, but it's awesome for gut-healing, added protein, and essential amino acids. A triple threat when you're living with food intolerances or a limited diet.
Who says you can't have chicken pot pie when you go gluten-free? This recipe won't have you missing a thing with a homemade gluten-free crust – and a dairy-free chicken gravy in the filling.
Read on: Gluten-free chicken gravy
This chicken and rice casserole is super easy to throw together – add the ingredients, slow cook for close to 8 hours, add a couple more ingredients, and voila!
Dinner is ready. Just leave out the parmesan cheese to make it 100% dairy-free.
Read on: 101 gluten and dairy-free crockpot recipes
This tasty chicken and rice casserole is made with chicken, rice, veggies, a creamy dairy-free sauce, and crunchy cornflake topping. This is comfort food at it's finest!
Stuffing isn't just for Thanksgiving anymore!
This recipe uses Glutino gluten-free cornbread stuffing to make a hearty dinner with chicken, mushrooms, and a creamy dairy-free sauce.
Read on: Gluten-free stuffing mixes from the store
I hope you loved this recipe roundup and have found some great inspiration for getting dinner to the table this week!
If you try some of these recipes, be sure to share your experience in the comments so we can all hear which ones worked well for you.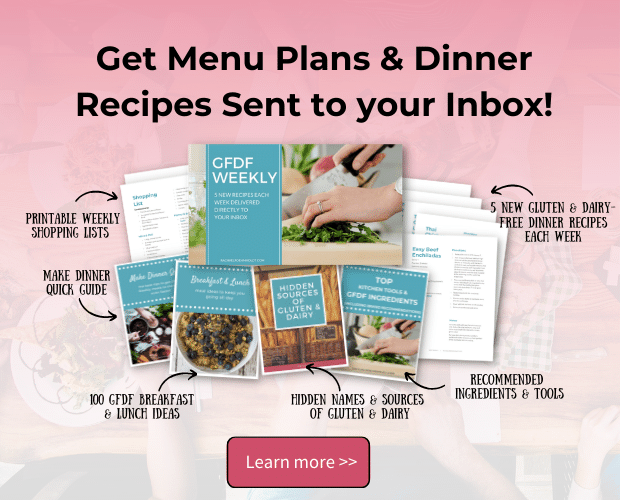 f you loved this post, I hope that you'll share it with your friends on Facebook and pin it for future reference on Pinterest.