Looking for a delicious dinner idea tonight? Try one of these gluten and dairy-free tuna casserole recipes!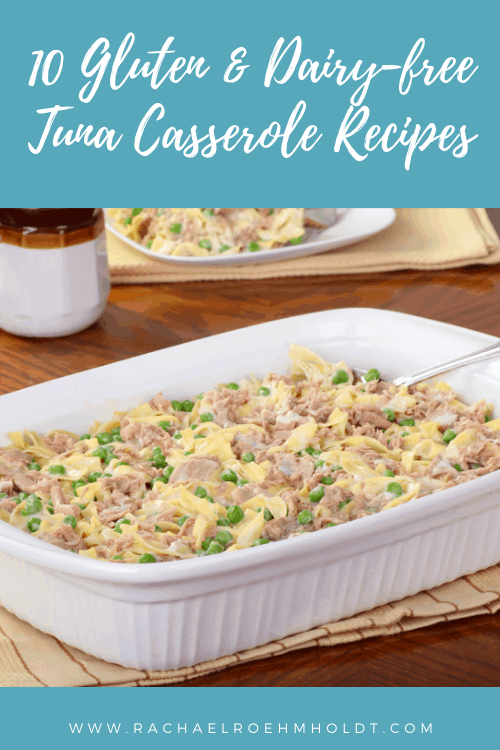 Note: I am a proud Amazon, Chomps, MunkPack, and Thrive Market affiliate and am happy to recommend their service and products to you. Please know that as an affiliate, I may receive a small commission on the products you purchase after clicking through my links. For more info, please see my disclosure policy here.
Are you a big fan of tuna casserole? If so, I'll share ten delicious tuna casserole recipes that are both gluten and dairy-free in this post!
Tuna casserole isn't exactly what I'd call a glamorous meal. Tuna by itself isn't a very glamorous food. But it's full of protein, is shelf stable, and makes for a really easy lunch or dinner option.
I'm not a "fish person" and don't eat any seafood of any kind… except tuna. That's not because I have an allergy or any reason I can't eat it. I just generally don't like the texture or taste of seafood. And yes, I've tried various types and strengths of "fishiness" and it's across the board a no-go for me.
Like I said, except tuna. This is the one type of seafood I eat, and we do eat it fairly regularly in my house. In sandwiches, on salads, and you guessed it – in tuna noodle casserole.
My mom made tuna casserole at least once every other week when I was younger. I didn't necessarily love the dish itself, so much as I liked that I could eat the gobs of melted cheese on top. These days, I don't eat cheese and follow a dairy-free diet, so the tuna noodle casserole I'm used to needs an upgrade.
Tuna noodle casserole by nature is not gluten-free, so when we make it, we make it with gluten-free noodles. Either macaroni, penne, or rotini works just fine.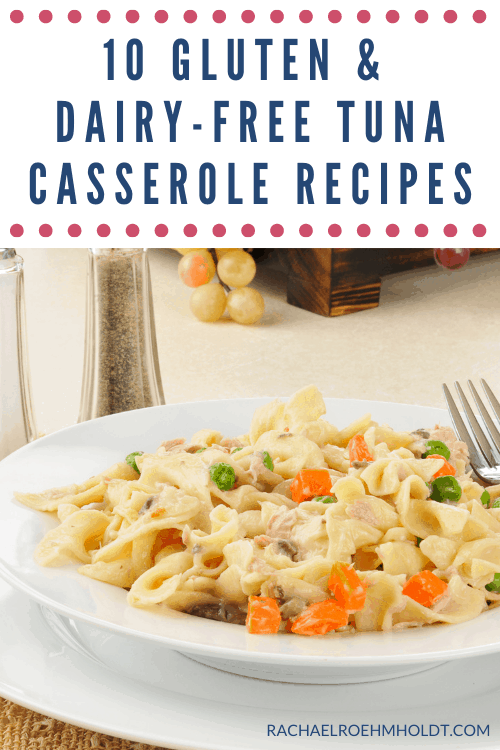 This casserole also isn't dairy-free when made traditionally by any stretch of the imagination. If you make the kind I grew up with, you'd use a can of cream of mushroom soup. "Cream of" anything is full of dairy, and so getting creative is required for making over this dish.
You can easily make your own gluten-free dairy-free tuna casserole by using gluten-free noodles and making your own dairy-free cream of mushroom soup.
Or you can try one of these ten unique recipes that have their own twists on this classic dish. I love how creative these recipe developers are and how you can enjoy something as simple as tuna casserole in so many different ways.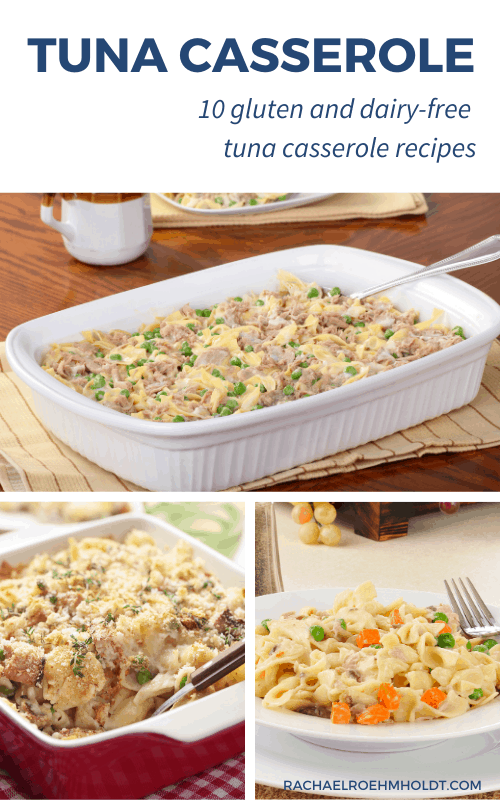 10 Gluten-free Dairy-free Tuna Casserole Recipes
This tuna casserole dish is not only gluten and dairy-free, but also adds in some much-needed veggies like celery, mushrooms, and peas into an otherwise very carb-heavy dish.
This recipe will even give you directions on how to turn this meal into a freezer meal.
This tasty tuna skillet casserole uses a mixture of blanched almonds, chicken broth, lemon juice, liquid aminos, gluten-free flours, and some seasonings as a replacement for the cream of mushroom soup in traditional recipes.
There's an option for eating straight from the skillet or turning it into a baked casserole.
Read on: Gluten-free chicken broth
What I like about this recipe is its' simplicity. With just 7 ingredients, this tuna casserole comes together very easily. While this recipe isn't gluten-free, you can easily swap out the whole wheat pasta for a gluten-free variety instead.
Also be sure that the chicken bouillon you use is gluten-free, and use a gluten-free measure-for-measure flour blend.
This tasty comfort food recipe is versatile enough that even while it's gluten-free and dairy-free, it can be made to be Paleo, Keto, or Whole 30 compliant.
I also like that you can add vegetables, likes peas, broccoli, spinach, or cauliflower to this dish to make it a well-rounded meal.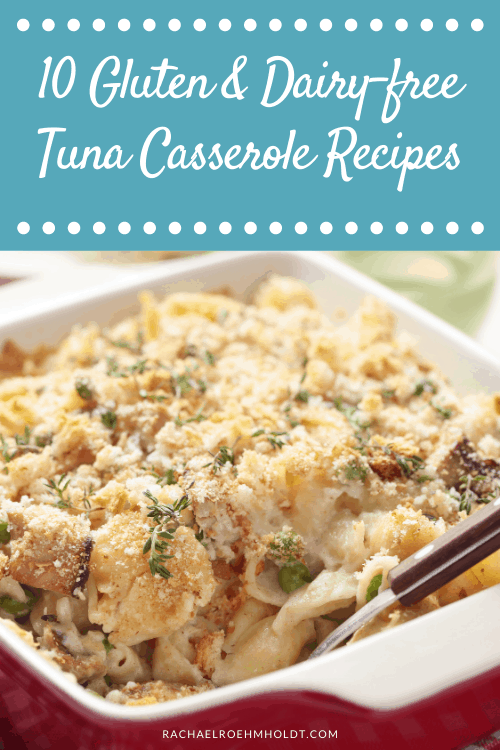 This recipe is made with a homemade sauce made from rice flour and chicken stock and thickened up with some mayonnaise.
Finish off this casserole by sprinkling some homemade gluten-free breadcrumbs on top before baking.
Read on: Is chicken stock gluten-free?
This dairy-free tuna noodle un-casserole is a pretty straight-forward one-for-one swap from a traditional tuna casserole to a dairy-free version.
What I love about this recipe are all the options that are given in the post – you can add mushrooms, broccoli, carrots, sun-dried tomatoes, and garlic for different flavor variations.
Be sure to use gluten-free pasta to make sure it's completely gluten-free.
With a homemade gluten-free and dairy-free cream of mushroom soup, this tuna casserole won't have you missing the normal version one bit.
Top your tuna casserole with gluten-free breadcrumbs or almond meal before baking for a crispy topping.
This paleo tuna casserole is unlike any tuna casserole dish I've ever seen! This recipe uses peas, carrots, celery, and sweet potatoes and is thickened with canned coconut cream as the sauce.
I like that this recipe uses coconut cream, flour, and shredded coconut as the thickeners and topping. It's super healthy and filling!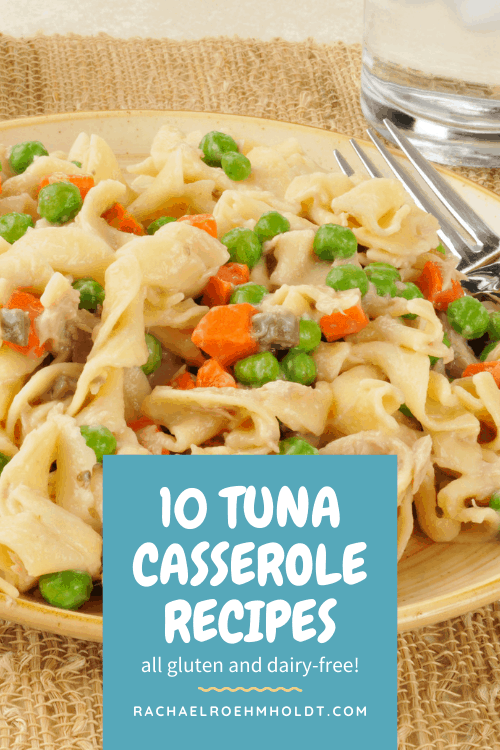 This is a lighter version of the standard tuna casserole, as it uses a homemade sauce made with gluten-free flour, chicken broth, and rice milk. You can use whatever dairy-free milk you have on hand to make this recipe.
Top everything with some gluten-free panko style breadcrumbs before baking for a crispy topping.
Read on: Is Panko Gluten-free?
This gluten-free dairy-free tuna noodle casserole uses brown rice pasta for wheat pasta and cooked potatoes and almond milk to create an alternative to the standard cream of mushroom soup.
Try this recipe with sliced almonds for some added texture and some sliced mushrooms for flavor.
If you love tuna casserole and follow a gluten and dairy-free diet, I hope this post has given you some inspiration to see that you can still enjoy your favorite comfort food without having to sacrifice what your body needs.
Try one of these recipes or try a few to find a new favorite!
Love this post? You might also want to check out more of my recipe roundups here!
Find some delicious gluten and dairy-free recipes in these popular recipe roundup posts!
Want more? Check out all my Gluten-free Dairy-free Recipes!