Get a list of gluten-free dairy-free pizza brands and varieties to help you stick with your gluten-free diet.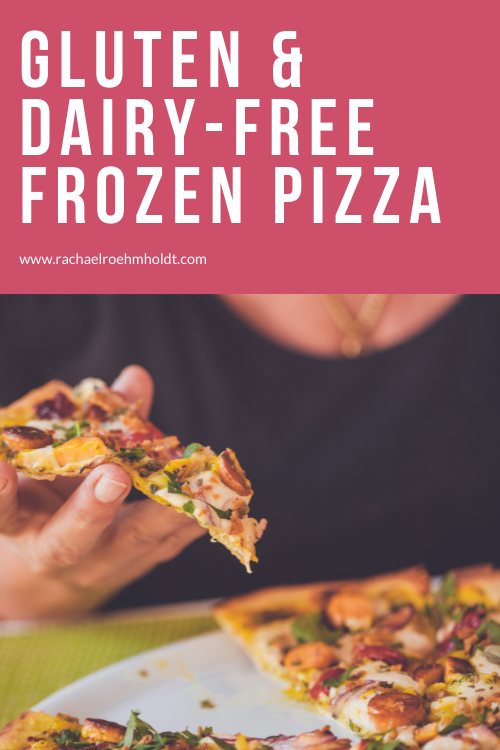 Note: I am a proud Amazon, Chomps, MunkPack, and Thrive Market affiliate and am happy to recommend their service and products to you. Please know that as an affiliate, I may receive a small commission on the products you purchase after clicking through my links. For more info, please see my disclosure policy here.
If you and your family love pizza night on Fridays or the weekend, you likely have picked up a frozen pizza or two in your lifetime.
In my house, we have a rotation of less healthy foods for dinner on Fridays. It's my favorite night of the week, because we eat in front of the TV and watch a movie, make no other plans, and eat junk food.
Frozen pizza, nachos, snack plates, and chicken nuggets with tater tots are on rotation throughout the month. It's our ritual for movie night to be about relaxing and being together. We try to keep the dishes and effort as minimal as possible to usher in another weekend as a family.
For my husband and son, eating frozen pizza is no big deal. They can pick anything from the grocery store, heat it up, and think nothing else of it.
For me though, I have to be more careful about my choices. Without gluten, dairy, and eggs in my diet, finding options isn't always straightforward.
While I've been trying out different frozen pizzas over the years that are gluten-free and dairy-free, I thought I'd finally round them up here for you to know what your options are too.
Even if you don't eat frozen pizza often, it's always nice to have a short list for when you do want to have that "easy button" for dinner without having to scour the aisles to find something.
There's nothing "easy" about getting to the store to find something that works for your diet, then having to search through each and every box until you find an option without gluten or dairy.
In this post, we're going to talk about what frozen pizza is made of, go over the basics of gluten and dairy so we're on the same page, and answer questions about whether or not most frozen pizza is gluten-free or dairy-free.
Finally, we'll wrap this post up with a list of frozen pizza options that are both gluten-free and dairy-free, so you have a nice short list of pizzas to look for that work for your diet next time you're at the store.
If you love frozen pizza and still want to stick with your gluten and dairy-free diet, keep reading!
Read on: Pizza Hut Gluten-free Menu Items
Read on: Little Caesars Gluten-free Menu Items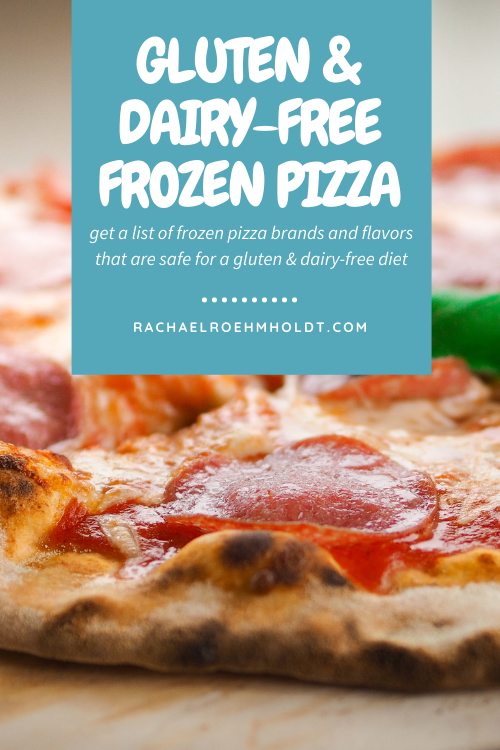 What is frozen pizza made of?
While the ingredients in frozen pizzas can vary, let's take a look at a popular brand of frozen pizza – DiGiorno and see what they use in their Original Rising Crust Pizza in the Sausage and Pepperoni flavor:
"Enriched wheat flour (wheat flour. niacin. reduced iron. thiamine mononitrate. riboflavin. and folic acid, water. low-moisture part-skim mozzarella cheese (part-skim milk, cheese culture, salt, enzymes), cooked seasoned pizza topping made with pork and chicken, bha, bht and citric acid added to help protect flavor (pork, mechanically separated chicken, water, textured soy protein concentrate, spices, salt, sugar, sodium phosphates, paprika, natural pork flavor (modified cornstarch, pork fat. natural flavors. pork stock. gelatin. autolyzed yeast extract, sodium phosphates, thiamine hydrochloride, sunflower oil, propyl gallate), spice extractives, bha, bht, citric acid, tomato paste, pepperoni made with pork, chicken and beef (pork, mechanically separated chicken, beef, salt, contains 2% or less of spices, dextrose, pork stock, lactic acid starter culture, oleoresin of paprika, flavoring: sodium nitrite, sodium ascorbate, paprika, processed with natural smoke flavor, bha, bht, citric acid to help protect flavor), sugar, 2% or less of vegetable oil (soybean oil and/or corn oil), wheat gluten, degerminated yellow corn meal, yeast. salt. datem, baking soda, spices, wheat flour. enzymes, dried garlic, ascorbic acid (dough conditioner).
One thing that's very clear from this ingredient list is that there are a LOT of ingredients and a lot of additives, something that folks on a gluten-free diet need to be extra careful about.
What is gluten?
Gluten is a protein found in most wheat products, and acts as the "glue" that helps to hold wheat, barley, kamut, spelt, farro, durum, bulgur, rye, and semolina together to maintain their shape.
You can find gluten in whole grains, but also in many processed foods as well. If you purchase wheat bread, there will be gluten in it, because wheat by nature has gluten.
Many processed foods have hidden gluten in them in the form of gluten or wheat derivatives. These are also in the form of flavorings, binders to keep ingredients together, or other additives.
Read on: What is Gluten in Food? The Basics of a Gluten-free Diet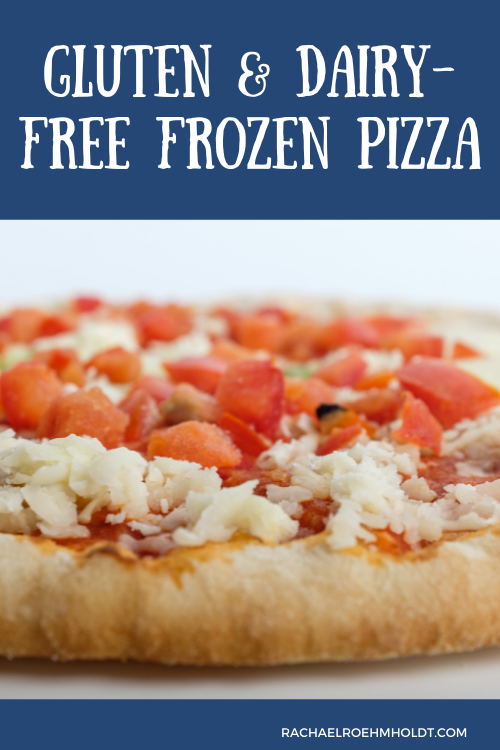 What is dairy?
Dairy is a general name for ANY food that is made from milk. Technically, this is any food made from cow's milk or goat's milk or sheep's milk. Any animal milk is dairy.
However, mostly when we're talking about dairy, we're talking about drinking cow's milk, because that's what is most popular here in the United States.
Read on: What's the difference between dairy, lactose, casein, and whey?
Is frozen pizza gluten-free?
Most frozen pizza is not gluten-free unless otherwise labeled as such. Since frozen pizza often uses wheat flour or enriched flour in the dough, this food is generally not considered safe for a gluten-free diet.
Other gluten ingredients like wheat gluten, autolyzed yeast extract, and other gluten derivatives may be included in a frozen pizza dough.
Frozen pizza doesn't always have gluten. There are some brands that make gluten-free crusts and use ingredients with no gluten. You can find these by looking for a gluten-free label, as well as reviewing ingredients for any names of gluten.
One of my little secrets is that I carry around a copy of my GFDF Take Along Cards so that I always have a point of reference when I can sneak a peek at the ingredient list of a food.
>> Get your copy of the GFDF Take-Along Cards to make this easy on you.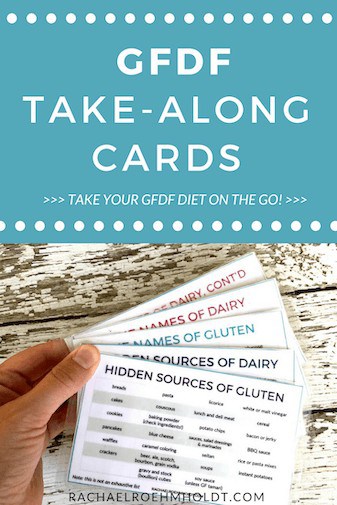 Read on: Is pepperoni gluten-free?
Is frozen pizza dairy-free?
Most frozen pizza contains cheese which is a dairy ingredient. Any cheese, including goat cheese, contains dairy so keep this in mind before choosing frozen pizzas from the store.
Dairy may also be present in pizza in some pizza crusts and sauces. Some frozen pizzas have "stuffed crusts," which simply means there is cheese mixed into the crust. Some tomato sauces or pesto sauces on frozen pizzas also contain dairy ingredients from cheese.
Not all frozen pizzas have dairy, even if most do. You can find dairy-free frozen pizza options at some grocery stores in the frozen food aisle or health food aisles.
Can I buy gluten and dairy-free frozen pizza?
There are a few brands that offer both gluten and dairy-free frozen pizzas. While there aren't a ton of choices, knowing which brands to look for can help you make your search at the grocery store a little quicker.
Let's go over a few brands and what their current frozen pizza options are to help you make finding and buying a gluten and dairy-free pizza even easier next time you're at the store.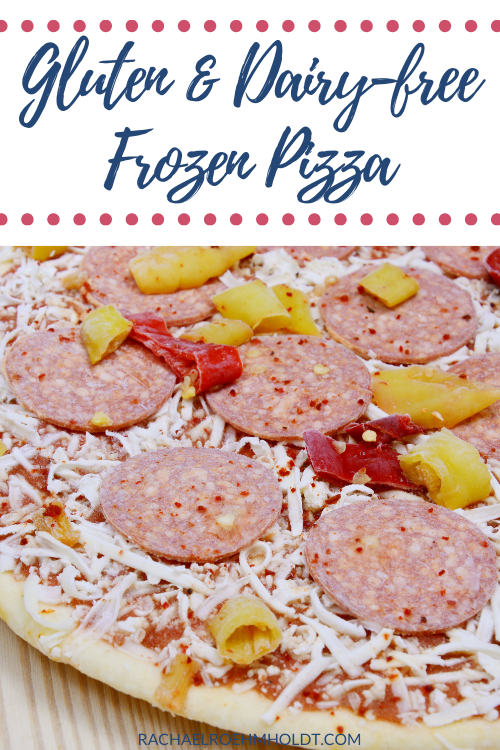 Gluten-free dairy-free frozen pizza brands & options
Try one of these gluten-free and dairy-free frozen pizza options next time you're shopping for pizza night. You can look for them at the grocery store and some options, you can even find them on Thrive Market and have them shipped directly to your house.
Amy's
Gluten-free Dairy-free Spinach Pizza
Gluten-free Roasted Vegetable
Gluten-free Vegan Meatless Pepperoni
Daiya
Supreme
Meatless Pepperoni Style
Meatless Meat Lover's Style
Cheeze Lover's
Margherita
Fire-roasted Vegetable
Mushroom & Roasted Garlic
Gardein
Plant-based Pepp-roni Pizza Pockets
Mikey's
Cheese Pizza Pockets
Pepperoni Pizza Pockets
Buffalo Chicken Pizza Pockets
Meaty Marinara Pockets
Pizza Oggi
California Beyond Meat Pizza
Texan Beyond Meat Pizza
American Beyond Meat Pizza
Siciliana Beyond Meat Pizza
Butternut Squash Superfoods Crust
Cauliflower Superfoods Crust
Sonoma Flatbread
Dairy-free Fire-Roasted Vegetables
The Alpha Pizza
Supreme Alpha Pizza
Classic Mozza Pizza
Buffalo Chik'n Alpha Pizza
If you love pizza and have wondered how you were going to be able to make pizza night happen while on a gluten and dairy-free diet, don't worry. You won't have to make it from scratch if you don't want to!
Try one of these gluten and dairy-free pizza options and look for them at your local grocery store or shop for some online through Thrive Market.
If you loved this post, I hope that you'll share it with your friends on Facebook and pin it for future reference on Pinterest.
Want more product recommendations for gluten and dairy-free foods? Check out these posts!