Find out if corn tortillas are gluten-free, plus find out if your favorite brands are safe for you to enjoy on a gluten-free diet.
Note: I am a proud Amazon, Chomps, MunkPack, and Thrive Market affiliate and am happy to recommend their service and products to you. Please know that as an affiliate, I may receive a small commission on the products you purchase after clicking through my links. For more info, please see my disclosure policy here.
If you love Mexican food, you're very likely no stranger to tortillas.
Tortillas are a staple in so many dishes that are extremely popular in our culture today: tacos, nachos, enchiladas, tostadas… tortillas are useful for so many things.
Tortillas are a great vehicle for delicious fillings, and extremely versatile too.
You may know if you've been following a gluten-free diet for a little while that there are two main types of tortillas: flour and corn.
I've talked in detail about different types of tortillas and how they fit into a gluten-free diet, but in this post we're going to dive deep on just one type – corn tortillas.
In this post, we'll talk about what corn tortillas are, what they're made of, and if they're safe for a gluten-free diet.
Plus we'll go over a list of brands to look for next time you're at the grocery store.
Get all your questions answered about corn tortillas and your gluten-free diet here in this post.
Read on: Gluten-free Tortillas: Types, Gluten-free Options, and Brands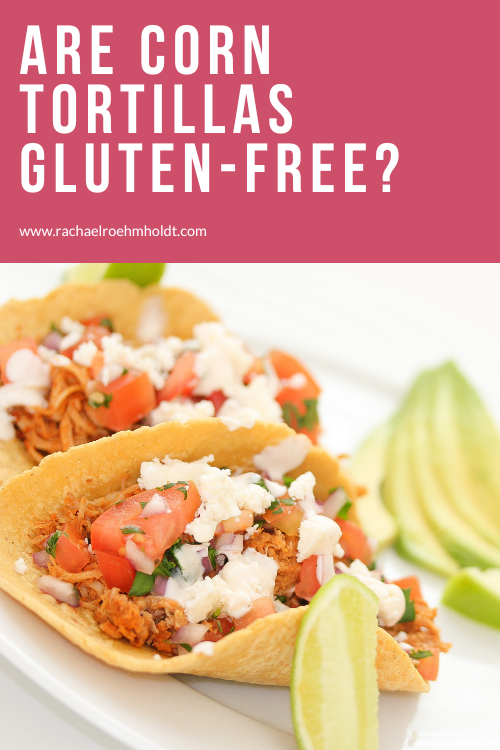 What are corn tortillas?
Corn tortillas are a type of tortilla that are used in Mexican cooking.
They're similar to a flatbread and are made from rolling out a corn tortilla mixture with a tortilla press or rolling pin and cooked on a hot griddle.
Corn tortillas are used in many popular dishes, like tacos, enchiladas, tostadas, and can be cut and fried into corn tortilla chips.
Read on: Gluten-free Mexican food
Read on: 25 gluten and dairy-free Mexican casserole recipes
Read on: Are tamales gluten-free?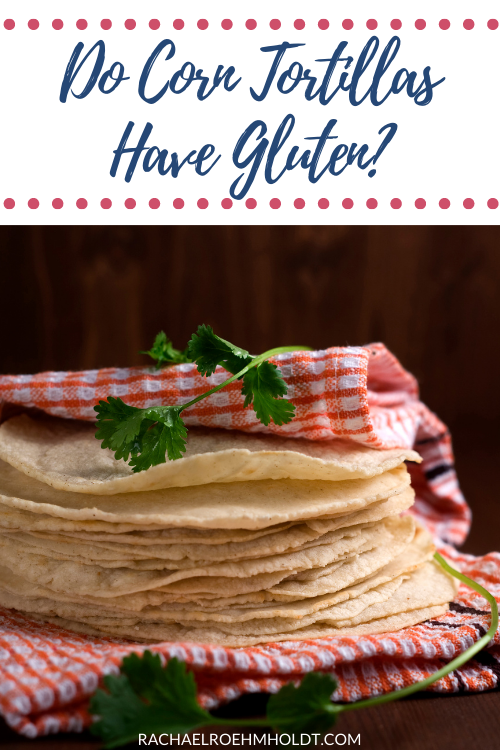 What are corn tortillas made from?
Corn tortillas are usually made from masa harina corn flour, salt, water, and sometimes vegetable oil or lard.
Corn tortillas are made out of corn kernels, a limewater-cured maize which allows the skin of the corn kernels to come off.
This corn is ground, other ingredients are added, then rolled into a ball. Then it is flattened and cooked.
Corn tortillas can be made using traditionally yellow corn white corn or even blue corn.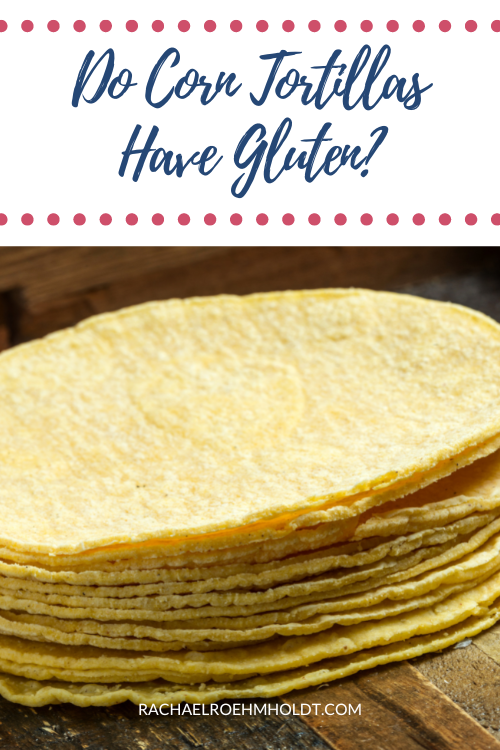 What is corn?
Corn is a whole grain that's grown for food supply for both animals and humans.
It can be cooked then eaten straight off the cob or cut off the cob and prepared in a number of different ways, like sautéed, steamed, and roasted.
Different varieties of corn produce different flavors and are good for different things.
For example, corn that's used for popping corn is different from the corn we'd eat off a cob or what you'd find in the freezer section at the grocery store.
What is gluten?
Gluten is a protein found in most wheat products, and acts as the "glue" that helps to hold wheat, barley, kamut, spelt, farro, durum, bulgur, rye, and semolina together to maintain their shape.
Gluten is naturally occurring, and therefore is impossible to strip away from the grain. If a grain naturally has gluten in it, there's no way to make that food gluten-free.
Is corn gluten-free?
While many whole grains contain gluten, corn does not. In its natural form straight from the cob, it is always gluten-free.
There are some cases where you'll want to be careful, however.
While corn itself is naturally gluten-free, corn in a processed food product, like canned soup, may contain gluten due to other ingredients included in that product or from cross contamination.
You'll want to be diligent about checking ingredient lists if you buy anything except for fresh corn from the produce department of your grocery store.
While most frozen corn is gluten-free, you'll also want to be sure there is no hidden gluten in the form of flavorings or preservatives that have been added to the product.
Read on: Is corn gluten-free?
Read on: 3-Ingredient gluten-free dairy-free chicken enchiladas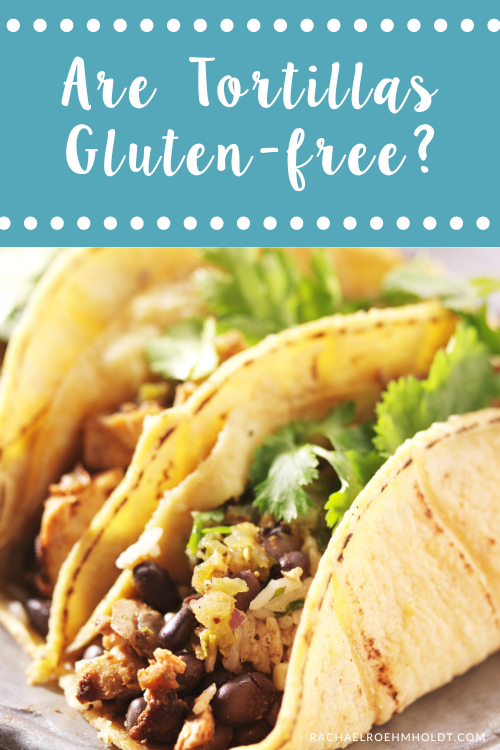 Is corn masa flour gluten-free?
Masa, masa harina, or corn masa flour is a dough or flour that comes from ground corn that has undergone nixtamalization. This means the corn is soaked in lime water, cooked, then dried and ground up to a flour that's used to make tamales or corn tortillas.
Since masa comes from corn and is naturally gluten-free, masa is considered to be a gluten-free ingredient. You'll want to be aware of how the masa is processed to ensure no cross contamination has occurred on the manufacturing lines.
Are corn tortillas gluten-free?
Yes, corn tortillas are made using corn, which is a naturally gluten-free food.
Since corn itself doesn't contain gluten, and most tortillas don't contain other sources of gluten, corn tortillas are generally considered safe for a gluten-free diet.
Read on: 21 gluten and dairy-free game day appetizers and mains
As with any food, it's important to check ingredients lists and look for any hidden names of gluten just to be safe.
One of my little secrets is that I carry around a copy of my GFDF Take Along Cards so that I always have a point of reference when I can sneak a peek at the ingredient list of a food.
>> Get your copy of the GFDF Take-Along Cards to make this easy on you.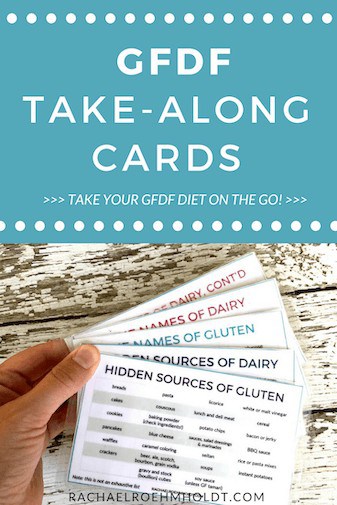 What is the difference between corn and flour tortillas?
Corn and flour tortillas differ in their main ingredients. Corn tortillas are made with masa harina corn flour, whereas flour tortillas are made using wheat flour.
Both use flour from whole grains, but one contains wheat (and therefore gluten) and the other corn.
Read on: Is flour gluten-free?
Read on: Is corn flour gluten-free?
Read on: Are flour tortillas gluten-free?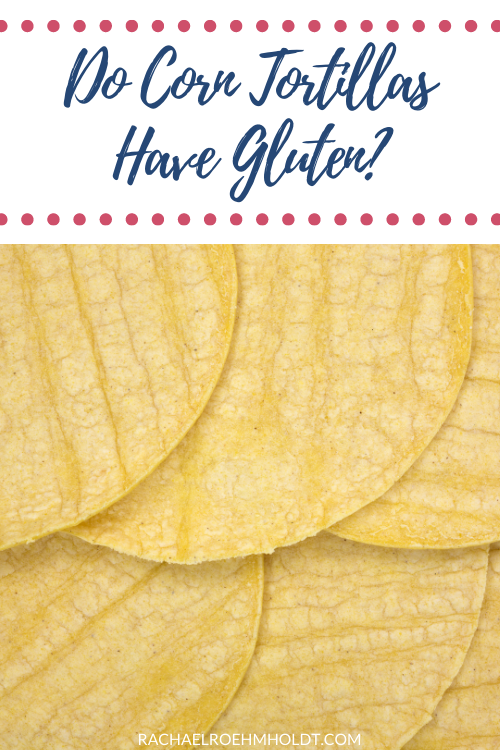 Are corn tortilla chips gluten-free?
Since tortilla chips are made from corn tortillas, and these are most always gluten-free, we can confidently say that most tortilla chips are gluten-free.
Depending on what other flavorings are added or other ingredients are added to the chips, they may not be gluten-free.
You'll want to look for a gluten-free label, which indicates there is less than 20ppm of gluten in the product as required by the FDA, before purchasing.
Unfortunately, some tortilla chips do contain gluten, meaning you can't just grab a bag of chips off the shelf of the grocery store and assume they are gluten-free.
For example, the corn chips themselves in Doritos are gluten-free, but not all flavors of Doritos are safe for a gluten-free diet.
Some brands use both corn and wheat flour in their tortilla chip recipes, meaning they aren't safe for a gluten-free diet.
Read on: Gluten-free tortilla chips and brands
Read on: Are Doritos gluten-free?
Read on: Gluten-free chips
Are tostadas gluten-free?
Tostadas are fried tortillas that are used as a base for toppings, similar to tacos. They're crunchy when fried and can be made with either flour or corn tortillas.
As long as the tostada has been made with a corn tortilla in oil that hasn't been in the same fryer as gluten-containing ingredients, then yes, tostadas are gluten-free.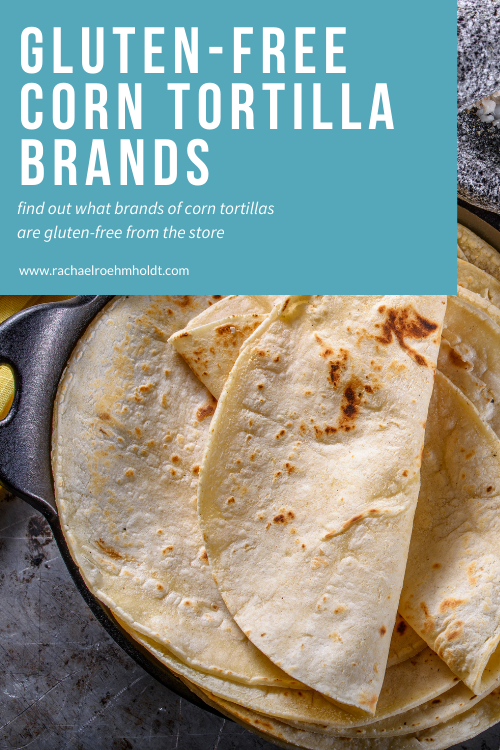 Gluten-free Corn Tortilla Brands
Find out which brands of corn tortillas are a good option for your gluten-free diet. This is not an exhaustive list, but will give you some ideas as to what to look for next time you're at the store.
Calidad
Del Campo
Gourmet taco shells
Soft corn tortillas 6″
Soft corn tortillas 8″
Read on: Are taco shells gluten-free?
Food For Life
Great Value
Medium white corn tortillas
Guerrero
25 calories white corn tortillas
White corn tortillas
King size white corn tortillas
Taqueria style mini white corn tortillas
King size yellow corn tortillas
Yellow corn tortillas
Caseras white corn tortillas
La Burrita
Corn tortillas
Larger size corn tortillas
La Tortilla Factory
Traditional white corn tortillas, super size
Traditional yellow corn tortillas, king size
Mi Rancho
Organic corn tortillas
Organic corn taco sliders
Organic THINcredibles tortillas
Organic artisan corn tortillas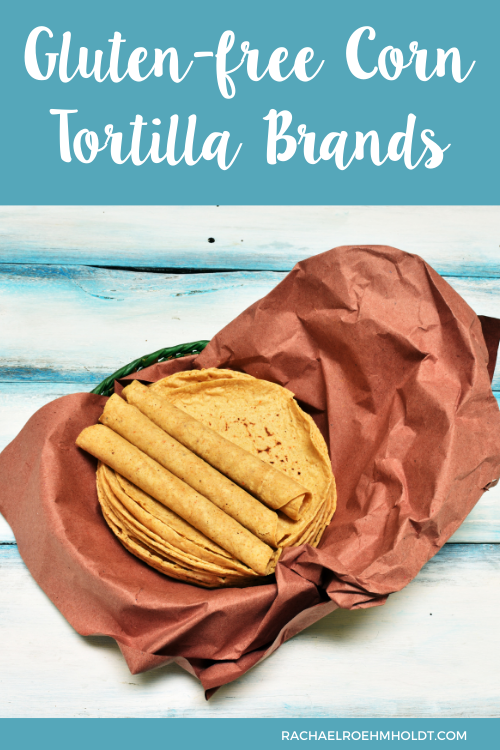 Mission
White Corn Tortillas
Yellow Corn Tortillas
Extra Thin Yellow Corn Tortillas
Super Size Yellow Corn Tortillas
Street Tacos White Corn Tortillas
Street Tacos Yellow Corn Tortillas
Super Size White Corn Tortillas
Estilo Casero White Corn Tortillas
Organic White Corn Tortillas
Red Corn Tortillas
Extra Thin White Corn Tortillas
Organic Uncooked Corn Tortillas
Old El Paso
Crunchy White Corn Shells
Tostada Shells
Crunchy Taco Shells
Trader Joe's
Vista Hermosa
If you've been wondering if corn tortillas are safe for your gluten-free diet, I hope this post has given you all the information you need to make a decision on your next dinner option or restaurant choice.
Most corn tortillas are safe for a gluten-free diet when they are filled with other ingredients that are also gluten-free.
Be aware that some corn tortillas also contain wheat flour as a half and half mixture, so check ingredients lists before purchasing or look for a gluten-free label.
If you've been wondering how to go gluten and dairy-free, you might want to check out my book The Gluten and Dairy-free Diet: A Beginner's Guide.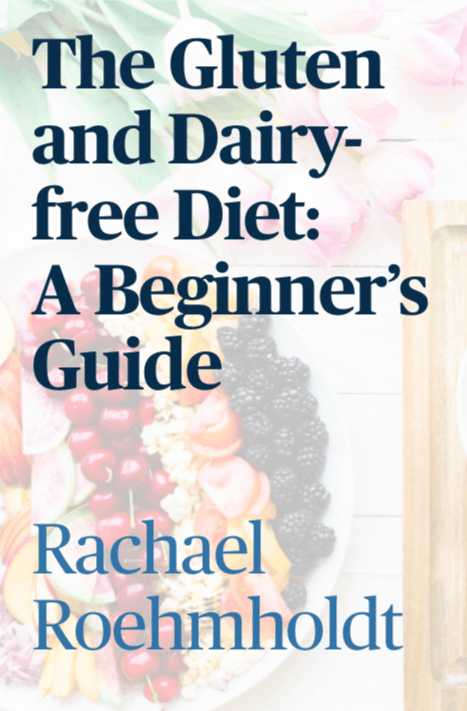 f you loved this post, I hope that you'll share it with your friends on Facebook and pin it for future reference on Pinterest.
Love this post? You might also want to check out these!
Find out if your favorite foods and ingredients contain gluten with these posts!