Get inspired with these gluten-free Thanksgiving dessert recipes that are also all dairy-free, and many are vegan!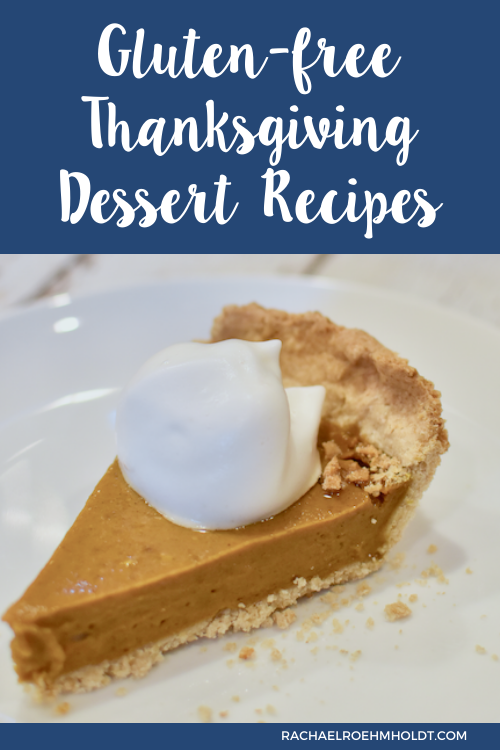 Note: I am a proud Amazon, Chomps, and Thrive Market affiliate and am happy to recommend their service and products to you. Please know that as an affiliate, I may receive a small commission on the products you purchase after clicking through my links. For more info, please see my disclosure policy here.
If you like to have a full spread of desserts at Thanksgiving but have been lacking ideas on what to put on your table, this post is going to help you get all the inspiration you need.
Following a gluten-free or dairy-free diet isn't easy – especially when it comes to the holiday season. There aren't too many choices from the store and you really need to know what you're looking for when you go looking around on the internet for ideas.
I hope to make your decision-making process just a little bit easier this Thanksgiving by rounding up some of my very best Thanksgiving dessert ideas.
I hope to add to it over time as I make more recipes. For now, enjoy loads of pumpkin flavored desserts, pie, and some apple crisp recipes.
Read on: Gluten-free Thanksgiving side dishes
Read on: 25 Gluten and dairy-free easy dessert recipes
Whatever you decide to make for Thanksgiving dessert, I hope it's delicious!
Dairy and Gluten-free Thanksgiving Desserts
Try one of these delicious dairy and gluten-free Thanksgiving desserts for your next big gathering. You'll find some delicious options including pumpkin pie, cheesecake, and more!
Want to see more Thanksgiving content? Check out these posts!
Try these delicious gluten and dairy-free recipes and tips for your next Thanksgiving or family feast! This list includes stuffing, green bean casserole, pumpkin pie, and more!