Are you looking for a dairy-free whipped cream that's perfect for all your pies, cakes, puddings, and desserts? Try this coconut whipped cream recipe that comes together in just three ingredients!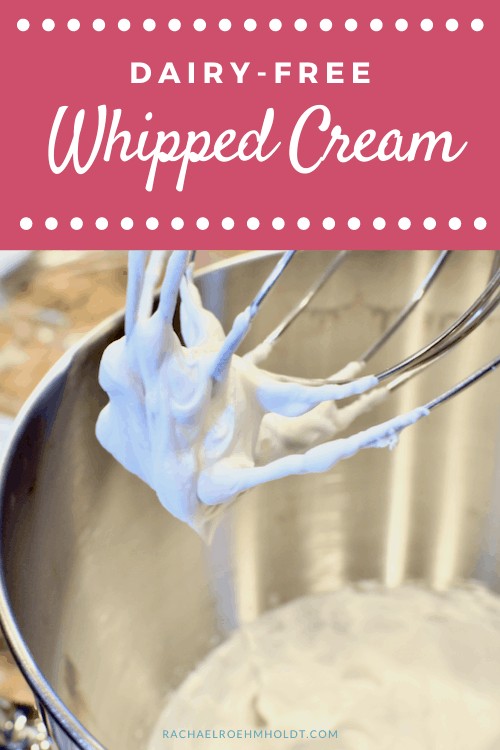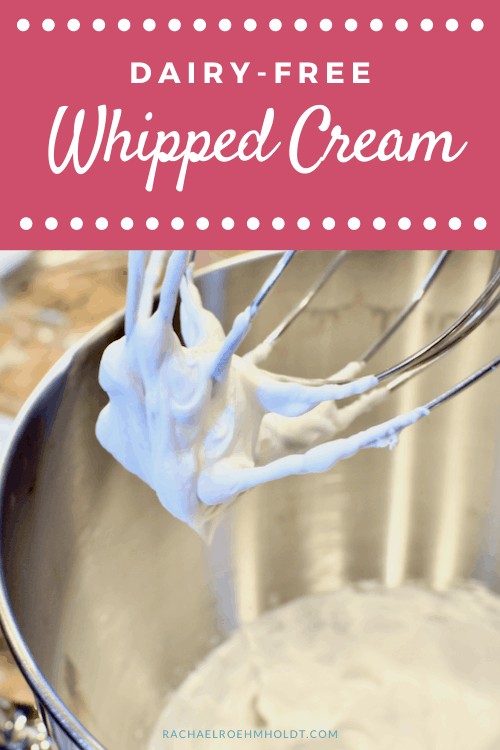 Note: I am a proud Amazon, Chomps, MunkPack, and Thrive Market affiliate and am happy to recommend their service and products to you. Please know that as an affiliate, I may receive a small commission on the products you purchase after clicking through my links. For more info, please see my disclosure policy here.
Whipped cream is a must if you like to bake desserts and top them with a little something creamy.
For years after going dairy-free, I didn't eat any whipped cream with my desserts, because I didn't love the flavor of the very few options there were at the health food store that were premade.
These days, there are a ton of different dairy-free whipped cream brands and many of them are pretty delicious!
But store bought whipped cream that comes in aerosol cans or tubs isn't for everyone.
Which is why I like to make my own dairy-free whipped cream whenever the occasion calls for it.
My family aren't big pie eaters, but it's probably because I'm not a huge pie baker.
This year, I set out to create out a gluten-free pie crust that was delicious, simple, and works for many different recipes.
I wanted to take this project of learning to make my own gluten and dairy-free pies on, because honestly, it would be nice to be able to eat pie again on a gluten and dairy-free diet.
After I mastered my gluten-free crust, I needed something to top my pie with – and that just happens to be my dairy-free coconut whipped cream.
I've made this plenty of times in the past and even used it as a base for a chocolate mousse (a recipe for another day).
This dairy-free coconut whipped cream is:
Light
Fluffy
Easy to make
Versatile
Requires only one ingredient (two or three if you want to give it a little more flavor)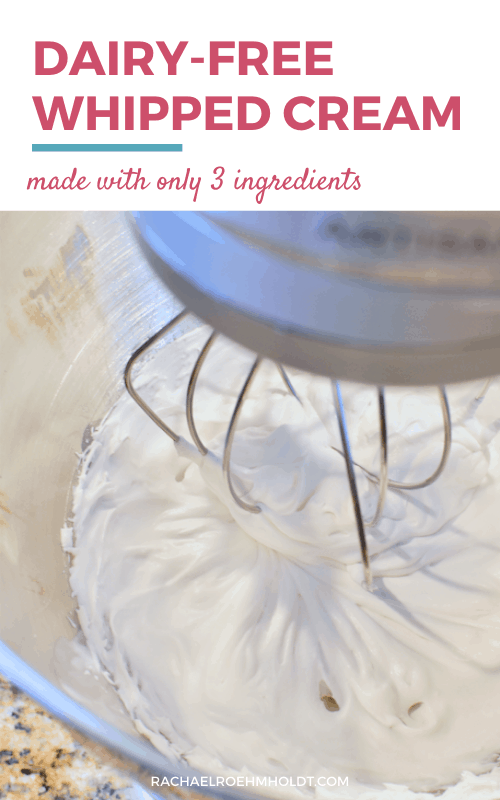 Dairy-free Whipped Cream is flexible
One thing that's great about this recipe is that you only really need one ingredient: full-fat coconut milk from a can. Or a can of coconut cream.
I've made my dairy-free whipped cream multiple ways:
Plain coconut with no extras
Sweetened with powdered sugar
Flavored with vanilla extract
The best part of this recipe is how many ways you can make this whipped cream recipe your own.
If you don't like a sweetened whipped cream, you can pull back the amount of powdered sugar or omit it entirely.
If you don't like it flavored, you can omit the vanilla extract.
You can also get creative and try to add different flavored extracts for a different flavor entirely, like peppermint, almond, or lemon extracts. Different flavors with different desserts could be something fun to experiment with.
For example, you could make: peppermint whipped cream to go on a chocolate cake or pie, or almond whipped cream to top pecan pie or a fruit pie for that extra finishing touch.
Dairy-free Whipped Cream is versatile
You can use this dairy-free whipped cream in a million ways. Just about any way you use traditional whipped cream or whipped topping, you can use this recipe for.
Here are some ways I've used this whipped cream:
To top pies
As a topping or replacement for frosting on cakes
To top pudding
In chocolate or pumpkin mousse or as a topping
On dairy-free hot chocolate or coffee drinks
Read on: Is whipped cream gluten-free?
Read on: Aquafaba whipped cream recipe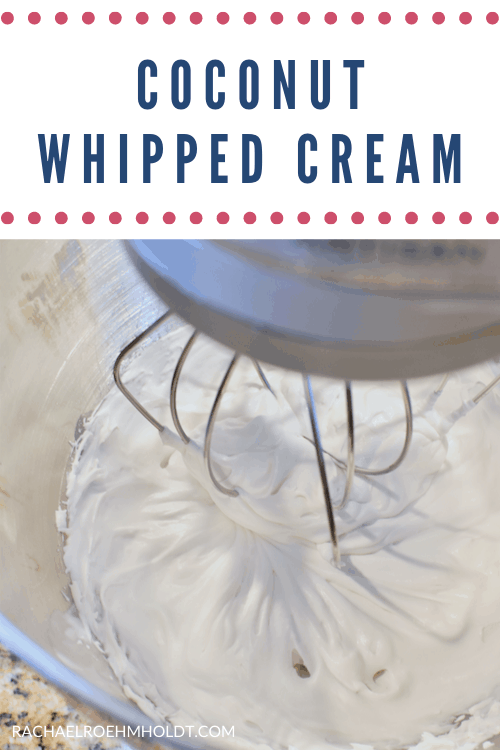 How To Make Dairy-free Whipped Cream
If you're interested in making your own dairy-free whipped cream at home, try this homemade coconut whipped cream.
Refrigerate the coconut milk
The first thing to do is place the can of coconut milk upside down in the fridge 24 to 48 hours before you plan to whip it.
This will help the coconut milk chill and harden and make it easier to whip up. Place the can in the fridge upside down, so that when you open it later, the coconut cream (the good stuff that you want) will be on top.
Gather ingredients
To make homemade dairy-free whipped cream from coconut milk, you'll need a can of full-fat coconut milk, ½ teaspoon vanilla extract, and 2 tablespoons powdered sugar or 1 tablespoon maple syrup.
Scoop out the coconut cream
The day you're ready to make the coconut whipped cream, open the can of coconut milk from the bottom and scoop out just the coconut cream.
The coconut cream is the solid white fat that's inside the can. Scoop this out and place in a bowl or the bowl of an electric stand mixer. 
Note that you don't want to add the liquid from the canned coconut milk as this will make your coconut cream runny and not give you the whipped cream texture you're looking for.
You can also opt to buy a can of coconut cream instead of the coconut milk if you wish.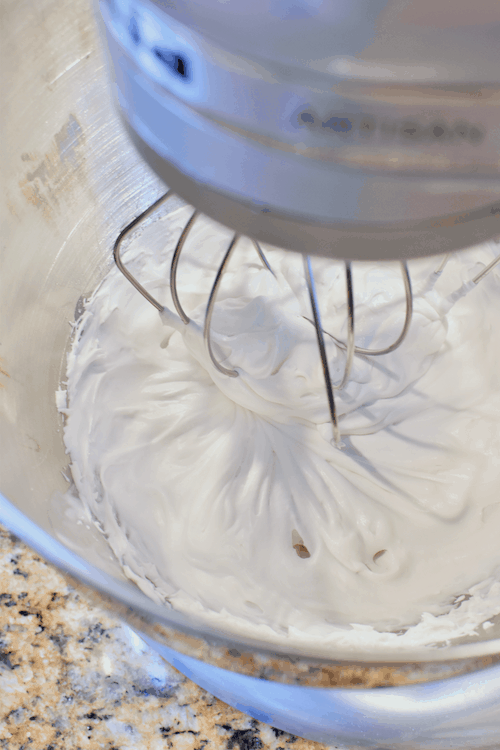 Whip the coconut milk
If you plan to use an electric mixer, you can choose to place the bowl in the freezer for about 5 minutes before you whip your coconut cream.
Using a hand mixer or electric stand mixer, beat the coconut cream on medium speed for about 3 to 5 minutes or until fluffy and light.
Add your sweetener and vanilla
Once the dairy-free whipped cream is at the consistency you're happy with, add the powdered sugar or maple syrup and vanilla and mix for about 30 seconds.
Serve this on top of your favorite pie, cake, or other dairy-free dessert as you wish.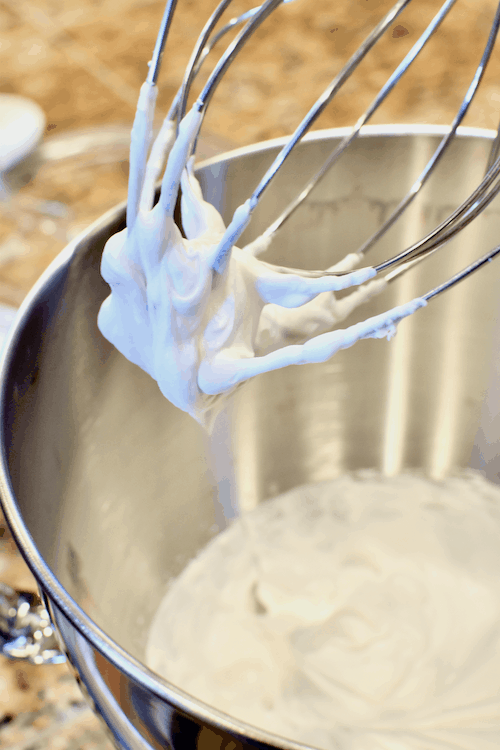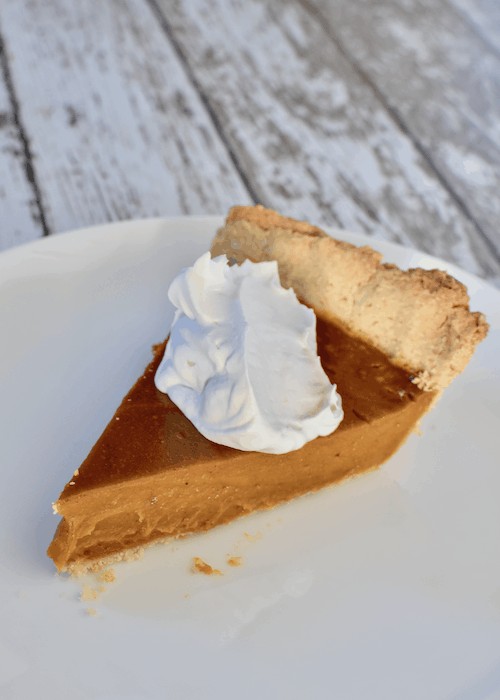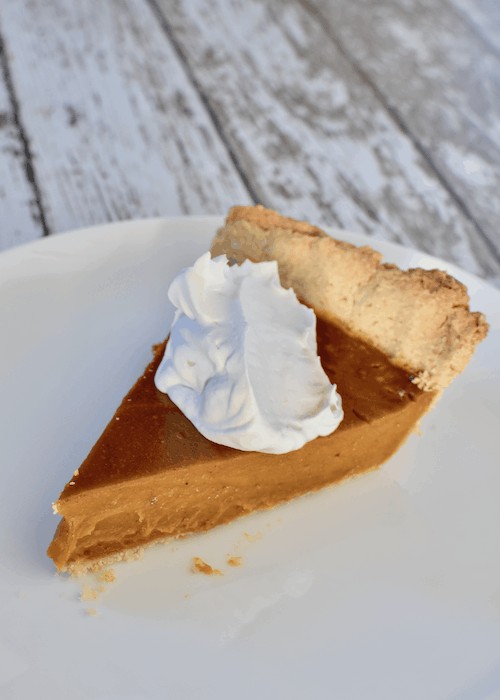 Dairy free Whipped Cream Recipe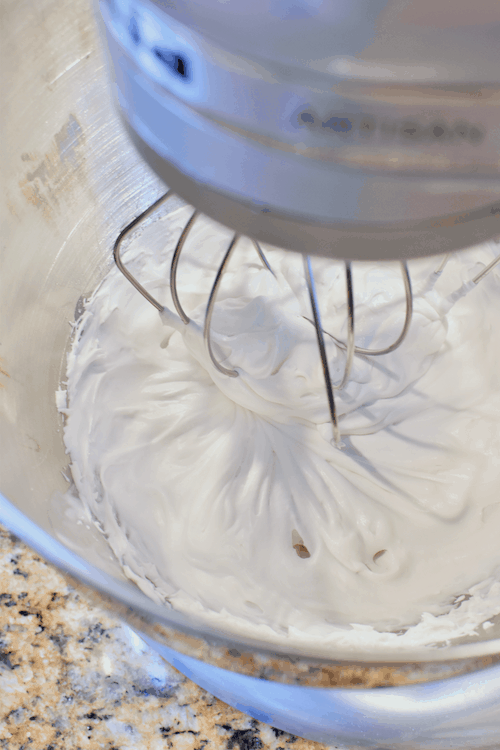 Use this dairy-free whipped cream on pies, cakes, as a fruit dip or served with other desserts.
Ingredients
1 - 14 oz can full-fat coconut milk
2 tbsp powdered sugar or 1 tbsp maple syrup
½ tsp vanilla extract
Instructions
Place the can of coconut milk in the fridge overnight the day before you plan to whip it.
Open the can of coconut milk, scoop out the white solid coconut cream and place in a bowl or the bowl of an electric stand mixer.
Mix on medium speed for 3 to 5 minutes with a hand mixer or stand mixer, until the cream is light and fluffy.
Add the powdered sugar or maple syrup and vanilla extract. Mix another few seconds to incorporate all the ingredients.
Serve on your favorite dairy-free desserts.
Notes
Make sure you use cold canned full-fat coconut milk in this recipe.
Only use the solid white coconut cream from the can, otherwise you'll get a whipped cream that's too runny and doesn't set up.
Recommended Products
As an Amazon Associate and member of other affiliate programs, I earn from qualifying purchases.
I hope if you've been searching for a dairy-free whipped cream recipe that you'll give this one a try and use it next time you need a topping for pie or other dessert!
Love this recipe? You might also want to check out these posts!
If you loved this post, I hope that you'll share it with your friends on Facebook and pin it for future reference on Pinterest.