Looking for a refined sugar-free cranberry sauce for Thanksgiving? Check out this recipe!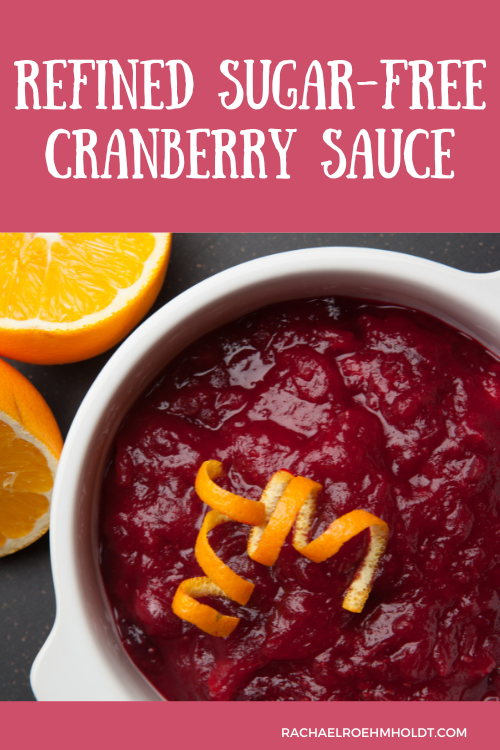 My mom and stepdad host a huge Thanksgiving every year including all our family and my stepdad's family.
This year, my mother-in-law and sister-in law came over too – along with an exchange student from Japan – which was a real treat having two of my families in one room during the holidays.
It's fun to all be together, even though I'm more of a small gathering gal myself. My mom feeds on the activity and loves being busy in the kitchen all day.
Our family holidays are funny. For years, we used to eat the same dishes at the three major holidays: turkey, stuffing, mashed potatoes, gravy, green beans, sweet potato casserole (aka pie), rolls and cranberries.
What's funny is that my mom hates to cook, even though she loves to entertain. So for Easter, Thanksgiving, and Christmas we always had the same things like clockwork.
That is until a few years ago when I raised my hand and offered to help play a larger role in the Thanksgiving process to do my best to switch things up.
I made a new green bean dish instead of the standard canned ones my mom prepared. I made a different sweet potato dish – and that was quickly overruled as not as good as Grandma's Sweet Potato Pie.
I also made a jalapeno-cranberry sauce that wound up being a big hit for some, a not-so-big hit for others. We're a family of slow change.
My mom relishes in tradition – even if that means things come from cans and boxes. I think she secretly just wants to take care of everything and not have to ask for help.
Despite all that, I'm still working on making strides at our holiday gatherings.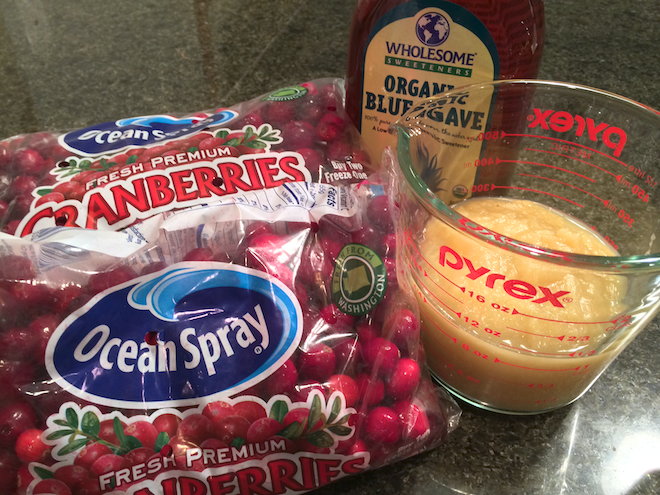 One thing that hasn't changed since that major overhaul Thanksgiving a few years ago is that I have been delegated to bring the cranberry sauce.
Every year, I try to make something a little different – just to keep mom on her toes.
Last year, she pulled out two cans of cranberry sauce and said "well just in case someone doesn't like the one you brought."
I got the boot before even serving the dish. This year, I promised to bring the traditional cranberry sauce that everyone would love.
My big secret this year? I didn't use one ounce of refined sugar in the recipe. The best part is that no one knew the difference either.
It went off without a hitch and I was pretty proud that my sugar-loving family couldn't taste any difference in the flavor.
I have been doing my best to cut down on the refined sugar in my diet as a whole.
So when I cook or bake anything at home that calls for refined sugar, I always do my best to search for a healthier alternative.
The cranberry sauce I made this year certainly had sugar in it, but it wasn't refined white sugar. Instead I used a mixture of no-sugar applesauce and agave nectar.
The applesauce is completely optional, but I liked the extra texture it added to the sauce.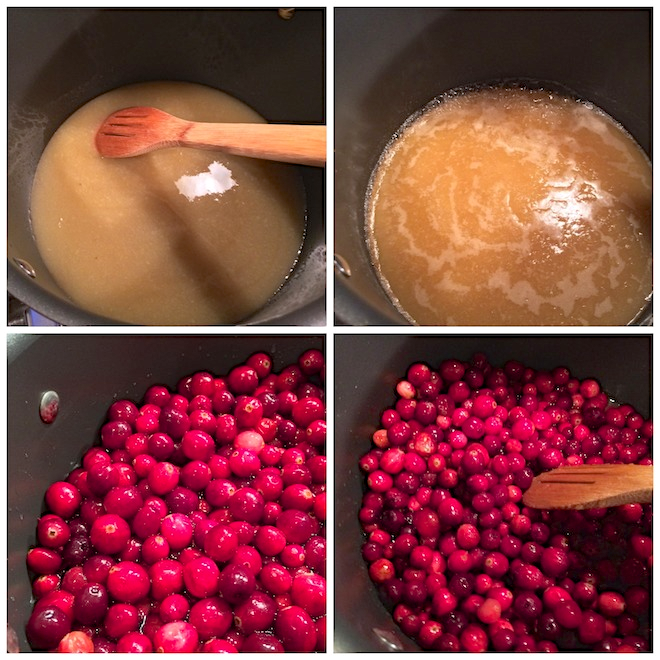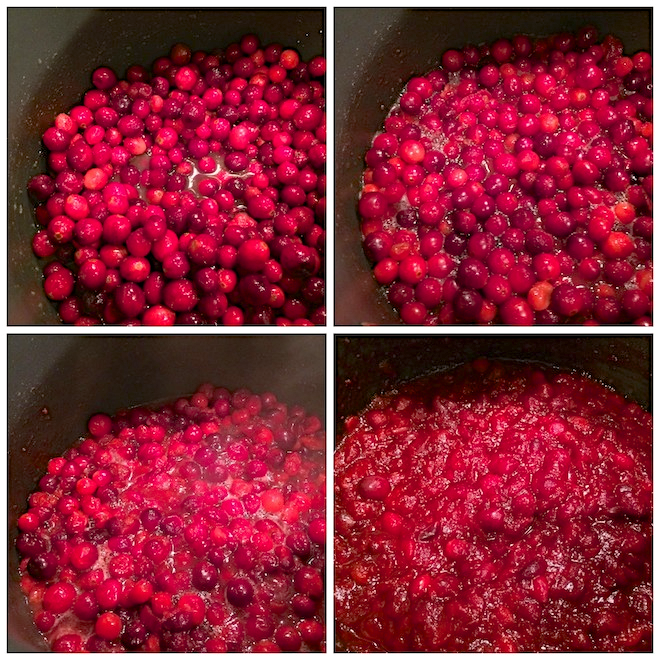 The great thing about applesauce and agave nectar is that these sweeteners take longer to absorb into the bloodstream, allowing your blood sugar to stay more stable than when you eat refined sugar.
Refined sugar spikes your blood sugar levels rapidly, then they drop quickly – leaving you feeling lethargic and with little energy. I was happy to serve this still-sweet refined sugar-free cranberry sauce and even more relieved that everyone loved it!

Yield: 8 servings
Refined Sugar-Free Cranberry Sauce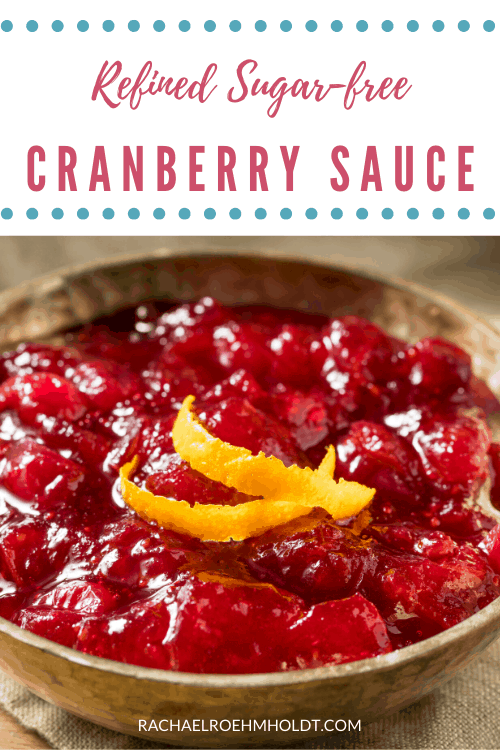 Try this refined sugar-free cranberry sauce that's perfect for your Thanksgiving table!
Ingredients
12 oz package fresh cranberries
1/2 cup no-sugar applesauce
1/3 cup agave nectar
1/3 cup water
Instructions
Rinse the cranberries and discard the soft and discolored ones.
Combine applesauce, agave and water in a large pot. Bring to a boil and reduce to medium-low for 5 minutes.
Add the cranberries and cook for 15 minutes. Stir frequently. The cranberries will begin to burst and the sauce will naturally thicken.
Remove from heat, then allow to set for 5 minutes before taste-testing or transferring.
Transfer to a serving dish or other container. Refrigerate until serving. Can be made up to a week in advance.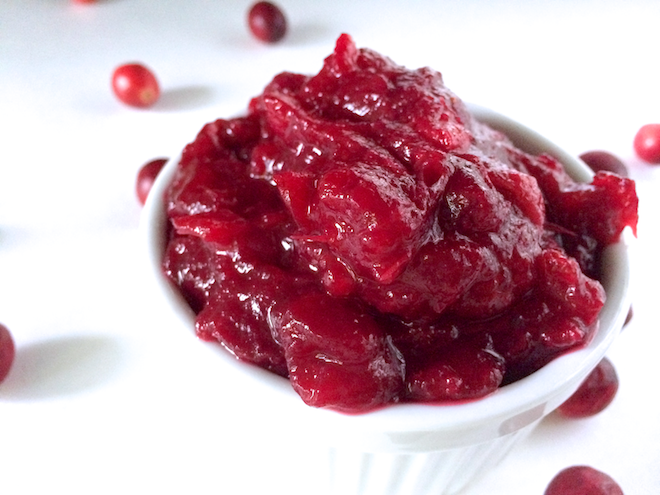 Want to see more Thanksgiving content? Check out these posts!
Try these delicious gluten and dairy-free recipes and tips for your next Thanksgiving or family feast! This list includes stuffing, green bean casserole, pumpkin pie, and more!