Thanksgiving was always my favorite holiday… until I had to cut a bunch of foods out of my diet.
A few years in a row I felt like the odd (wo)man out at holidays.
I couldn't eat my Grandma's famous sweet potato casserole.
I couldn't enjoy the stuffing or rolls anymore.
I couldn't even have a piece of pumpkin pie without regretting it the next morning.
My favorite holiday became my least favorite in one year flat.
After that first year of feeling so out of touch with what everyone else was enjoying, I decided to take things into my own hands. I decided I would try to contribute more to the menu. I brought a new sweet potato dish. I brought a quinoa stuffing in addition to the stuffing that everyone else enjoyed. I even made my own pumpkin dessert – pumpkin parfaits.
To say the least, I was the only one who really enjoyed the new dishes. No one was willing to touch – let alone eat and enjoy – my new creations. After all, Thanksgiving is almost always about tradition. There was nothing traditional about quinoa stuffing.
Fast forward a few years, I've learned a few things about making it through Thanksgiving (and really all the food-related holidays).
Try to make gluten-free dairy-free dishes as close as possible to their traditional versions. And then don't mention that they're completely GFDF-friendly. (People can be weird when they know its not the real thing)
Don't be afraid to bring a dish or two of your own.
Talk to the host/hostess about making it gluten-free and dairy-free friendly. I know its a total pain and potentially awkward, but you'd be surprised how people who care about you are willing to help you on your journey. (Not always, but many times)
These days, I love Thanksgiving again. I have created a new slew of recipes that are adapted to be GFDF-friendly AND taste good to everyone else in my family.
In fact, this year I'm hosting my very first Thanksgiving. The girl who has made Thanksgiving super interesting with all sorts of healthy and gluten-free versions of foods over the years is actually being asked to host! Yes!

I want to share one of the recipes I'm most proud of that has been completely adapted to be GFDF and tastes delicious – my GFDF Impossible Pumpkin Pie!
GFDF Impossible Pumpkin pie
Ingredients
1-15 oz can pumpkin puree
⅓ cup + 2 tbsp brown sugar
⅓ cup all-purpose flour (I used Bob's Red Mill)
1 cup coconut milk (from the carton)
1 tsp pumpkin pie spice
2 tsp cinnamon
tsp salt
2 tsp baking powder
1 tbsp flax meal
1 tbsp vanilla extract
Directions
Preheat oven to 350 degrees F. Spray a 9-inch glass pie dish with baking spray (I like the coconut oil spray).
Add all ingredients to a blender and blend on high.
Pour mixture into baking dish.
Bake for 35 minutes. The pie wont be set just yet. Allow to cool completely then chill for 6 hours before slicing and serving.
Top with coconut whipped cream for serving. (See inside the PDF for recipe)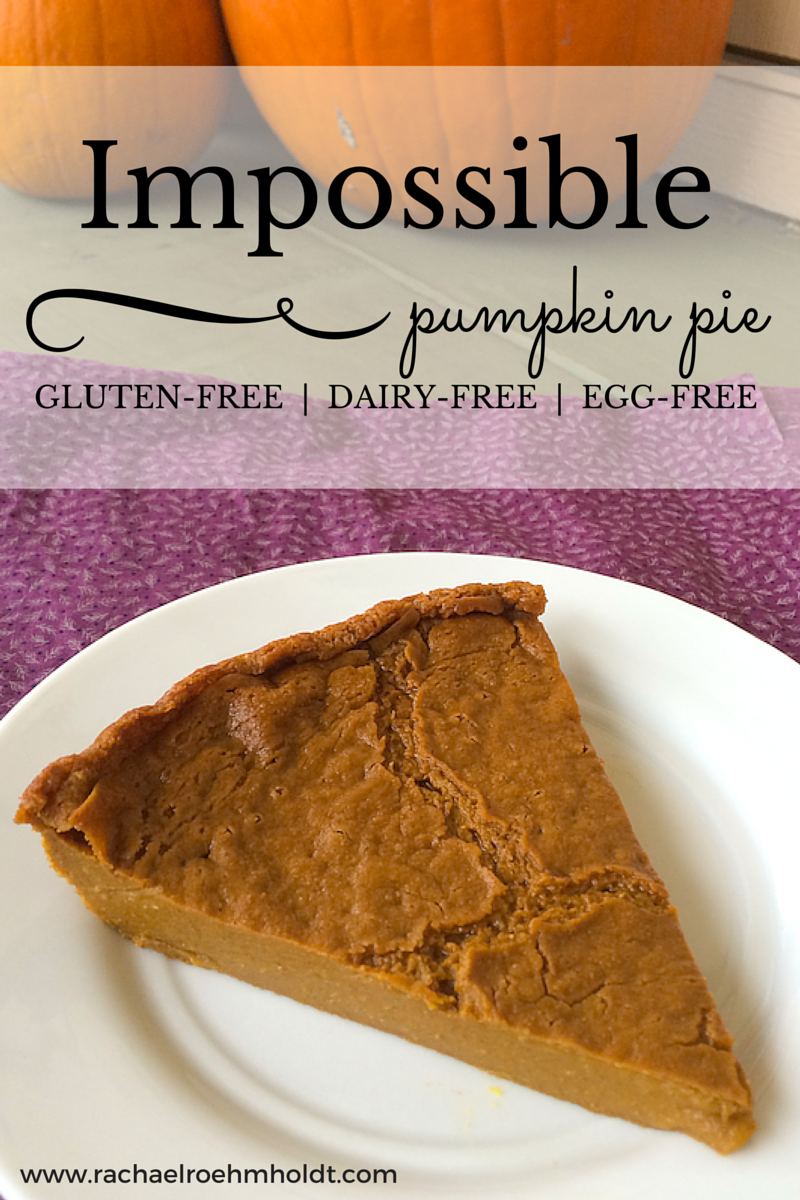 And even though Thanksgiving is a few weeks away still, I want to also say a huge THANK YOU for being part of this community. I am so incredibly grateful that you allow me into your inboxes, computers, and lives each and every week.
Enjoy a beautiful holiday with the ones you love the most!
xoxo,
Rachael