Discover gluten-free stuffing mixes you can buy at the grocery store online for your next Thanksgiving or holiday meal.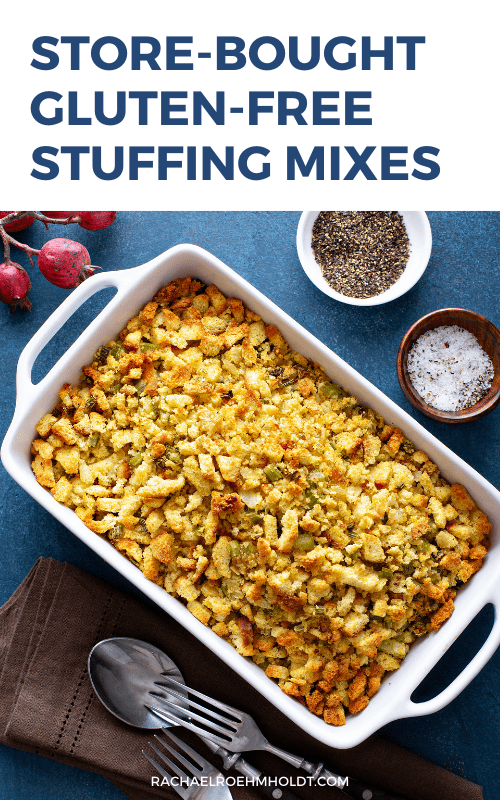 Note: I am a proud Amazon, Chomps, MunkPack, and Thrive Market affiliate and am happy to recommend their service and products to you. Please know that as an affiliate, I may receive a small commission on the products you purchase after clicking through my links. For more info, please see my disclosure policy here.
If you love stuffing at Thanksgiving, follow a gluten-free diet, and can't be bothered to cook every single holiday dish from scratch – you're in the right place.
Thanksgiving is a holiday all about family, food, and being together. But the food portion can come with an awful lot of work if you're hosting or even planning to bring a portion of the food to a family meal outside of your home.
There are so many dishes to create, some totally worth making from scratch (like mashed potatoes or pumpkin pie), while others can easily be handled with a few shortcuts.
I'm looking at you cranberry sauce.
Side note: I love homemade cranberry sauce, but it often doesn't taste all that different than what I can buy at the store, so I opt to get a little help from the store most years.
The truth is that you don't really have to make anything from scratch for Thanksgiving if you don't want to. Almost every single dish can be outsourced to the grocery store these days, including the turkey from a local deli!
But – the big BUT – is that if you follow a gluten-free diet, you need to find specific foods and ingredients that work for your diet. That includes taking shortcuts that might require a little extra research.
Whether you want to free up some time for making other great dishes, you're just not too savvy in the kitchen, or you need this year's Thanksgiving to be easy, store bought stuffing mix will help.
I'm here to save you some of that research time today. I'll share all the gluten-free stuffing mixes I've been able to find both locally and online, so you can get moving with the rest of your holiday meal planning.
We'll go over gluten-free stuffing mixes, and I'll also call out if the mixes contain dairy or eggs, since I personally avoid those also and many of my readers do too.
Let's get to the mixes!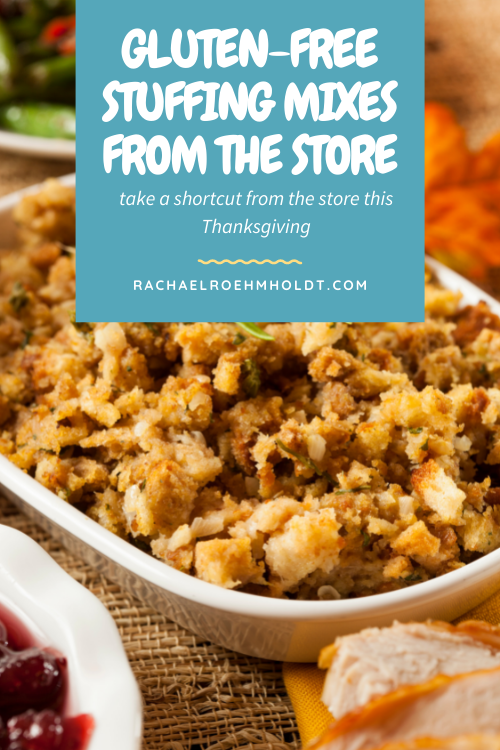 This stuffing mix is gluten-free and gets prepared in the same way you would a Stove Top style stuffing mix. You mix it up with some liquid and can serve it off the stove or bake it in the oven. You can find this stuffing mix in both plain and savory flavors.
This mix is gluten-free, but does contain both dairy and eggs.
This traditional stuffing mix is gluten-free, dairy-free, and vegan. These bread cubes are unseasoned, so they work as a blank canvas to add your own herbs and flavors to.
Try these in my gluten-free stuffing recipe for a shortcut.
This brand of gluten-free stuffing contains seasonings like onion powder, poultry seasoning, and parsley.
This option is gluten-free and dairy-free, but does contain eggs.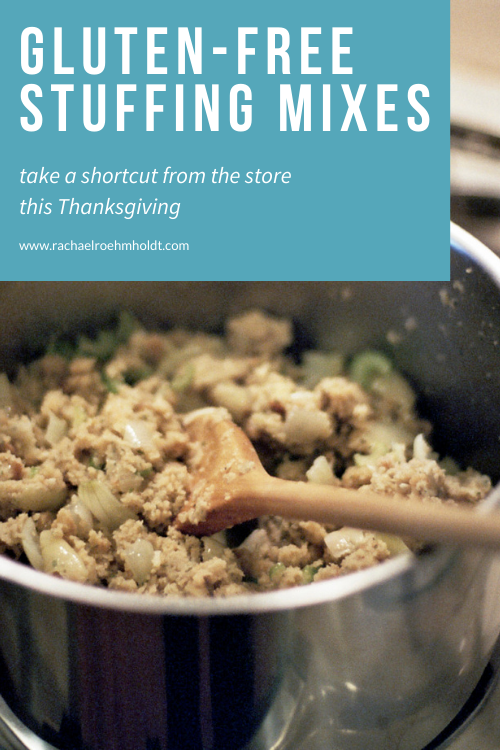 This gluten-free stuffing mix has onions, cabbage flakes, and loads of seasonings. You can add mix-ins to this like turkey sausage to give it even more flavor.
This stuffing doesn't contain dairy, but it does have eggs.
This gluten-free stuffing mix is packed with delicious rosemary and sage herbs. You can add your own veggies and broth to these seasoned bread cubes to make a delicious stuffing at home.
This mix is dairy-free, but does contain eggs.
This stuffing mix is made with breadcrumbs, dried onion, and herbs. It contains no gluten, no eggs, and no dairy.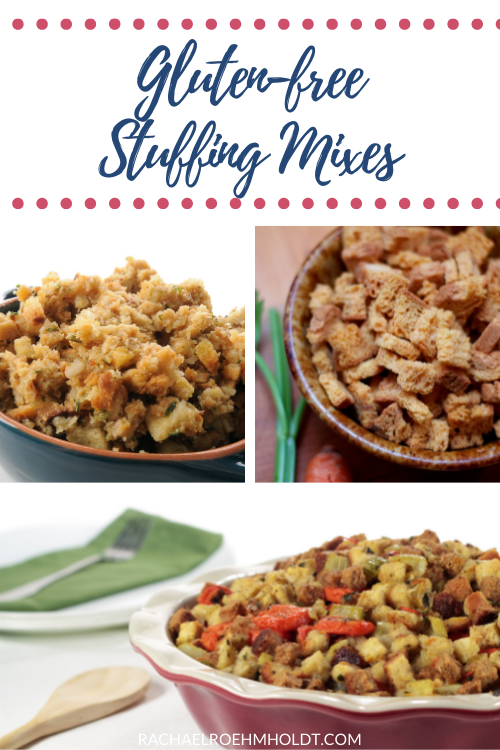 Trader Joe's offers a delicious gluten-free stuffing mix with onions, mushrooms, and celery. This mix can be prepared on the stovetop, in the oven, or stuffed in your bird.
This mix is gluten-free, but not dairy or egg-free.
The Three Bakers Herb Gluten-free Seasoned Whole Grain Stuffing Mix is a great option if you're gluten-free and looking for a quick and easy stuffing option. This mix requires only water and you can make it on the stove top, oven, or even in the microwave.
This stuffing mix is gluten-free and dairy-free, but does contain eggs.
Williams-Sonoma offers a gluten-free stuffing mix option that has onions and herbs. You can get it in their stores and online when around the Thanksgiving holiday.
This stuffing mix is gluten-free and dairy-free, but does contain eggs.
They also offer a cranberry wild rice stuffing mix that contains no gluten ingredients, but there is a note that cross contact is possible.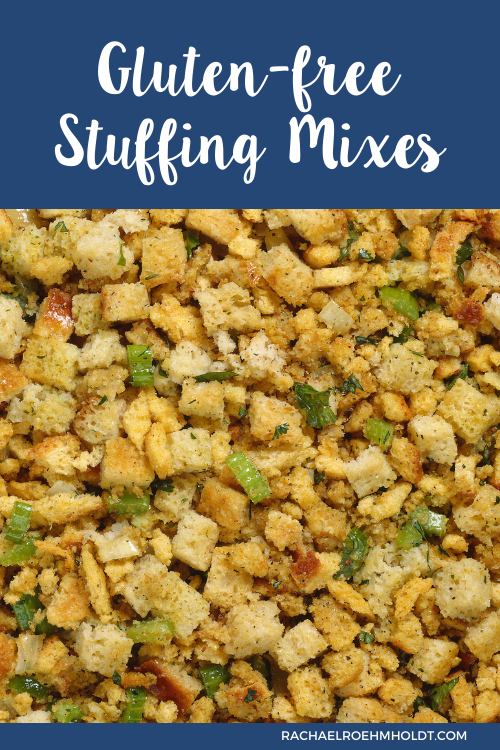 Other brands and products I've heard offer a gluten-free stuffing mix, but I haven't been able to confirm:
Live G Free
Whole Foods
Sprouts
I hope if you've been on the lookout for a quick option for getting your Thanksgiving meal together on a gluten-free diet, that this list has helped you.
There are a number of options available, but they may be tricky to find online and locally. I've done my best to round up what I can find, but you may have to do some hunting to find them near you.
Here's to a delicious holiday meal without all the work!
If you loved this post, I hope that you'll share it with your friends on Facebook and pin it for future reference on Pinterest.
Want to see more Thanksgiving content? Check out these posts!
Try these delicious gluten and dairy-free recipes and tips for your next Thanksgiving or family feast! This list includes stuffing, green bean casserole, pumpkin pie, and more!