Are you looking for a dairy-free whipped cream recipe that doesn't use coconut? Try this aquafaba whipped cream recipe that uses just three ingredients!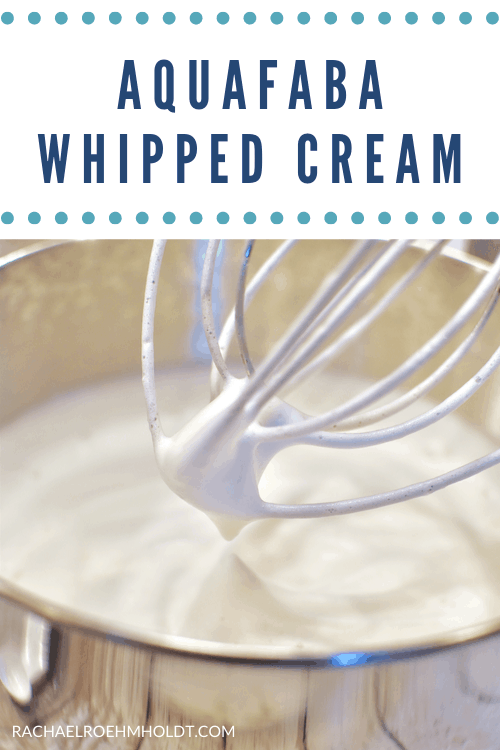 If you love whipped cream to top your desserts, but are looking for an option without nuts or coconuts, I have the solution for you!
I'm going to share something a little unconventional with you today, and you might think I'm crazy… but after I share it and you make it, hopefully you'll be converted just like I was the first time I tried it.
The idea of using a very strange ingredient for whipped cream came on my radar about a year and a half ago when I was making a dessert, but didn't have any coconut milk on hand. I usually use coconut milk to make dairy-free whipped cream, but on this particular day I was out.
To the internet to figure out what else I could use! After Googling a few ideas, I finally came across this idea to use aquafaba as a base for whipped cream.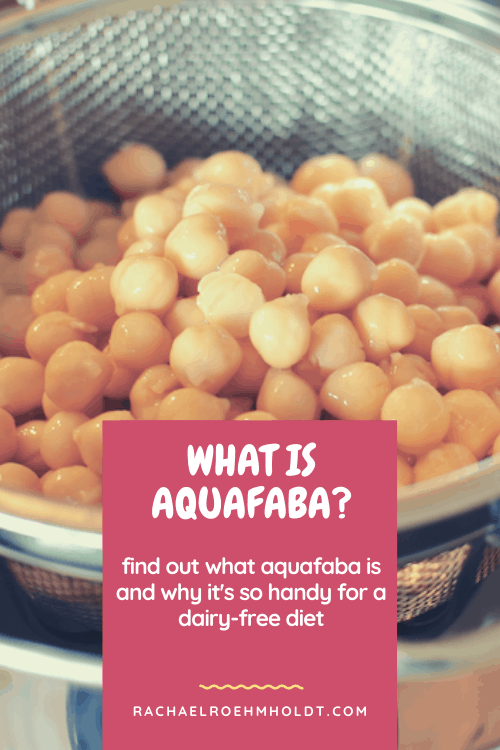 Aqua-what? What is aquafaba?
Aquafaba is the liquid that is left over when you strain a can of garbanzo beans to use them in a recipe.
It sounds exceptionally unappealing when you think of it as the bean leftovers, but hear me out.
The cooking liquid that's created after cooking up garbanzo beans is full of starch and protein, making it a surprisingly good candidate for whipping into a cream-like ingredient.
Aquafaba first came on my radar when my husband decided to try to start making macarons at home. We have a favorite macaron shop in town which we LOVE, but if you know much about my food story, you know that I also can't eat eggs due to an intolerance or allergy (I've honestly never had myself tested, I just know to stay away).
After a bout of hives and Benedryl a few years ago, my husband decided he was going to learn how to make macarons at home… but vegan. Amazing idea, although we still have yet to master the macarons at home.
I became familiar with aquafaba when he was experimenting with these vegan macarons and we were both shocked that something like canned bean juice could turn into such a fluffy beautiful whip.
Read on: Are macarons gluten-free?
After my little Google search and my hope that I didn't have to make a trip the store, I thought "why not?" and whipped the bean juice in my stand mixer, sweetened it, and was shocked at how delicious it was.
Really you guys, I can't even tell you how amazed I was at the fluffiness of this whipped cream that didn't have any dairy whatsoever.
I love my coconut-based dairy-free whipped cream, but I can't seem to get the lightness that I was able to achieve with the aquafaba. It's unreal!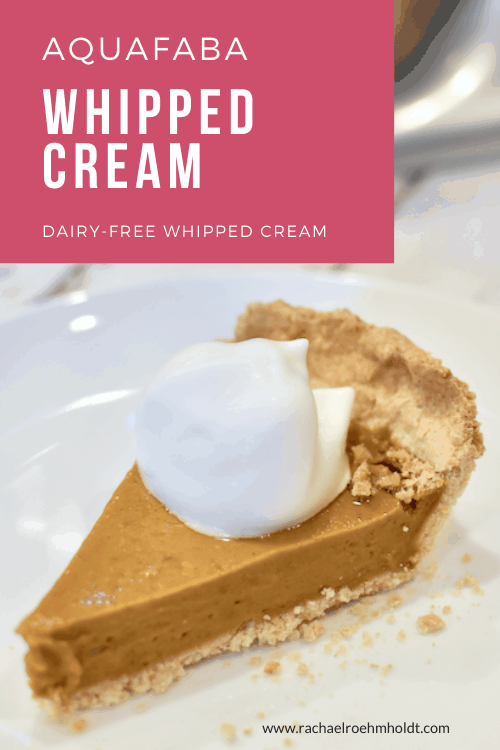 Questions about Aquafaba Whipped Cream
So, you might have some questions about this bean juice aquafaba whipped cream craziness… so I'll do my best to answer some of them here.
Do I have to use canned beans to get the aquafaba?
No, you can just as easily make your own chickpeas from bagged dry beans at home and use the leftover cooking liquid to achieve the same results.
Read on: Are chickpeas gluten-free?
Can I use any brand of garbanzo or chickpeas?
You don't need any special brands to make this recipe work. As long as you have a stand mixer or hand blender, this will come together nicely. You might even be able to use an immersion blender if you don't have either of the other two tools.
Use canned or dried beans, just reserve that bean juice liquid (aquafaba) for this whipped cream recipe. It never hurts to use an organic option if you can find it.
Is aquafaba vegan? Is aquafaba dairy-free?
Yes and yes! The best part about using aquafaba as a whipped cream replacement is that it's made from beans, so there's no animal milk in sight. It's completely vegan and dairy-free – plus it tastes good!
Read on: Is whipped cream gluten-free?
Can I make aquafaba whipped cream without sweetener?
I personally think that even a tiniest bit of sweetener goes a long way with this whipped cream. You get to be the judge on whether or not you need to sweeten it, but it really is great without any sugar added.
When you make this recipe, try it plain, then if you need some extra flavor or sweetener, add it. There's nothing wrong with taste-testing through the process.
What can I use aquafaba whipped cream with?
You can use this recipe in the same way you'd use any whipped cream or dairy-free whipped cream. I've used this on cake, fruit crisps, and with fresh fruit.
How can I get my aquafaba whipped cream to stiffen?
I'm taking some notes from TheKitchn.com on this one. You can add 1/4 tsp cream of tartar, apple cider vinegar, rice vinegar, or white vinegar before you start whipping to get the whipped cream to stabilize and hold shape better.
Read on: Is cream of tartar gluten-free?
What are some other ways I can use aquafaba in my cooking?
Aquafaba is an extremely versatile ingredient and as I mentioned above, not only can you use it to make a dairy-free and vegan whipped cream, but you can use it to make macarons, mousse, meringues, ice cream, frostings, and more.
Now that you know the basics of this unusual dairy-free ingredient, let's talk about how this recipe comes together.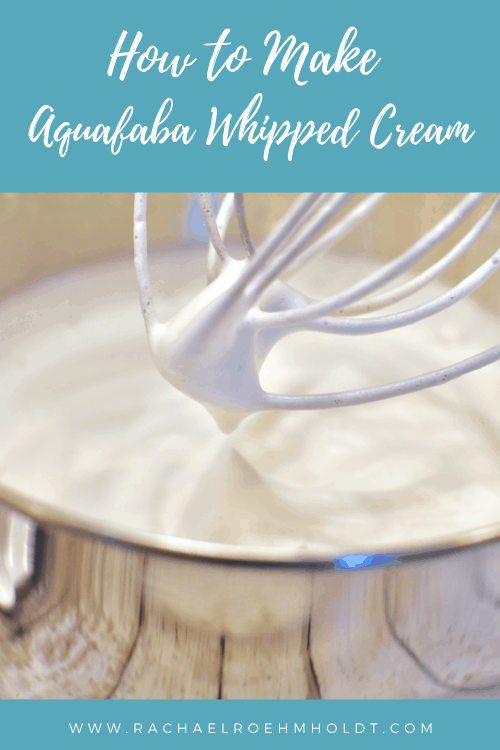 How to Make Aquafaba Whipped Cream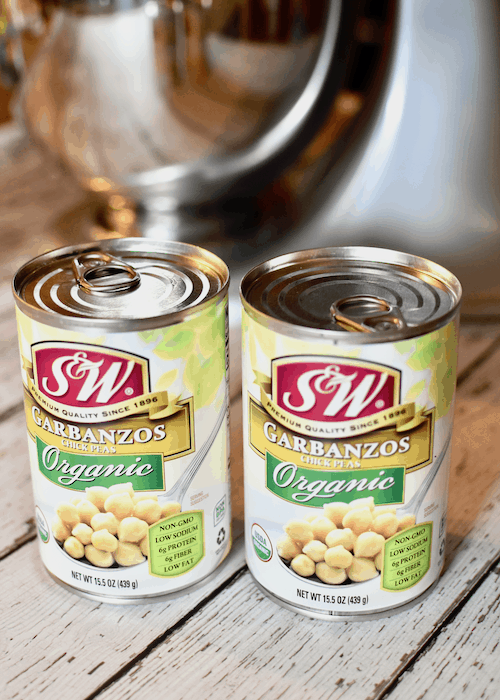 Gather your ingredients
For this recipe, you'll need two cans of chickpeas, powdered sugar or maple syrup, and vanilla extract.
Drain the canned chickpeas
To get started, drain two cans of chickpeas over a bowl to separate the chickpeas from the liquid inside the can. This liquid is known as aquafaba and what you'll use to make your whipped cream.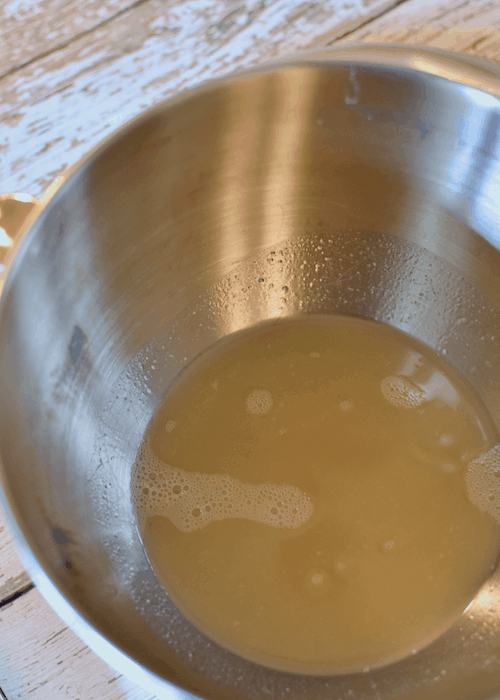 Pour the aquafaba into a stand mixer or large bowl
After you've strained the aquafaba from the chickpeas, set aside the beans. Pour the aquafaba into a stand mixer or large bowl if you plan to use a hand mixer.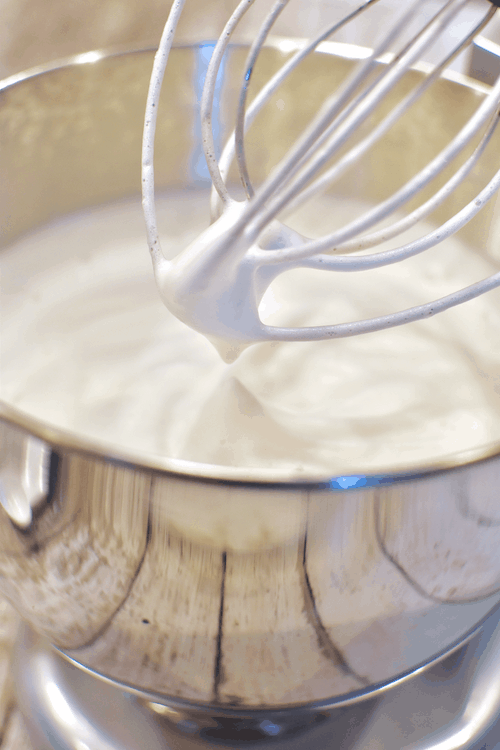 Whip the aquafaba
Turn on your stand or hand mixer and whip for 3 to 5 minutes until it whips into peaks. You'll know it's ready when you remove the whisk from the whipped aquafaba and it doesn't drip back down quickly but holds its shape.
Add the sweetener and vanilla
Next, add 2 tablespoons of powdered sugar or 1 tbsp maple syrup to sweeten, and ½ teaspoon of vanilla extract for flavor. Whip together for a few more seconds.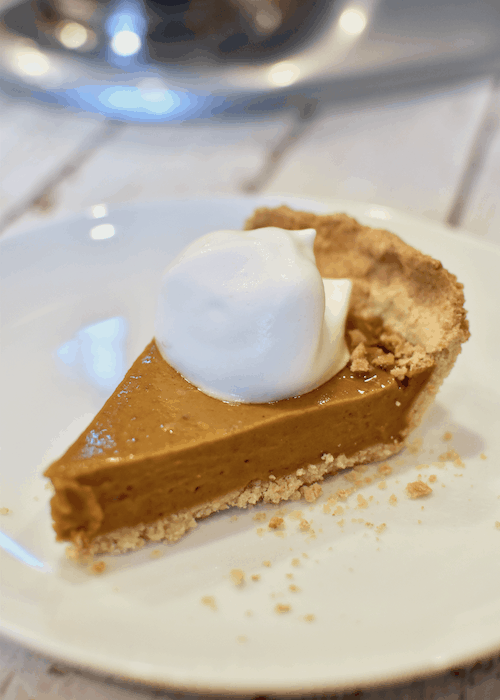 Serve on your favorite dairy-free desserts
You can serve this just like any other whipped cream on top of your favorite desserts, like pie, cake, or berry desserts. Try on dairy-free pumpkin pie for Thanksgiving or one of these gluten and dairy-free dessert recipes.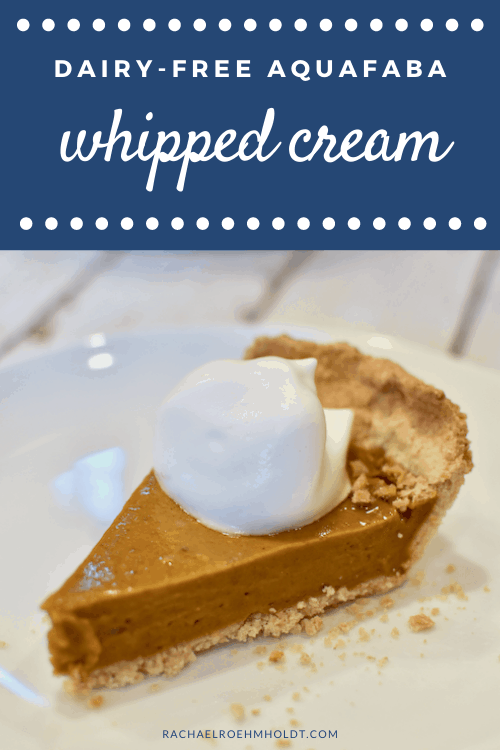 Aquafaba Whipped Cream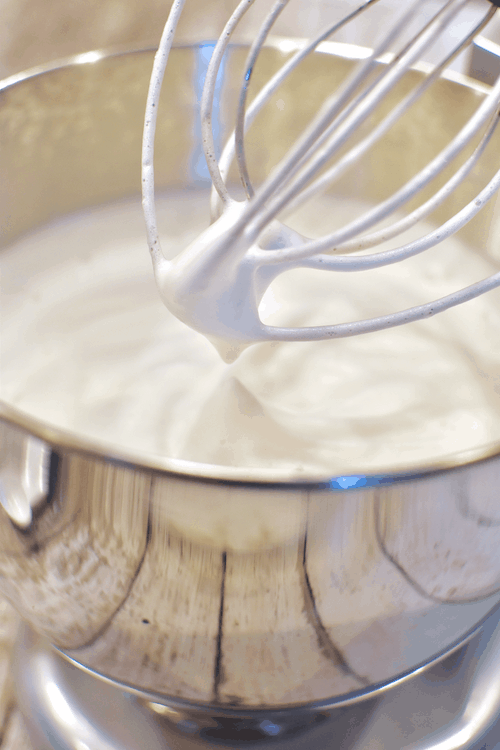 Try this dairy-free whipped cream made with aquafaba (liquid from canned garbanzo beans) with your favorite pies, cakes, or other dairy-free desserts.
Ingredients
2 - 15 oz can chickpeas or garbanzo beans
2-5 tbsp powdered sugar, to taste
½ tsp vanilla extract
Instructions
Drain the cans of chickpeas over a bowl to separate the chickpeas from the liquid inside the can. This liquid is known as aquafaba and what you'll use to make your whipped cream.
Add the aquafaba to a large bowl or the bowl of an electric stand mixer.
Mix on medium speed for 5 to 7 minutes with a hand mixer or stand mixer, until the aquafaba is light and fluffy and has peaks when you remove the whisk from the bowl.
Add the powdered sugar and vanilla extract. Mix another few seconds to incorporate all the ingredients.
Serve on your favorite dairy-free desserts.
Notes
You can swap the powdered sugar for maple syrup for a refined sugar-free option.
Recommended Products
As an Amazon Associate and member of other affiliate programs, I earn from qualifying purchases.
If you've been looking for a dairy-free whipped cream recipe that didn't have coconut, I hope this recipe will work well for you and your desserts! Give it a try and let me know what you think in the comments below.
Love this recipe? You might also want to check out these posts!
If you loved this post, I hope that you'll share it with your friends on Facebook and pin it for future reference on Pinterest.