Looking for gluten-free or dairy-free game day appetizers or main dishes for watching sports or maybe the Super Bowl? Look no further with these 21 delicious recipes!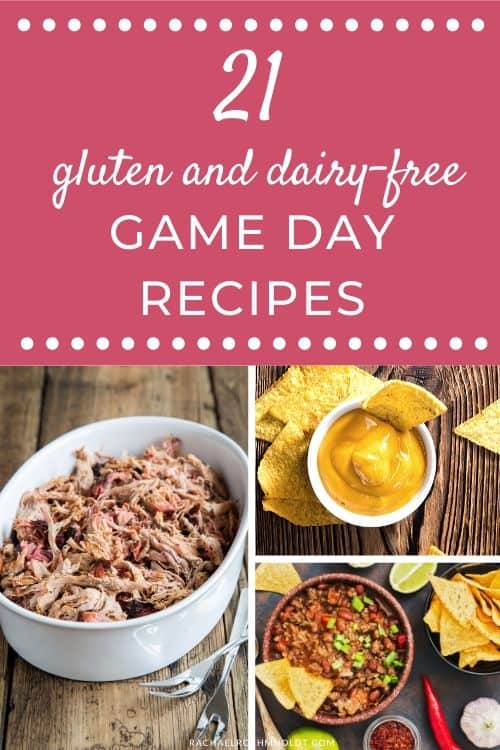 With the Super Bowl just around the corner, I had email come through yesterday asking for game day appetizers and mains that are both gluten and dairy-free.
Even though I'm not one for watching sports (I know, I know), I'm never one to shy away from a good get-together that involves good food.
I've rounded up 21 delicious gluten and dairy-free game day appetizers and main dishes that are perfect for bringing to a party.
Whether you're headed to a game day party or just want to have some delicious appetizers and mains from the comfort of your own home, I hope you find something in this roundup that you love.
Before I hop into the recipes, I know beer is a mainstay for watching the game. If you've been wondering what beer or alcohol is gluten-free, be sure to check out these posts:
If you'd like to learn more about taking on a gluten and dairy-free diet, I highly recommend checking out The Gluten and Dairy-free Diet: A Beginner's Guide. You can find more information on that here or below.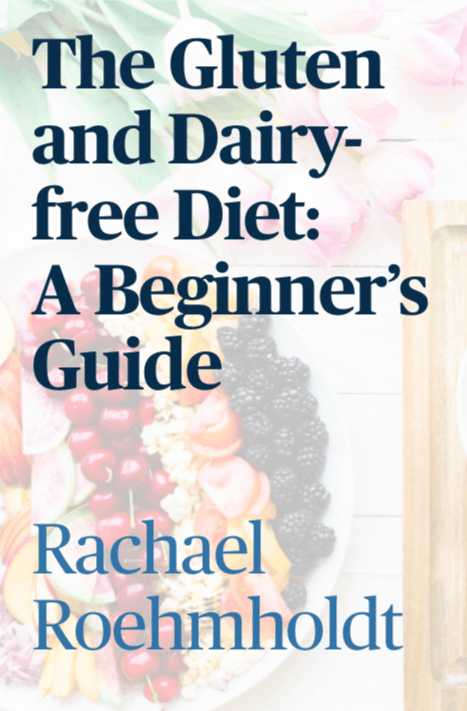 Gluten-free Dairy-free Super Bowl Game Day Appetizers
Enjoy these delicious appetizers for game day or any other time you're serving a hungry crowd!
Create a gluten and dairy-free charcuterie board to serve at your gathering.
Choose gluten-free crackers, gluten-free chips, dairy-free dips, and some fresh fruits and vegetables. Everyone can pick and choose what they love!
These black bean guacamole cups are so cute! They're the perfect snack, because they're great for grabbing and no double dipping to worry about!
Make cups out of black beans and seasonings, then fill them with homemade yummy guacamole.
These sweet potato bites are healthy and delicious. Roast sweet potato slices, then top them with an avocado mash and crispy bacon.
The perfect sweet and salty combination!
Read on: Is bacon gluten-free?
Dips of any kind are great for game day appetizers.
This paleo spinach artichoke dip uses coconut cream, mayo (use vegan mayo if you avoid eggs), and nutritional yeast in place of the heavy dairy ingredients you're used to finding in this dip.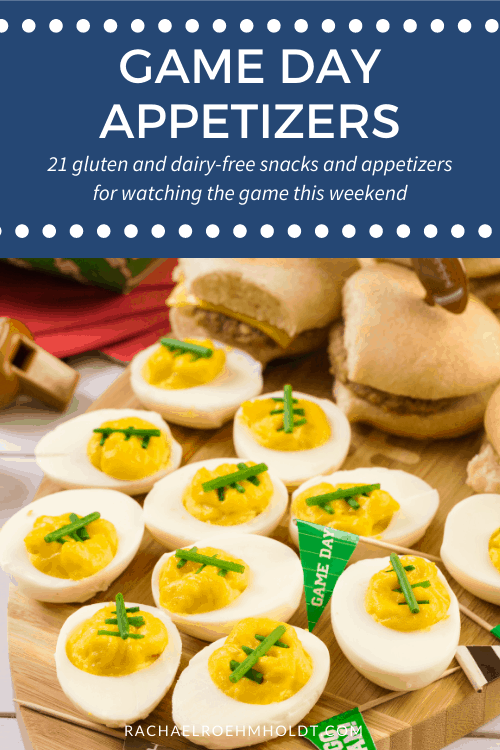 I love cowboy caviar in the summer months, but it's perfect for a game day appetizer, because it's a crowd pleaser and it's so simple to put together.
Layer refried beans and salsa with a homemade corn salsa and serve with tortilla chips. Easy and delicious!
There's nothing better than something wrapped in bacon.
These pineapple bites are wrapped in delicious bacon and slathered with a homemade sweet and sour sauce made with apple cider vinegar, grape juice, tomato sauce, and seasonings.
If you're a fan of 7-layer dip, you may have been looking for a dairy-free version without all the heavy cheese.
Try this real food 7-layer dip which uses refried beans, a simple guacamole, salsa, green onions, black olives, iceberg lettuce, and cherry tomatoes.
Read on: Are refried beans gluten-free?
If you love nachos on game day and avoid dairy, you'll love this recipe. Enjoy this with tortilla chips or top a big pile of meat and veggies to make the most of this sauce.
This nacho cheese sauce is made from cashews, nutritional yeast, lemon juice, smoked paprika, and some spices to add heat.
These savory stuffed mushrooms are healthy and dairy-free.
Make up a mixture of bacon, spinach, and gluten-free breadcrumbs to stuff into portobello or baby bella mushrooms before roasting them in the oven. These are simple and perfect for game day.
What's entertaining without a cheese ball? Even if you don't eat cheese, you can still enjoy a similar flavor with this vegan cheese ball.
It's made with vegan cream cheese, cashews, coconut milk, green onions, spices, pecans, dried cranberries, and fresh parsley. Serve with your favorite gluten-free crackers.
If you love the flavors or buffalo wings dipped in ranch, you will love this dip! It's spicy, full of protein, and loaded with flavor.
Dip with your favorite gluten-free crackers, tortilla chips, or celery sticks.
Read on: Get more gluten and dairy-free appetizers!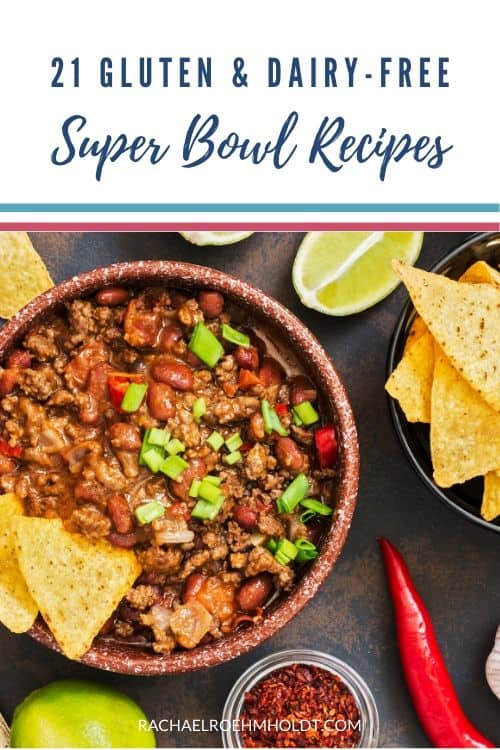 Gluten-free Dairy-free Super Bowl Game Day Main Dishes
If you like to roll a meal into your game day watching, try one of these hearty ideas – they're all gluten and dairy-free!
This easy gluten-free crockpot chili is perfect for game day, because you can make it in the morning and it's ready when you are.
Enjoy hearty beef, tomatoes, beans, green peppers, and onions. Top with your favorite chili fixin's for a delicious game day dinner.
This smoky turkey chili is a twist on the traditional beef chili you may be used to.
This recipe is loaded with turkey, white beans, butternut squash (or sweet potatoes), and tomatoes.
It gets its smoky flavor for smoked paprika. You'll be surprised how delicious this is!
If you love to serve soup, stew, or chili, be sure to check out these gluten-free dairy-free recipes.
Any and all of them make great game day food and you have endless topping ideas.
If you can't live without chicken wings for game day, try this recipe! They're crispy, gluten-free, and served with a dairy-free hot sauce.
Perfect for serving to your friends while watching the game.
Read on: Is Frank's Red Hot gluten-free?
I'm a big fan of our taco and nacho bar nights any day of the week. But game day gives an extra reason to go all out.
Use tortilla chips or corn tortillas, naturally gluten and dairy-free ingredients, Daiya vegan cheese, and this crockpot chicken or ground beef taco meat to pull it all together.
Read on: Gluten-free Tortillas: Types, Gluten-free Options, and Brands
Read on: Do corn tortillas have gluten?
Read on: Are taco shells gluten-free?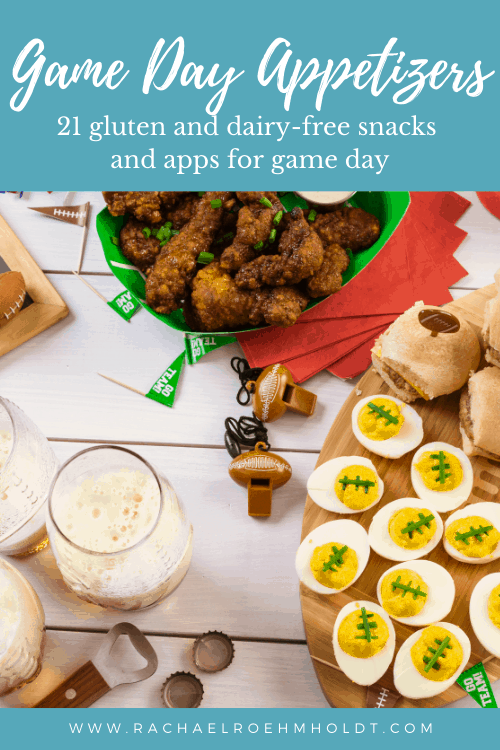 Pulled pork is an excellent choice to serve on game day. This recipe is gluten-free, and can be served on its own, in tacos, or on sandwiches.
There are so many options and you can make them your own by mixing up the toppings you use. Best of all, it cooks up super fast in your Instant Pot.
I use my own sloppy joe recipe for this, but since it isn't published just yet – this recipe looks just as delicious.
Let your guests load up some hearty sloppy joe mix onto gluten-free hamburger buns and fill up on a delicious ground beef and homemade sauce mixture.
Read on: Is Manwich gluten-free?
Pizzadillas are a staple in my household. You can easily make two versions of this recipe – one with normal cheese one with dairy-free cheese.
To make it gluten-free, use gluten-free tortillas or corn tortillas for mini pizzadillas.
Chicken taquitos are surprisingly simple to make at home, and it's easy to make them dairy-free too.
Simply omit the cheese from a recipe that you'd likely use and be sure to use gluten-free tortillas.
These are so easy and delicious, plus you can get creative with your salsas and dips.
Baked potato bars are great when you're hosting or serving food for game day. Why?
Because you can put out toppings that run the gamut of everyone's needs. You can make a normal cheese sauce, and a dairy-free cheese sauce.
You can put out bacon, ham (make sure these are gluten-free!), steamed broccoli or other greens, and dairy-free sour cream to let everyone pick and choose what they want to put on their spuds.
I hope that this roundup has been useful for you and the next time you find yourself hosting or going to a friend's house for game day, you have a few great gluten and dairy-free recipes to try out.
Want more gluten and dairy-free snack ideas and recipes? Check out some of my other recipe roundups below.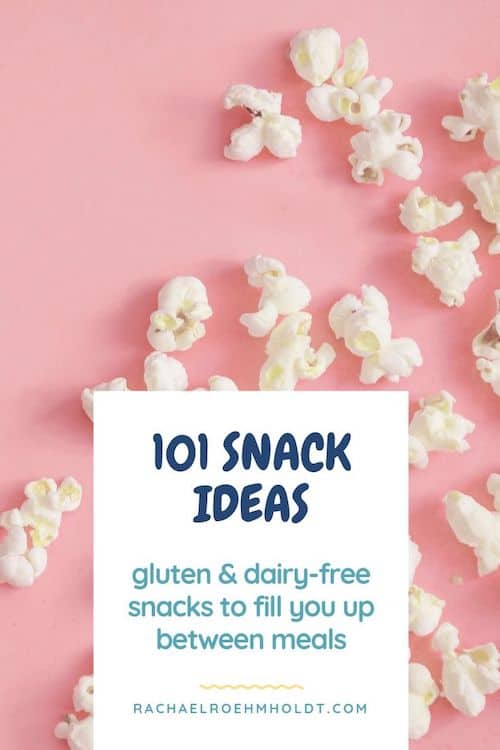 f you loved this post, I hope that you'll share it with your friends on Facebook and pin it for future reference on Pinterest.
Love this post? You might also want to check out more of my recipe roundups here!
Find some delicious gluten and dairy-free recipes in these popular recipe roundup posts!
Want more? Check out all my Gluten-free Dairy-free Recipes!