Get a list of gluten-free chicken tender brands from the store for a quick appetizer for game-day or a quick-fix meal on weeknights!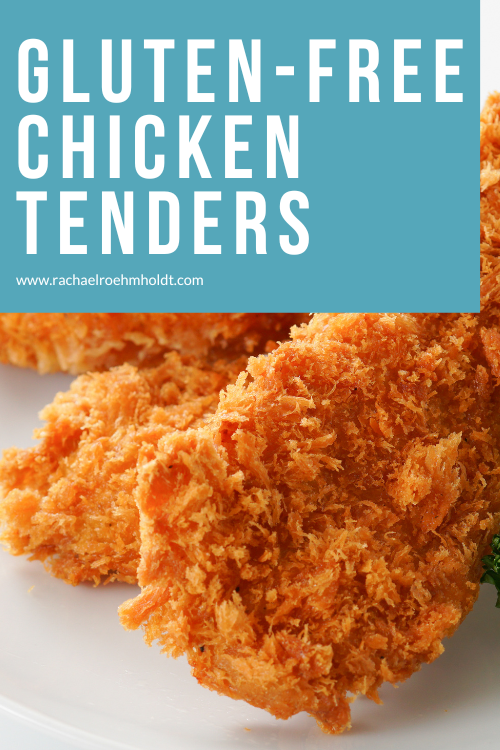 Note: I am a proud Amazon, Chomps, MunkPack, and Thrive Market affiliate and am happy to recommend their service and products to you. Please know that as an affiliate, I may receive a small commission on the products you purchase after clicking through my links. For more info, please see my disclosure policy here.
Do you love to entertain on game day and still want to stick with your gluten-free diet? If so, know that you are not alone!
Chicken tenders are served at so many restaurants and sports bars, but if you're trying to steer clear of gluten, you know that you usually can't order these if you still want to feel good in your body the next day.
That's why we're talking all about chicken tenders, how they fit into a gluten-free diet, and what your options are for staying true to avoiding gluten while still enjoying this yummy appetizer or quick-fix dinner option.
In this post, find out what chicken tenders are, if they're the same thing as chicken nuggets, and if chicken tenders are gluten-free.
We'll also go over a few recipes if you want to make your own at home, and since I'm inherently lazy at heart and would rather get help from the store, I'll also share a few brands of gluten-free chicken tenders you can shop for.
If you're looking for information on chicken tenders and sticking with a gluten-free diet, you're in the right spot!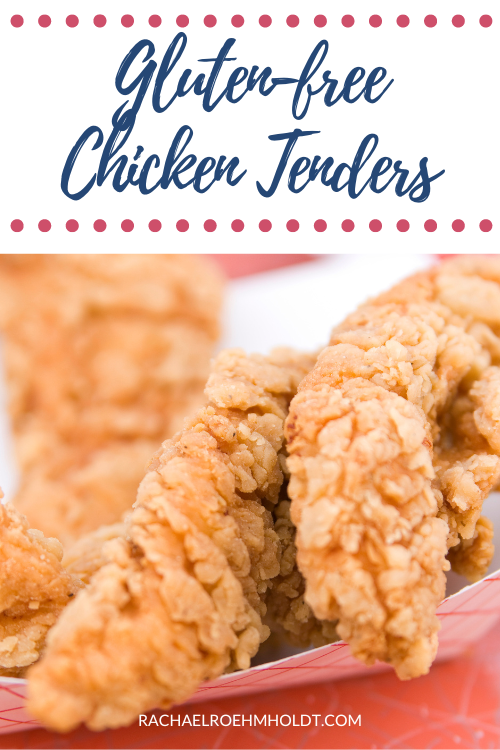 What are chicken tenders?
There is a cut of meat called a chicken tender or chicken tenderloin. This is the part of the meat that is under the breastbone of a chicken. It's white meat and usually attached to the chicken breast when cutting a whole chicken.
What we know as chicken tenders are sometimes referencing this cut of meat, while other times it's referencing the breaded chicken dish that folks eat alongside French fries.
The chicken tenders that we're going to talk about in this post are strips of chicken that are breaded, then fried. Most of the time the cut of meat used in chicken tenders is the tenderloin, but not always.
You can often find chicken tenders under the name "chicken strips" at many restaurants and options in the frozen food aisle.
Read on: Does chicken have gluten?
Read on: Are French fries gluten-free?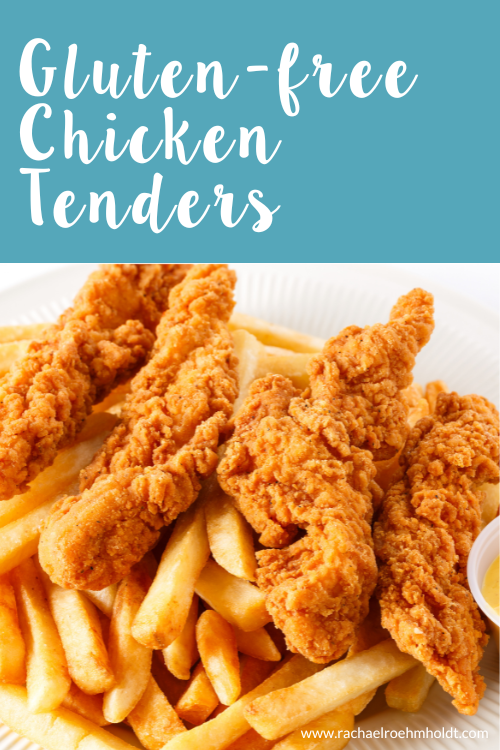 Are chicken tenders the same thing as chicken nuggets?
Chicken tenders and chicken nuggets aren't one in the same. Chicken tenders are usually made from chicken tenderloins or chicken breasts that have been cut into strips.
Chicken nuggets, on the other hand, can be made with chicken breasts that are cut into nugget shapes, but most often they're white meat chicken breast that's been chopped up then formed into a nugget shape. The texture isn't always the same as a chicken breast, but more mushy, indicating it's gone through more processing.
The commonality between the two is that they're both breaded and fried, served with ketchup or other condiments, and alongside fries at most sit-down and fast food restaurants.
Read on: Gluten-free chicken nugget brands
Are chicken tenders gluten-free?
Most chicken tenders that you buy from a restaurant or in the frozen food aisle are not gluten-free. The breading that's used in chicken tenders almost always contains wheat flour.
Since wheat is a main source of gluten protein, any foods made with wheat flour are to be avoided on a gluten-free diet.
That said, not ALL chicken tenders will be gluten-free. Chicken tenders can be made with gluten-free ingredients through manufacturers, restaurants, and at home.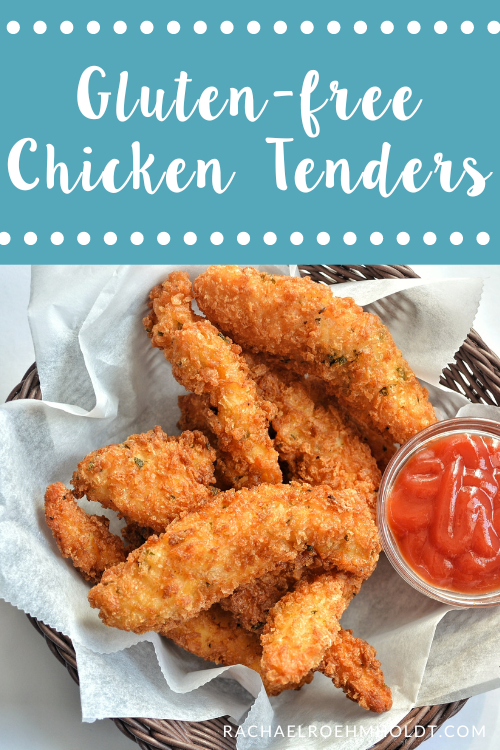 Can I make homemade gluten-free chicken tenders?
Absolutely! To make your own gluten-free chicken tenders, all you need to do is get some chicken tenderloins or cut chicken breasts into strips. Make a gluten-free breading mixture, then fry them in oil that hasn't had any other gluten-containing ingredients. You can also choose to bake them in the oven or use an air-fryer.
If you'd like a few recipes to try out, give one of these options a look through:
Can I buy gluten-free chicken tenders?
You can! A few brands manufacture chicken tenders using gluten-free ingredients, making them a safe option for folks like you and I who are trying to avoid gluten in our daily diets.
Let's go over some brands of gluten-free chicken tenders you can look out for next time you're at the store, planning some game day snacks or a quick and easy dinner.
Read on: 21 gluten and dairy-free game day appetizers and mains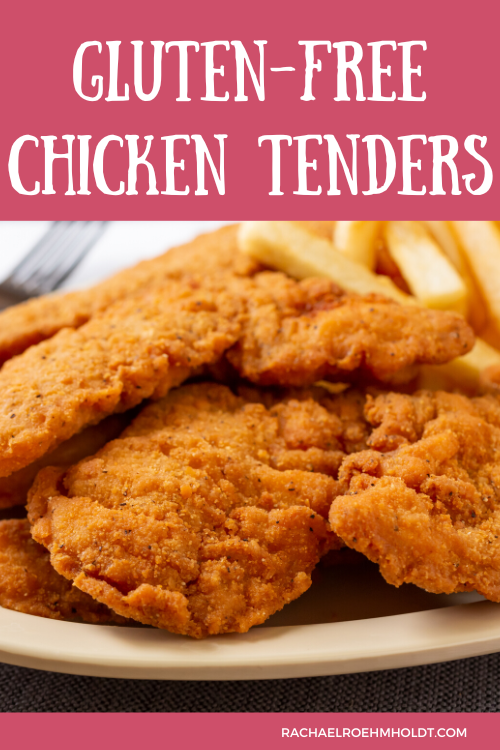 Brands of gluten-free chicken tenders
Look for some of these brands of gluten-free chicken nuggets next time you're shopping for a quick-fix dinner for you and your family.
Since I'm also following a dairy-free and egg-free diet, and I know some folks who read my content also are, I'll make notes for those that are safe for a gluten, dairy, and egg-free diet with an asterisk (*).
This brand offers four varieties of gluten-free chicken products, including gluten-free chicken breast tenders that you can buy in a standard size or a larger family sized bag.
They also sell gluten-free chicken nuggets in both regular and organic options.
Bell & Evans has a number of gluten-free breaded chicken options, including their chicken tenders, nuggets, breasts, patties, as well as organic options of their chicken tenders and nuggets.
Caulipower makes both gluten-free chicken tenders and chicken nuggets. They use a combination of rice flour, yellow corn flour, oat fiber, chickpea flour, dried cauliflower, and potato starch in place of flour for their breading.
Get their gluten-free chicken tenders in both original and Spicy(ish) varieties.
Golden Platter offers a number of breaded chicken products that are all gluten-free. This includes their chicken tenders, chicken patties, chicken nuggets, buffalo bites, as well as antibiotic-free chicken tenders, patties, and nuggets.
They even sell some fun shaped chicken nuggets for kids, like their Marvel's Avengers, Disney Winnie the Pooh, and Disney Frozen shaped options.
Perdue offers gluten-free chicken tenders, chicken nuggets, chicken strips, and chicken breast & vegetable tenders.
If you are looking for a chicken tender option to make dinner a little quicker or a way to entertain on game day with less time in the kitchen and more time with friends, I hope that these brands and recipes of gluten-free chicken tenders will help make that a little easier for you.
If you have wondered if chicken tenders are gluten-free, know that as long as you have the right ingredients or choose the right brand, you can safely enjoy this while still avoiding gluten in your diet.
If you loved this post, I hope that you'll share it with your friends on Facebook and pin it for future reference on Pinterest.
Want more product recommendations for gluten and dairy-free foods? Check out these posts!