Find out if cider has gluten, if it's safe for a gluten-free diet, if your favorites are gluten-free, and what brands to look for.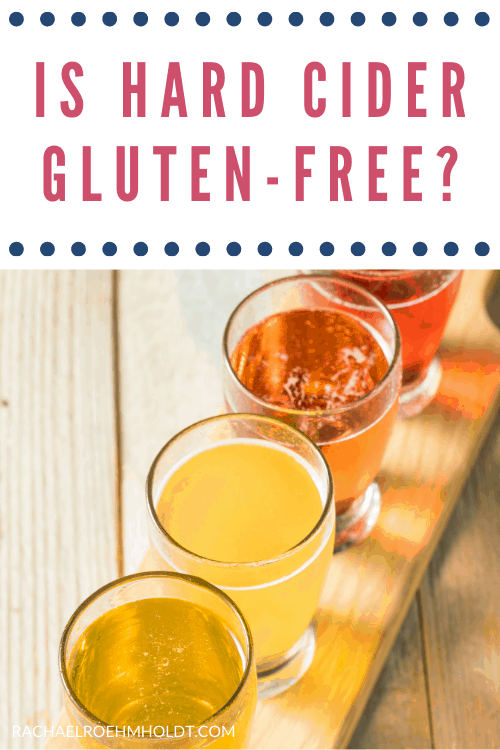 If you're a beer lover, you may be sad to learn that most beer contains gluten. If you're looking for a beer alternative, try some amazing gluten-free beer brands that are on the market OR try hard cider.
If you're eating a gluten-free diet, knowing what foods don't have gluten are important, but knowing what drinks are safe to indulge in feels almost vital sometimes.
I've never been a big beer lover, but I do love hard cider. In this post, we're going to dive into if there's gluten in cider, what kinds of cider are safe for your gluten-free diet, and answer some questions related to some of the most popular cider brands. Let's get into it!
This post is part of the Gluten-free Alcohol Series, where we're going to discuss different types of alcoholic drinks and how they fit into a gluten-free diet.
What is cider made from?
Cider is made from fermented apple juice, yeast, and sugar. Hard cider on its own has a distinct apple taste, and some ciders are made with the addition of other fruits and flavors as well. Berries, pineapple, and other fruits may be used to create new and interesting flavors.
Perry drinks are similar to ciders, and are made with a base of pear juice.
What is gluten?
Gluten is a protein found in most wheat products, and acts as the "glue" that helps to hold wheat, barley, kamut, spelt, farro, durum, bulgur, rye, and semolina together to maintain their shape.
Gluten is naturally occurring, and therefore is impossible to strip away from the grain. If a grain naturally has gluten in it, there's no way to make that food gluten-free.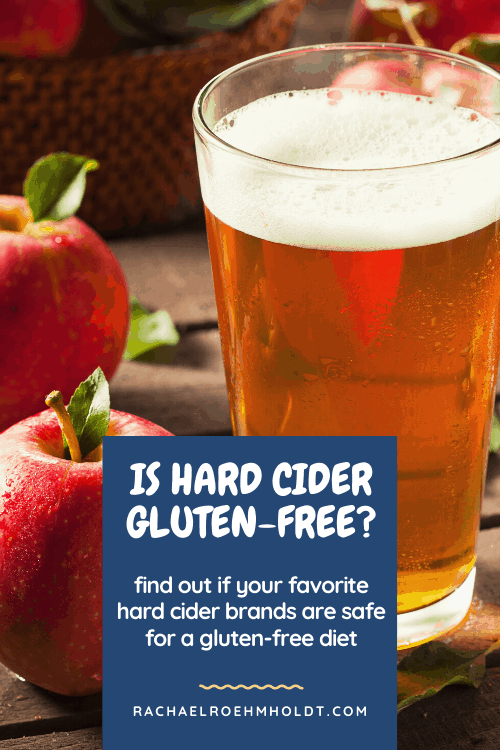 Is cider beer?
Hard cider is not beer in that it is made using apple juice versus malt and hops. Both are fermented beverages but are made with completely different ingredients.
While they both appear on a beer list, it's likely because they come in similar bottles, but they aren't the same beverage.
Is hard cider gluten-free?
Most hard cider is gluten-free, because it is made using apple juice as its base. Apples are naturally gluten-free, meaning most cider is also gluten-free. There are no gluten-containing grains in most hard ciders.
Some ciders do contain gluten, but not from the apple juice it's made from. Gluten gets introduced into the cider if a facility shares equipment with other alcoholic beverages that contain gluten, like beer.
Does hard cider have gluten?
Most hard ciders are gluten-free, assuming gluten hasn't been introduced as an additive or flavoring or during its bottling process.
Look for a "gluten free" label to be sure that the brand you've chosen is safe for your gluten-free diet.
Read on: Is apple cider gluten-free?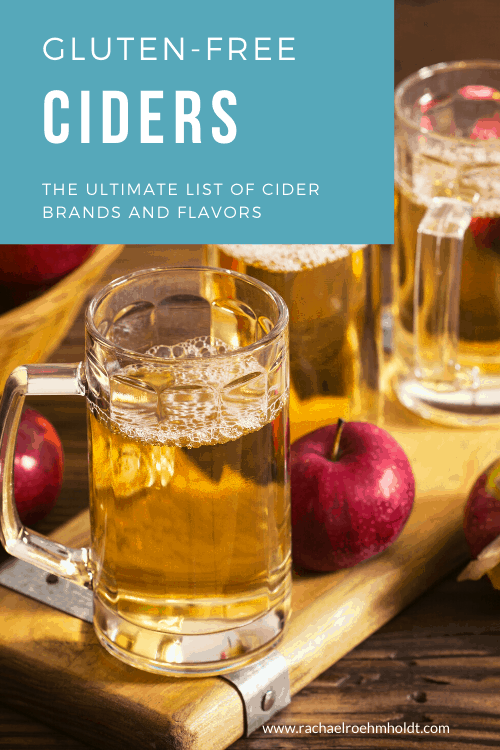 Gluten-free cider
Hard cider is a great alternative to drinking beer when it comes to bottled alcoholic beverages. There are so many different styles and levels of sweetness to choose from.
Let's go over some of the many brands of gluten-free cider you can find at the store, then we'll talk about some of the most popular brands and find out if they're safe for your gluten-free diet too.
With so many cider brands out there, I thought I'd highlight some of the most well known ones, along with their different gluten-free flavors. I've tried a number of these brands and can attest to their deliciousness!
Apple
Berry Rose
Blackjack 21
Ginger
Guava
Hazy hop
Honey
Joker
Perry
Pineapple
Pumpkin
SpACE
Crisp Apple
Crisp Unfiltered
Rosé
Green Apple
Pear cider
Stone Dry
Original Dry
Brut Super Dry
Blood Orange
Pineapple
Watermelon
Rosé Dry
Texas Honey
Hopped
Lemon Ginger
Spiced
Pear Rosemary
Sangria
Cranberry
Wunderkind
Rojo
Buzzwig
Ginger Beer
Hibiscus Mint
The Americain
Mighty Mammoth
Conch Street
Happy Gose Lucky
Papi Chulo
Smoked Saison
Berry Limely
Brut
Cherry
Dry Apple
Pear Apple
Sweet Apple
Winesap
Original
Light
0.0%
Rose
Dark Fruit
Huckleberry Jam
First Press
Strawberry Magic
Mad Bark
Grand Mimosa
Raspberry Smash
Peach County
Pineapple Hula
Blackberry Wild
Unified Press
The Dirty Mayor
The Lake Hopper
Wit's Up
For Shore
Tulsi
Fruition
Big Juicy
Tree Tapper
Northern Spy
Americran
Brosé
Rosé
Pearsecco
Brut
Original
Pacific Pear
Browns Lane
Honey Crisp
Original Blend
Double Blend
White
Blackberry
Pumpkin Blend
Winter Blend
Blueberry
Cider Donut
Rum Pumpkin
Cranberry
Mulled Cider
The Explorer Hopped
Marionberry
The Legend Lemongrass
White Peach
Prickly Pear
Blood Orange
Compass Rosé Hibiscus
Cranberry
JK's Scrumpy
JK's Northern Neighbor
JK's Pair Perry
JK's Winterruption
JK's Rosé – CO-OP 39
JK's Honeycrisp Haze
JK's Haybaler Switchel
Original Dry
Dark Cherry
Vanilla Bean
Honey Pear
Hibiscus
Mojito
Watermelon
Dark Maple
Rosemary Plum
Pineapple Smoked Pepper
Empire Red
Black Currant Passion
Blood Orange Ginger
Black Widow
Pineapple Haze
Pear
The "Original" Apple
Dry Rosé
Cidre Libre
McIntosh Unfiltered Single Varietal Cider
Northern Spy Unfiltered Single Varietal Cider
Fuji Unfiltered Single Varietal Cider
Newton Pippin
Spiced Hard Apple
Pear
Wild Berries
Strawberry-Lime
Passionfruit
Dry
Semi Sweet
Basil Mint
Berry Rosé
Tangerine Turmeric
Pineapple Agave
Rosé
Dry
Vermonter
Lo-Ball
Arlo
Topspin
Dry Hopped Arlo
Lover Boi
Momofuku
Broc Cellars
Exelsior
Grapefruit
London Dry
Local Legend
Passport
Dark & Dry
Rosé
Red Apple
Sparkling Pear
Blackberry Pear
Legendary Dry
Mass Appeal
Light of the Sun
Red Skies at Night
Kingston Black
Boston Heirloom
Grand Banks
Peariful
Winesap
Ashmead's Kernel
Esopus Spitzenburg
Yarlington Mill
Gold Apple
Original Dry
Rosé Apple
Artisanal Blend
Wild Washington Apple Cider
Bourbon Barrel Peach Cider
Apricot Cider
Organic Apple Cider
Cherry Cider
Tieton Dry Cider
Cranberry Cider
Dry Hopped Cider
Blossom Nectar Cider
Pure Pear
Amber
Sangria
Granny Smith
Pear
Sippin' Citrus
Mimosa
Bubbly Pearsecco
Bubbly Rosé
Raspberry
Semi-dry
Lil' Dry
Kinda Cloudy
Odd Crush
Pear
Prickly pineapple
Raspberry
Reposado
Brut
Rose
Michigan Apple
Pear
Michigan Honey
Michigan Cherry
Washington Cherry
The Mitten
Lapinette
Percheron
Old Spot
Northcider
Southcider
Are my favorite ciders gluten-free?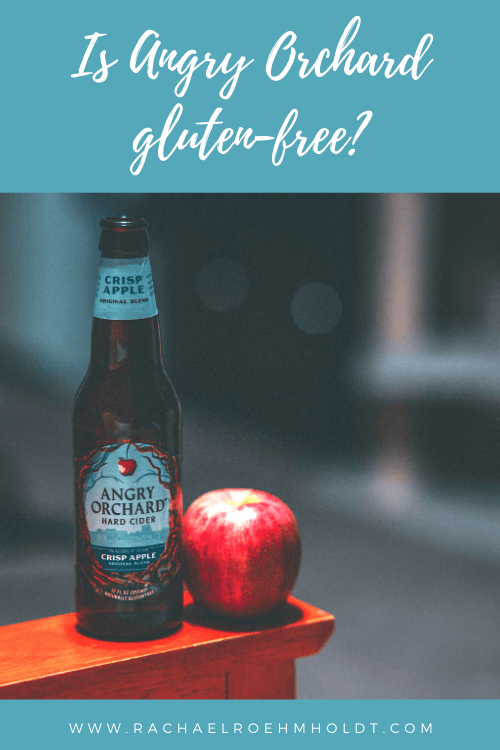 Is Ace cider gluten-free?
According to the Ace website, their cider is gluten-free. That includes all their flavors, like apple, berry rose, BlackJack 21, guava, high, honey, joker, kiwi strawberry, mango, perry, pineapple, pumpkin, and SpACE.
Is Angry Orchard gluten-free?
Yes, Angry Orchard is a gluten-free hard cider! Their website verifies they use only naturally gluten-free ingredients and has no place for cross-contamination.
If you enjoy this brand, feel free to include this in your gluten-free diet. Choose from their many flavors:
Crisp Apple
Crisp Unfiltered
Rose
Green Apple
Pear cider
Stone Dry
Is Ciderboys gluten-free?
This brand of cider is gluten-free according to their website. Their official statement in their FAQ is answered with the following:
"Since Ciderboys only uses 100% apples and other natural fruit flavors, it is naturally gluten free. That's just one of the many natural health benefits of all our hard ciders."
Is Downeast Cider gluten-free?
Downeast cider is all considered gluten-free from the brand website. This cider comes in a few flavors to choose from:
Original Blend
Double Blend
White
Blackberry
Pumpkin Blend
Winter Blend
Blueberry
Cider Donut
Rum Pumpkin
Cranberry
Mulled Cider
Is Redd's apple ale gluten-free?
According to the Redd's website, "Redd's Hard Apple is not gluten-free" and isn't even considered a hard cider, but an apple-flavored beer! Skip this brand and opt for a different gluten-free cider option listed above or a gluten-free beer.
Read on: Is Redd's apple ale gluten-free?
Is Stella Cidre gluten-free?
Yes, according to their website, Stella Cidre is gluten-free. Feel free to enjoy this easy-to-find cider brand when you're out at a restaurant or picked up from the grocery store.
Is Strongbow Hard Cider gluten-free?
Four of the five flavors of Strongbow are considered gluten-free according to the brand's website. All flavors except the Pearsecco are noted as gluten-free.
It's not clear if that flavor does contain gluten or they just have omitted that from the website, but either way if you're gluten-free, you may want to pause before choosing that flavor.
Is Woodchuck cider gluten-free?
All Woodchuck ciders, including all their flavors are gluten-free according to their website.
If you've been looking for a bottled alcoholic beverage to enjoy on the weekend when you're with friends or out at restaurants, check out hard ciders. Most are naturally gluten-free and have a variety of flavors and levels of dryness. Try one of these gluten-free brands next time you're out at the store or checking through a menu!
Remember you don't have to give up your occasional alcoholic beverage in order to stay gluten-free. Find a brand you love that you can find locally and feel free to kick back and relax!
Love this post? Check out more from the Gluten-free Alcohol Series.
Wondering which alcohol is safe for a gluten-free diet? Find out in the Gluten-free Alcohol series!
f you loved this post, I hope that you'll share it with your friends on Facebook and pin it for future reference on Pinterest.