Find out what taco shells are made from and if they are safe to enjoy for taco night on a gluten-free diet. Plus get a list of gluten-free taco shell brands.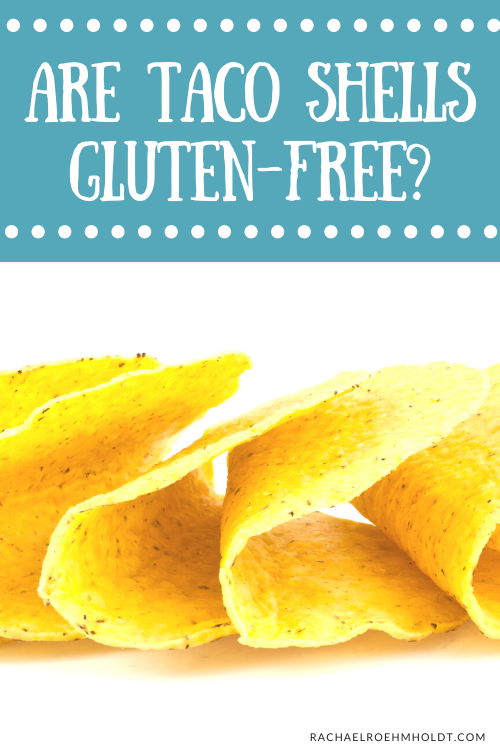 Note: I am a proud Amazon, Chomps, MunkPack, and Thrive Market affiliate and am happy to recommend their service and products to you. Please know that as an affiliate, I may receive a small commission on the products you purchase after clicking through my links. For more info, please see my disclosure policy here.
I don't know about you, but my family loves taco night! We rotate between making tacos, burrito bowls, and some type of taco casserole once a week. If there was one type of cuisine we can't go without, it's Mexican food.
Of course, I mean Mexican food in the American sense of the word. It's very obvious to me that the Mexican food that I call Mexican food is what Americans have turned Mexican cuisine into in our culture. It's probably best suited to be called Tex Mex or something similar, but I'm not sure of the proper terminology here.
Whatever it's called, it's delicious and it's on regular rotation in my household. We love to make chicken tacos in our Instant pot, taco meat with ground beef with gluten-free taco seasoning, and piling high everything with lots of fresh lettuce, tomatoes, beans, and corn.
No one in my house shies away from a bowl of chili, a plate of nachos, or a yummy gluten-free Mexican casserole either. When I say we love it, I mean it.
Tacos in my house are made with either taco shells or corn tortillas served warm and soft. The great thing about taco shells is how convenient they are. There's no warming or prepping, even if it's an additional two minutes on the stove. Convenience wins out on busy nights sometimes.
If you're following a gluten-free diet like I am, you're all too aware of the fact that gluten can show up in just about any and every packaged food product. Which is why we're talking specifically about taco shells in this post.
I want to ease your fears about tacos and taco shells, so you can live happily ever after eating tacos until the end of your days.
In this post, we'll cover what taco shells are, what they're made of, and answer the question "are taco shells gluten-free?" We'll also go over a list of gluten-free taco shell brands to help you make quick decisions next time you're at the grocery store gearing up for taco night.
Let's talk tacos!
What are taco shells?
Taco shells are a hard or crispy tortilla, usually made of corn, that's been fried or baked into a taco-shape with a pocket for adding meat, beans, or other taco fillings.
Taco shells are a Mexican dish that are all American. Buying hard shells from the grocery store is an American convenience food to avoid additional cooking or frying of corn tortillas.
Read on: Gluten-free Mexican food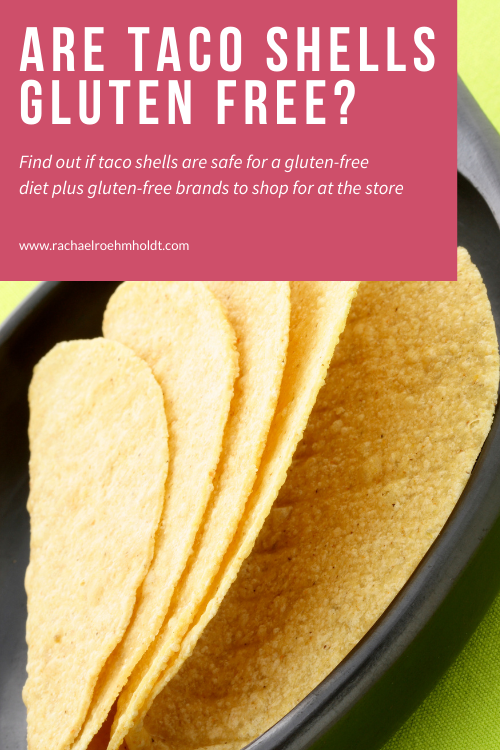 What are taco shells made from?
Taco shells are most commonly made from corn tortillas that have been fried or baked into their classic taco shape. Corn tortillas are usually made from masa harina corn flour, salt, water, and sometimes vegetable oil or lard.
Corn tortillas can be made using traditionally yellow corn white corn or even blue corn, but most taco shells are yellow in color.
To make taco shells, corn tortillas are deep fried then shaped into the classic taco shape after being removed from the oil to be filled with taco fillings. Big brands may manufacture these taco shells differently than you'd find in a home kitchen depending on the equipment used. These may be baked rather than fried to create the classic taco shell we know.
Read on: Do corn tortillas have gluten?
Read on: Gluten-free tortillas: types, gluten-free options, and brands
Read on: Are flour tortillas gluten-free?
What is gluten?
Gluten is a protein found in most wheat products, and acts as the "glue" that helps to hold wheat, barley, kamut, spelt, farro, durum, bulgur, rye, and semolina together to maintain their shape.
Gluten is naturally occurring, and therefore is impossible to strip away from the grain. If a grain naturally has gluten in it, there's no way to make that food gluten-free.
Is corn gluten-free?
While many whole grains contain gluten, corn does not. In its natural form straight from the cob, it is always gluten-free.
While corn itself is naturally gluten-free, corn in a processed food product, like canned soup or taco shells, may contain gluten due to other ingredients included in that product or from cross contamination.
You'll want to be diligent about checking ingredient lists for gluten and looking for gluten-free labels for any packaged food that includes corn, even corn tortillas or taco shells.
Read on: Is corn gluten-free?
Read on: Is corn flour gluten-free?
Are taco shells gluten-free?
Most taco shells are naturally gluten-free as they're made from corn tortillas, and most corn tortillas are gluten-free.
You'll want to be aware of the brand you buy, as some make gluten-free statements while others don't. We'll review a few taco shell brands you can look for at the store below.
Read on: Gluten-free tortilla chips
Read on: Super Easy Crockpot Chicken Tacos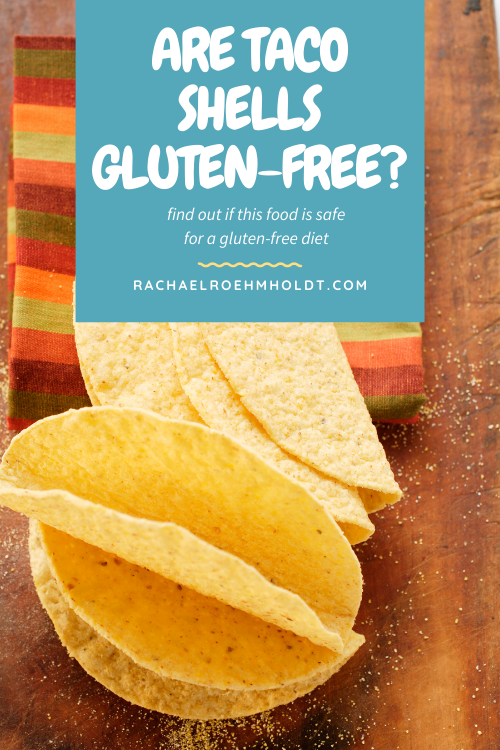 Gluten-free taco shell brands
If you're looking for a quick list of brands to look for gluten-free taco shells, let's go over some options. As with any packaged food, your best option is to review ingredients lists or look for a gluten-free label on the package before buying.
This is by no means an exhaustive list, but just a few ideas to give you a jumping off point of some options to look for next time you're shopping for gluten-free taco shells at the store.
I've also noted the options that are dairy-free with an asterisk (*).
Crunchy Taco Shells*
Crunchy White Corn Shells*
Super Stuffer Taco Shells*
Stand 'N Stuff Taco Shells*
Bold Ranch Stand 'N Stuff Taco Shells
Bold Spicy Cheddar Stand 'N Stuff Taco Shells
Bold Nacho Cheese Stand 'N Stuff Taco Shells
Stand 'N Stuff Taco Shells Hint of Lime
Tostada Shells*
Note that Ortega makes no gluten-free claims on their products. That said, none of these contain gluten ingredients. This brand either does not test their products or they are aware of the possibility for cross contamination with gluten and that's why there isn't a gluten-free label on these taco shell products. Use your best judgment on what will work for you and your body based on your level of sensitivity to gluten to decide if you will buy this brand.
Yellow Corn Hard Taco Shells*
Fiesta Flats*
White Corn Taco Shells*
Blue Corn Taco Shells*
Whole Grain Corn Taco Shells*
Cauliflower & Corn Taco Shells*
Yellow Corn & Ancient Grains Taco Shells*
Yellow Corn Mini Taco Slider Shells*
Tostada Shells*
Yellow Corn Taco Shells*
Blue Corn Taco Shells*
Baked Tostadas*
Yellow Tostadas Casero*
Yellow Tostadas Nortena*
Red Tostadas Nortena*
Blue Corn Taco Shells
Yellow Corn Taco Shells
I hope if you've been looking for a great taco shell option for taco night on your gluten-free diet that this post has given you some information that's helpful for you.
Many brands of taco shells are gluten-free, but it's always wise to review ingredients lists or look for a gluten-free label on the package before purchasing any packaged food.
More gluten-free taco resources
If you're here and wondering about taco seasoning, you might be curious about some other taco and Mexican food related content. Check out some of these helpful posts!
f you loved this post, I hope that you'll share it with your friends on Facebook and pin it for future reference on Pinterest.
Love this post? You might also want to check out these!
Find out if your favorite foods and ingredients contain gluten with these posts!