Find out if hard seltzer has gluten, if it's safe for a gluten-free diet, if your favorites are gluten-free, and what brands to look for.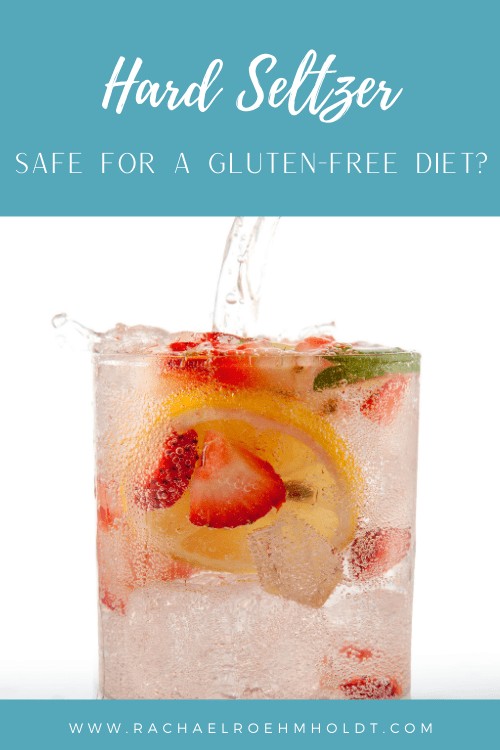 Do you love hard seltzers but also follow a gluten free diet? Are you wondering if these White Claw hard seltzers are gluten-free? Or other brands?
These are great questions. It's just as important to know what drinks are gluten-free as it is to know what foods are safe on a gluten-free diet. That's why I created my Gluten-free Alcohol Series.
I know that alcohol is a part of many of our diets, and knowing which options are better for us than others is imperative to not getting sick every time we want to serve up a drink.
There are a number of new hard seltzer brands on the market in the past few years, and I know personally I've been wondering if these are safe for a gluten-free diet. I know that if I haven't tried it because I wasn't sure, you might not know for sure either.
Let's answer the question "is hard seltzer gluten-free?" and tackle some popular brands to find out if theirs are safe for a gluten free diet too.
This post is part of the Gluten-free Alcohol Series, where we're going to discuss different types of alcoholic drinks and how they fit into a gluten-free diet.
What is hard seltzer made from?
According to Vox, "At its most basic level, hard seltzer is seltzer with alcohol in it. What that alcohol is made out of can differ — usually it's just fermented cane sugar with added fruit flavors, but sometimes, like other "flavored malt beverages" such as Bud Light's Lime-A-Ritas, it uses malted barley."
Read on: Is malt gluten-free?
What is gluten?
Gluten is a protein found in most wheat products, and acts as the "glue" that helps to hold wheat, barley, kamut, spelt, farro, durum, bulgur, rye, and semolina together to maintain their shape. You can create a malt from any of these grains.
Gluten is naturally occurring, and therefore is impossible to strip away from the grain. If a grain naturally has gluten in it, there's no way to make that food gluten-free.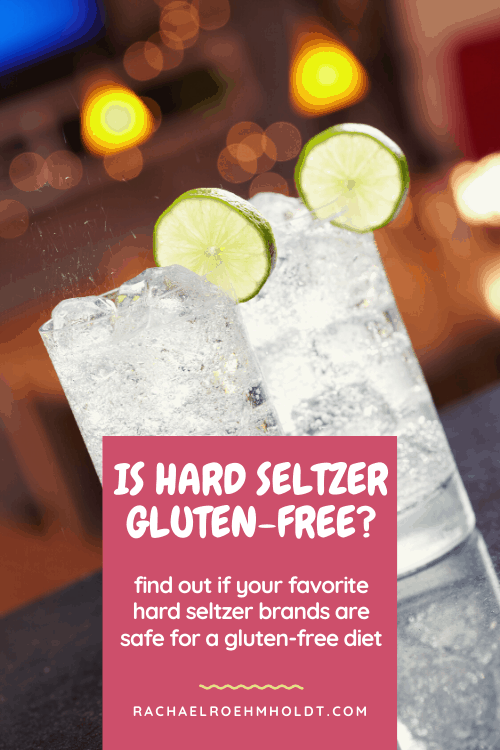 Is hard seltzer gluten-free?
Most hard seltzer is made using cane sugar to create the alcohol in hard seltzers, although none of the sugar is left after the crafting process.
Some hard seltzers are made using gluten-containing grains. Sometimes the gluten is left in the hard seltzer (Henry's Hard Sparkling Water, for instance). With other brands, the gluten will be removed after the fermenting process, otherwise known as "gluten removed."
Gluten removed means during the crafting process, they were able to remove some but not all of the gluten, making it less than 20ppm present in the product. These gluten-removed products wouldn't be considered 100% gluten-free as you'd find in a naturally gluten-free product.
The short answer is: yes, most hard seltzers are gluten-free, but not all.
Gluten-free hard seltzer
Now that we know that most hard seltzer is gluten-free, let's go over some brands that we know for sure are safe to pick up next time you head out to the store. Let's also go over some questions about popular brands and if you'd want to add these to your shopping list.
Gluten-free hard seltzer brands
There are a number of brands that offer gluten-free hard seltzer options. Here are some to be on the lookout for (along with their gluten-free flavors) the next time you're out shopping.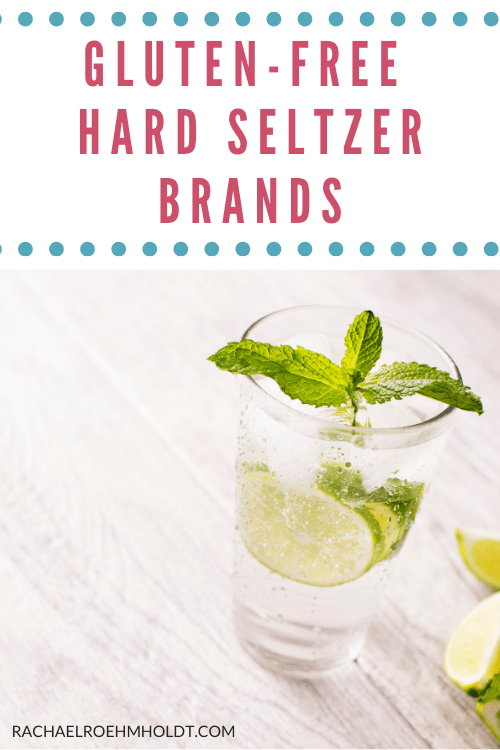 Gluten-free hard seltzer list
Pink Apple & Lemon
Blackberry Mango
Ginger Lime
Raspberry Lime
Strawberry Watermelon
Mandarin Orange
Cranberry Lime
Pear Elderflower
Raspberry Dragonfruit
Clementine Hibiscus
Coconut Pineapple
Grapefruit
Black Cherry
Mango
Cranberry
Citrus Lime
Spicy Pineapple
Watermelon Lime
Mandarin Starfruit
Pineapple
Classic Lime Seltzerita
Strawberry Seltzerita
Peach Seltzerita
Mango Seltzerita
Classic Lime
Strawberry Hibiscus
Grapefruit Lime
Blackberry Lime
Coconut Pineapple
Spiked Lemonade
Spiked Iced Tea
Pear
Cranberry
Lemon
Kiwi
Guava
Passionfruit
Mango
Peach
Lime
Pineapple
Watermelon
Grapefruit
Black Cherry
Grapefruit Melon
Mango Apricot
Black Cherry
Blueberry Watermelon
Strawberry Guava
Watermelon Strawberry
Spicy Pineapple
Cucumber Lime
Citrus
Mixed Berry
Kiwi Lime
Berry Hibiscus
Purple Magic
Pink Colada
Rocket Pop
Tiger's Blood
Cherry Lime
Blackberry
Watermelon Mint
Peach
Mango Raspberry
Blood Orange
Grapefruit
Pineapple
Bluepeary
Cantaloupe
Dragon
Kiwidew
Mixed Berry
Watermelon
Raspberry Lime
Black Cherry
Blackberry Hibiscus
Grapefruit Cardamom
Pomegranate Ginger
Lime Lemongrass
Pear Chamomile
Lingonberry Elderflower
Pineapple Basil
Apple Cinnamon
Red, White & Berry
Pink Lemonade
Peach Lemonade
Mango Chili
Pineapple Jalapeno
Spicy Tamarind
Spicy Margarita
Cherry
Blueberry
Strawberry Lime
Wild Berry
Citrus Squeeze
Lime
Grapefruit
Lemon
Pineapple
Mango
Passion Fruit
Watermelon Breeze
Original Lemonade
Watermelon Lemonade
Pineapple Lemonade
Strawberry Lemonade
Lemon Tea
Peach Tea
Half and Half Tea
Strawberry Tea
Fruit Punch
Berry Punch
Tropical Punch
Citrus Punch
Classic Lime Margarita
Mango Chili Margarita
Strawberry Hibiscus Margarita
Watermelon Cucumber Margarita
Blackberry & Lemon Vodka Seltzer
Cherry & Lime Vodka Seltzer
Peach & Tangerine Vodka Seltzer
Pineapple & Cranberry Vodka Seltzer
Berry Bramble Style
Cran-Orange Sparkler
Holiday Sangria Style
Pear Martini
Strawberry Kiwi
Blueberry Pomegranate
Black Cherry Lime
Pineapple Mango
Watermelon Strawberry
Raspberry Tangerine
Papaya Passionfruit
Blackberry Lemon
Raspberry Lemonade
Strawberry Lemonade
Peach Lemonade
Watermelon Lemonade
Passionfruit Watermelon
Blueberry Watermelon
Kiwi Watermelon
Mango Watermelon
Pineapple Orange
Strawberry Orange
Pomegranate Orange
Peach Orange
Citrus Yuzu Smash
Tropical Pomelo Smash
Watermelon Lime Smash
Wildberry Acai Smash
Limon
Blood Orange
Blackberry
Strawberry
Black Cherry
Mango
Watermelon
Natural Lime
Ruby Grapefruit
Raspberry
Lemon
Tangerine
Strawberry
Blackberry
Pineapple
Passionfruit
Iced Tea Lemon
Iced Tea Strawberry
Iced Tea Mango
Iced Tea Peach
Blackberry Surge
Natural Lime Surge
Blood Orange Surge
Cranberry Surge
Watermelon Mojito
Passion Orange Guava
Lime Coconut
Blue Hawaiian
Peach Green Tea
Mango Black Tea
Tea & Lemonade
Pineapple White Tea
Yuzu Pineapple
Yumberry
Strawberry Coconut
Melon Basil
Cucumber Peach
Tangerine Lime
Blueberry Mango
Black Raspberry
Mango & Passionfruit
Pomegranate & Acai
Pineapple & Lime
Blueberry & Lemon
Lime & Mint
Cranberries & Lime
Ginger & Lemon
Pineapple & Jalapeno
Peach & Lemonade
Limeade
Lemonade
Half & Half
What hard seltzer is gluten-free?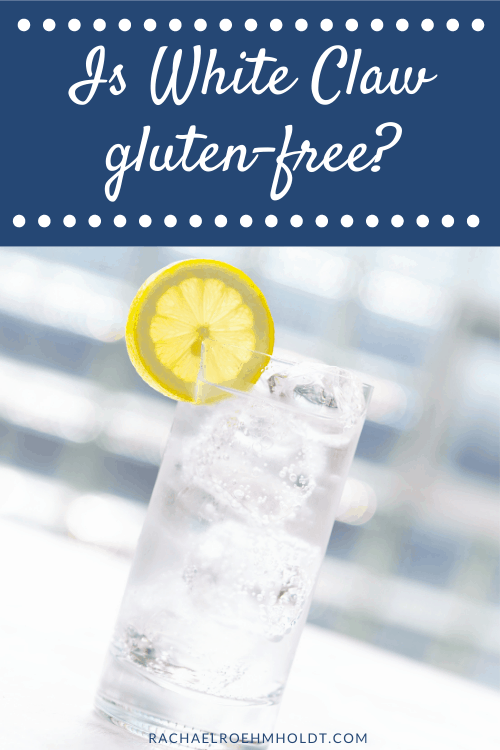 Are Bud Light Seltzers gluten-free?
Bud Light Seltzers are considered gluten-free by the brand. On their website, they list some of their varieties as gluten-free while others don't call this out.
However, when researching this post, I was able to find that many retailers, like Safeway, Target, and Walmart have them listed as gluten-free.
Read on: Are Bud Light Seltzers gluten-free?
Is White Claw gluten-free?
White Claw is gluten-free, as stated on their website. All ingredients are naturally gluten-free, making this a good option!
Read on: Is White Claw gluten-free?
Is Henry's Hard Sparkling Water gluten-free?
When I went researching for the answer to this question, I was tipped off by the fact that I couldn't find a gluten statement from Henry's themselves. After looking a little further, it was confirmed that Henry's Hard Sparkling water is NOT gluten-free on Gluten Bee.
There is barley malt in their ingredient list, making it clear it's not a gluten-free option.
Are High Noons gluten-free?
According to the High Noon Sun Sips website, all their hard seltzers are considered gluten-free by the brand.
You can safely enjoy High Noon hard seltzers on a gluten-free diet.
Is Michelob Ultra Organic Seltzer gluten-free?
According to the Michelob website, they say "Yes! Our seltzers are all gluten-free."
You can feel comfortable purchasing and enjoying this brand of hard seltzer on a gluten-free diet.
Read on: Is Michelob Ultra beer gluten-free?
Is Press seltzer gluten-free?
Press seltzer is considered gluten-removed by the brand. This means they use gluten-containing grains during the manufacturing, but filter as much gluten as possible before it comes to the consumer.
Their website says Press seltzers are gluten-removed to less than 5 parts per million, which is less than the 20ppm that the FDA requires for a food or drink to be considered gluten-free.
If you follow a gluten-free diet, keep in mind Press is gluten-removed and not made without gluten-containing ingredients.
Use your best judgement about what you know about how your body reacts to gluten and the health issues that have lead you to following a gluten-free diet before purchasing or drinking this.
Is Truly gluten-free?
According to their website, Truly is gluten-free and is made from all naturally gluten-free ingredients. This is a great option for a gluten-free hard seltzer!
Read on: Is Truly gluten-free?
Is Vizzy gluten-free?
Vizzy hard seltzers are considered gluten-free by the brand itself. They have a label on their website indicating that there is no gluten in any of their products.
If you follow a gluten-free diet and enjoy Vizzy, this is a brand that you can feel comfortable purchasing and drinking.
Read on: Is Vizzy gluten-free?
If you've been looking for a gluten-free drink option to enjoy with friends on the weekend or after a long day, try one of these hard seltzer options. I hope this information has been helpful for you.
If you have any questions about specific hard seltzer brands, pop them in the comments and I'll do some research to find out the answer for you!
Love this post? Check out more from the Gluten-free Alcohol Series.
Wondering which alcohol is safe for a gluten-free diet? Find out in the Gluten-free Alcohol series!
If you loved this post, I hope that you'll share it with your friends on Facebook and pin it for future reference on Pinterest.