Find out if alfredo sauce is gluten-free, what it's made from, and what you need to know about this popular white sauce.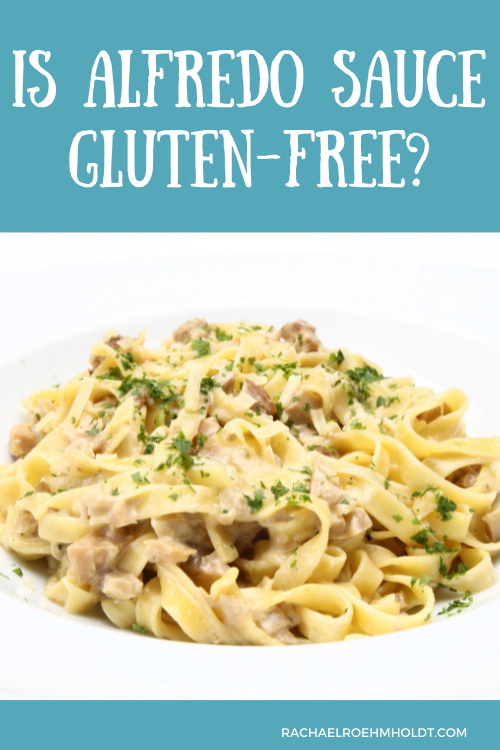 Note: I am a proud Amazon, Chomps, MunkPack, and Thrive Market affiliate and am happy to recommend their service and products to you. Please know that as an affiliate, I may receive a small commission on the products you purchase after clicking through my links. For more info, please see my disclosure policy here.
Is pasta your favorite dish? If so, you've probably tried a number of different pasta sauces, like marinara, pesto, bolognese, and alfredo sauce. Each of these sauces are delicious on pasta and other dishes, like meatballs and pizza.
If you're just getting started with a gluten-free diet, you already probably have determined that your pasta choices will have to change moving forward. Luckily, gluten-free pasta noodles are easy to come by at most grocery stores and making a pasta dish is just as straightforward as a regular semolina pasta dish.
One thing you might be wondering about is what sauces are safe for your gluten-free diet. Is there hidden gluten in some of them? In this post, we're going to talk specifically about alfredo sauce and what it's made of and what you need to know about this sauce and gluten.
By the end of this post, you'll have a better understanding of what risks there are with gluten and alfredo sauce, as well as a list of some brands that you might consider buying if you like to buy jarred alfredo sauce from the store.
Read on: Gluten-free spaghetti sauce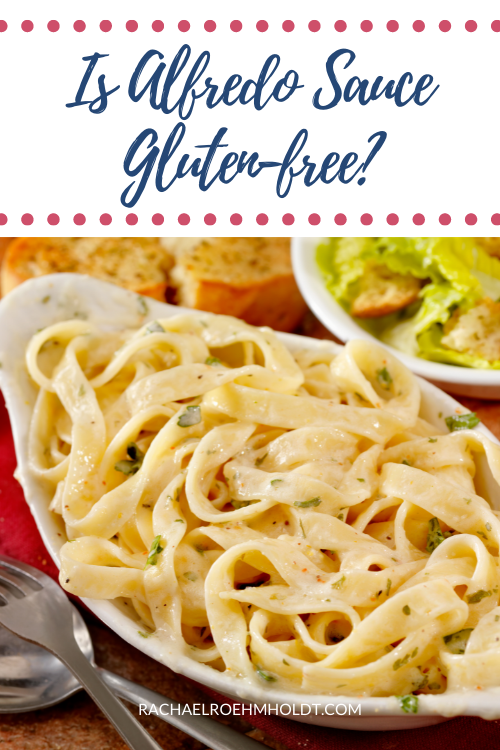 What is alfredo sauce?
Alfredo sauce is a type of white sauce that's used commonly in pasta dishes, but can also be served with chicken or on pizza. This sauce, like many pasta sauces, originated in Italy and is most commonly served with fettuccine noodles.
This type of sauce has a very rich, creamy texture and a strong salty cheese flavor from the parmesan cheese that's added to it.
What is alfredo sauce made from?
Alfredo sauce is made with heavy whipping cream, butter, parmesan cheese, garlic, and Italian seasoning. Sometimes pasta water is also added to alfredo sauce to thin it out and to help coat noodles easier.
Homemade alfredo sauce will vary slightly than store-bought sauce, so ingredients may vary slightly.
Here's what a Bertolli (a popular pasta sauce brand) alfredo sauce ingredients include:
"Water, cream, butter (cream, salt), parmesan cheese (cultured part-skim milk, salt, enzymes), soybean oil, modified corn starch, enzyme modified egg yolk, sherry wine, romano cheese made from cow's milk (cultured part-skim milk, salt, enzymes), salt, whey, yeast extract, disodium phosphate, xanthan gum, garlic powder, spices, natural flavors."
Read on: Is cheese gluten-free?
Read on: Is whey gluten-free?
Read on: Is yeast extract gluten-free?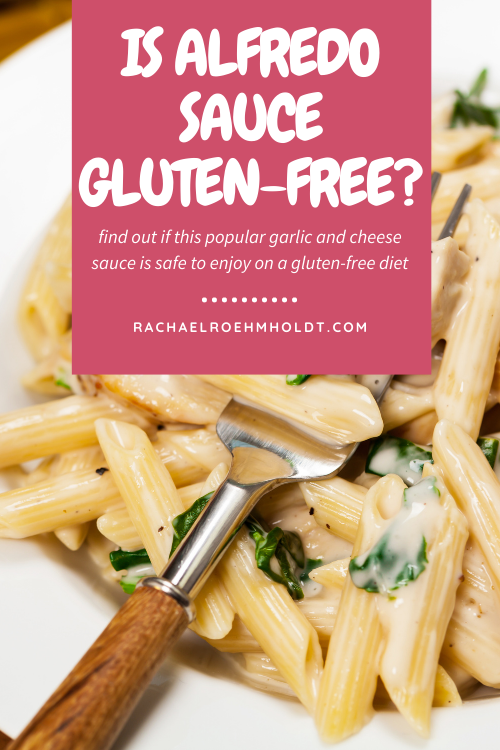 What is gluten?
Gluten is a protein found in most wheat products, and acts as the "glue" that helps to hold wheat, barley, kamut, spelt, farro, durum, bulgur, rye, and semolina together to maintain their shape.
Gluten is naturally occurring, and therefore is impossible to strip away from the grain. If a grain naturally has gluten in it, there's no way to make that food gluten-free.
Read on: Is pasta gluten-free?
Is alfredo sauce gluten-free?
Homemade alfredo sauce is most commonly gluten-free, as the ingredients of butter, cheese, and heavy cream all are naturally gluten-free. It's easy to know if it's gluten-free if you're making the sauce yourself too – just choose gluten-free ingredients that you put into your recipe.
Store-bought alfredo sauce in theory should be gluten-free, but it isn't always. It's always a good idea to review ingredients lists for hidden names of gluten just in case a brand uses flour or other wheat derivative for thickening the sauce.
One of my little secrets is that I carry around a copy of my GFDF Take Along Cards so that I always have a point of reference when I can sneak a peek at the ingredient list of a food.
>> Get your copy of the GFDF Take-Along Cards to make this easy on you.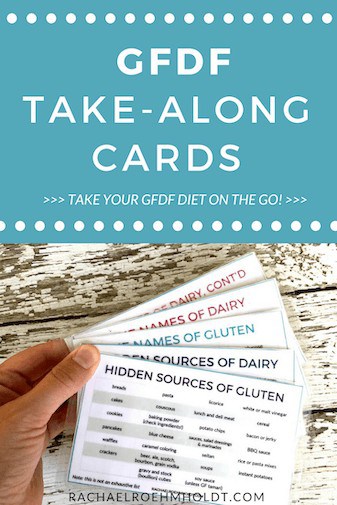 Read on: Gluten-free pasta brands
Read on: 25 Gluten-free chicken recipes
Is alfredo sauce dairy-free?
A traditional alfredo sauce is made with butter, heavy cream, and Parmesan cheese. In short, it is almost nothing BUT dairy! If you're following a dairy-free diet, you'll want to find a dairy-free or vegan alfredo sauce to use in place of this sauce.
Read on: Dairy-free alfredo sauce (vegan, gluten-free)
Read on: 25 Gluten-free dairy-free chicken casserole recipes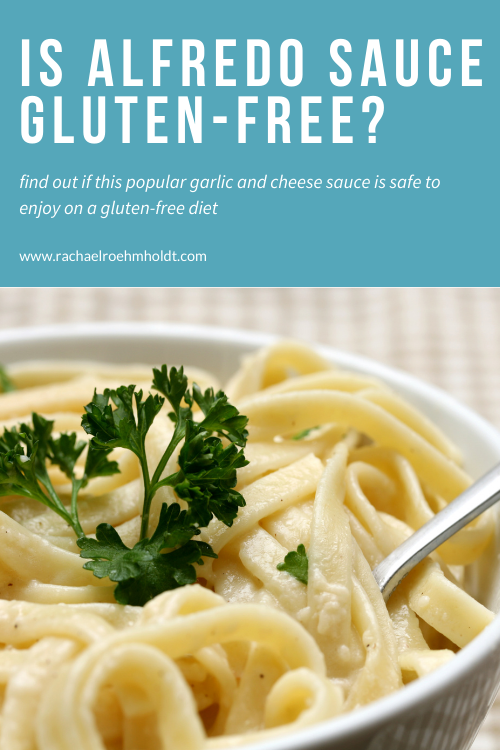 Brands of gluten-free alfredo sauce
Since some brands of alfredo sauce may be gluten-free while others could have it as a hidden ingredient, I thought it would be useful to add a shortlist of some options you can look for at the store next time you're shopping for this ingredient.
I've also included a few dairy-free alfredo sauce options that are also gluten-free just in case you're following a dairy-free diet like I am and are also looking for some options. The dairy-free options are marked with an asterisk (*) in the list.
Classico Creamy Alfredo Sauce
Classico Roasted Garlic Alfredo Pasta Sauce
Classico Sun-Dried Tomato Alfredo Pasta Sauce
Classico Four Cheese Alfredo Pasta Sauce
Classico Roasted Red Pepper Alfredo Pasta Sauce
Dave's Gourmet Aged White Cheddar Alfredo Sauce
Primal Kitchen No Dairy Alfredo Sauce*
Primal Kitchen No Dairy Garlic Alfredo Sauce*
Sonoma Gourmet Creamy Alfredo
Sonoma Gourmet Tomato Basil Alfredo
Sonoma Gourmet Bacon Alfredo
Sonoma Gourmet Creamy Spinach Alfredo Sauce
Sonoma Gourmet Creamy Cauliflower Alfredo
Walden Farms Alfredo Sauce*
If you enjoy alfredo sauce and are getting started on a gluten-free diet, I hope this information has helped you get some quick answers. While alfredo sauce is generally going to be naturally gluten-free, some brands use flour or other gluten derivatives to thicken their sauce.
To make a gluten-free alfredo sauce at home, be sure to use only naturally gluten-free ingredients. For a store-bought alfredo sauce, choose one that has a gluten-free label or the brand calls out their commitment to a gluten-free product on their website.
If you loved this post, I hope that you'll share it with your friends on Facebook and pin it for future reference on Pinterest.
Love this post? You might also want to check out these!
Find out if your favorite foods and ingredients contain gluten with these posts!