Find out if whey is gluten-free, what it's made of, and what you need to know about adding whey to your gluten-free diet. Plus get a list of gluten-free whey protein powder brands and options.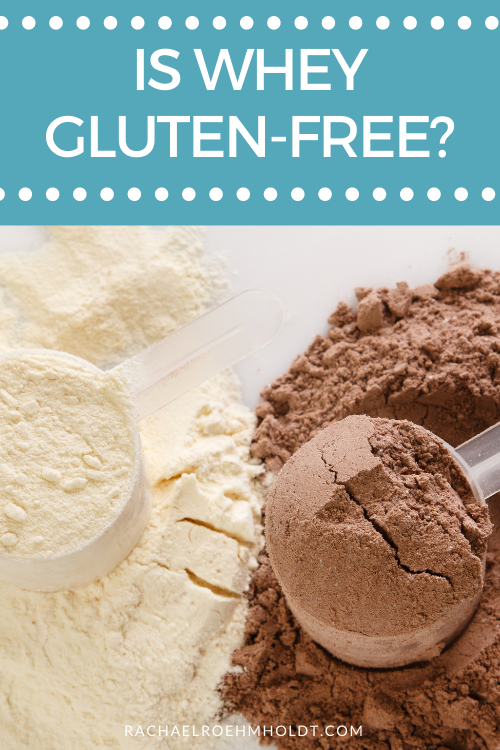 Note: I am a proud Amazon, Chomps, MunkPack, and Thrive Market affiliate and am happy to recommend their service and products to you. Please know that as an affiliate, I may receive a small commission on the products you purchase after clicking through my links. For more info, please see my disclosure policy here.
If you need a little extra protein in the morning, adding whey protein to your smoothies, shakes, or other recipes can help you get it. Whey is a popular supplement that many people use to get a low carb protein source without having to spend time cooking.
Whey protein powder is popular among fitness enthusiasts and folks who want to make sure they're getting enough protein throughout the day.
If you follow a gluten-free diet or are just getting started with one, you may be wondering if whey contains gluten and how it will fit into your gluten-free diet moving forward.
In this post, we're going to talk about what whey is, what it's made from, determine if it's safe for a gluten-free diet, and finish out the post with a list of gluten-free whey protein powder options that you can use moving forward.
What is whey?
Whey is one of the proteins that makes up milk. Whey and casein are the two proteins that are naturally found in cow's milk, and they can be separated if the milk is being turned into cheese.
When cheesemaking, the proteins can be separated into liquids and solids. The solids are casein proteins, and the remaining liquid protein is called whey.
You can also find whey in yogurt, sour cream, or other dairy products. If you've ever opened a fresh container of one of these foods from the store and found liquid on the top, that's whey.
Read on: Gluten-free protein bars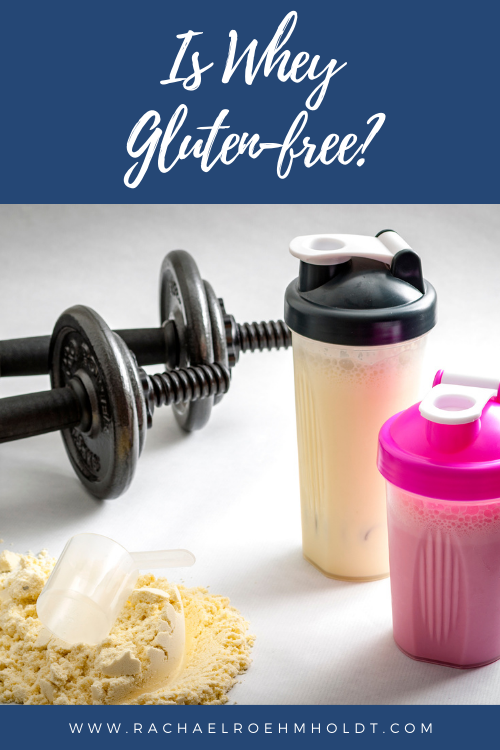 What is whey made from?
Whey is a protein found in cow's milk that can be separated when undergoing the process of cheesemaking. Casein (solids) are separated from whey (liquid) to make cheese.
This whey is often dehydrated and turned into a whey protein powder that's used as an ingredient that goes into shakes, protein bars, or meal replacement options.
You can also find whey in processed foods with "high protein" on the label, as this ingredient can add a good amount of protein without much change in flavor.
Read on: What's the difference between dairy, lactose, casein, and whey?
What is gluten?
Gluten is a protein found in most wheat products, and acts as the "glue" that helps to hold wheat, barley, kamut, spelt, farro, durum, bulgur, rye, and semolina together to maintain their shape.
Gluten is naturally occurring, and therefore is impossible to strip away from the grain. If a grain naturally has gluten in it, there's no way to make that food gluten-free.
Gluten can also be found in many processed foods, either in the form of wheat or derivatives of a gluten-containing grain. That's why it's important to do your research before purchasing any food when you follow a gluten-free diet.
You should do your due diligence researching any processed food to be sure you aren't consuming gluten inadvertently.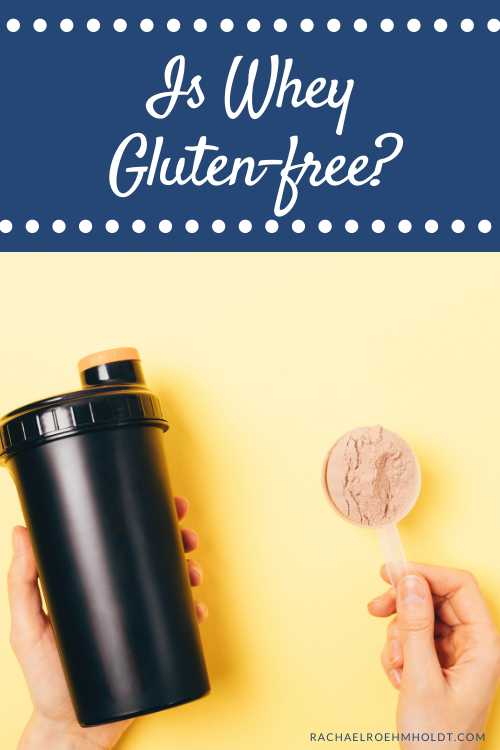 Is whey gluten-free? Does whey have gluten?
Whey protein itself does not contain gluten and is gluten-free. There is no wheat in whey. Whey protein is safe on a gluten-free diet when listed as whey concentrate, whey hydrosolate, or whey isolate on ingredient lists.
That said, some whey protein powders do contain gluten, so you'll want to read ingredients lists before purchasing. Flavorings or stabilizers that contain gluten may be added to the ingredients.
Look for hidden names of gluten and/or a gluten-free label on every whey protein powder you buy to tell you if it's safe for a gluten-free diet.
One of my little secrets is that I carry around a copy of my GFDF Take Along Cards so that I always have a point of reference when I can sneak a peek at the ingredient list of a food.
>> Get your copy of the GFDF Take-Along Cards to make this easy on you.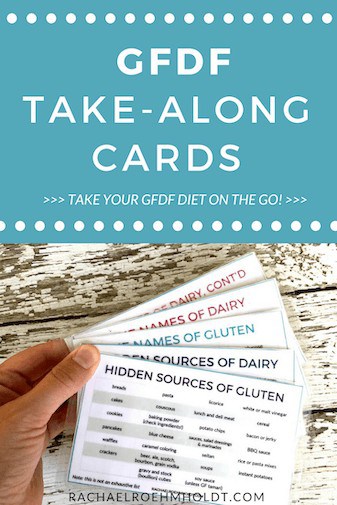 Is whey dairy-free?
Whey protein is a milk derivative, which means it contains dairy and is not considered dairy-free. If you are eating both a gluten and dairy-free diet, whey protein is not a good choice as whey protein contains dairy.
When searching for a gluten and dairy-free protein powder, whey based proteins are not a good choice. Find a protein powder that uses pea protein or other plant-based protein instead of whey.
Read on: Is whey dairy?
Read on: 5 Best Gluten-free Dairy-free Protein Powders
Read on: The Best Dairy-free Protein Powders & Shakes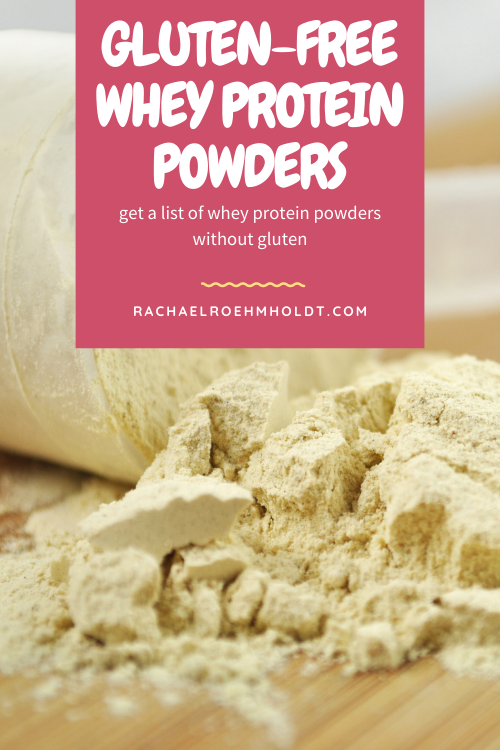 Gluten-free whey protein powders
While I don't consume whey protein powder myself, I know if you're reading this post, you may be looking for a gluten-free whey protein powder to add to your morning shakes or smoothies.
Here are a few brands and options that are available for you to check out.
Read on: Is Ensure dairy-free?
Read on: Is Muscle Milk gluten-free?
If you love adding protein to your smoothies or shakes for an extra boost, you can feel confident adding whey to your diet. Be sure that the brand you buy is gluten-free and there aren't a lot of extra fillers or many other ingredients added.
The more ingredients added and the more processing a product has, the more likely gluten can be introduced to the food. Read ingredients lists and look for gluten-free labels before buying.
If you loved this post, I hope that you'll share it with your friends on Facebook and pin it for future reference on Pinterest.
Love this post? You might also want to check out these!
Find out if your favorite foods and ingredients contain gluten with these posts!