Find out if wonton wrappers are gluten-free, what they're made of, and what your gluten-free wonton wrapper options are.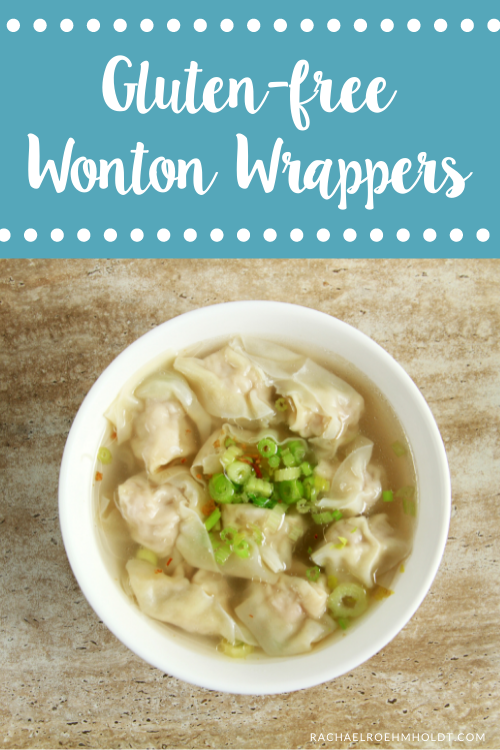 Note: I am a proud Amazon, Chomps, MunkPack, and Thrive Market affiliate and am happy to recommend their service and products to you. Please know that as an affiliate, I may receive a small commission on the products you purchase after clicking through my links. For more info, please see my disclosure policy here.
If you love wontons either homemade, store bought, or ordering them from the grocery store, you may be wondering if you're just getting started with a gluten-free diet if these will fit in. Wontons are a delicious Chinese dumpling with meat or shrimp fillings that are delicious as appetizers or in a wonton soup.
If you've wondered how to enjoy wontons on a gluten-free diet, this post about wonton wrappers will help you determine what your options are when it comes to buying and making them at home. Find out what wonton wrappers are, what they're made of, and if they are safe for a gluten-free diet.
We'll also go over some gluten-free wonton wrapper brands you might consider buying premade and a few recipes that will help you make your own at home. Finally, we'll talk about whether or not wonton wrappers are dairy-free or vegan and what you need to know if you follow those diets.
What are wontons?
Wontons are Chinese dumplings that are made with a meat filling and a thin wonton wrapper. Wontons are usually steamed or fried before serving. They're often served as appetizers or in soup.
What are wonton wrappers?
Wonton wrappers are the square shaped dough that wraps around the meat filling of the wonton. These square wrappers are used as little purses or dumplings for fillings like seasoned pork or shrimp.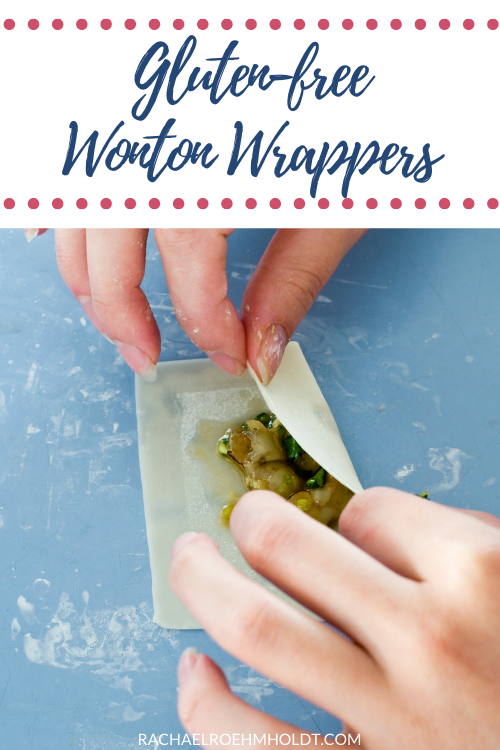 What are wonton wrappers made of?
Wonton wrappers ingredients may vary depending on the brand or if they are homemade. However, the main ingredients in traditional wonton wrappers are: flour, eggs, water, and salt.
Some store-bought wonton wrappers may have other ingredients, such as cornstarch, wheat gluten, sodium benzoate, or tapioca starch.
What is gluten?
Gluten is a protein found in most wheat products, and acts as the "glue" that helps to hold wheat, barley, kamut, spelt, farro, durum, bulgur, rye, and semolina together to maintain their shape.
You can find gluten in whole grains, but also in many processed foods as well. If you purchase wheat bread, there will be gluten in it, because wheat by nature has gluten.
Many processed foods have hidden gluten in them in the form of gluten or wheat derivatives. These are also in the form of flavorings, binders to keep ingredients together, or other additives.
Are wonton wrappers gluten-free?
Most wonton wrappers that are sold at stores or found in most restaurants are not gluten-free, as they contain wheat flour or wheat gluten.
That said, if you make your own wonton wrappers at home, you can easily substitute wheat flour or wheat gluten for a gluten-free ingredient instead. There are also a few gluten-free wonton wrapper brands that you can search for online or in stores to make your own gluten-free wontons at home.
Read on: Are wontons gluten-free?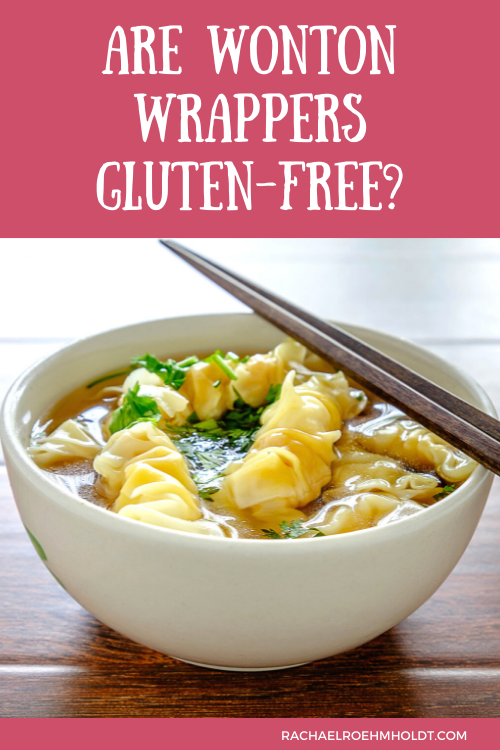 What is dairy?
Dairy is a general name for ANY food that is made from milk. Technically, this is any food made from cow's milk or goat's milk or sheep's milk. Any animal milk is dairy.
However, mostly when we're talking about dairy, we're talking about drinking cow's milk, because that's what is most popular here in the United States.
Are wonton wrappers dairy-free?
Most wonton wrappers are considered dairy-free as there are no dairy ingredients that are required to make these. Flour, water, salt, and sometimes eggs are included in most wonton wrappers, so without any milk or milk derivatives, this ingredient is almost always dairy-free.
Are wonton wrappers vegan?
Wonton wrappers may or may not be considered a vegan food, because they can sometimes contain eggs. Many brands of wonton wrappers are made with no eggs or other animal products and are considered safe for vegans to enjoy.
However, if you are following a vegan diet or also avoid eggs in your diet, you'll want to do your due diligence in reviewing ingredients lists before purchasing wonton wrappers from the store or ordering wontons from restaurants.
Gluten-free wonton wrapper brands
There aren't too many gluten-free wonton wrapper brands available, but there are some. Here are a few you can search for next time you're at the store or look for them online through the brand's website or other online retailer.
This gluten-free wonton wrapper mix is gluten-free and made with a mixture of brown rice and sorghum flour, cornstarch, potato starch, potato flour, xanthan gum, sugar, and salt.
The packaging calls for combining the mix with water and egg, then mixing and rolling your own wonton wrappers. It also has a recipe for an egg roll filling that could easily be used for a wonton filling as well.
If you choose to follow this recipe, opt for a gluten-free tamari soy sauce option instead of traditional Chinese soy sauce, as this condiment contains gluten.
Read on: Is soy sauce gluten-free?
Read on: Is tamari gluten-free?
Read on: Gluten-free egg roll wrappers
These gluten-free wonton wrappers are made with brown rice, cassava root, water, green tea, and salt – all naturally gluten-free ingredients.
These wrappers are great for wontons, but are versatile enough to be used for gluten-free summer wraps and rolls, gluten-free egg rolls or lumpia, gluten-free dumplings, and even used as a gluten-free tortilla alternative.
I've seen these both on Amazon and on the Safeway website in the white rice spring roll wrapper variety.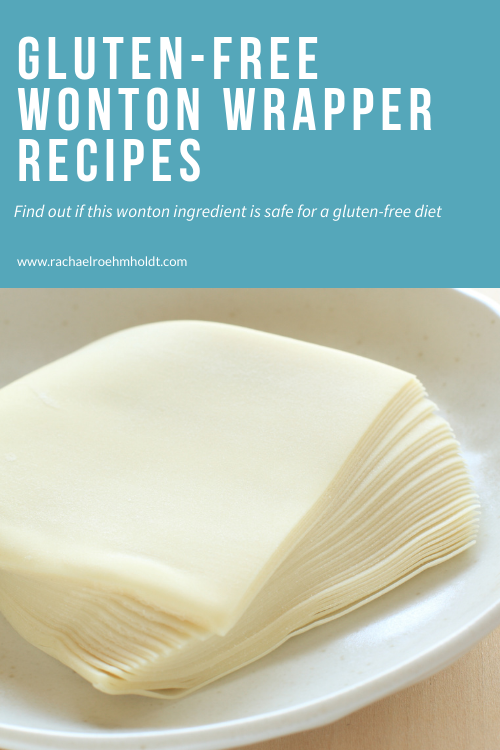 Gluten-free wonton wrapper recipes
If you're interested in making your own gluten-free wonton wrappers at home, here are a few recipes you can try out. These are all gluten and dairy-free, but most contain eggs.
If you love wontons and have been trying to figure out how you can enjoy these yummy dumplings while sticking with your gluten-free recipe, I hope this information has been helpful for you.
Most wontons and wonton wrappers are not gluten-free, however there are few options you can look for at stores. Most easily if you have a wonton craving and want to stick with your gluten-free diet, your best option is to make your own at home using a gluten-free wonton wrapper recipe. You can choose to make it with or without eggs for whatever your dietary needs are.
If you loved this post, I hope that you'll share it with your friends on Facebook and pin it for future reference on Pinterest.
Want more product recommendations for gluten and dairy-free foods? Check out these posts!