Find out if puff pastry is gluten-free, learn about store-bought gluten-free brands, and get a few recipes to try at home!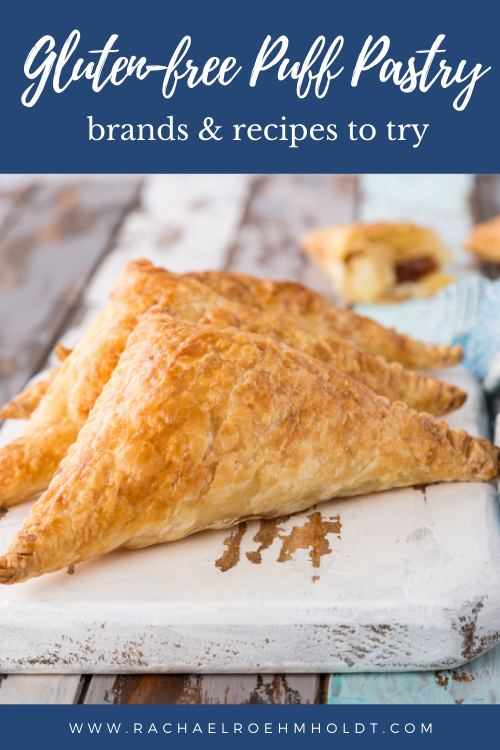 If you've been in any bakery in your lifetime, you are probably familiar with puff pastry and the many different desserts and pastries you can make from this one very universal ingredient.
If you like to bake, you probably know how easy it is to bake with puff pastry and how simple it is to make delicious desserts and dishes at home without having to do a ton of work if you get some help from the store. Puff pastry sheets can save tons of time and give loads of flavor and texture to your desserts and savory dishes.
You can make your own puff pastry at home using just a few simple ingredients, or get a shortcut from the store to make turnovers, pie crusts, and all kinds of different delicious buttery pastries.
But if you follow a gluten-free diet, you might be wondering if puff pastry is safe for you to enjoy. In this post, we're going to talk about puff pastry, how to find a gluten-free option, what the ingredients in gluten-free puff pastry are, and a few brands to look for if you would like to buy gluten-free puff pastry at the store.
We'll wrap the post up a few recipes for you to try if you'd like to make your own at home.
What is puff pastry?
Puff pastry is a light, flaky dough that is made with butter and flour, then folded into itself to make layers of dough. Puff pastry can be used in a variety of different dishes, including both sweet and savory options.
You can make puff pastry at home or you can buy pre-made sheets of puff pastry from your grocery store.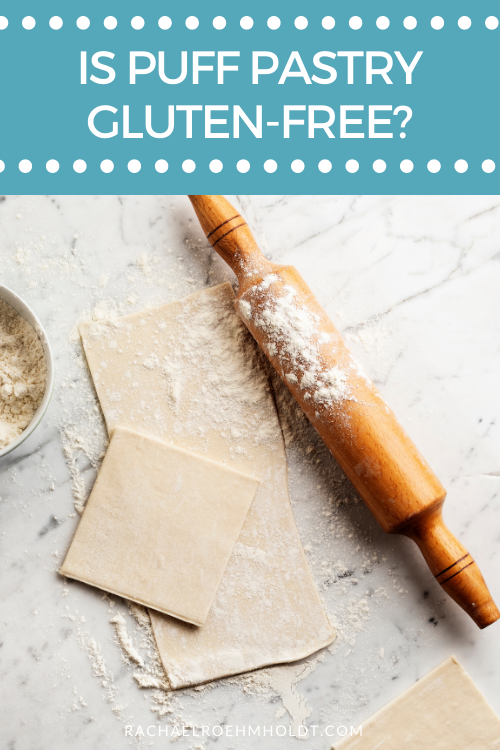 Is puff pastry gluten-free?
Most puff pastry is not gluten free as it contains flour. Flour comes from wheat which contains gluten, making it not a safe choice for a gluten-free diet.
Don't worry – there are gluten-free puff pastry options for you if you're on a gluten-free diet, both recipes and pre-made options, which we're going to talk more in depth about in this post.
What ingredients are in gluten-free puff pastry?
Gluten-free puff pastry is made with an all-purpose gluten-free flour or a combination of gluten-free flours, butter, salt, and cold water. The only difference between a traditional puff pastry and gluten-free puff pastry is the flour that is used.
If your gluten-free flour blend does not contain xanthan gum, you may want to add this as an additional ingredient if you're making this at home.
If you're buying gluten-free puff pastry from the store, you can expect to find xanthan gum as an ingredient in the ingredients list, along with other preservatives.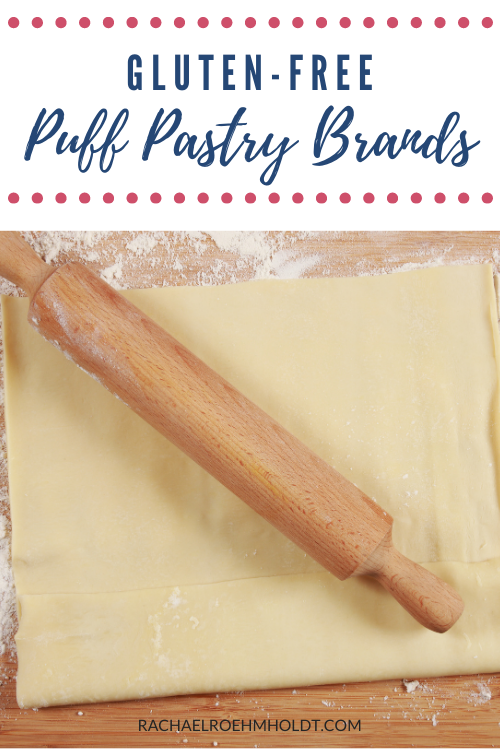 Gluten-free puff pastry brands
If you've been on the hunt for a gluten-free puff pastry brand that can buy premade from the store or online, check out these few brands that make options that may work for you.
Geefree offers a gluten-free puff pastry option that you can use for all your favorite puff pastry recipes.
This brand contains potato starch, water, canola oil, eggs, sugar, xanthan gum, baking powder, salt, inulin, guar gum, ground flaxseed, baking soda, citric acid, non-dairy butter flavor, and annatto.
Note that this is a gluten AND dairy-free option for a gluten-free puff pastry product you can buy. This product does contain eggs, so if you also avoid eggs, this won't be a good option for you.
Jus-Rol offers a gluten-free puff pastry option for making sweet and savory recipes. This puff pastry contains these ingredients:
Water, corn starch, vegetable oils and fats, rice flour, pea flour, vegetable fibres, thickeners, alcohol, salt, buckwheat flour, natural flavoring, and a flour treatment agent.
Based on the ingredients list, this puff pastry looks to be both gluten and dairy-free.
Schar offers a number of gluten-free breads and pastry items, including their gluten-free puff pastry dough. This brand contains the following ingredients:
Water, margarine, corn starch, rice starch, rice flour, chicory inulin, dextrose, modified cellulose, soy protein, sunflower seed oil, guar gum, iodized salt, potato flakes, psyllium seed husks, palm oil, ammonium bicarbonate, and natural flavor.
This option is gluten-free, wheat-free, lactose-free, and non-GMO.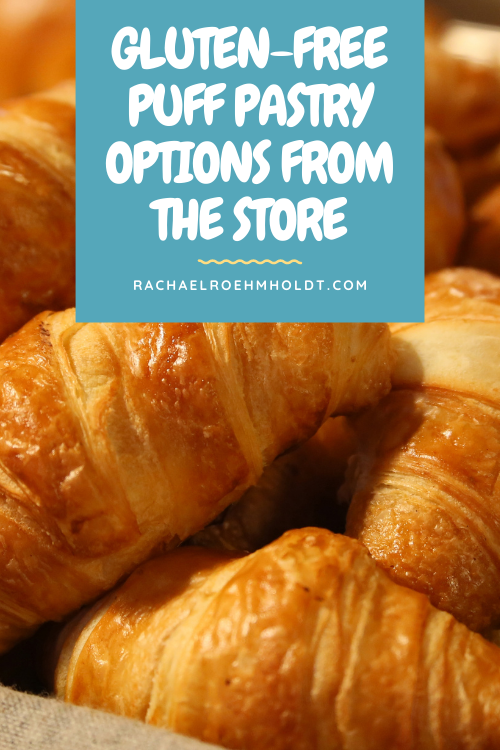 Where to buy gluten-free puff pastry
Gluten-free puff pastry is not super easy to find at most local grocery stores. You may have luck finding it locally at health food stores or other larger health food chains like Whole Foods or Sprouts.
If you can't find it locally, you might try looking at the company's website to see if they will ship to you or to use a store locator to find where you can get it near you.
Is gluten-free puff pastry dairy-free?
If you follow a dairy-free diet in addition to avoiding gluten, you'll want to look carefully at ingredients lists before buying a premade puff pastry option.
Most gluten-free puff pastry is not dairy free as it contains butter. Store-bought gluten-free puff pastry doughs may or may not contain butter, so if you are also following a dairy free diet you should review ingredients lists before buying.
If you plan to make your own gluten-free puff pastry at home, you can easily make your puff pastry dairy-free by using vegan butter in place of butter as you'd find it in a normal recipe. Follow a recipe that is made to be dairy-free to make this easier.
Is gluten-free puff pastry egg-free or vegan?
Gluten-free puff pastry is egg-free and eggs are not generally an ingredient you'll find in puff pastry dough, so if you follow an egg-free diet this should be an okay ingredient for you to use in your diet.
You may find eggs in store-bought puff pastry, so your best option is to review ingredients lists before purchasing.
If you follow a vegan diet, you'll probably want to stay away from store-bought puff pastries, because they contain butter which is not a vegan ingredient. To make gluten-free puff pastry vegan, you can easily use vegan butter in place of butter in a recipe.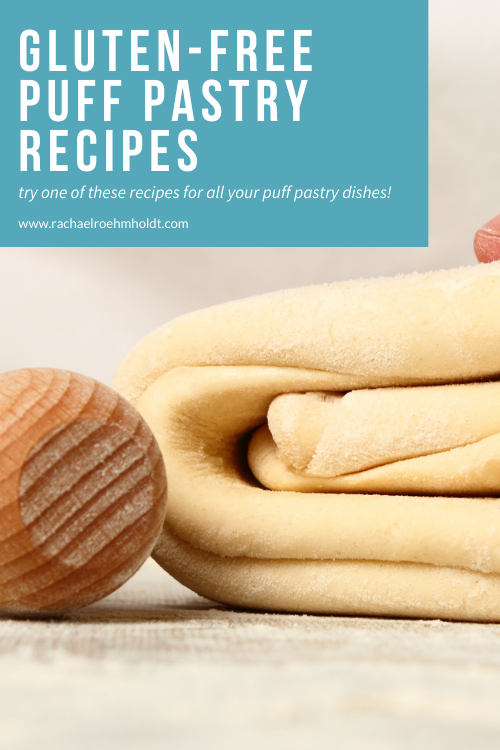 Gluten-free puff pastry recipes to try
If you're looking to make your own gluten-free puff pastry at home, try one of these delicious recipes that other bloggers have made and shared.
Jules from GF Jules has created a gluten and dairy-free puff pastry recipe that's great for any of the versatile recipes you love to use puff pastry for: danishes, wrapped veggies, tarts, etc.
She says Earth Balance or Miyoko's Creamery vegan butter work best with a combination of a few gluten-free flours.
This recipe is unique in that it calls for a homemade puff pastry and homemade vegan butter. With the combination of these two ingredients, you can make your own puff pastry in your very own kitchen. The homemade butter is somewhat involved, but the pastry doesn't look to be too challenging.
For a close to the real thing option, try this recipe from Bob's Red Mill. In this recipe, you'll use a gluten-free pie crust mix with butter and ice water to make your own homemade gluten-free puff pastry, perfect for all your favorite recipes.
If you love puff pastry and have been looking for an option for your gluten-free diet, I hope that this post has helped you get all the information you need in order to continue enjoying this ingredient.
Whether you've been looking for a store-bought option or a great at-home gluten-free recipe to try, I hope you found what you've needed here in this post. 
Find an option that works for you with the information that I've shared here and continue making and enjoying all your favorite puff pastry recipes.
f you loved this post, I hope that you'll share it with your friends on Facebook and pin it for future reference on Pinterest.
Want more product recommendations for gluten and dairy-free foods? Check out these posts!