Gluten-free meatloaf is the ultimate comfort food and reminds so many of us of our childhood. Enjoy this gluten-free meatloaf that is also dairy-free and egg-free, with just 6 easy steps.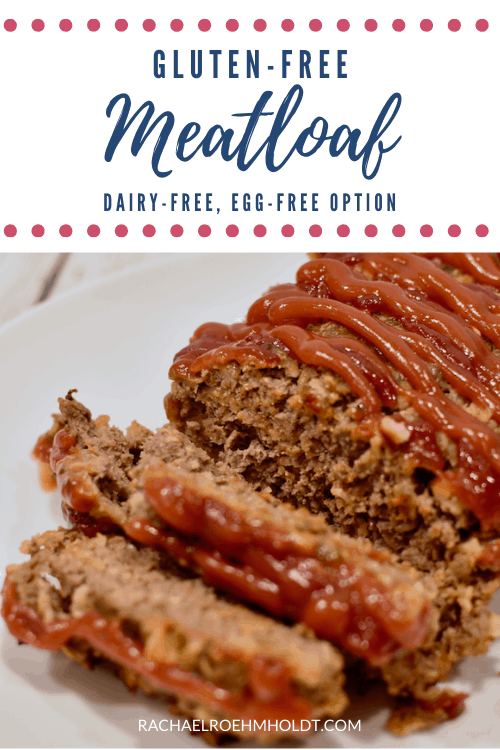 Note: I am a proud Amazon, Chomps, MunkPack, and Thrive Market affiliate and am happy to recommend their service and products to you. Please know that as an affiliate, I may receive a small commission on the products you purchase after clicking through my links. For more info, please see my disclosure policy here.
Did you eat a lot of meatloaf as a kid like I did? I have to say my mom wasn't very creative when it came to dinner rotation.
We often had meatloaf at least once every two weeks, and although I love meatloaf now, I didn't love it then.
My mom's meatloaf had onions and peppers in it, which these days sounds great, but when I was a kid, biting into a hard onion or green pepper in the middle of cooked meat made me cringe.
To be fair, mom could have gone an extra step and sauté the onions and peppers before adding them to the mix, but that's water under the bridge now.
These days, I make meatloaf my way. This recipe is a basic gluten-free meatloaf that I make pretty regularly (although definitely not every two weeks) in my house.
Although I do love to add veggies to my meatloaf, this one is my most pure and basic recipe. This recipe is just ground beef, gluten-free oats, and a few seasonings. Nothing too overly complicated, but still delicious.
My family loves when I make meatloaf, and over the years I've adjusted my recipe quite a bit.
The things that always stay the same are using oats as a binder, and swapping out the egg for a flax egg to make it egg-free. I hope that you'll love this recipe as much as my family does.
Before we dive into the recipe, let's go over a few frequently asked questions regarding gluten-free meatloaf, plus the step-by-step instructions for how I make this meatloaf come together.
Does meatloaf have gluten?
Traditional meatloaf is made using breadcrumbs. Assuming the bread used for making the breadcrumbs contains wheat, then yes, meatloaf has gluten.
However, meatloaf can be made to be gluten-free using other gluten-free ingredients in place of breadcrumbs.
Gluten free Meatloaf without Breadcrumbs
If you're wondering how to make meatloaf without breadcrumbs, there are a few options:
Read on: Is coconut flour gluten-free?
Read on: 25 Gluten-free ground beef recipes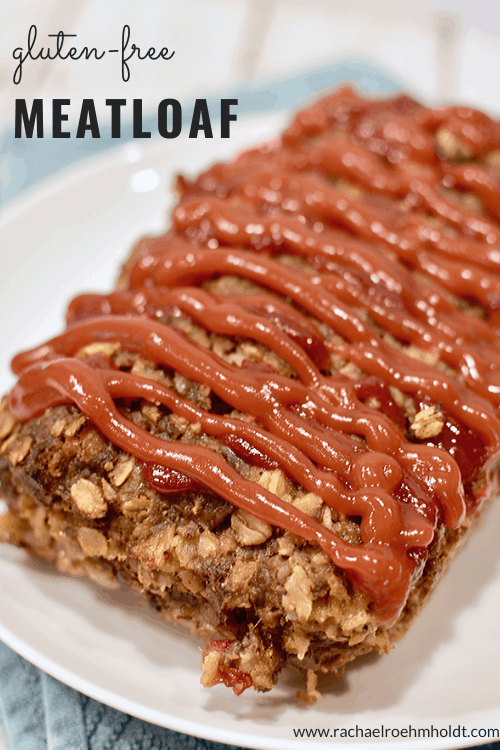 Can I use gluten-free crackers in meatloaf?
You can! If you have gluten-free crackers that you have on hand and love, you can definitely use them in place of breadcrumbs or oats in most meatloaf recipes.
You can either crush them up or put them in a food processor to break them up a bit before throwing them in with the other meatloaf ingredients.
Gluten-free Meatloaf with Oats
My personal preference in meatloaf is to use gluten-free oats. They absorb flavors well, create a wonderful moist yet hearty texture, and add a neutral flavor to the meatloaf so the flavors of the seasonings can come through.
To make gluten-free meatloaf with oats or oatmeal, you swap out the amount of breadcrumbs for oats in the recipe. It's as simple as that!
If you want to, you can even pulse the oats into an oat flour in your food processor, so the oats are broken down into smaller pieces, and don't look so much like oats.
Read on: Is oat flour gluten-free?
Are oats gluten-free?
Oats are naturally gluten-free, however many are cross contaminated with other gluten-containing grains while being manufactured.
If you're intolerant to gluten like I am, it's in your best interest to use gluten-free oats. You can find that out by looking at the package of the oats you use. 
The oats from the bulk bins are probably a no-go, just in case of potential cross-contamination with other bins. I like to use Bob's Red Mill gluten-free oats for this recipe, but you can use any other gluten-free rolled oats that you can get your hands on or that you enjoy.
Read on: Are rolled oats gluten-free?
Read on: Are oats gluten-free?
Read on: Are whole grain oats gluten-free?
Read on: Is oatmeal gluten-free?
Dairy-free Meatloaf
Many meatloaf recipes call for milk. In my recipe, I've omitted the dairy entirely, making this a dairy-free meatloaf recipe.
If a gluten-free meatloaf recipe you're using has milk and you'd like to make it dairy-free, you can simply swap out the milk for any dairy-free milk you have on hand. Coconut, almond, rice, cashew, hemp… any of them will work!
Egg-free Meatloaf
This meatloaf recipe calls for one egg, but if you also are avoiding eggs in your diet, you can swap out the egg for one flax egg.
To make a flax egg, combine 1 tbsp ground flax seeds plus 3 tablespoons of warm water. You can let that set on the counter for about 5 minutes and it will start to create a gel consistency that is a great egg replacer.
If you need more tips on swaps and how to turn different recipes into gluten-free or dairy-free ones, I've got you covered.
If you've been wondering how to go gluten and dairy-free, you might want to check out my book The Gluten and Dairy-free Diet: A Beginner's Guide.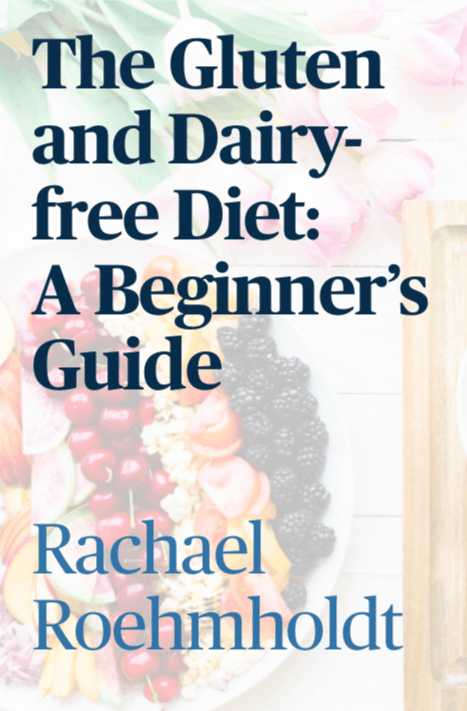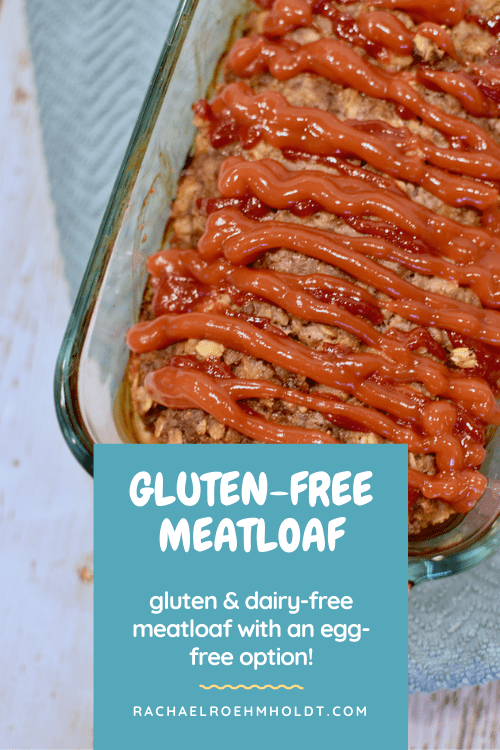 How to make gluten-free meatloaf
Making gluten-free meatloaf is extremely simple and easy to put together. Let's go over the steps it takes to make gluten-free meatloaf.
Step 1. Preheat the oven and get out ingredients.
Before you get started getting the ingredients out, turn your oven on to 375 degrees F.
This will give your oven enough time to come up to temperature while you're preparing the rest of the meatloaf. 
Get all the ingredients out the fridge and pantry, as well as a large mixing bowl and loaf pan.
If you're using a flax egg, this is a good time to get that prepared as well.
Step 2. Combine all the ingredients in a large bowl.
In the large mixing bowl, combine ground beef, egg, ketchup, worcestershire sauce, onion powder, garlic powder, salt, and pepper.
Add the gluten-free oats, starting with ½ cup, and mix everything together with your hands.
If the mixture is still wet, add about ½ cup more gluten-free oats at a time, mixing as you go until the mixture is no longer wet.
Step 3. Transfer to a loaf pan.
Once you have all your meatloaf ingredients together in your bowl, now it's time to transfer it to a loaf pan to bake. Put everything into your loaf pan and smooth out the top.
I like to use an 8″ x 4″ in a glass baking dish, but you can use whatever loaf pan (or other glass baking pan) that you wish.
I often make this in an 8″ x 8″ pan – although it isn't very "loaf like" once it's done.
I like to add a layer of ketchup to the top of my meatloaf for extra flavor and good looks.
I sometimes spread it out, other times I just toss on some squiggle lines. Whatever your preference is works here!
Read on: Is Ketchup Gluten-free?
Read on: Is Heinz ketchup gluten-free?
Step 4. Bake for one hour.
Transfer your prepared meatloaf to the oven to bake for 60 minutes.
Check that the meatloaf is cooked all the way through with a meat thermometer. You want to make sure it reaches 165 degrees F to know it's done and safe for eating.
Step 5. Remove from the oven, cut into slices, and enjoy.
Once your meatloaf is cooked through, remove it from the oven. You'll want to let it cool for just a couple of minutes before cutting and serving.
This recipe makes 4 big helpings of meatloaf, but you can cut your slices thinner if you like.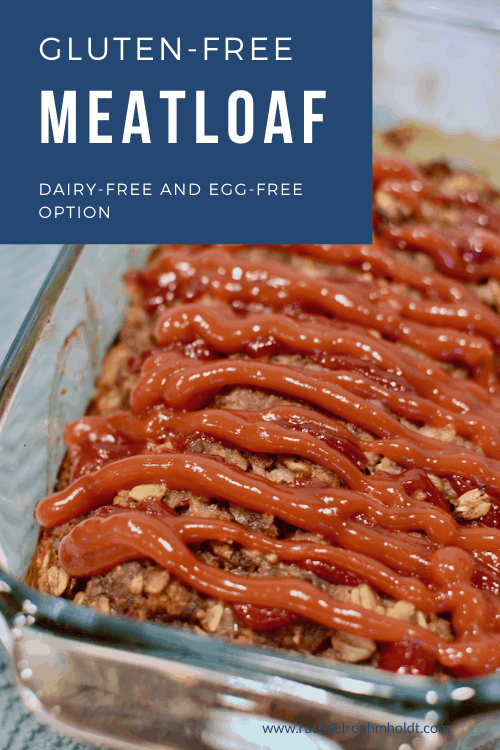 Tips for making gluten-free meatloaf
Use gluten-free oats to make this truly gluten-free
Add the gluten-free oats a bit at a time and mix in. You want your meatloaf to be wet to the touch but not soggy
Swap out the gluten-free oats for gluten-free crackers if you want to
Don't overmix the meatloaf – it can get a little tough the more you handle it
You can make meatloaf in any baking dish that you want. Loaf pans are the most traditional, but I make this sometimes in an 8″ x 8″ glass baking dish with no issues
Yield: 4 servings
Gluten-free Meatloaf (Dairy-free, Egg-free Option)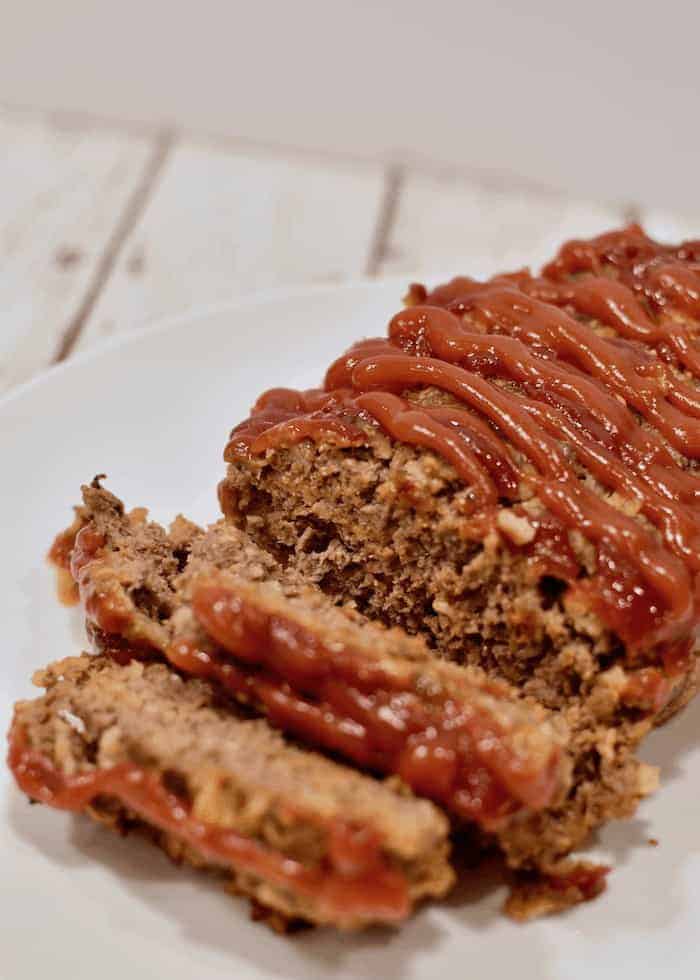 Gluten-free meatloaf is the ultimate comfort food and reminds so many of us of our childhood. Enjoy this gluten-free meatloaf that is also dairy-free and egg-free, with just 6 easy steps.
Total Time
1 hour
10 minutes
Ingredients
1 lb ground beef
1 egg (or flax egg)
2 tbsp ketchup
1 tbsp Worcestershire sauce
1/2 cup to 1 cup gluten-free oats
1/4 tsp onion powder
1/4 tsp garlic powder
1/2 tsp salt
1/4 tsp pepper
Ketchup (for the top)
Instructions
Preheat oven to 375 degrees F.
In a large bowl, combine ground beef, egg, ketchup, Worcestershire sauce, onion powder, garlic powder, salt, and pepper. Add the oats, starting with 1/2 cup oats, then add more as needed until the mixture is no longer wet.
Transfer mixture into an 8-inch x 8-inch glass dish. Press into a single layer. Top with a squeeze of ketchup - I like to make squiggle lines, but do whatever makes you happy. It's just for extra flavor on top.
Bake for one hour or until the internal temperature reaches 165 degrees F.
Cut the meatloaf into four portions and enjoy!
Notes
To make this recipe egg-free, swap out the egg for a flax egg. One flax egg is equal to 1 tbsp ground flax meal plus 3 tbsp warm water.
Recommended Products
As an Amazon Associate and member of other affiliate programs, I earn from qualifying purchases.
If you've been looking for a delicious and easy gluten-free meatloaf recipe that's also dairy-free and with an egg-free option, I hope this recipe inspires you to get into the kitchen and get cooking!
We love this recipe with a side dish of mashed potatoes, green salad, or corn. Get creative with your side dish ideas, and let me know in the comments if you love this recipe!
Get my dairy-free mashed potato recipe – that's also gluten-free!
Read on: Are mashed potatoes gluten-free?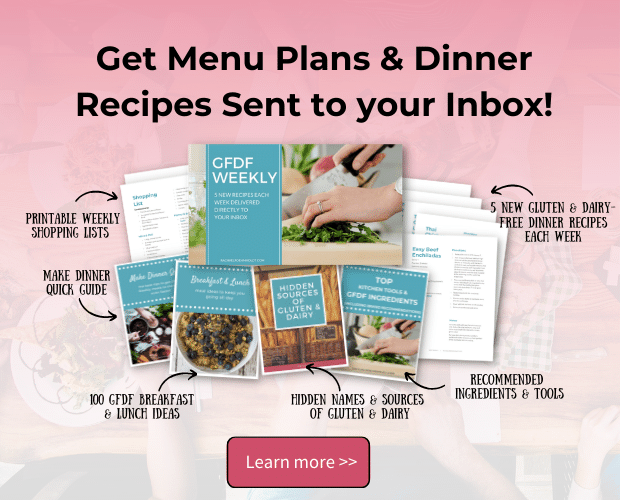 Love this recipe? Get 5 free sample recipes below – all gluten and dairy-free!